Posted on:
As motorcycle travelers, we understand the importance of having small and lightweight gear that can withstand the rigors of the road. That's why we choose modular and compact products that are perfect for us and make our life easier on both long and short trips.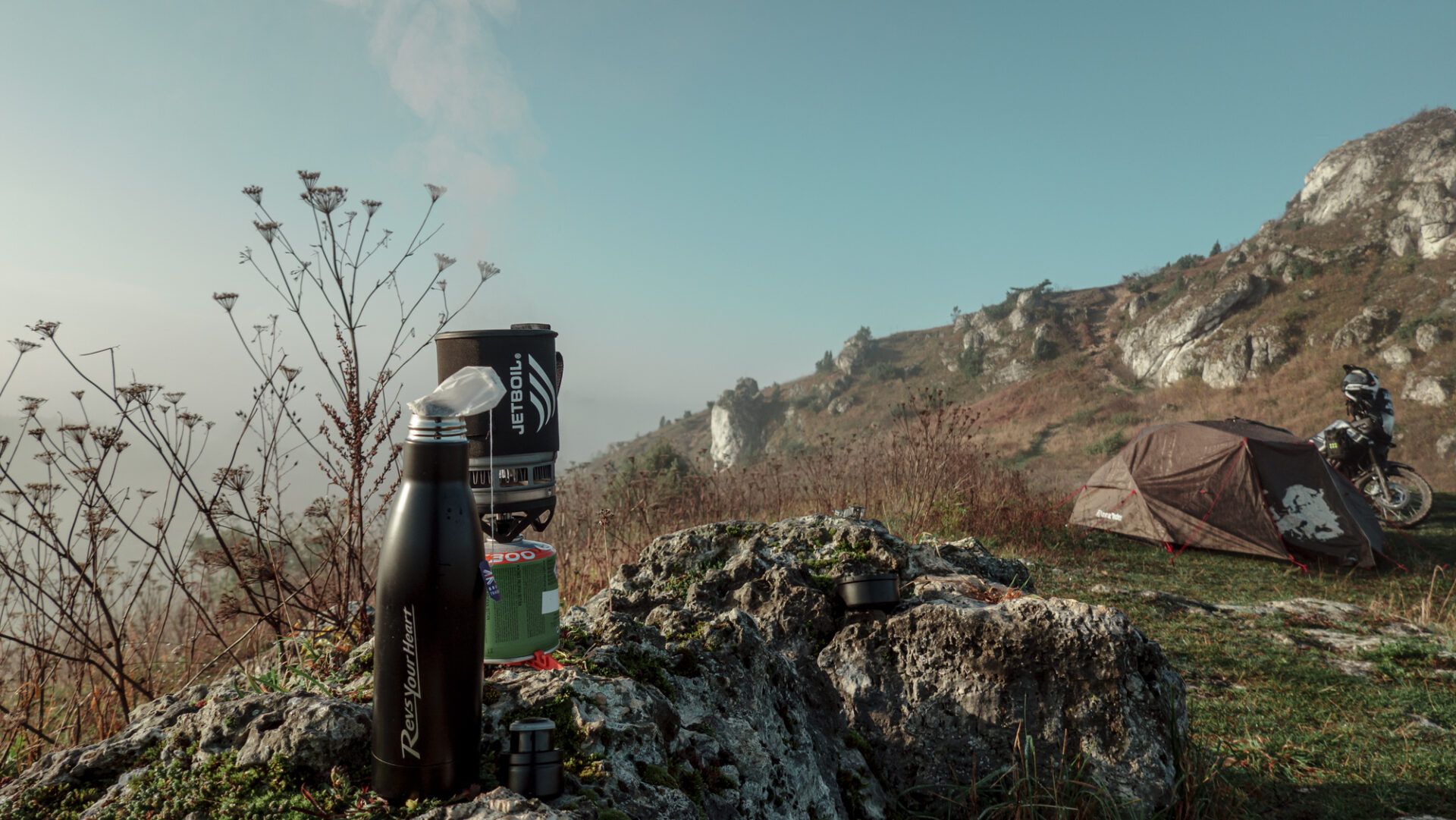 Jetboil Zip
The most important piece of cooking gear for us. It can bring a liter of water to a boil in just a few minutes. This makes it ideal for making coffee, tea, soup, or any other hot beverage or meal that requires boiling water.
Jetboil Zip is a super compact and lightweight stove that we use all the time when we're on the road. It's really easy to use with its simple ignition system and a fuel canister that can be easily replaced when it runs out.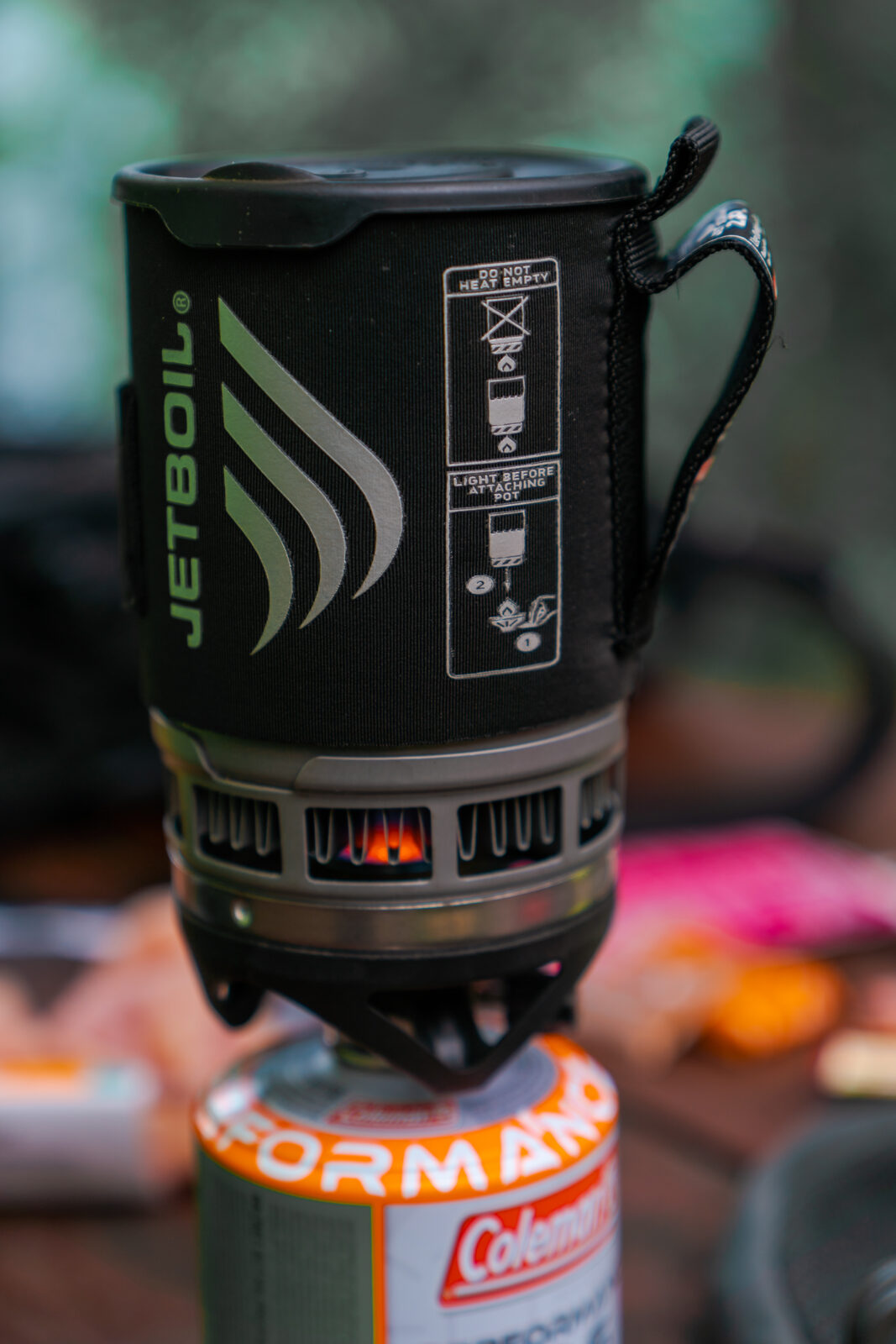 GSI Outdoors Escape HS 3L Pot
For cooking pasta, soup, etc we use the Escape HS 3L pot from GSI Outdoors. It's compatible with Jetboil ZIP and fits snugly over the stove (provided you have Jetboil pot support). The pot is equipped with a lid that not only helps to retain heat but also doubles as a strainer. To help prevent burns, it also has integrated silicone thumbpads.
The greatest advantage of this pot is that it's collapsible, as its upper part is made of silicone. This means it takes less room than a standard pot and that's incredibly important when you have limited space in your luggage. We love the fact that it's compact enough to easily pack in a saddlebag or backpack.
The base is made of hyper-conductive anodized aluminum which means faster cooking, resulting in using less fuel. It's also really durable and resistant to rust and corrosion. The 3-liter capacity is perfect for boiling water or cooking small meals.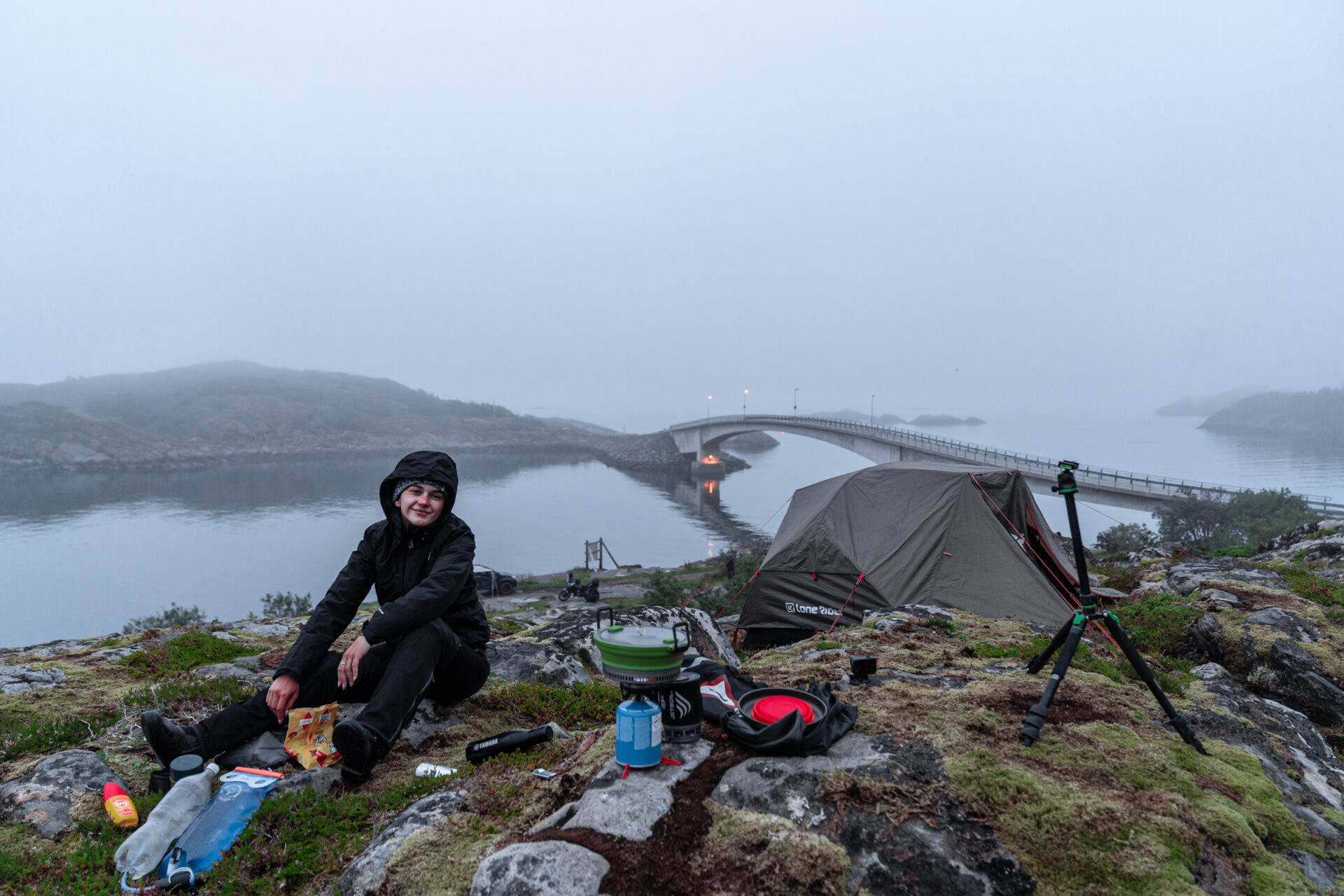 GSI Outdoors Frypan
For meat, veggies, and other meals we need to cook we use the GSI Outdoors frypan.
Similarly to the pot, it's made of scratch-resistant anodized aluminum. We also love the non-stick surface, which makes it super easy to clean up after a meal. It's also really lightweight and compact with its folding handle, which is perfect for packing on a motorcycle. You can buy it together with the pot as a set, for example on the GSI Outdoors website.
There's only one small inconvenience: even with the pot support the pan is a bit too big for Jetboil, meaning the food in the middle is ready faster. So just remember to watch it and swap the outer pieces with the inner pieces when needed.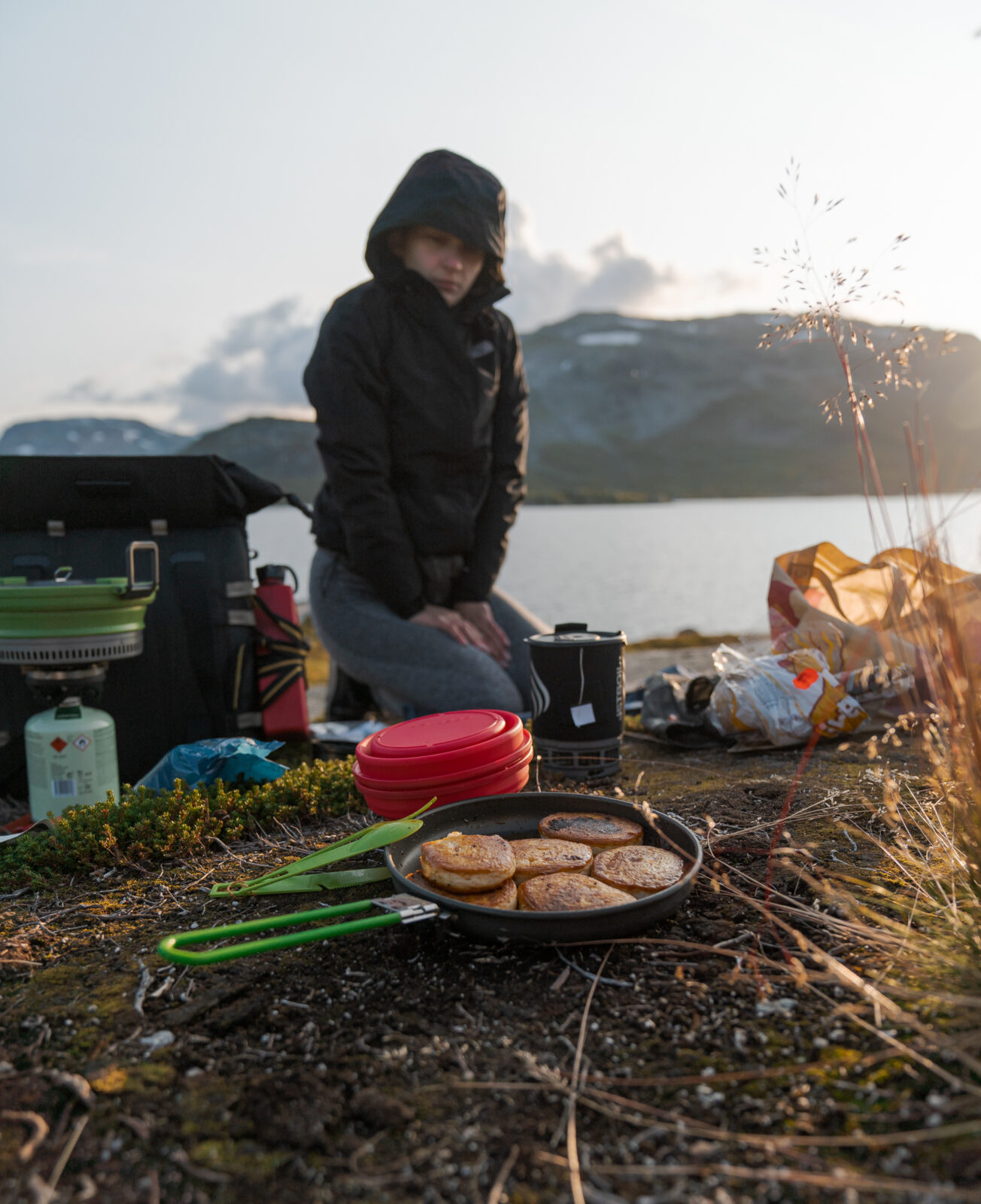 Silicone Bowls
Finally, we always make sure to pack a set of silicone bowls when we're on the road. Ours are no-names from Rossmann, bought at the last minute before our Norwegian trip. They are lightweight, durable, and resistant to heat and cold, making them perfect for use in any environment. They are also super easy to clean, which is essential when you're on the road.
They come with lids and although we don't use them and always leave them at home, maybe someone would find this addition useful.
The bowls are also collapsible and it turned out they fit perfectly into the collapsed pot, so we guess our set couldn't be more compact.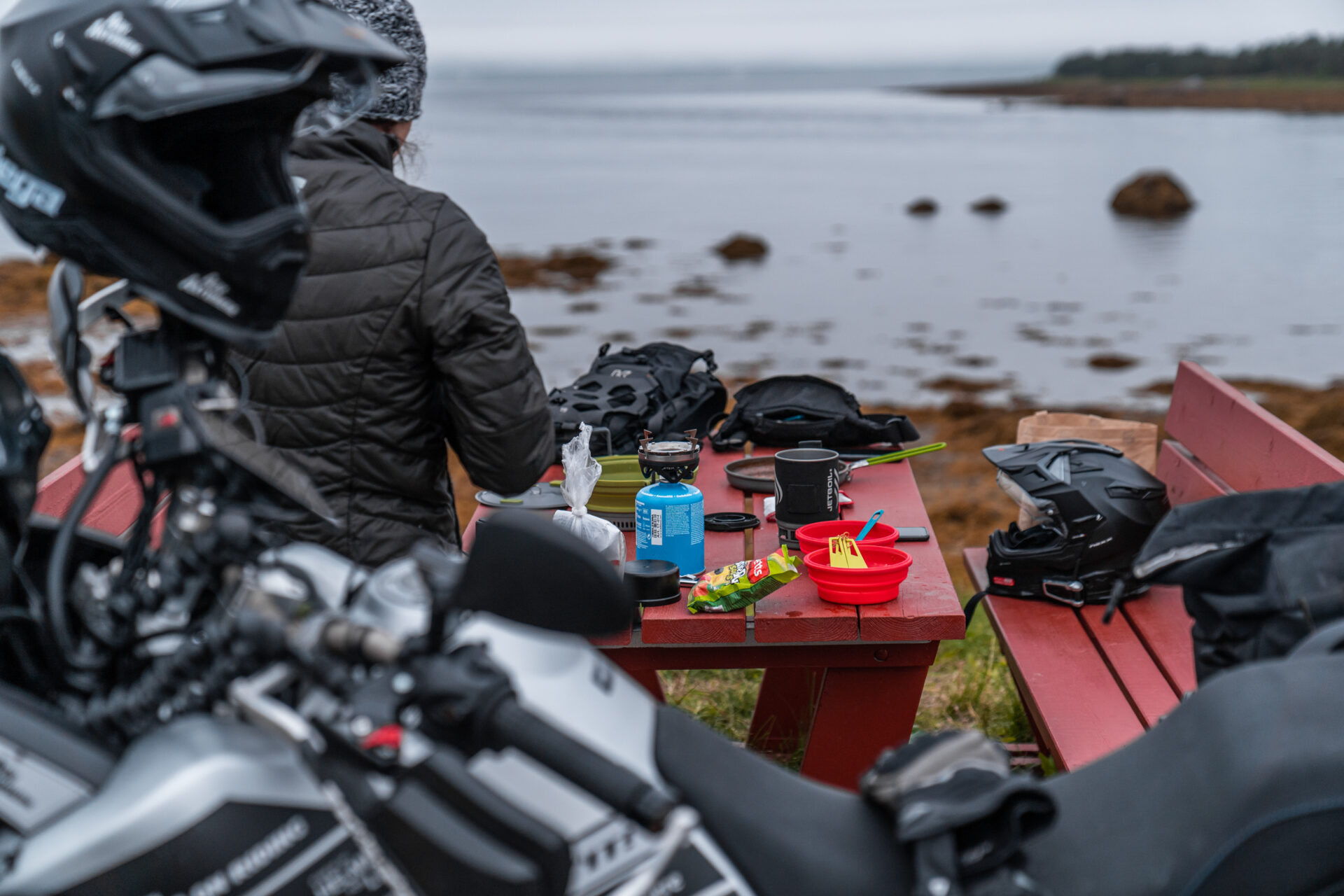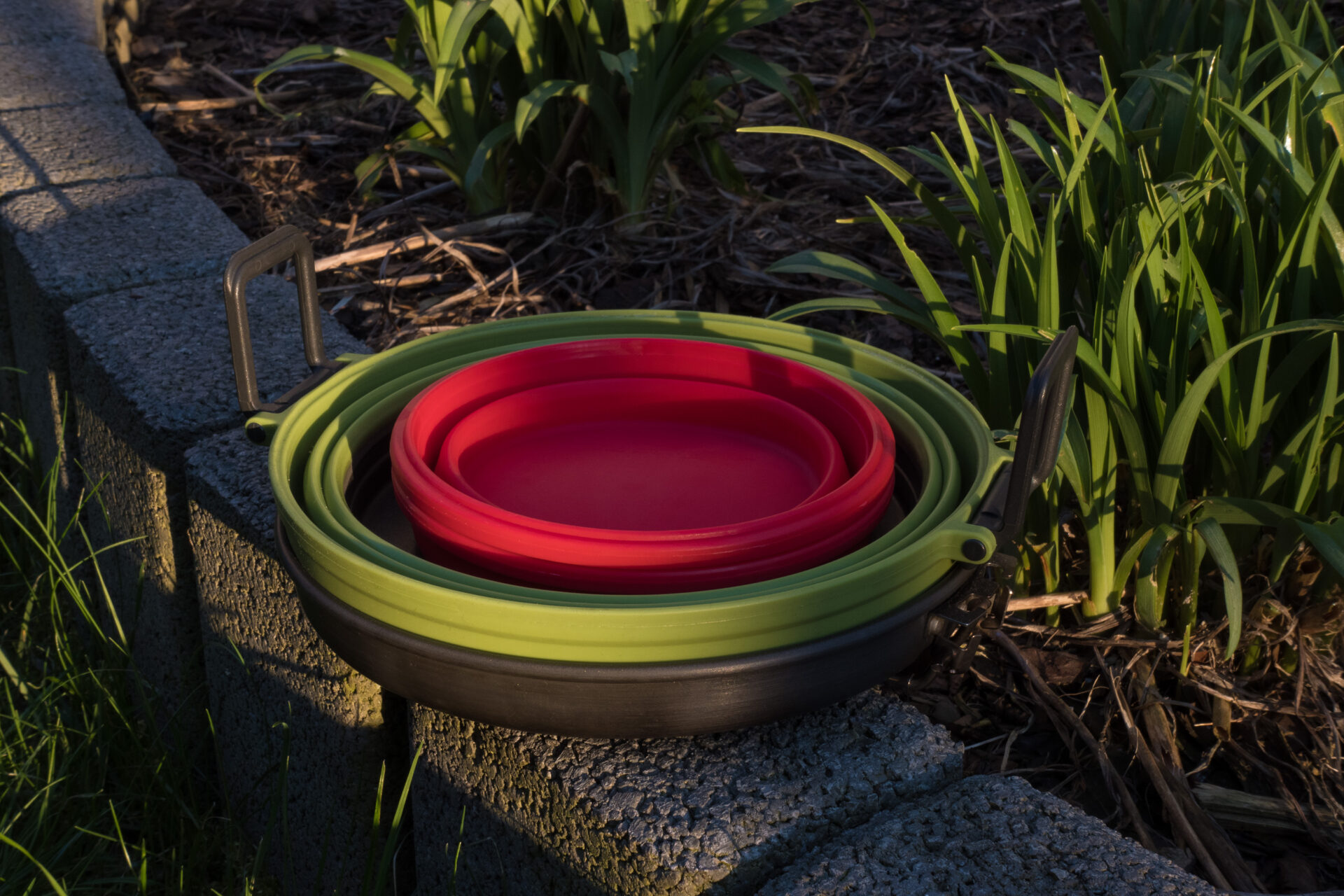 How to Cook Using Only One Stove?
Using the example of our fav dish from Norway – pasta with chicken and sauce – let us show you how we do it:
In Jetboil, boil water for pasta and leave it aside for later use.
Fry the chicken and add the sauce after a few minutes. Once it's ready, put it aside. You can cover it with the lid if it's cold outside.
Boil the pasta, using previously boiled water so it's faster.
Put the pasta and chicken with sauce in the bowls. Mix it and enjoy your meal.
You can also boil pasta in the pot on Jetboil and cook meat/veggies in the pan on a fireplace. Just be sure to remove the silicone handle before you put the pan in the fire.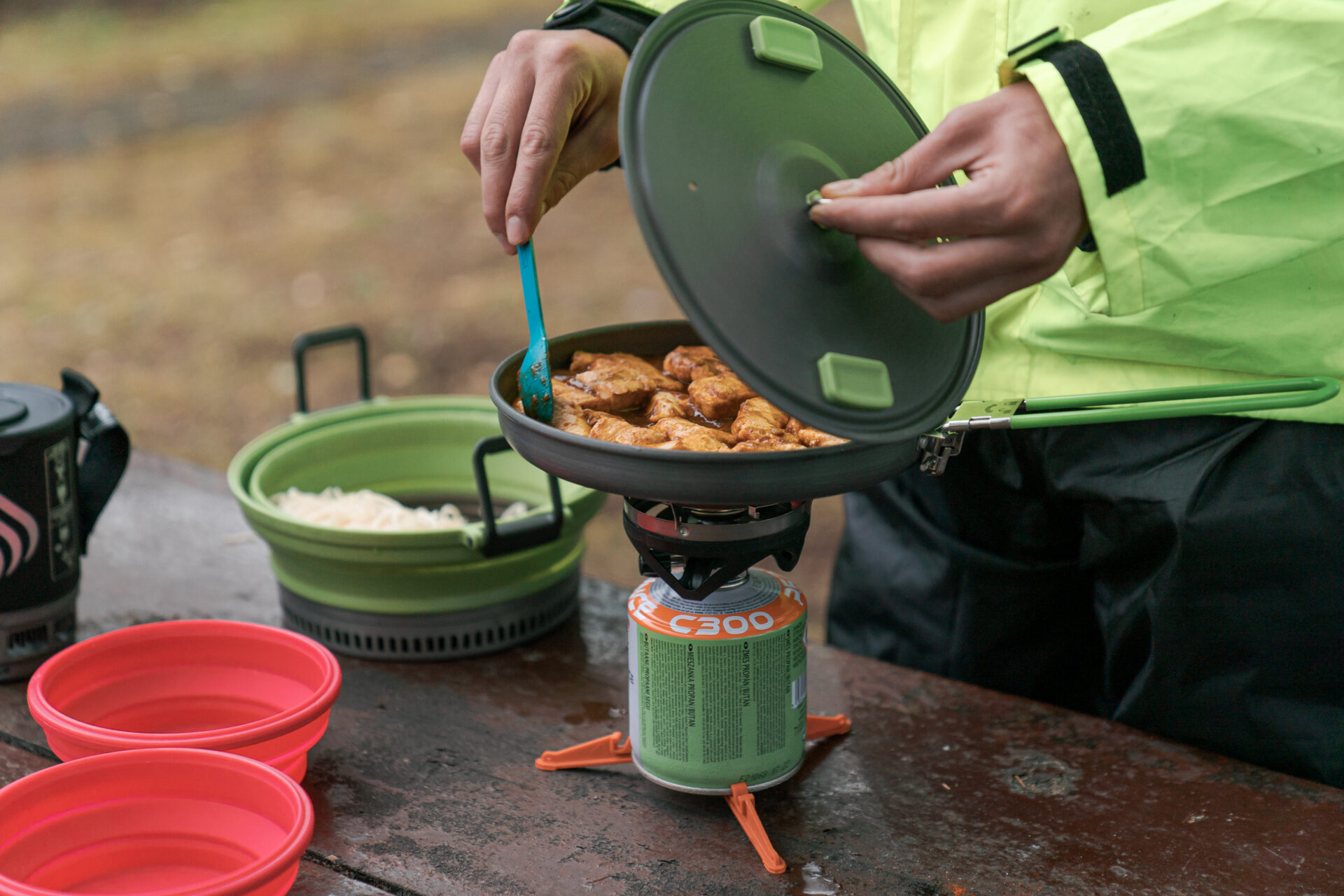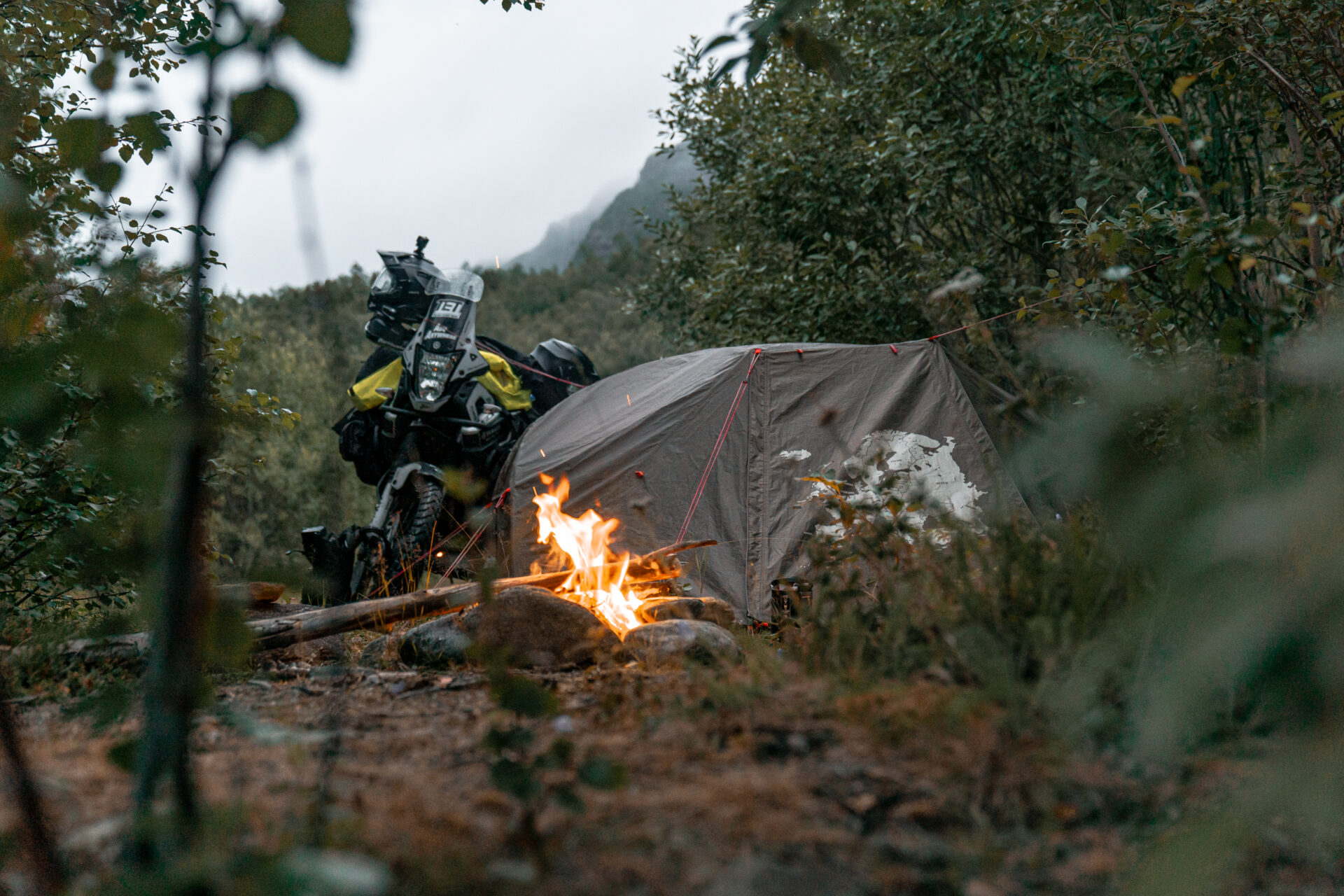 Conclusion
For us, the GSI Outdoors pan, Escape HS pot, Jetboil Zip, and silicone bowls are all essential pieces of gear. It's compact, easy to use, and we're able to prepare a variety of meals during our long travels. In our opinion, this is the set most motorcycle travelers will be happy with.