Posted on:
Most of the time when I travel by motorcycle I choose ADV boots, which combine safety and comfort. However, when I'm out with the intention of having fun off-road, ADV boots recede into the background and are replaced by comfortable and safe enduro boots. The Eleveit X-Legend stands out in a crowd and, with its solid construction, provides everything I need.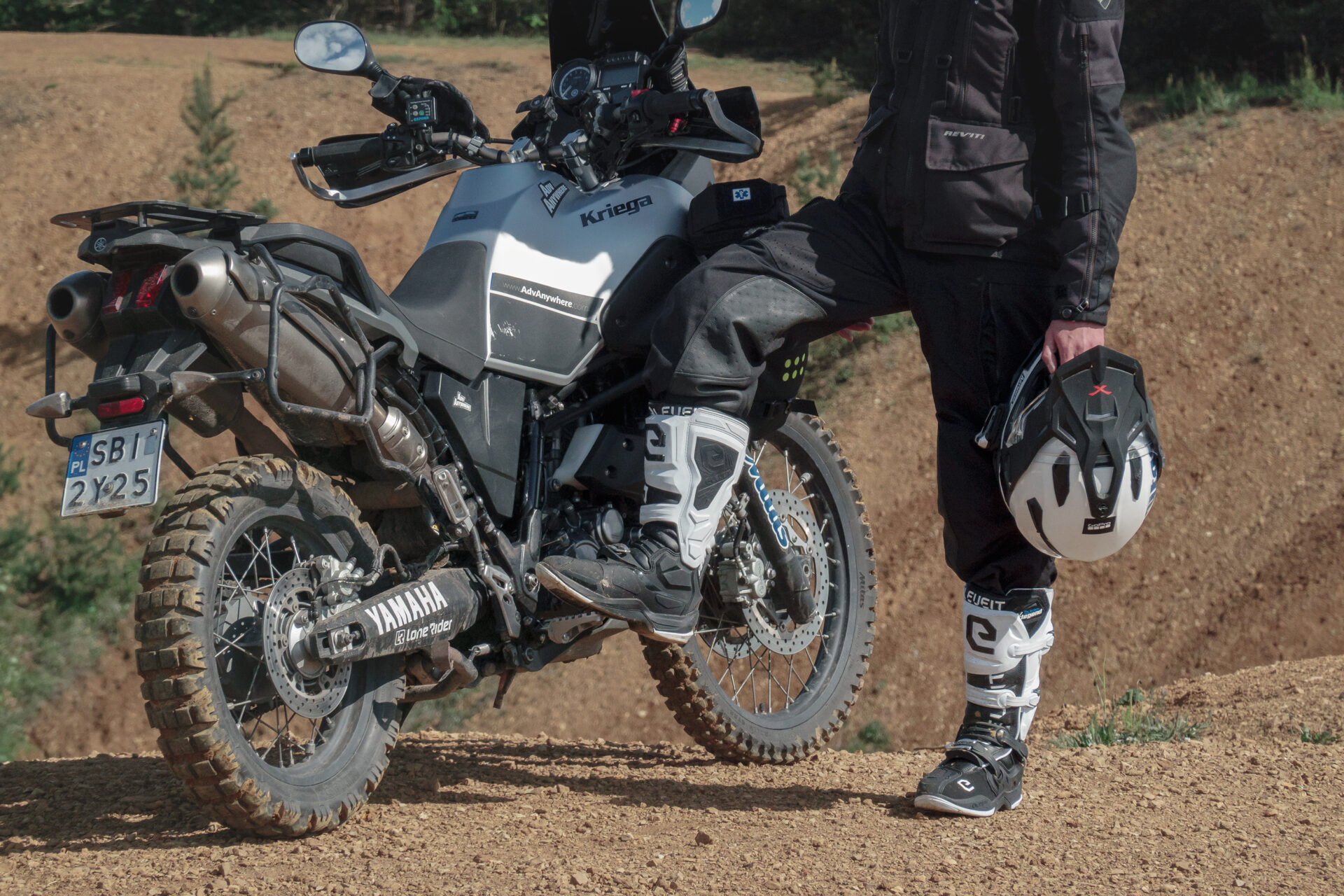 First of All, Safety
With lower boots, I happened to run my tibia over the footrest, which was not the most pleasant experience. The Eleveit X-Legend are hard and high, protecting a large part of the leg. For full protection, all you still need is a knee brace. Personally, I use a Leatt C-frame, the lower part of which goes into the boot, becoming a sort of its extension.
The Controlled Forward Flexion and Controlled Lateral Flexion systems protect the ankle from twisting and limit the boot bending. X-Legend boots block excessive forward and backward flexion of the ankle even when high forces are applied, for example during jumps.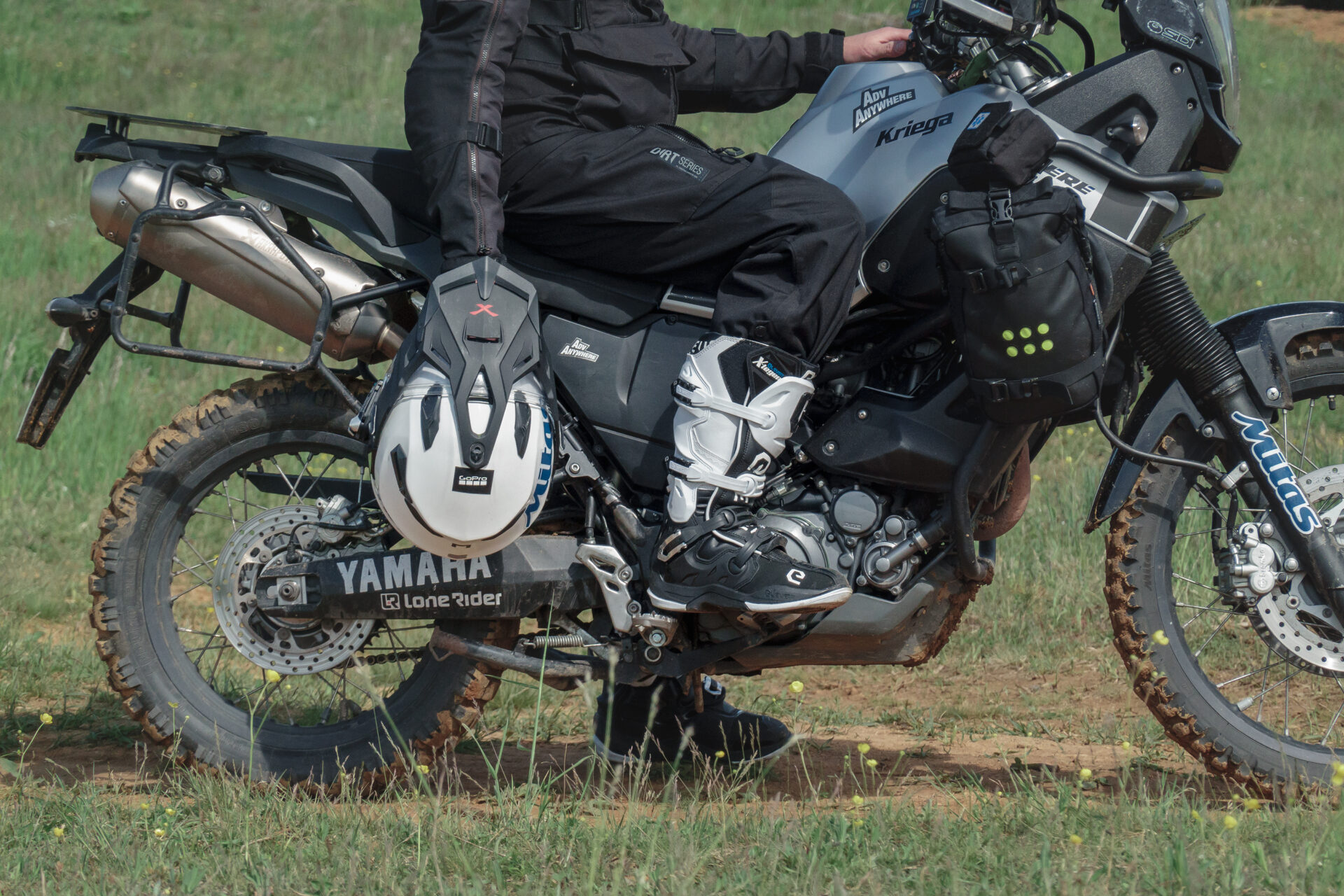 Ultra-Low Weight
The X-Legend is one of the lightest enduro boots. Each weighs about 1,700g, which is on average 500g lighter than other choices from top-of-the-range brands.
For me, this is a huge advantage, because long trails and all-day off-road fun can be tiring as hell, and every gram makes a difference.
Low weight also means greater mobility. When riding a heavy motorcycle off-road (not on the track), you often use the boots off the motorcycle. Here, too, the low weight is important.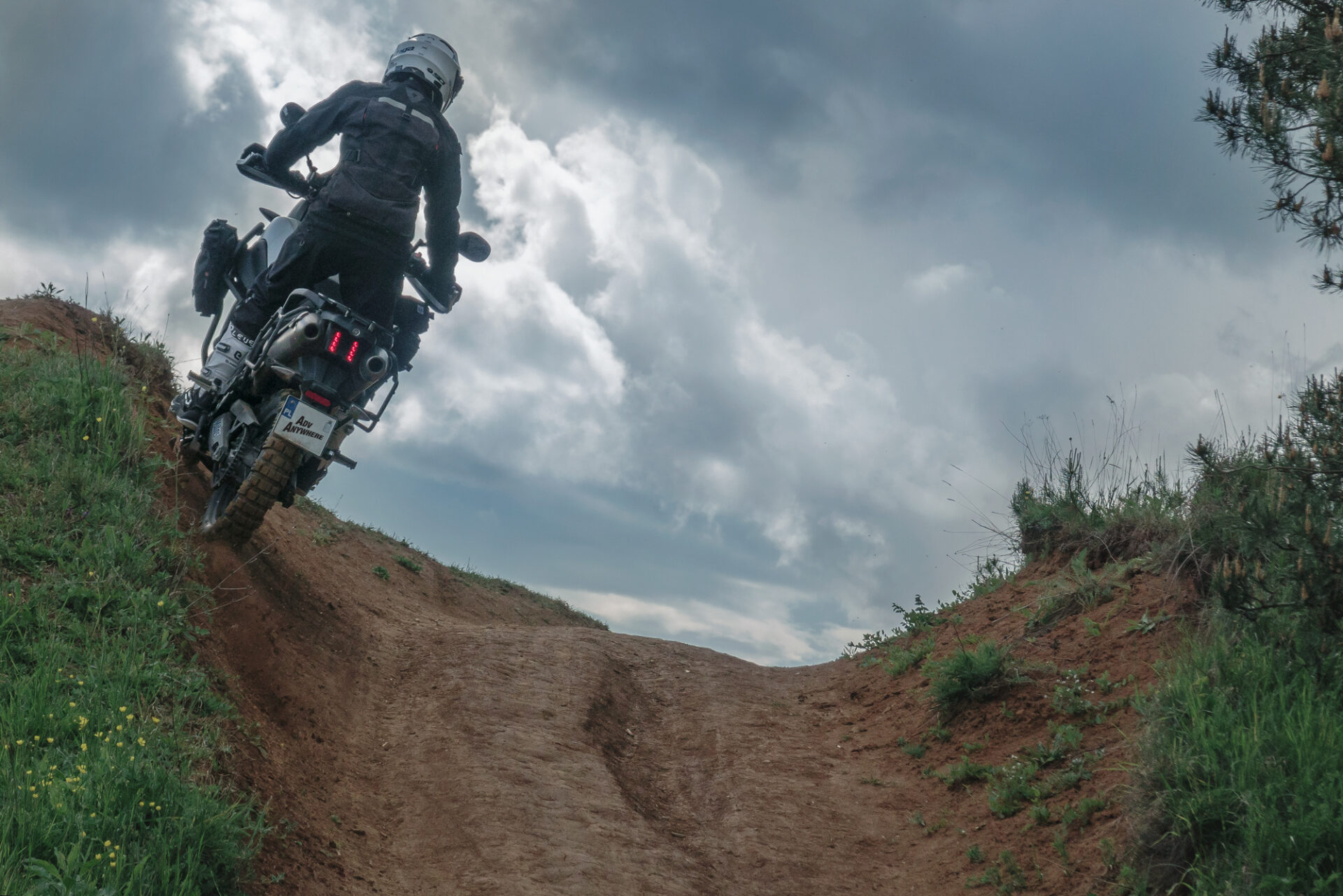 Comfort
These are not walking boots, and you can feel that from the first moment, but that's not what they were designed for either. The comfort of these boots has to be judged when sitting on a motorcycle and riding off-road. And in such conditions, you may forget that you have Eleveit X-Legend boots on your feet.
Riding standing or sitting, I didn't experience any discomfort, pressure, or excessive fatigue of the foot. Shifting gears or feeling the brake pedal is no trouble. Of course, riding every day in softer boots, it takes a while to get used to harder ones and be able to feel the gear lever well. The enduro boot is hard and higher than the touring boots.
The lining, which is made from breathable 3D mesh, is very nice and comfortable. Breathability means the feet don't get hot and sweaty. Of course, until you over-exert yourself while riding.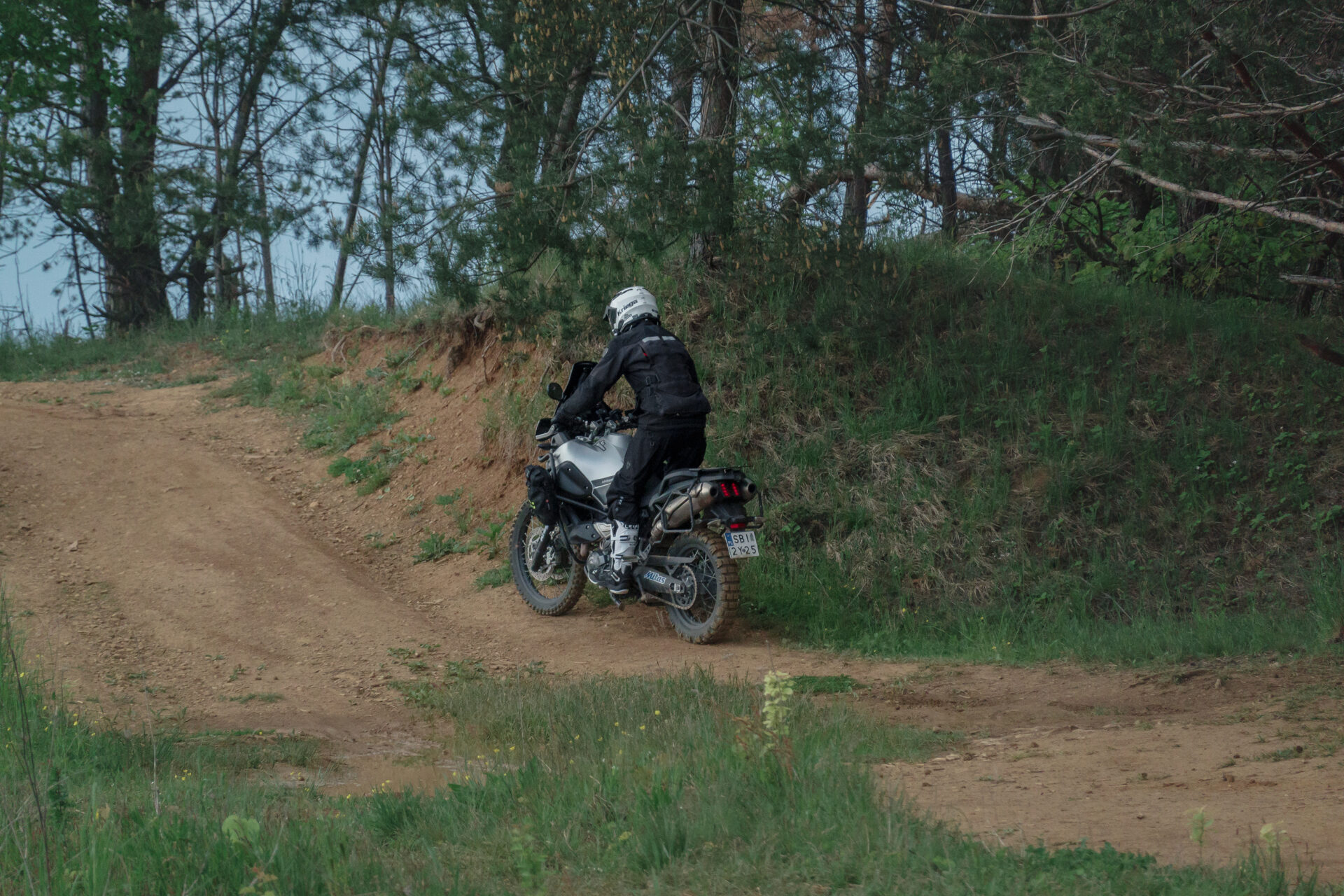 Waterproof
The X-Legend enduro boots are made of artificial leather and plastics on the outside. The front panel, which unzips so you can put the shoe on, is connected by a thin and lightweight material with a water-repellent coating. Comfortable and breathable multilayer lining that includes a membrane that acts as a durable barrier to water.
The whole shoe effectively protects the foot from rain, mud, and short walks through puddles to check their depth. Note, however, that not the entire shoe is waterproof. Entering water the depth of the shoe height may end up in a wet foot.
Smart Closure System
The aluminum buckles are created in such a way that even if one of the zippers unzips unintentionally, it will be locked with an additional closure and stay in place, allowing the shoe to be quickly buckled up again. In other words, the buckle strap does not fly unhooked from the shoe. Personally, I haven't had a situation where the buckle detached itself by snagging on something, but I guess that some riders may have experienced such situations with other boots.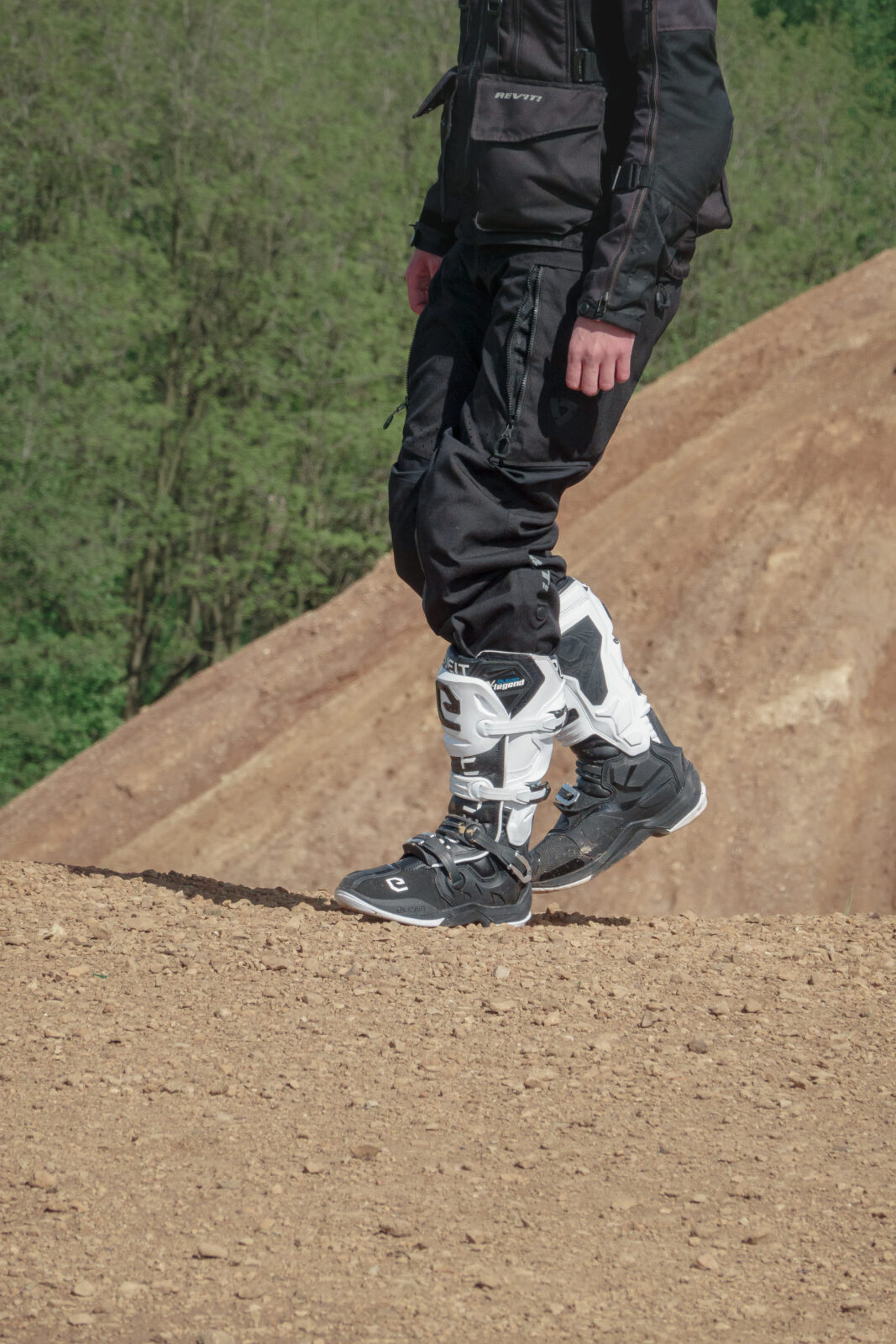 The boots are equipped with micrometric adjustable straps which hook ends are placed into the lever and firmly connected to the steel crossbar. This secures the boot and ensures a safer fastening.
Summary
I definitely take Eleveit X-Legend boots with me for off-road riding, even for several days. Mainly for safety reasons. In addition, high boots like these work well with a knee brace and, together, provide solid protection. When riding a heavy motorcycle off-road, it's even more important that the boot be as light as possible.
For long-distance trips focused on on- and light off-road riding, sightseeing, photography, and camping, I choose ADV-type boots, such as REV'IT! Discovery GTX.