Posted on:
Each Tenere Wants to Be Unique.
Make Yours Too!
As promised some time ago, I'm providing you with a free stickers template. I once again measured the parts and prepared a digital file, just like I did before with my XT660ZA stickers template.
In the photos, you can see what my wrapped Tenere 700 looks like.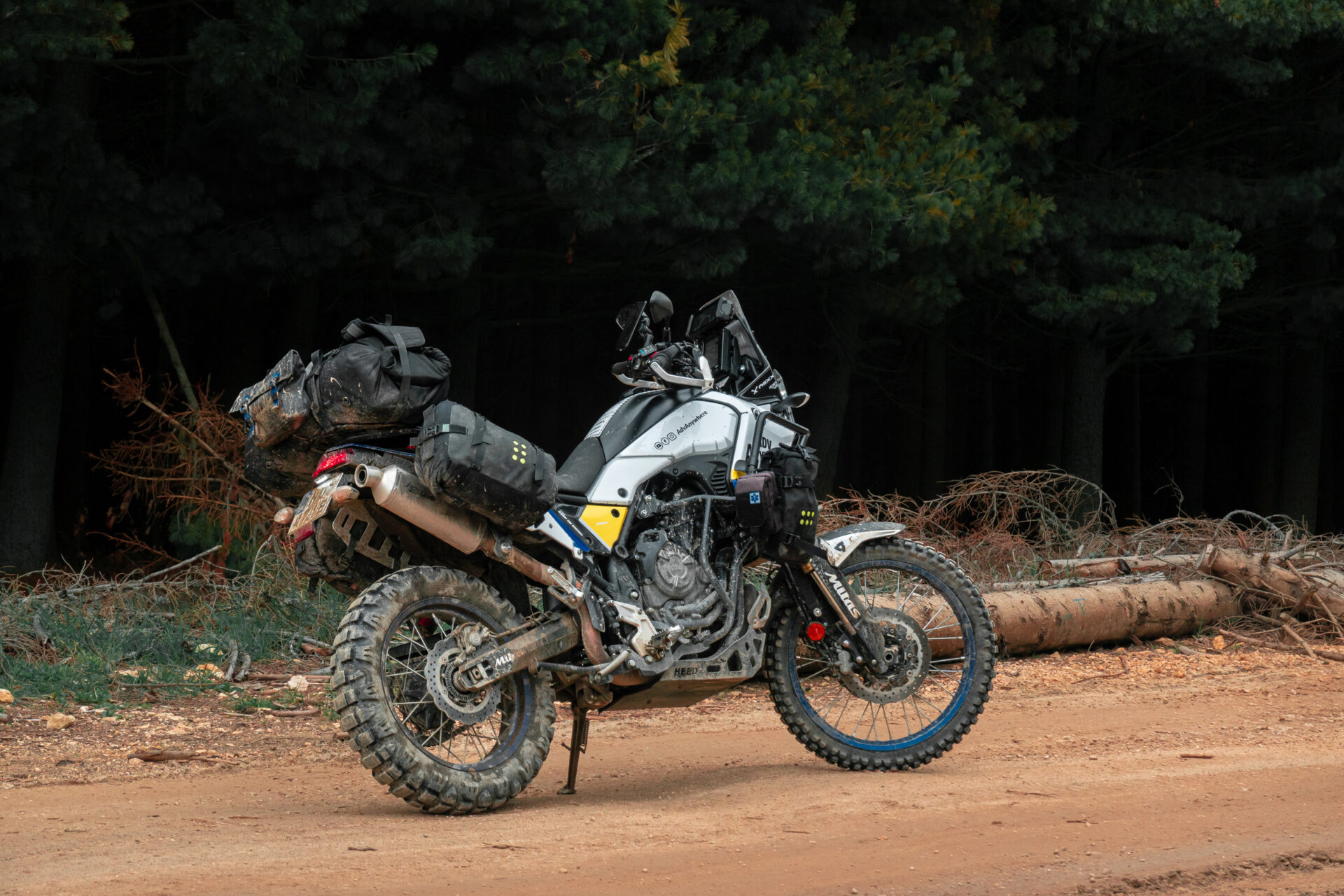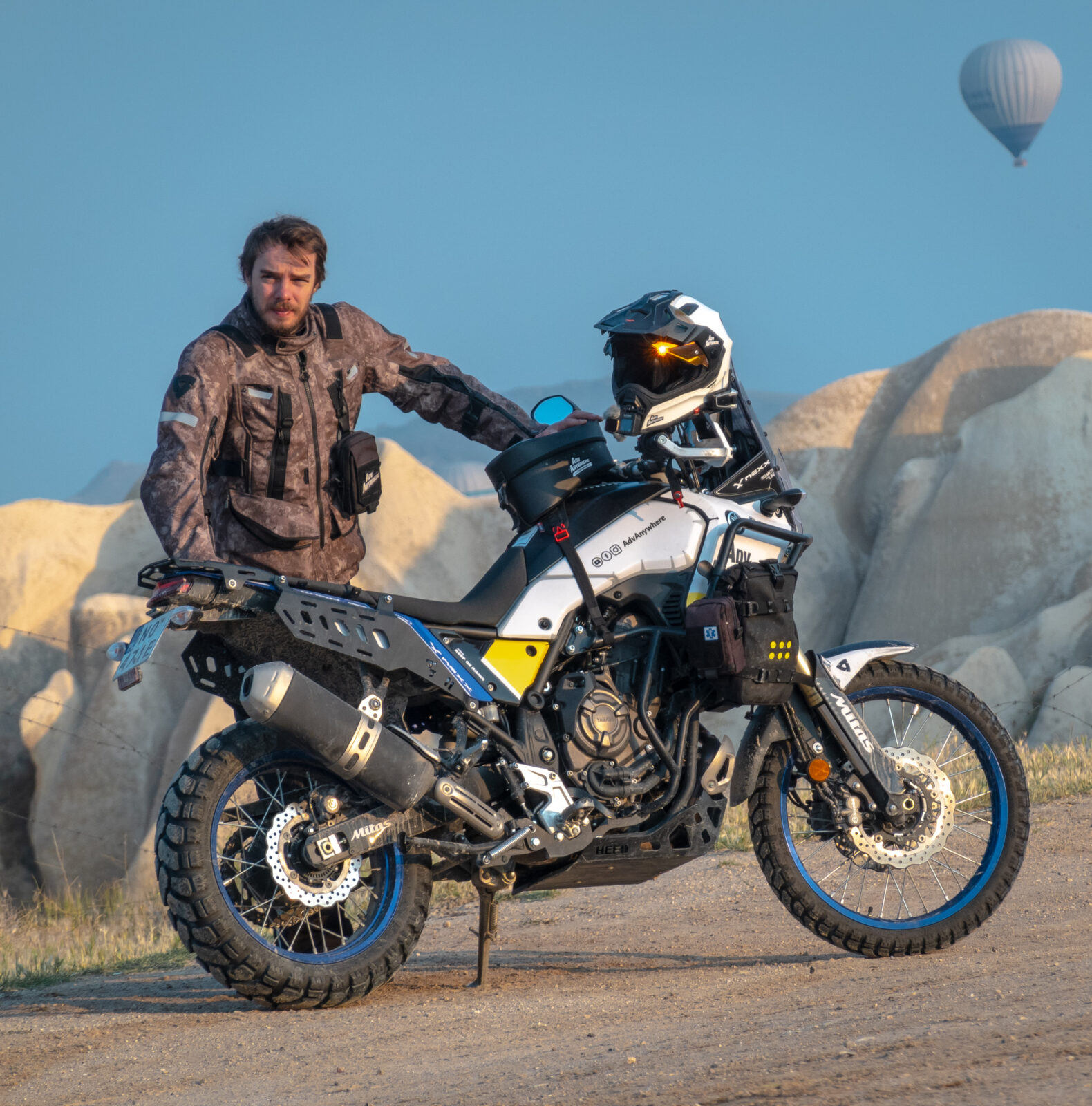 Stickers Template for Tenere 700 for Free
I'm providing a free sticker template for Yamaha Tenere 700 without graphics so that you can easily give your Tenere the look you dream of. If you don't know how to do it, you surely know some graphic designers. Just send them this template and have them create graphics that suit your taste. Then print the stickers at a local printing shop, stick them yourself or with someone else's help, and enjoy the unique look of your machine.
I don't provide graphics or sell ready-made templates – play around on your own because it's the most fun to have a one-of-a-kind design!
Download the free stickers kit template for Tenere 700.
Put your own graphics in a vector editing program.
(If you don't know how to do it, I'm sure you know a graphic designer who will help you for a small fee. If you don't, look for one for example on FB groups).
Print with contour cutting at the nearest specialist printing shop.
(I recommend latex printing on a polymer film with a Comply Adhesive with micro-technology + laminate, but any adhesive film will be good. It's best to consult a printing shop and ask about a film for wrapping cars).
Stick the finished stickers to your Yamaha T7.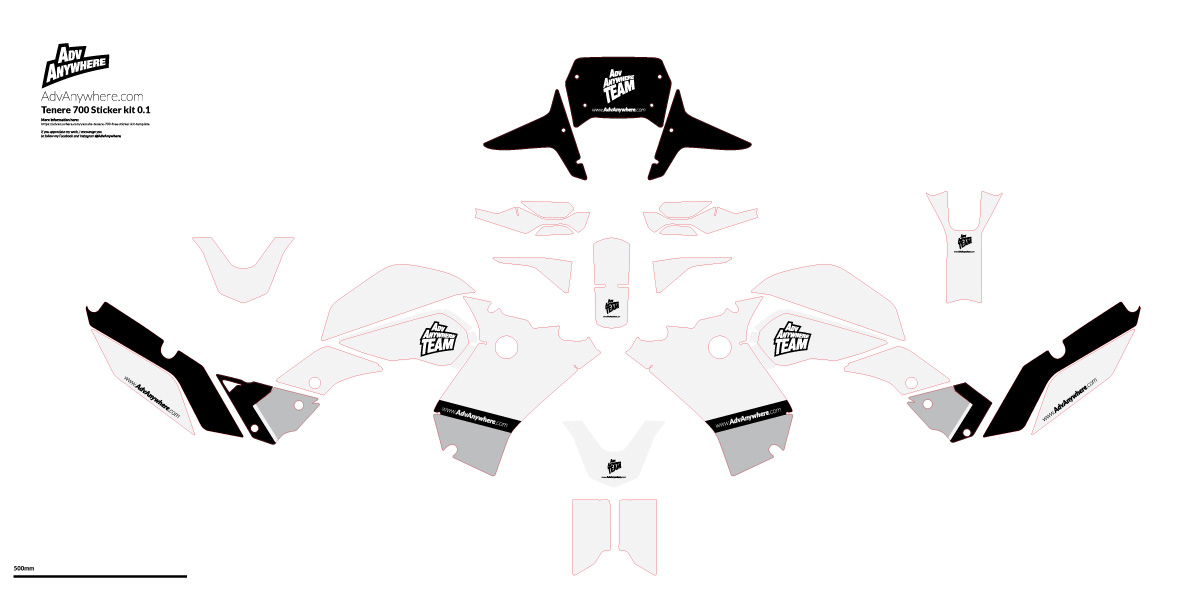 Before you download the file please consider subscribing to my Youtube channel. It will help me to create great content for you. Check out my reviews, tips, and travel vlogs, and stay tuned!
The PDF file with stickers for the Tenere 700 has two layers. The red lines are the cut lines, and the bottom layer is the graphics layer. When creating the graphics, remember the bleed (the graphics should extend beyond the cutting lines by at least 1-2mm)!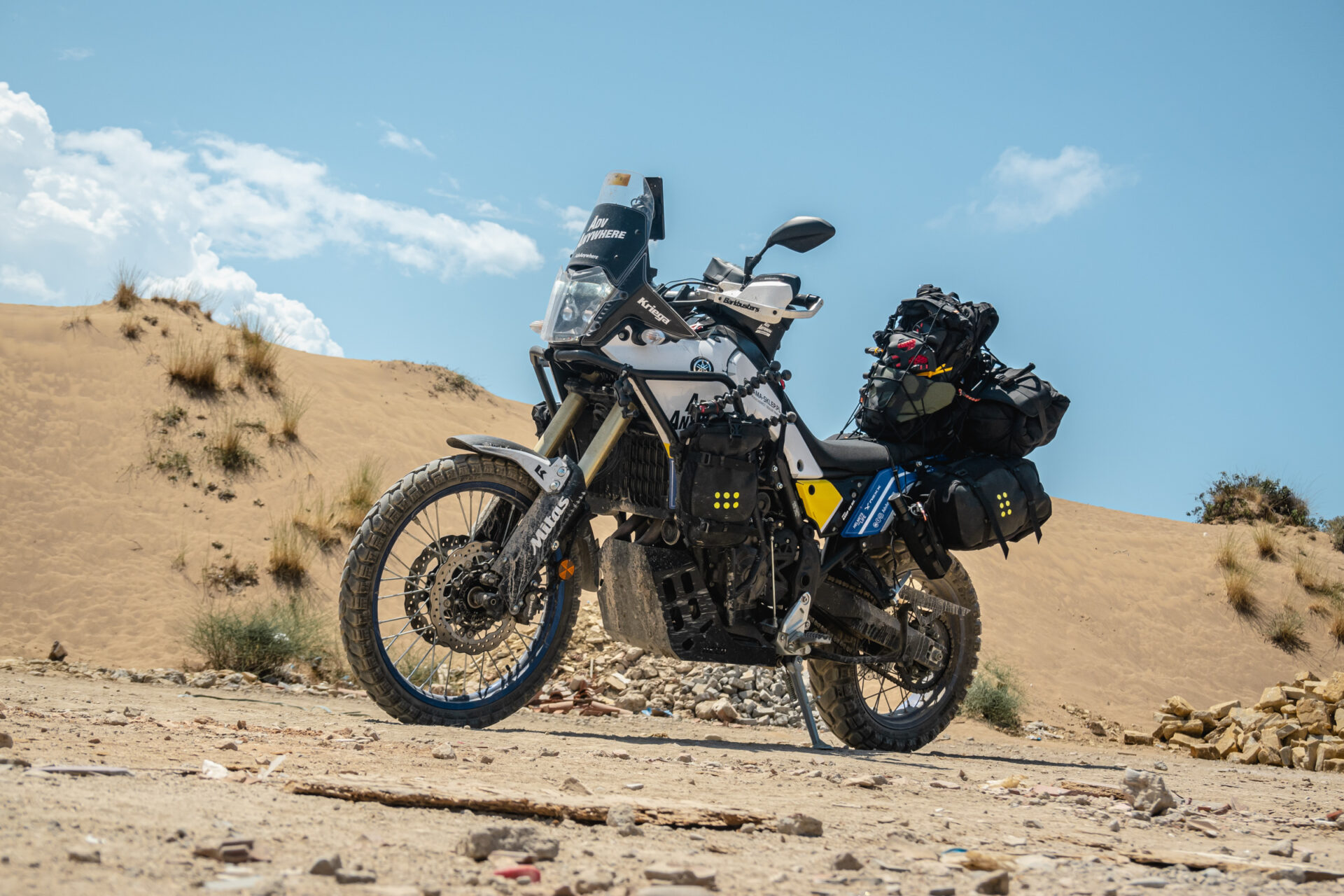 The advantage of wrapping your Yamaha Tenere 700 is not only a unique look but also protection for the original parts. Off-road riding can quickly worsen the motorcycle's condition. The stickers will protect the plastics from abrasions and scratches.
I recommend wrapping the motorcycle using a heater or in the sun – the stickers will be more flexible and will conform to the motorcycle's shape. I know what I'm saying – I put my stickers on in the winter and without a heater. I wonder if you will be able to see in the photos what the results are 😉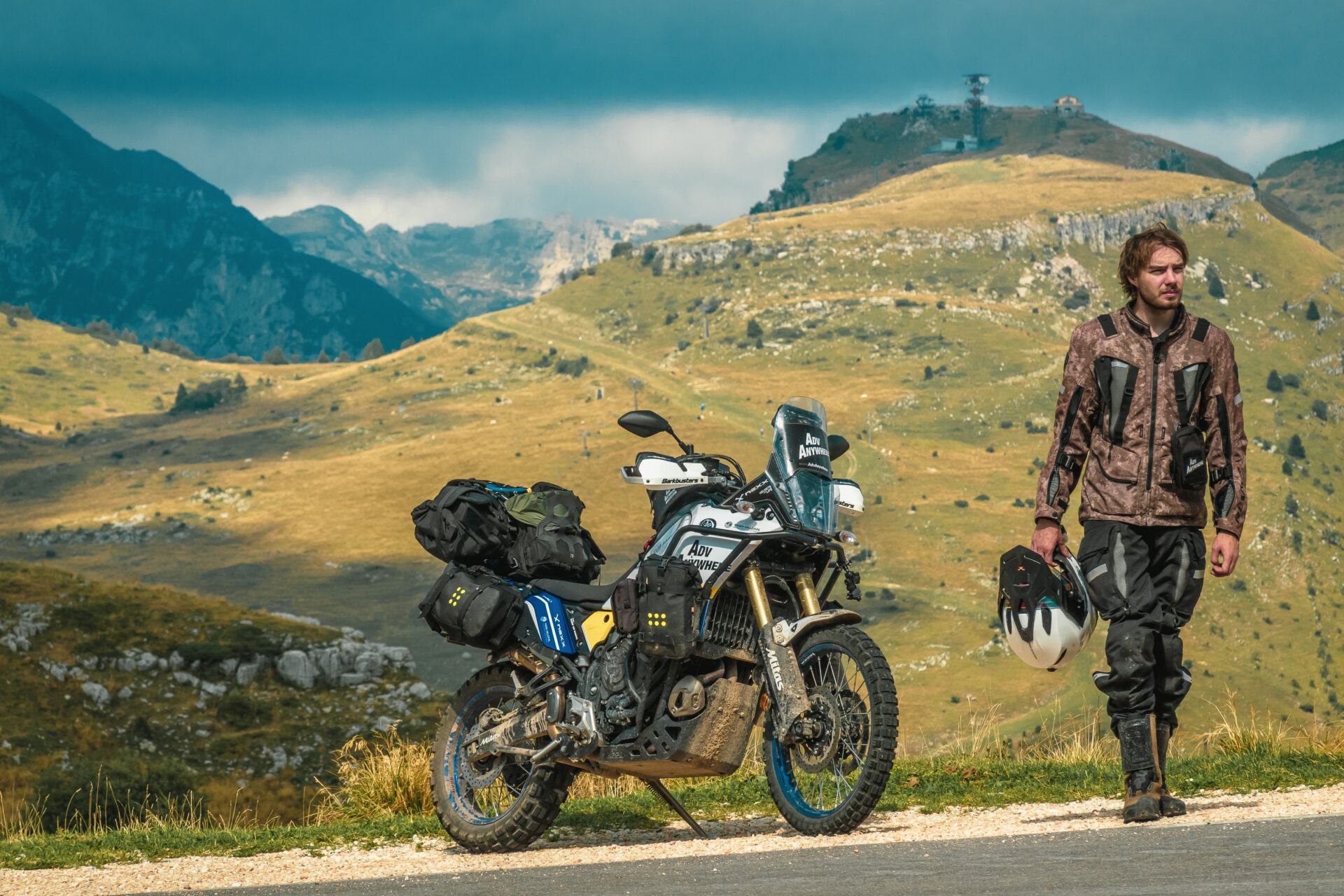 Thanks!
Your generosity is a great gift to me. If you would like to appreciate my work by, for example, buying a coffee, you can do it through PayPal. By supporting my project, you contribute to the creation of more materials.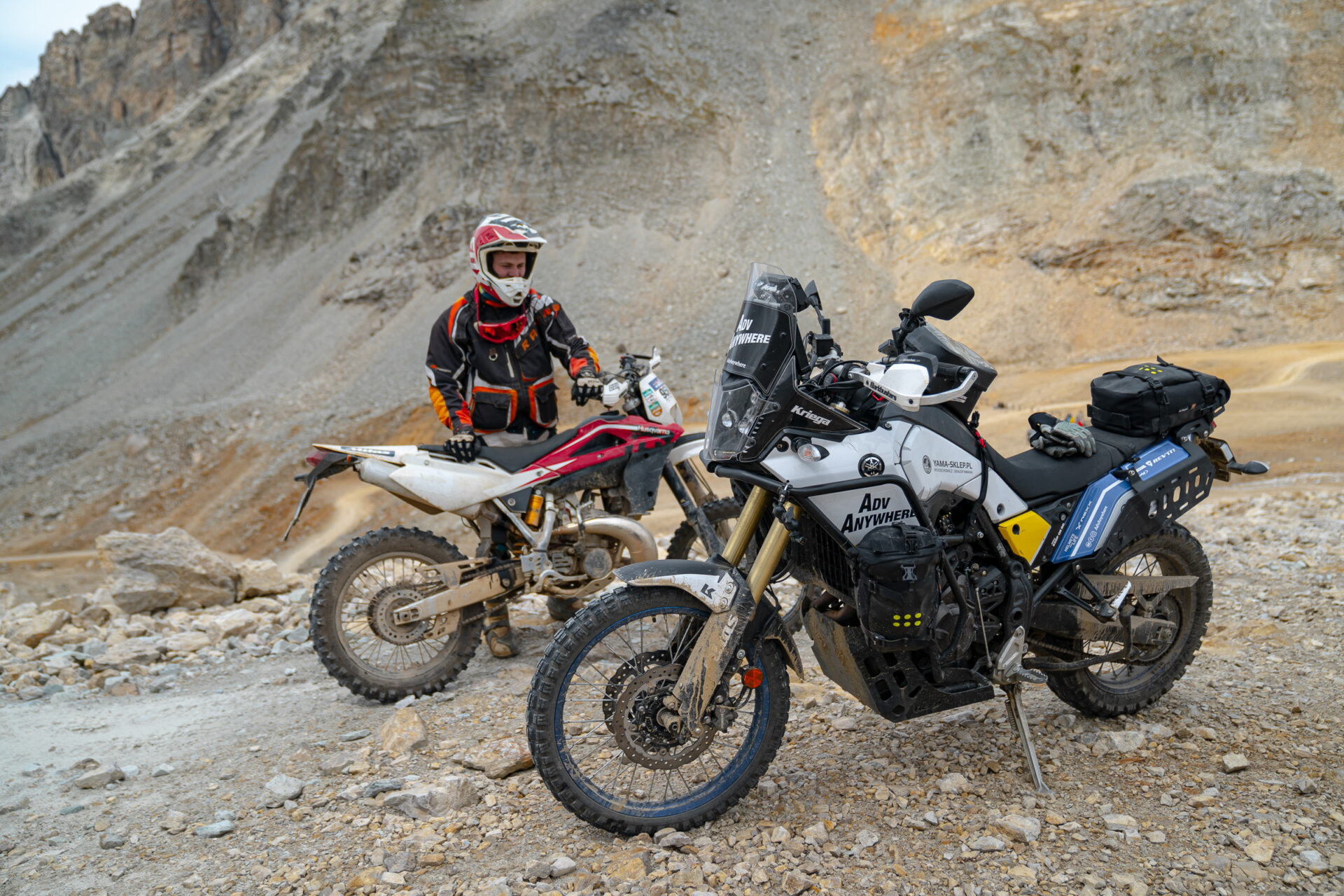 Let Me See Your Project!
Let me know how you did and share your photos! Tag @AdvAnywhere on Facebook and Instagram so I can see your work!
This is the first version of the stickers I made for the Tenere 700. It's possible that some minor adjustments will be required, so please contact me if you have any suggestions about size and shapes.