Posted on:
The Beginning of the Adventure
We came across Jetboil by accident, looking at camping cookware and backpacking stoves in a sports shop. Before, we used a small pot and a stand for dry fuel. Although it was a compact and lightweight solution, it had some disadvantages: igniting it took a long time, same with water boiling. We always had to protect the structure against the wind, and also deal with non-ergonomic pot handles. It seemed that all these inconveniences will be lost in the fog of history with Jetboil. However, before giving our money to the cashier, we asked around if it was really a good deal. The reviews were mostly positive and if anyone complained, they complained about the price. Some people suggested cheaper alternatives, but after delving into the topic, it turned out that these alternatives sometimes look… dangerous. You know, fire blasting high up, this kind of thing.
We made our minds up: let's go buy Jetboil.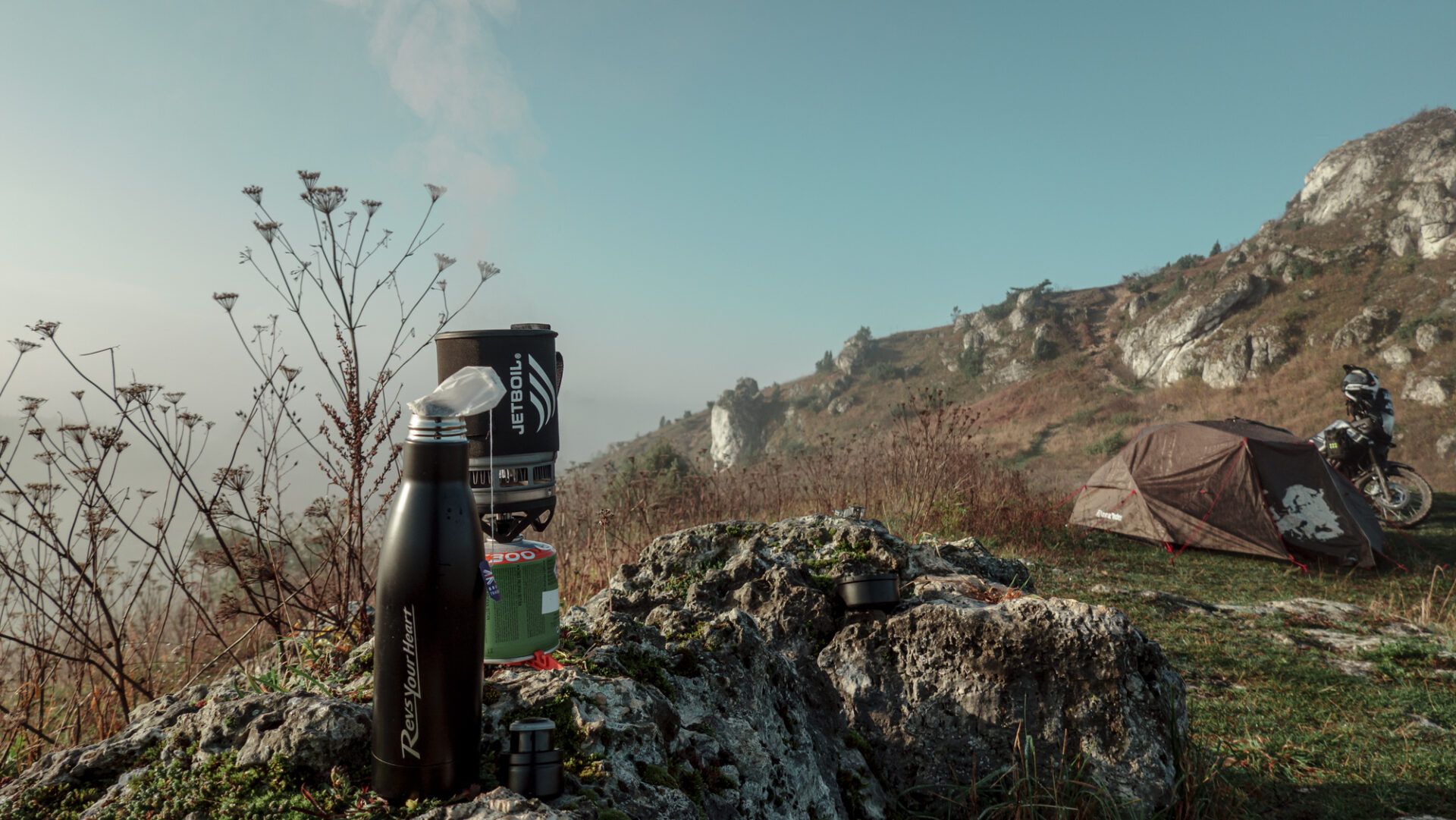 Capacity
One of the many advantages of Jetboil Zip is the capacity of the pot: 800 ml. That's tremendous because we can boil enough water right away to pour over two freeze-dried meals at once, which was not possible before. With the previous set, we had to boil the water twice, each time it took 5-10 minutes. In Jet, we can also easily measure the amount of water using the measuring scale located in the center of the pot. Another plus is the speed of cooking – three minutes and a half liters ready. "Why so fast?", You will ask. The construction has its share in this.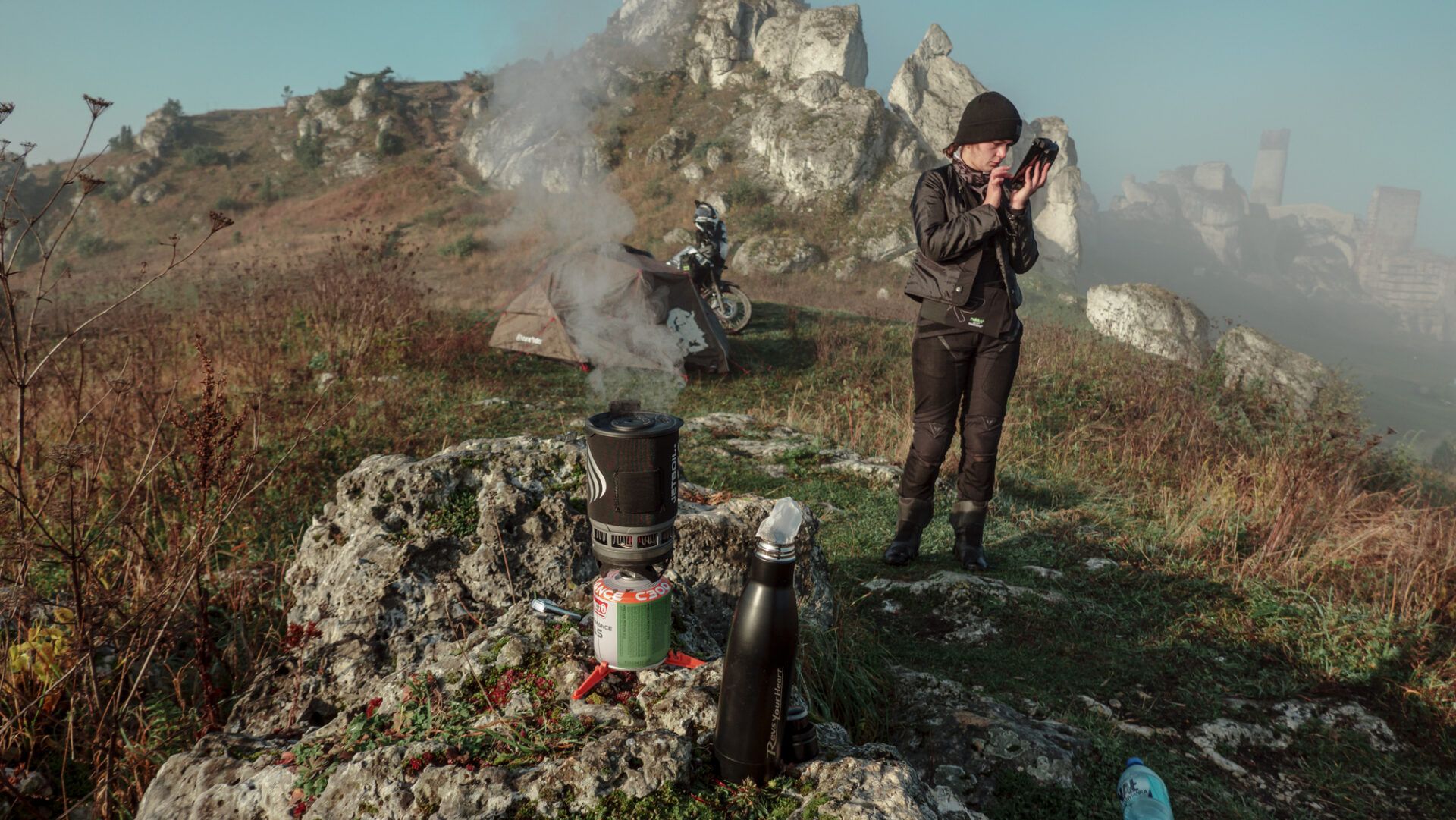 Construction
The Jetboil stove has been designed so that as much heat as possible is used as it should be, i.e. to heat water. This is guaranteed by the built-up structure, thanks to which the flame covers the entire pot, and at the same time heats the air around it, without escaping into the atmosphere. The manufacturer says that thanks to this, 70-80% of the heating power is used, and not only 30-40% as with regular stoves. We are not percentage specialists, but there is no doubt that the whole process is extremely quick. The included lid is also very useful, as it makes boiling even faster. It is equipped with a vent and a drinking hole which is perfect when you want to brew tea directly in the mug. In addition to this and a well-designed burner with a windscreen, the insulation of the pot is also important. Made of neoprene, it helps to maintain the right temperature inside, and additionally protects us against burns. A handle attached to the insulation layer provides a more comfortable hold. We also have a strap which allows you to attach the pot to the backpack. In addition, the set includes a tripod that helps us stabilize the stove on uneven ground. We only need to buy a lighter or matches, because the set is not equipped with an electric igniter (which is not a problem, as they are said to break down quite quickly). And a cartridge.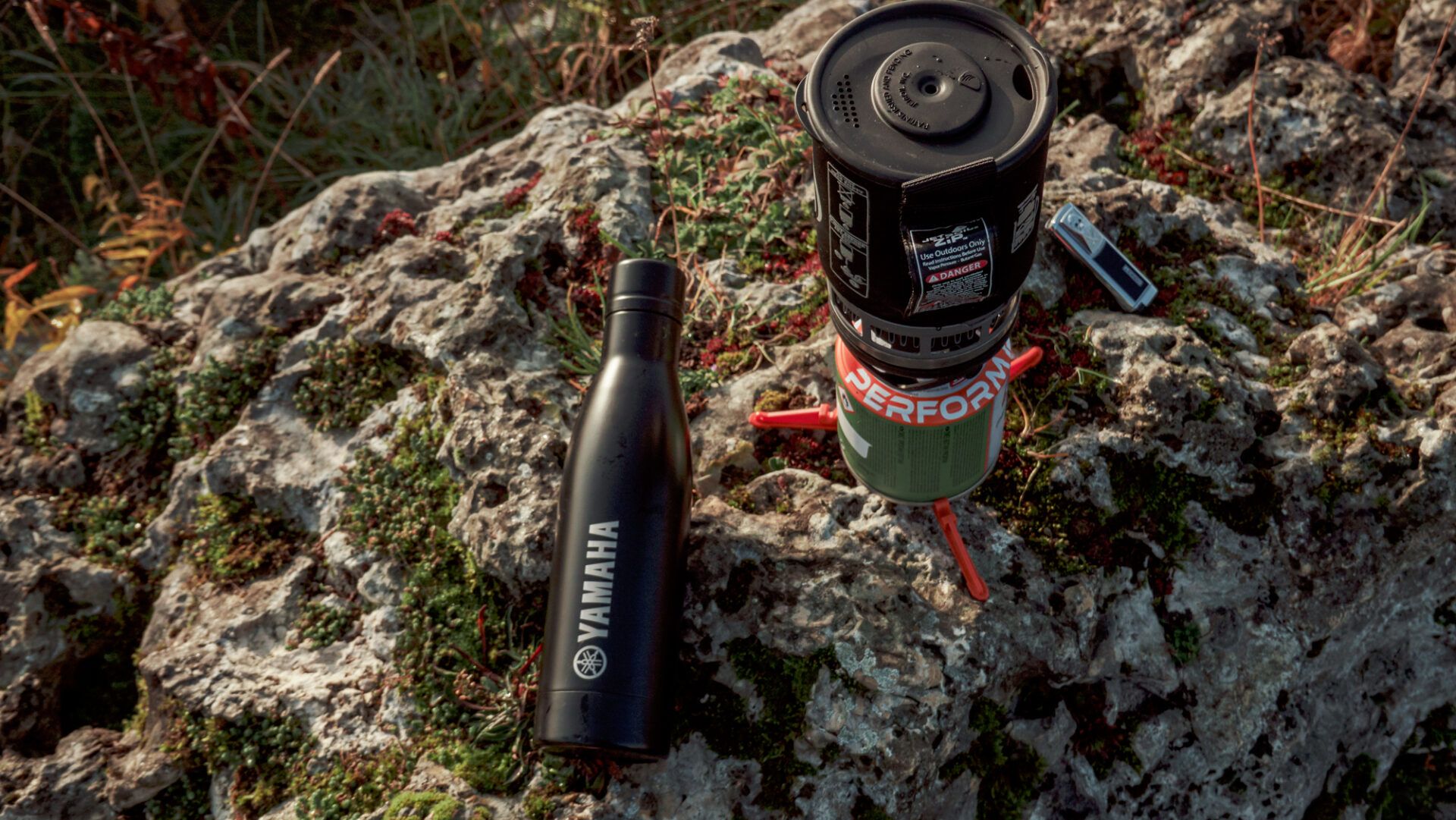 Modularity
What's also great about this cooking system is that it can be expanded when needed. The accessories range include a coffee maker, a hanging kit, and a pot / pan stand. We need to stock up on the latter for the next season, not to rely only on freeze-dried products, but also to be able to make a "real" dinner or breakfast. There is no possibility to prepare chicken or vegetables in the pot. I think that there would be some daredevils who tried to cook rice or pasta in this cup, but personally we want to make our set a bit larger, with an additional pan. Scrambled eggs for breakfast are a very tempting idea.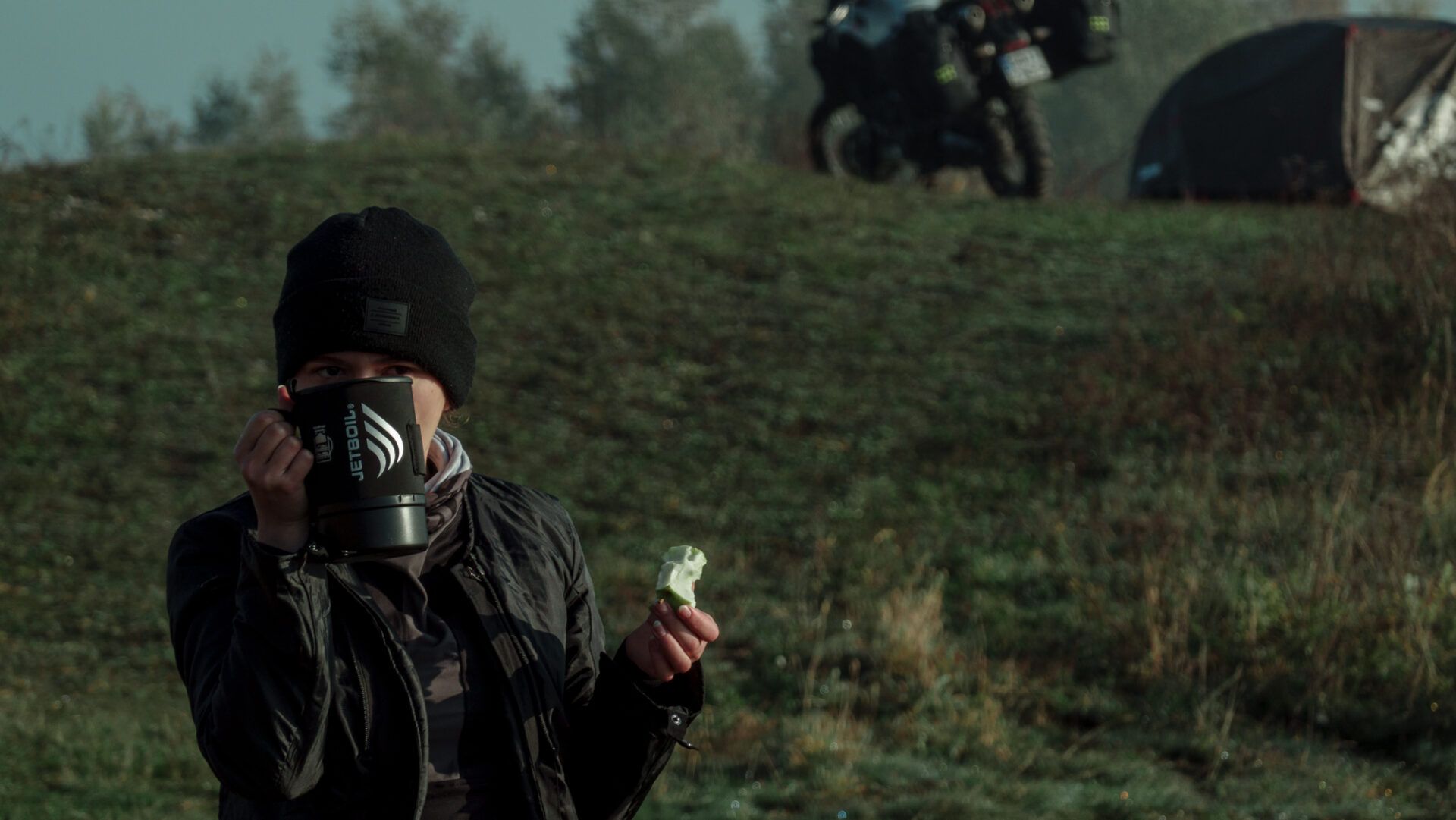 Compactness
The entire basic set does not take up much space. The tripod and the burner fit neatly into the pot, as well as the lighter and 100g cartridge. This way, we can save some space in the luggage and keep everything conveniently stored in one place, instead of searching through panniers or a backpack for required items. Of course, Jetboil is definitely a heavier solution than what we used before. The cartridge itself adds a lot of weight compared to dry fuel, but it is undoubtedly much more conducive. Everyone has to decide for themselves what is more important – speed and ease of use, or less (kilo)grams in a backpack. We chose the first one, because we prefer to spend our time more actively, admiring the surroundings, instead of sitting in one place waiting for water to boil.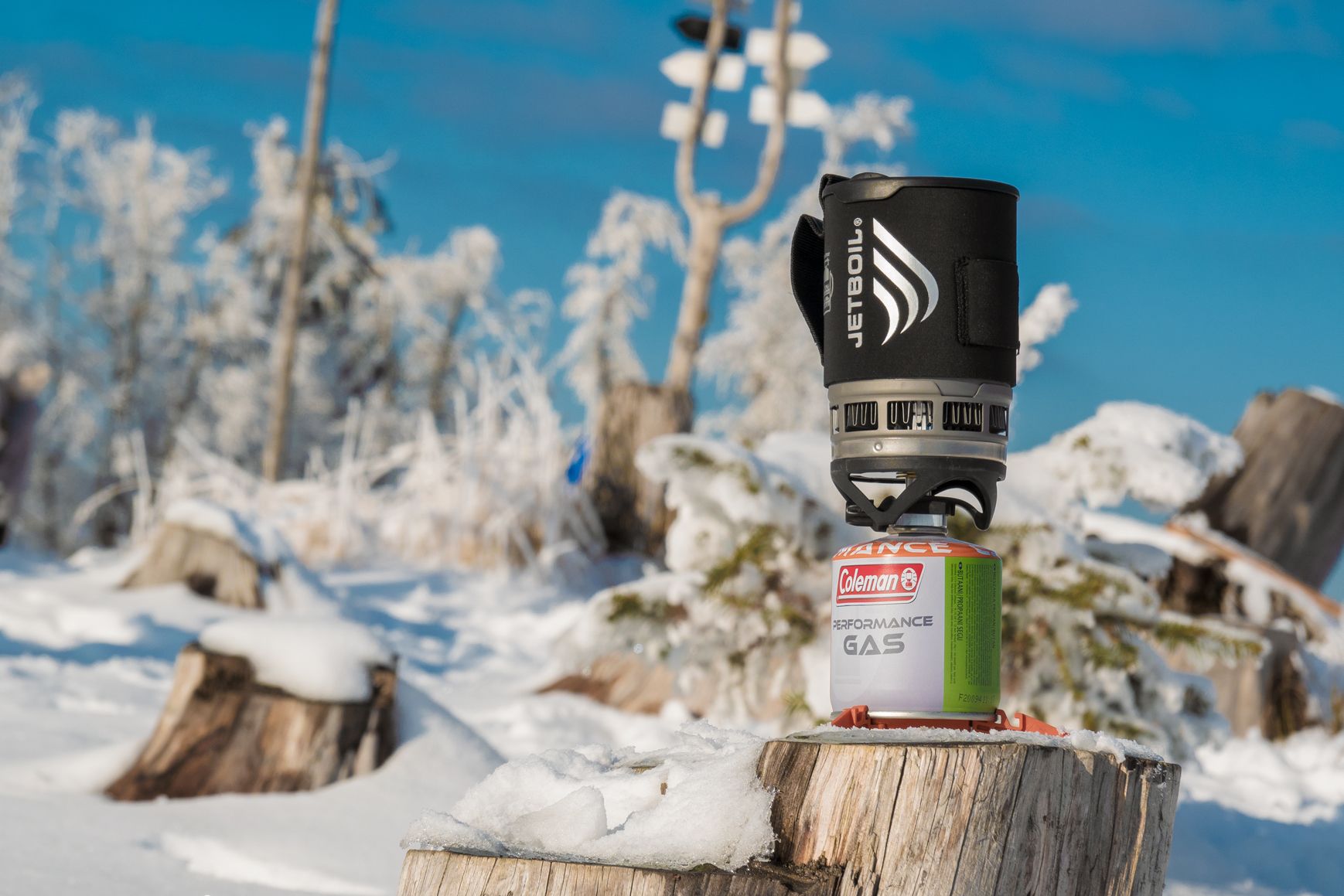 Summing Up…
Jetboil Zip in our case has proved to be perfect for short trips so far, and if we were to advise someone on which small cooker to choose – Jet is our answer. Easy to set up and pack, quick to operate, and quite small.
And as soon as we have the opportunity, we'll try it out on a longer journey, in an extended version, and we'll surely update you if it's still doing well.