Posted on:
When preparing for motorcycle trips, it's essential to give a lot of thought to choosing the right equipment. One that will serve us reliably for years and never let us down. For us, an important part of our equipment is a tent that will provide us with a roof over our heads regardless of where we are. Especially if we plan to sleep mainly outdoors during trips. And we believe we've found our perfect type – Lone Rider ADV.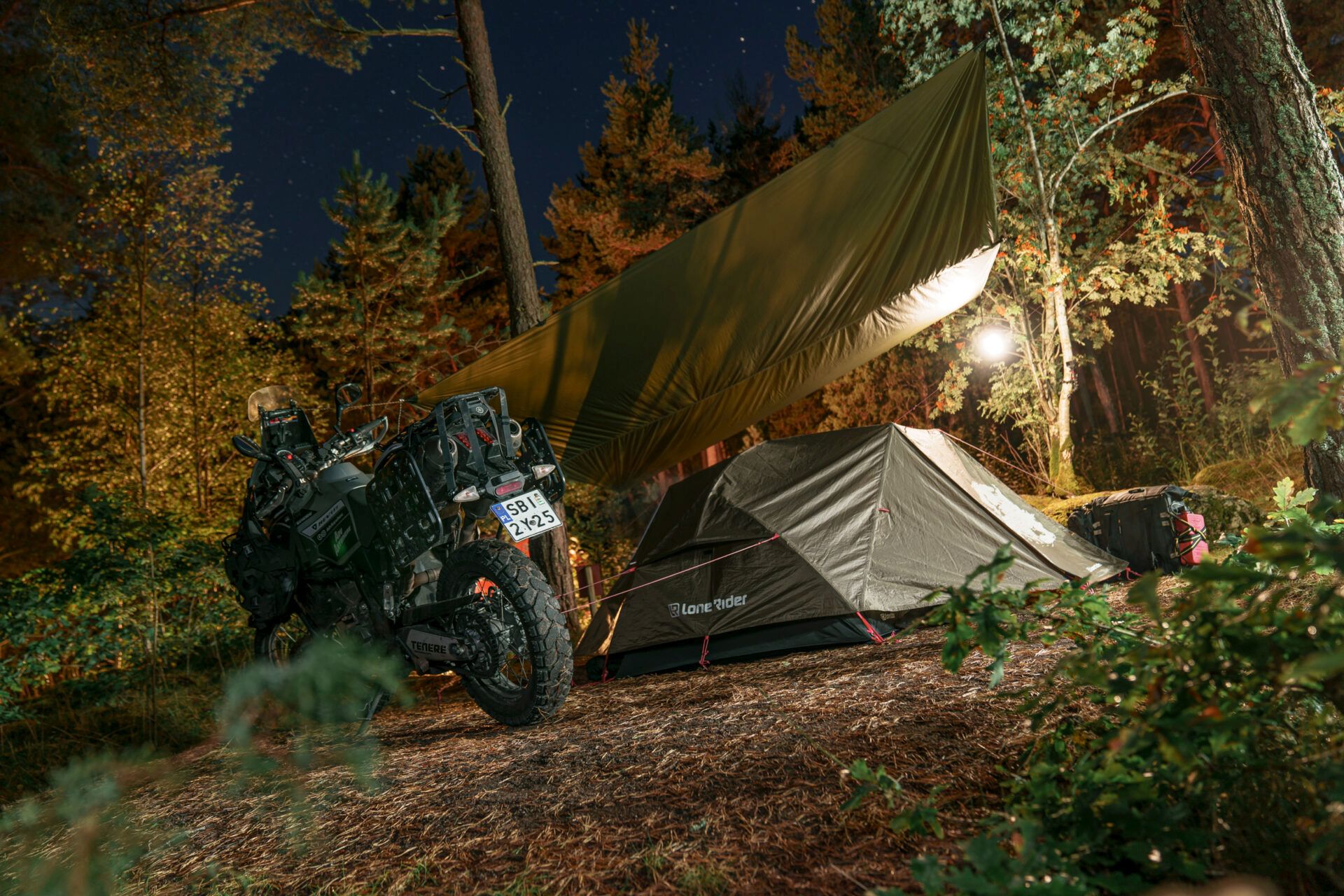 Why Lone Rider?
Lone Rider is quite famous in the moto travelers world. Of course, before adding it to the cart, we did some research and found out it's probably really as good as the manufacturer says. Comparing the specifications with other models from different companies, and watching/reading a plethora of reviews on YouTube and blogs convinced us that it's worth the money.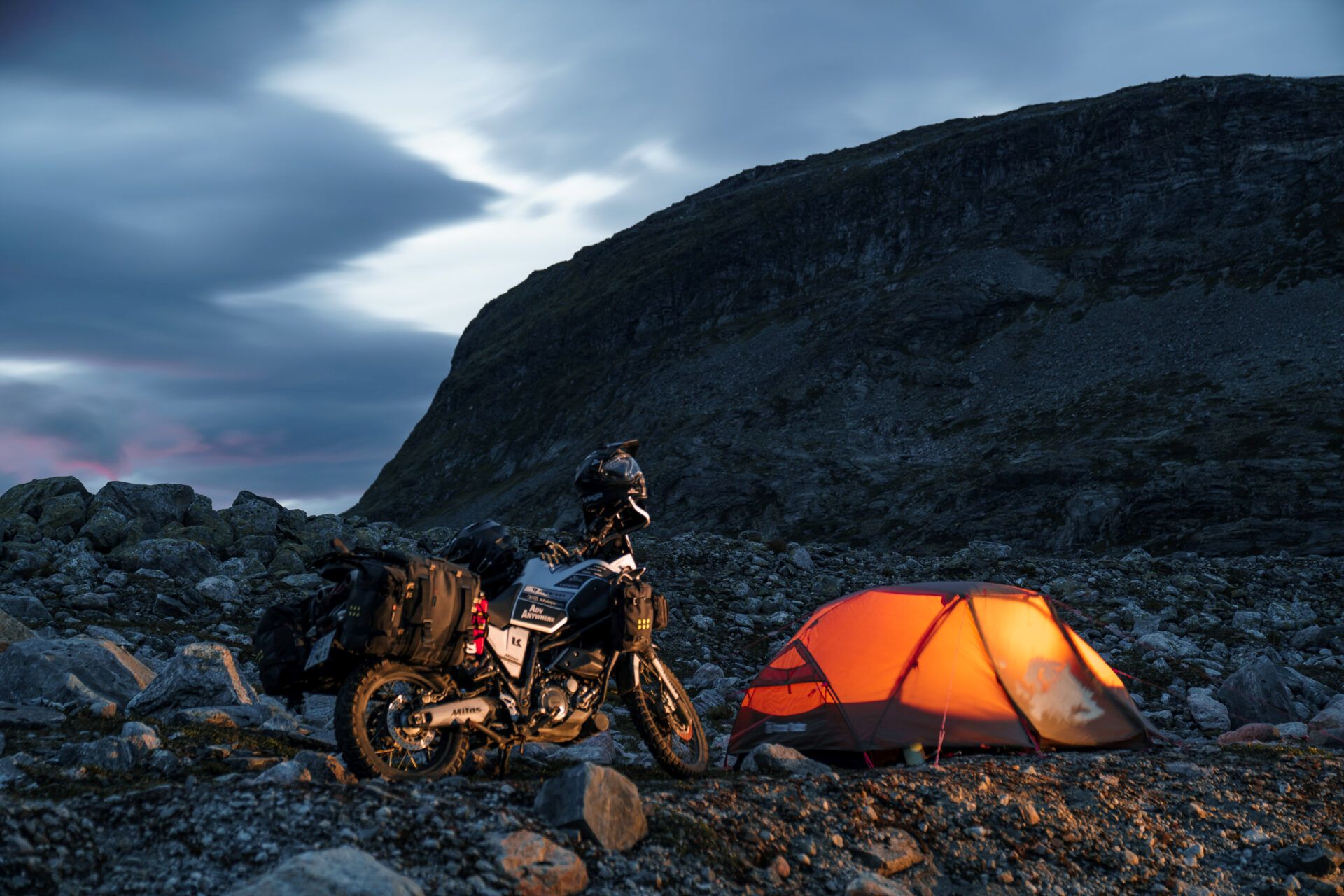 Hassle-Free Transportation
Each of us has a favorite thing about this tent. One of them is a roomy, waterproof bag – large enough to fit even a not-fully-rolled-up tent. It's one of those things that you miss when it's not here. When it comes to tents, sleeping bags, and liners, the bags are often so small that you have to make use of your leg and force a given thing into the cover. Or you spend long hours thinking about how to pack it nicely. We don't have to do all of this here – Lone Rider provides a carrying bag slightly bigger than you need. Then you can easily roll everything up and pull two straps to conveniently compress it.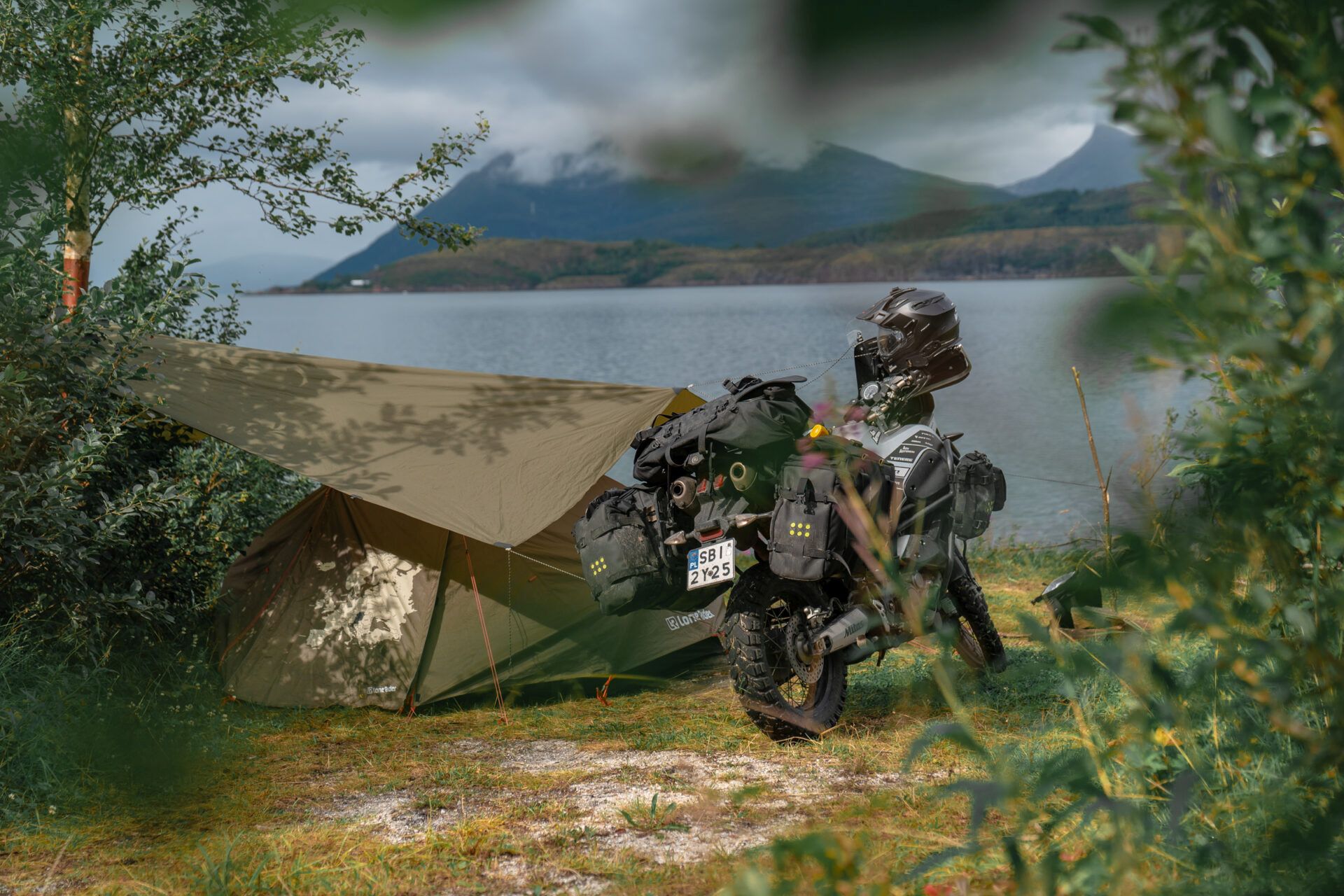 After folding, the tent's so compact that it can easily fit into a pannier (or a case). We used to ride it around Norway in our new US-40 Kriega Rackpack (along with the rest of the sleeping equipment).
The Joy of a Nomadic Lifestyle
When traveling with a tent, the most important thing is quick and easy set up. With Lone Rider, the set up is very satisfying as everything happens in a blink of an eye, almost automatically. I was always frustrated with other tents that I have dealt with before because I never understood what to put where to make the construction stable. Folding is super fast too, so you don't feel like wasting your time in the morning rolling up the poles and bedroom.
Comfortable Living Conditions
Although compact when folded, when unfolded, it is very roomy. The size is perfect for both a couple and a single rider. When traveling alone, the bedroom has enough space for a mattress and luggage. When in two-up, panniers and shoes can be kept in the vestibules. There are two, so we can safely hide everything from the rain. And an important thing – you can crouch comfortably without slouching, so blowing a mattress, folding sleeping bags in the morning, or changing clothes is not a chore.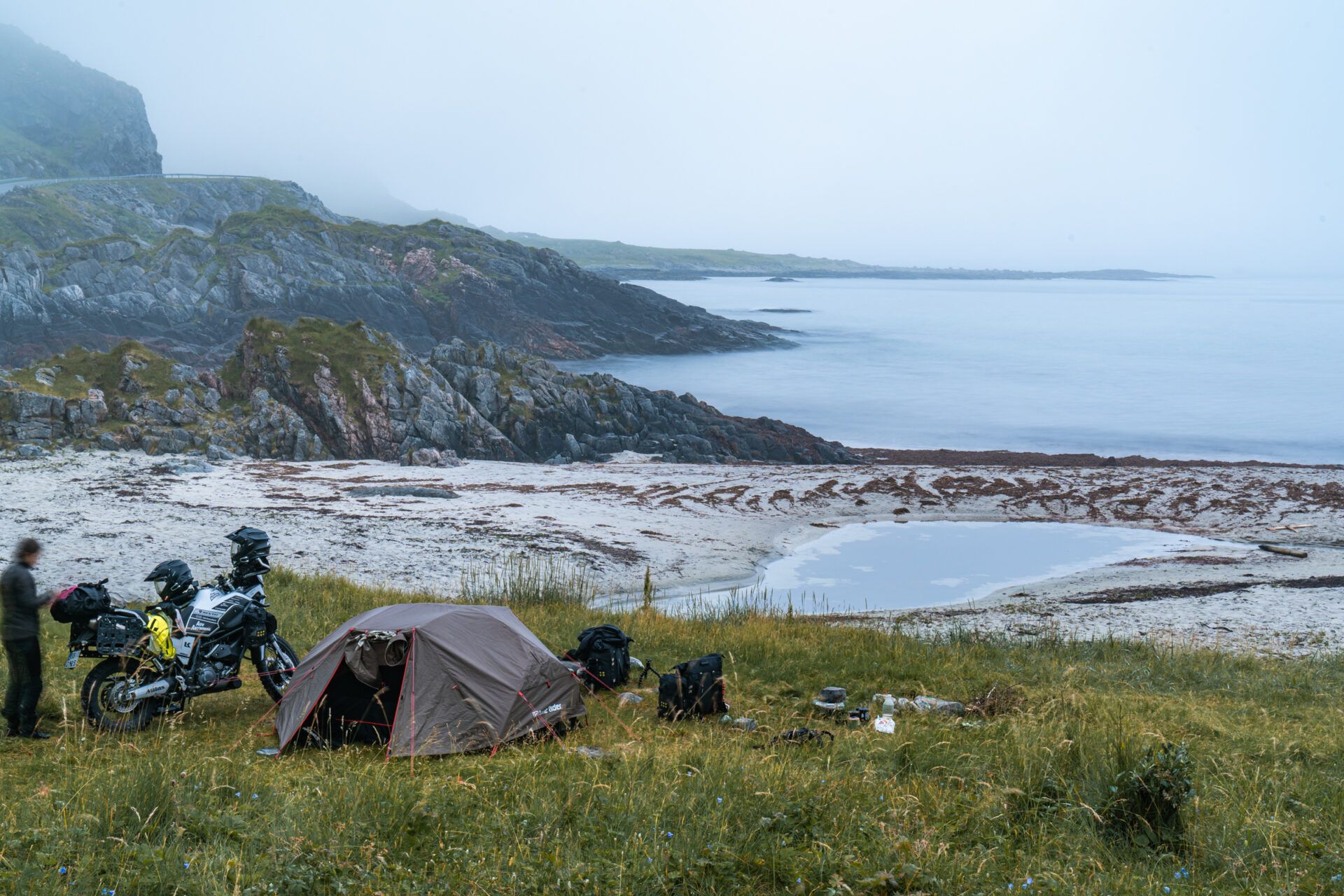 By the way, two vestibules, and thus – two entrances, is another convenient thing, because we do not have to jump over ourselves if someone wants to leave the tent in the middle of the night. We also have two clever solutions at the entrances: hooks and a pocket for small items. There are a lot of pockets by the way, even on the ceiling. Hooks, on the other hand, are used for additional security as the door lock. That way, no stranger would quietly open the tent while we are sleeping.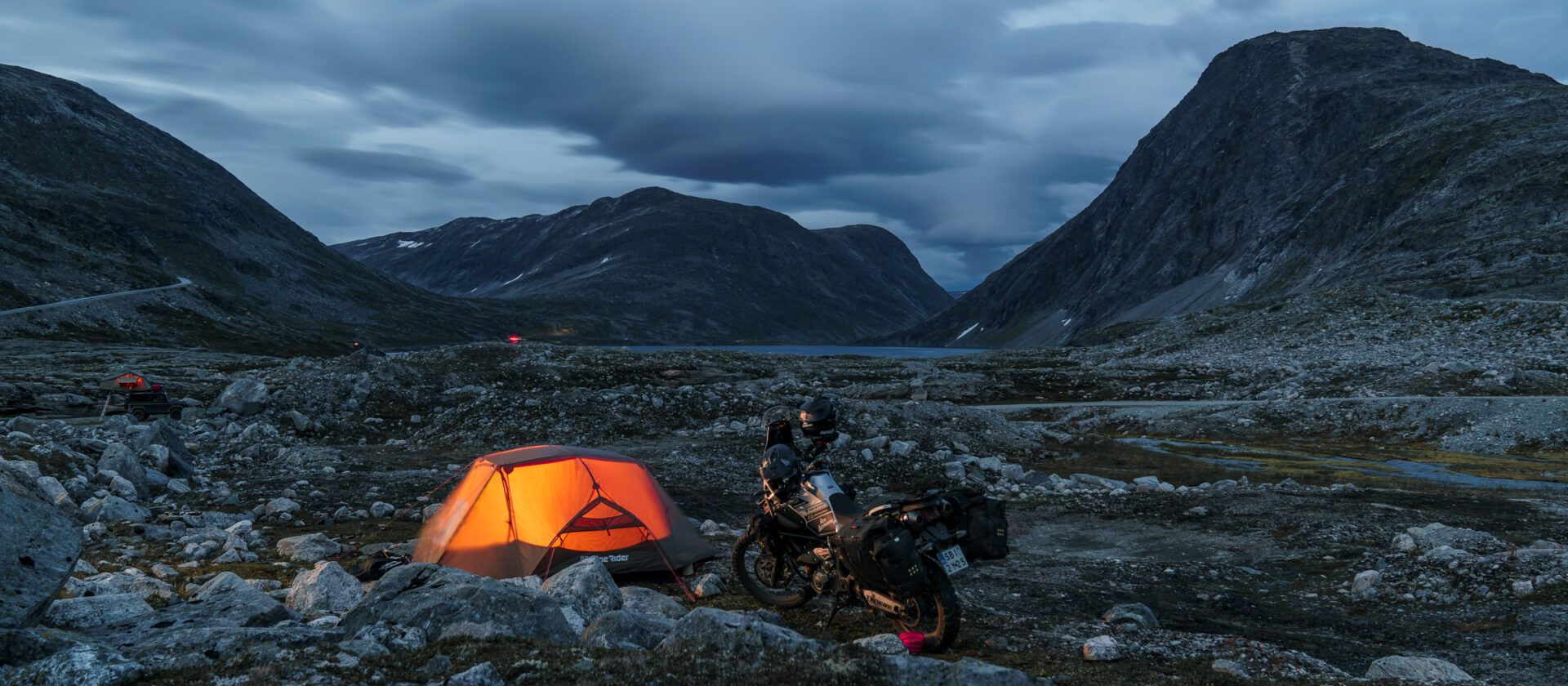 Another innovation? Zipped holes that can be used for electricity cables or to help secure things. We don't use them often, but we've heard that some people appreciate them, so just a quick mention.
Details Matter
There are a few nice accessories. The tent comes with an SOS mat (hopefully we and you won't have to use it for rescue purposes), which serves as an additional layer under the tent floor on a daily basis – providing additional insulation and protection against damage to the tent floor by pebbles and twigs. We also have an emergency triangle printed on the bag, so we do not have to carry an additional, "normal" one. We got a pen for our version with the Europe map, too. A map and a marker pen is a great thing because you can draw a route you're riding or paint over the visited countries. And be proud of yourself that you have seen so many places.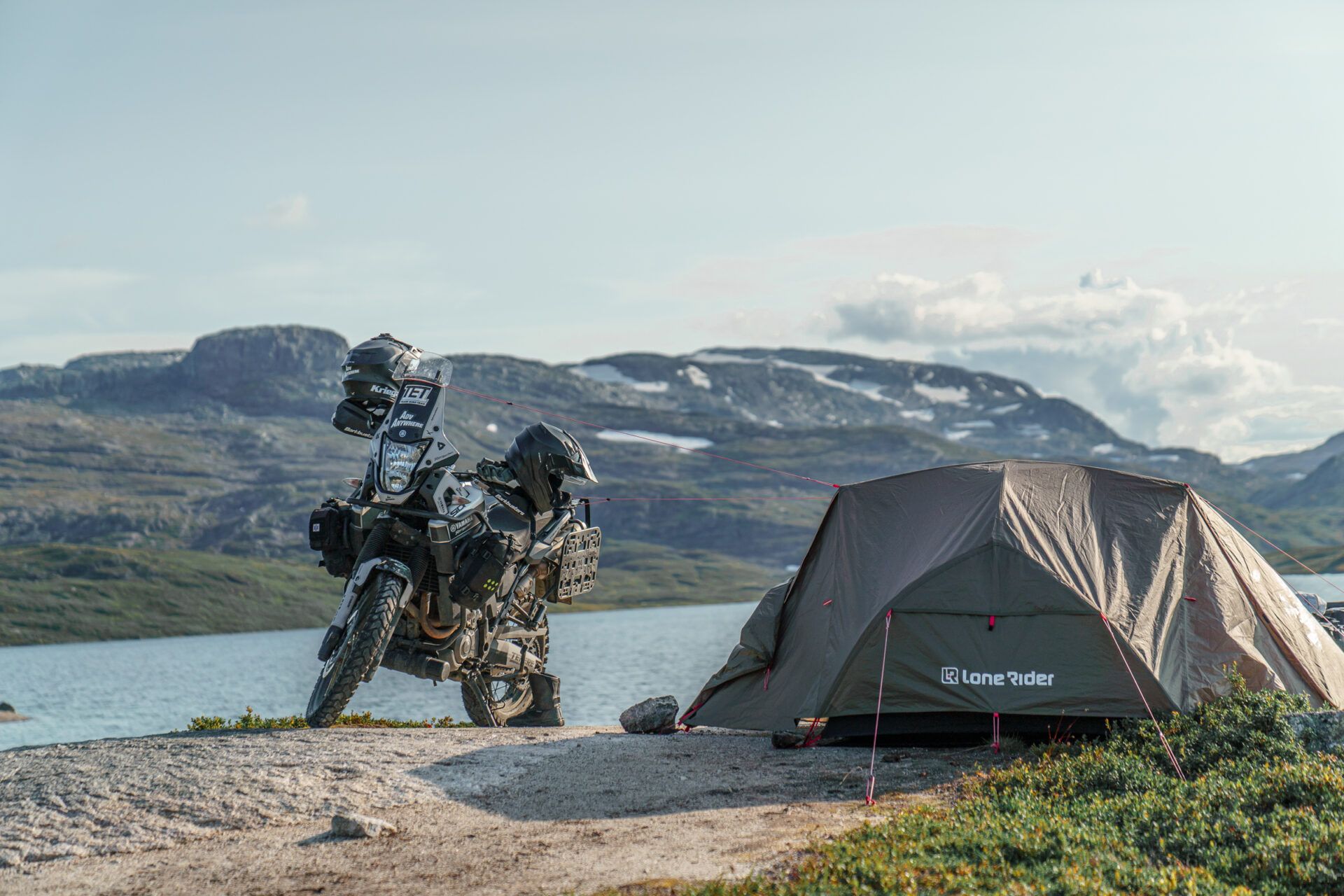 It is also worth mentioning the lightweight pegs. They have an optimal shape with four wings, so we can easily stick them even into a hard surface without risking bending them. We can also clean them very quickly from dirt and grass after taking them out.
A small but important detail are convenient elements to adjust the ropes.
Camouflage
And the last one feature worth mentioning: Lone Rider ADV does not blemish the surroundings with its bright color. Of course, we know that flashy shades have their use. However, sometimes it is worth blending in with the environment and not spoiling the view with your home. For us, it's super important.
Summary
To sum up, there are many positive opinions about this tent on the web and we agree wholeheartedly. The Lone Rider ADV tent has been used by us for a long time and we had the opportunity to test it in various conditions. It did not disappoint at all and frankly speaking, we do not know what could be improved here.
If you want to see more photos of this tent, check this photo gallery.