Posted on:
Motorcycle tires are – as I wrote in the post about modifications – a kind of modification to the motorcycle. Quite an important one. It's because they are the only point of contact between the motorcycle and the ground, not including falls, of course. Their type determines how the motorcycle behaves, whether it performs well in off-road, and whether it's safe on wet asphalt.
I've tested several sets of different manufacturers, but Mitas tires are the most to my liking. Having learned about the tires designed for all conditions, I easily choose the right ones depending on where I intend to ride. In addition to the tread differences, Mitas offers a Dakar variant, which is a more durable version of the tire in question.
In response to numerous questions on social media about my tire choices and recommendations, I wrote this short guide, which I follow myself when planning my trips.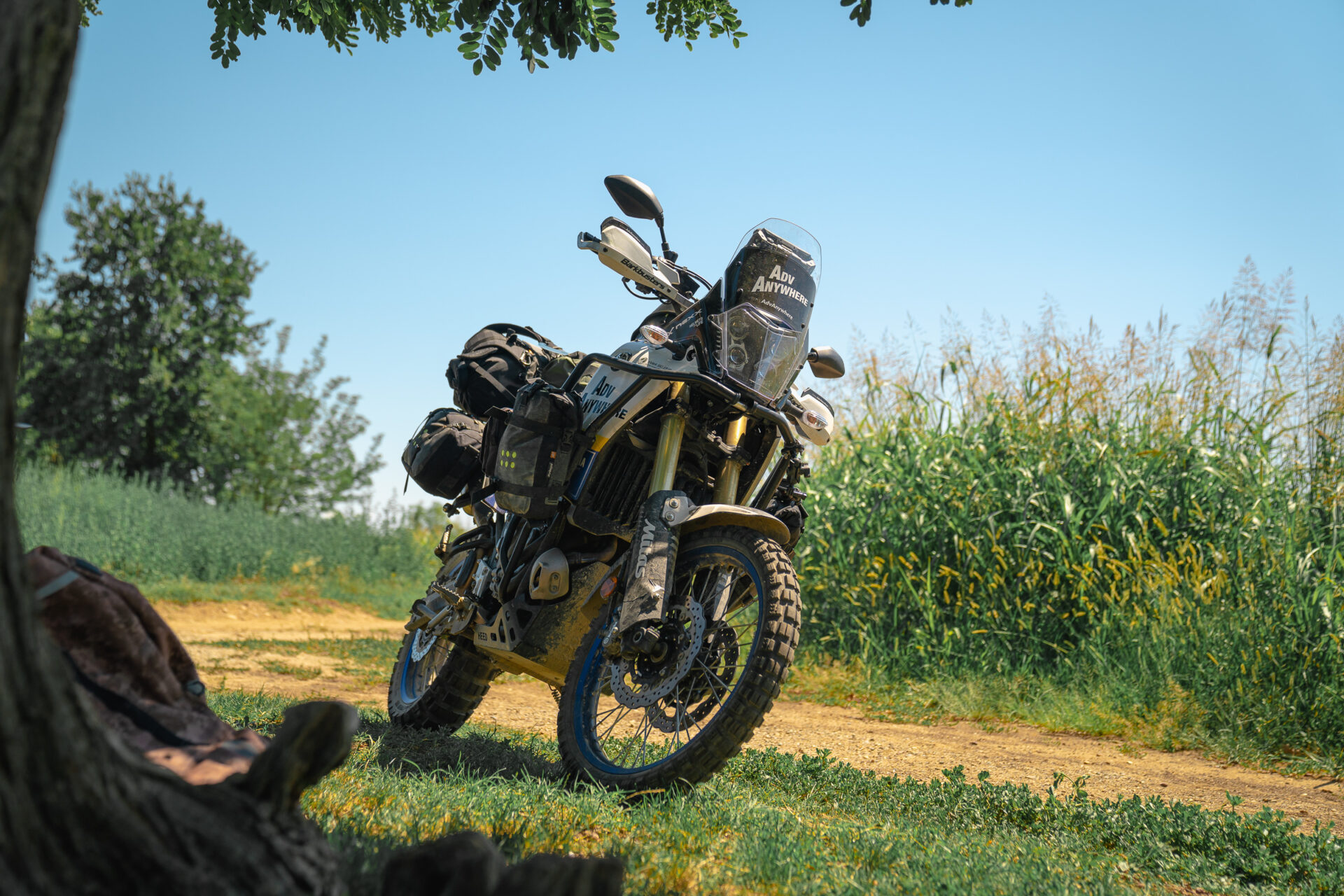 Mitas Dakar or Standard?
What is the difference between the Dakar version and the standard version?
The Dakar version (with a yellow stripe) of Mitas tires, in short, is created from a harder and more durable compound. It also has a reinforced carcass, which is a structural element underneath the tread. The carcass is a layer made up of strands of thin high-strength wires, arranged diagonally and glued one on top of the other.
The carcass provides resistance to high speeds and centrifugal forces that could damage the tire. It also stabilizes its profile during driving and reduces the heating effect.
The sidewall of the tire is also reinforced, allowing for lower tire pressure and possible emergency ride after a tire puncture. If the motorcycle is not too heavy, of course.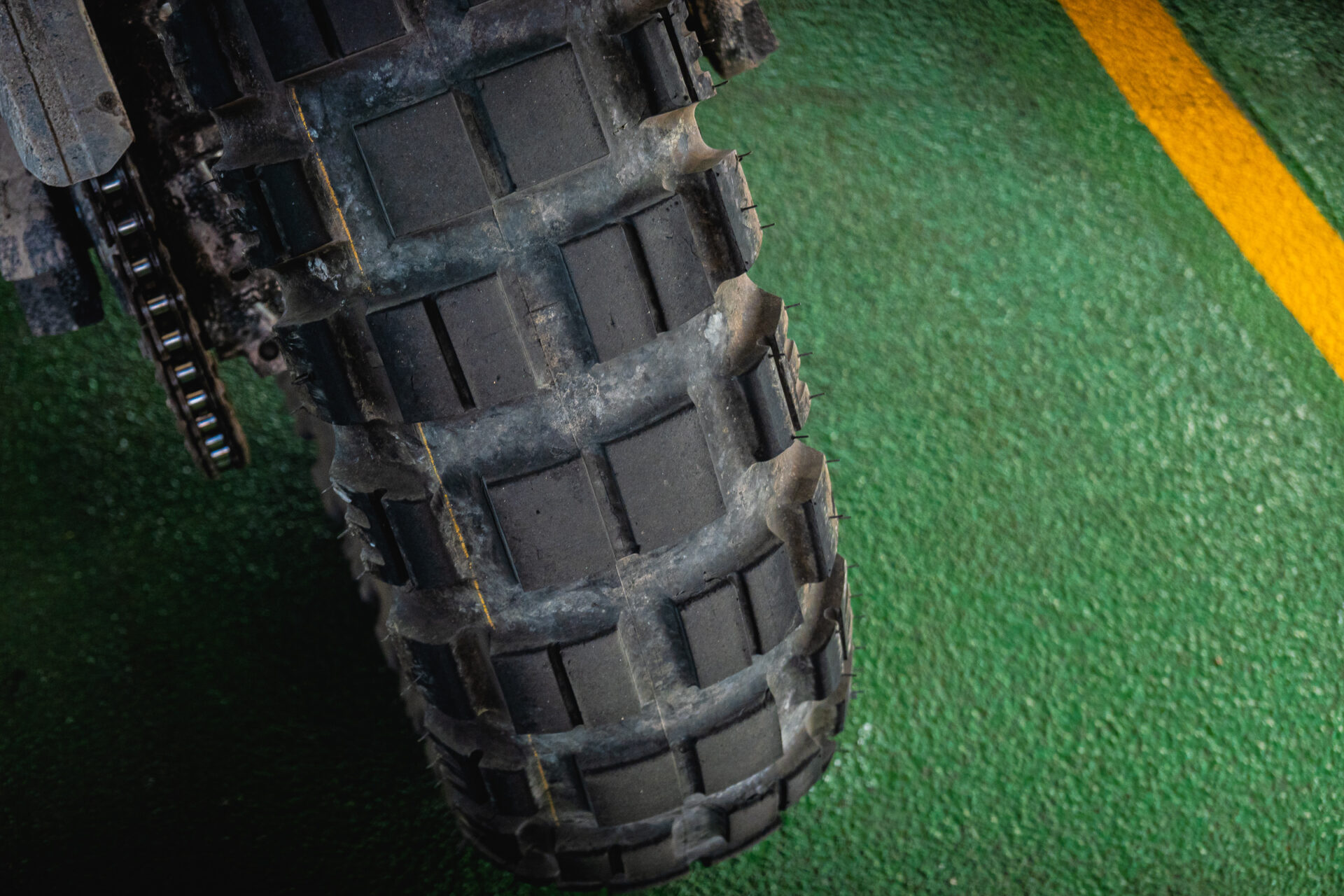 The harder compound of the Dakar tires ensures that they have a much longer life and are more durable, for example, during prolonged riding over rocks. In addition, even after a puncture of the inner tube, the hard walls of the tire allow for an emergency ride to the nearest repair shop.
Replacing Mitas motorcycle tires in the Dakar version is very demanding with regular spoons and if you manage to do it, it's almost like turning water into wine. Of course, it's not impossible, but it means sweat and tears and will require a great deal of patience. Dakar tires are best replaced in a motorcycle workshop on a hydraulic machine.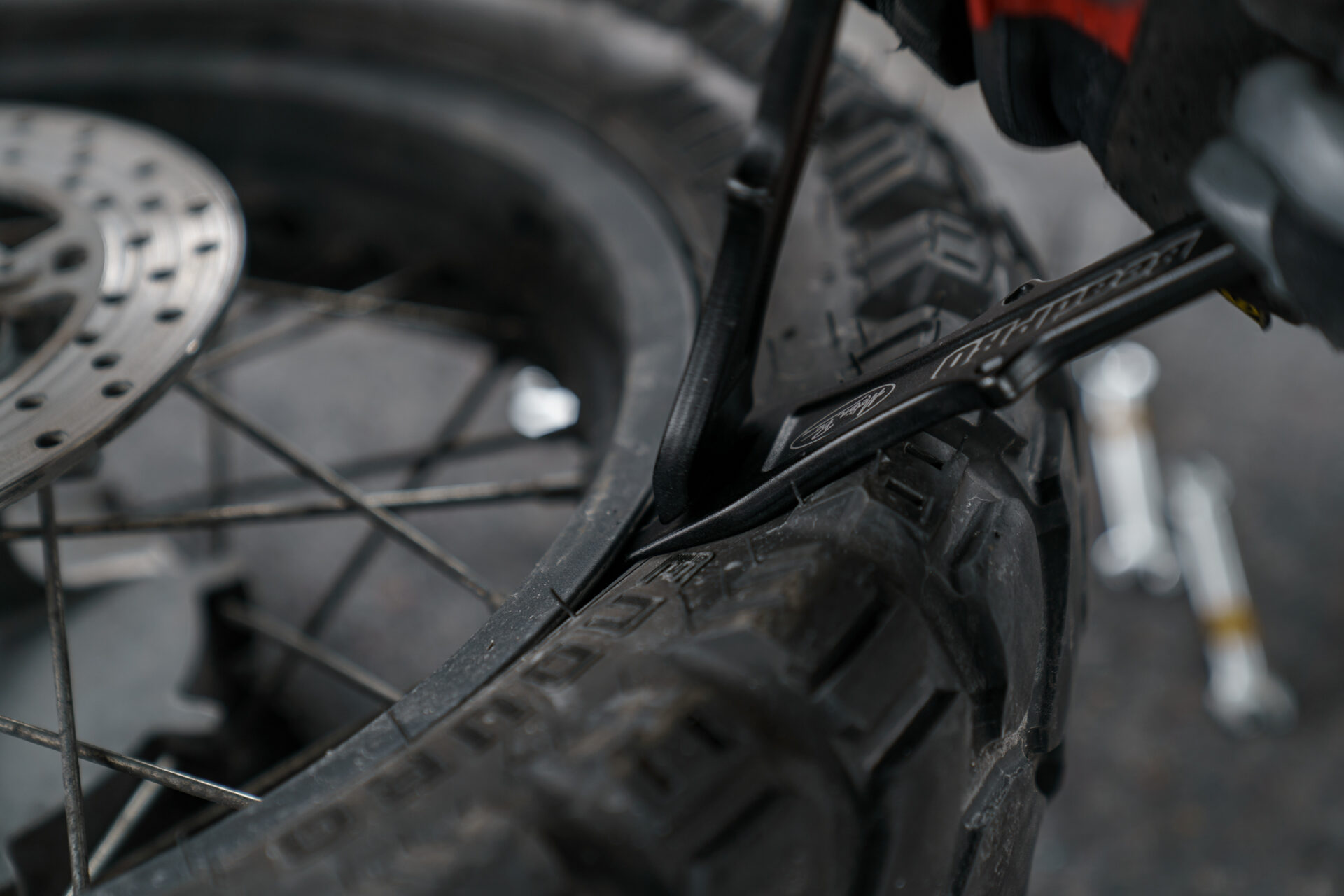 If you plan to ride most of the time in low temperatures and rain then the standard version will be a better choice, as the rubber is softer. As a result, it warms up faster and achieves the right viscosity properties, so it holds up better on wet asphalt. The standard version is easier to replace on its own, but it is still not the easiest task.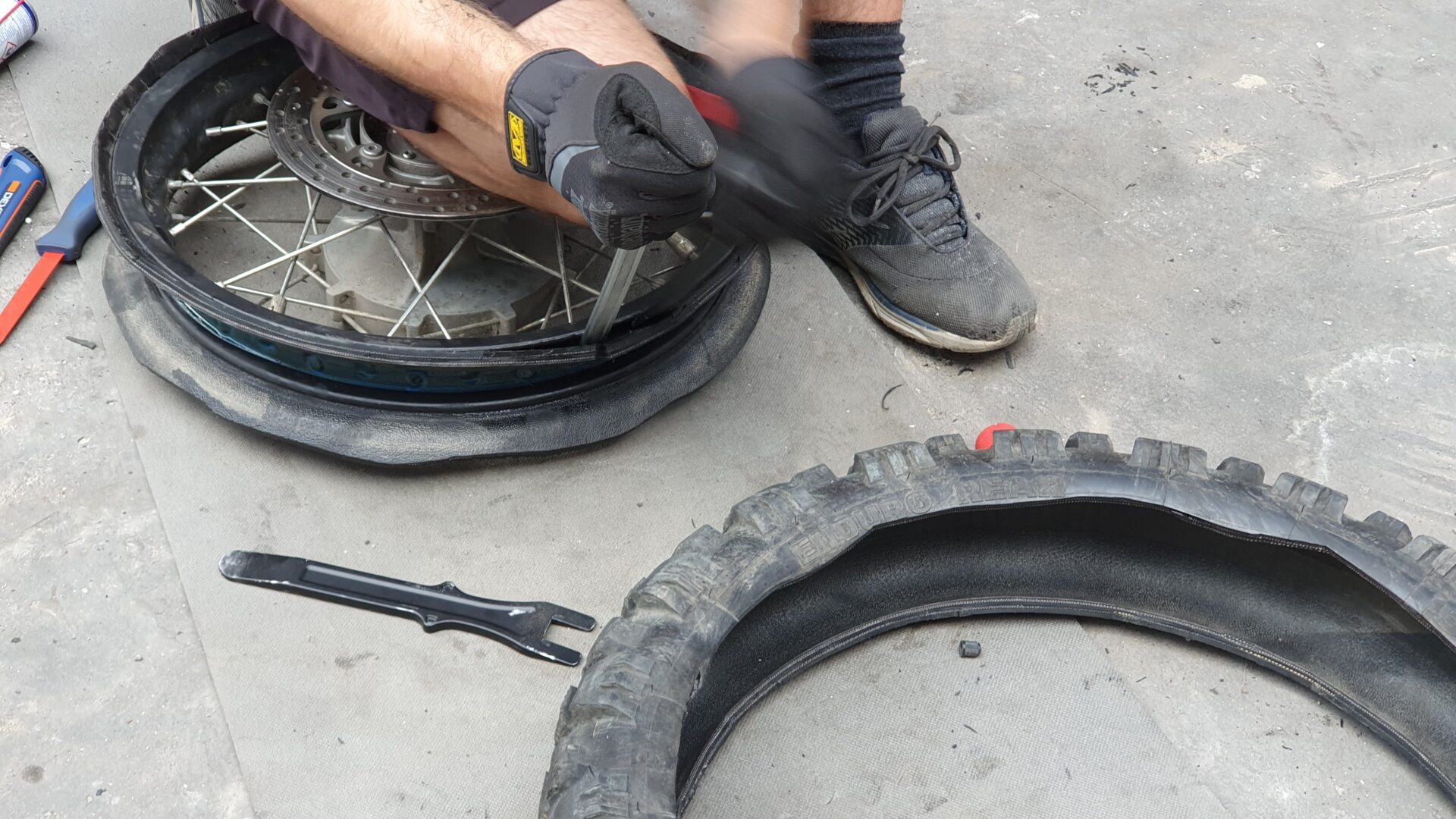 After nearly 100,000 kilometers on Mitas tires, out of several tire sets, I caught rubber only once. It was the standard E-07+ version, and the cause was some metal junk on the road. When riding in the season, for example, on a several-day expedition on the TET trails, I prefer to choose the Dakar version. Admittedly, if such a tire is punctured, I risk potential problems with replacement, but at the same time, I minimize the risk of such a situation.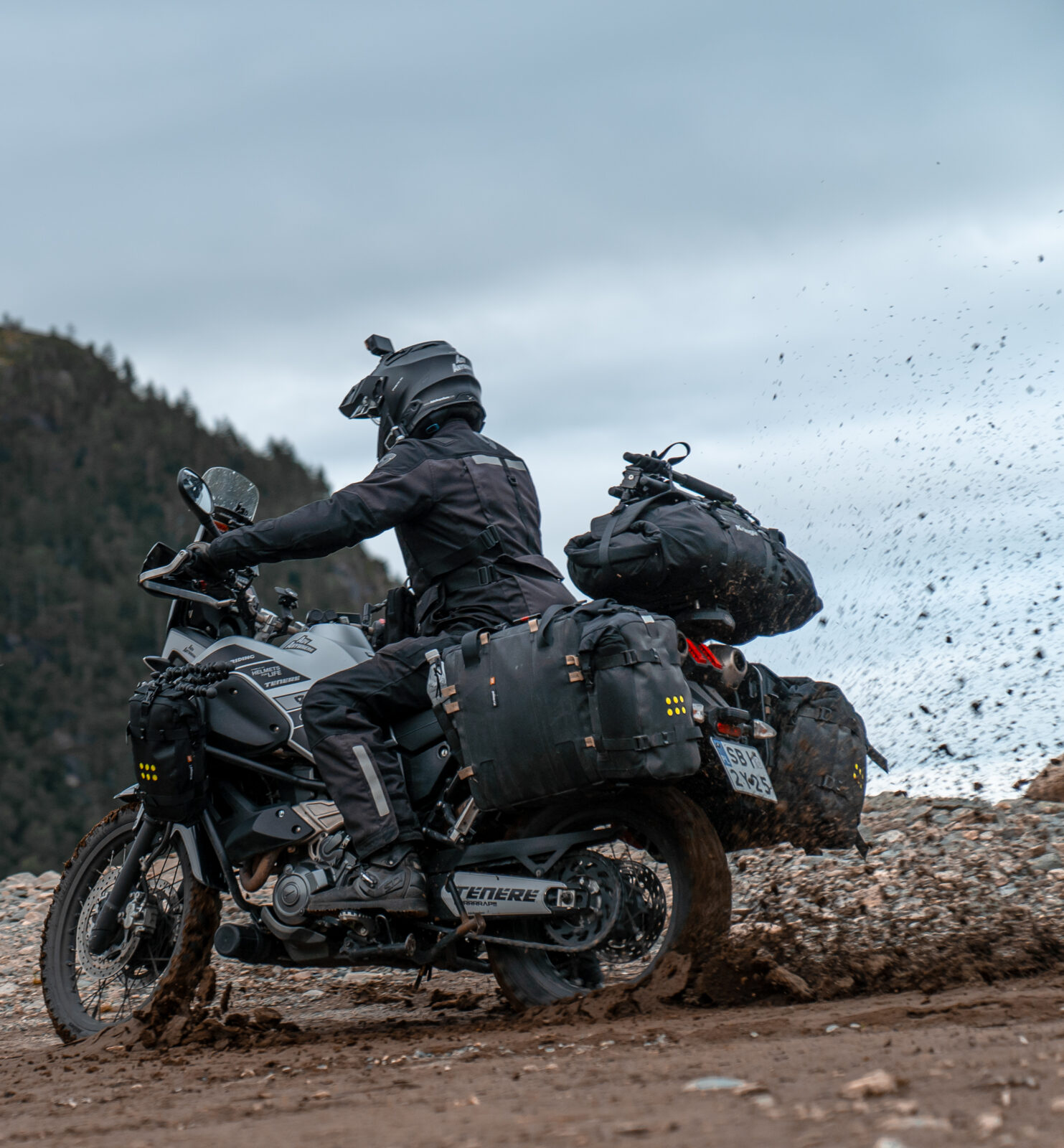 Trail / Adventure Tires
Personally, for my type of motorcycle and my needs, the choice falls on tires designed for touring and off-road riding.
E-07+ ENDURO TRAIL
I put the E07+ dual-sport tire on for long-distance trips, where asphalt and gravel riding definitely prevail. With this tire, I can easily get off the tarmac even into rougher terrain, as the sizable tread gaps provide enough grip for medium-difficulty off-road sections.
I chose the standard version of Mitas E-07+ tires for exploring rainy and cold Norway. With these tires, we then rode two-up with our luggage for more than 10,000 kilometers in 30 days. Most of the route was, of course, asphalt serpentines, but whenever there was an opportunity for gravel routes we immediately took wild paths.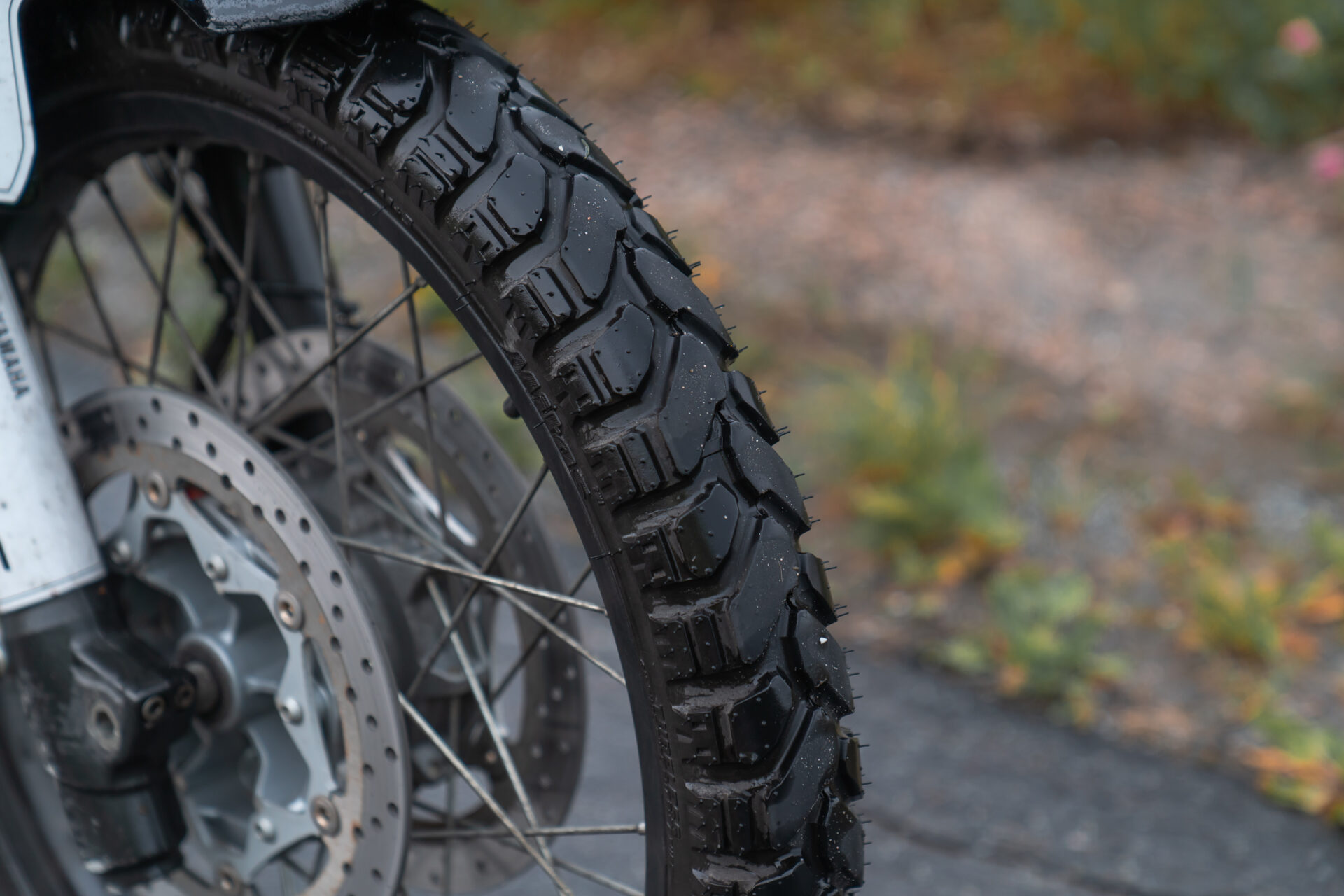 We wrote four chapters about this trip. You can find them in the expeditions section.
I wrote a little more about the tires in my Mitas E-07+ tires review.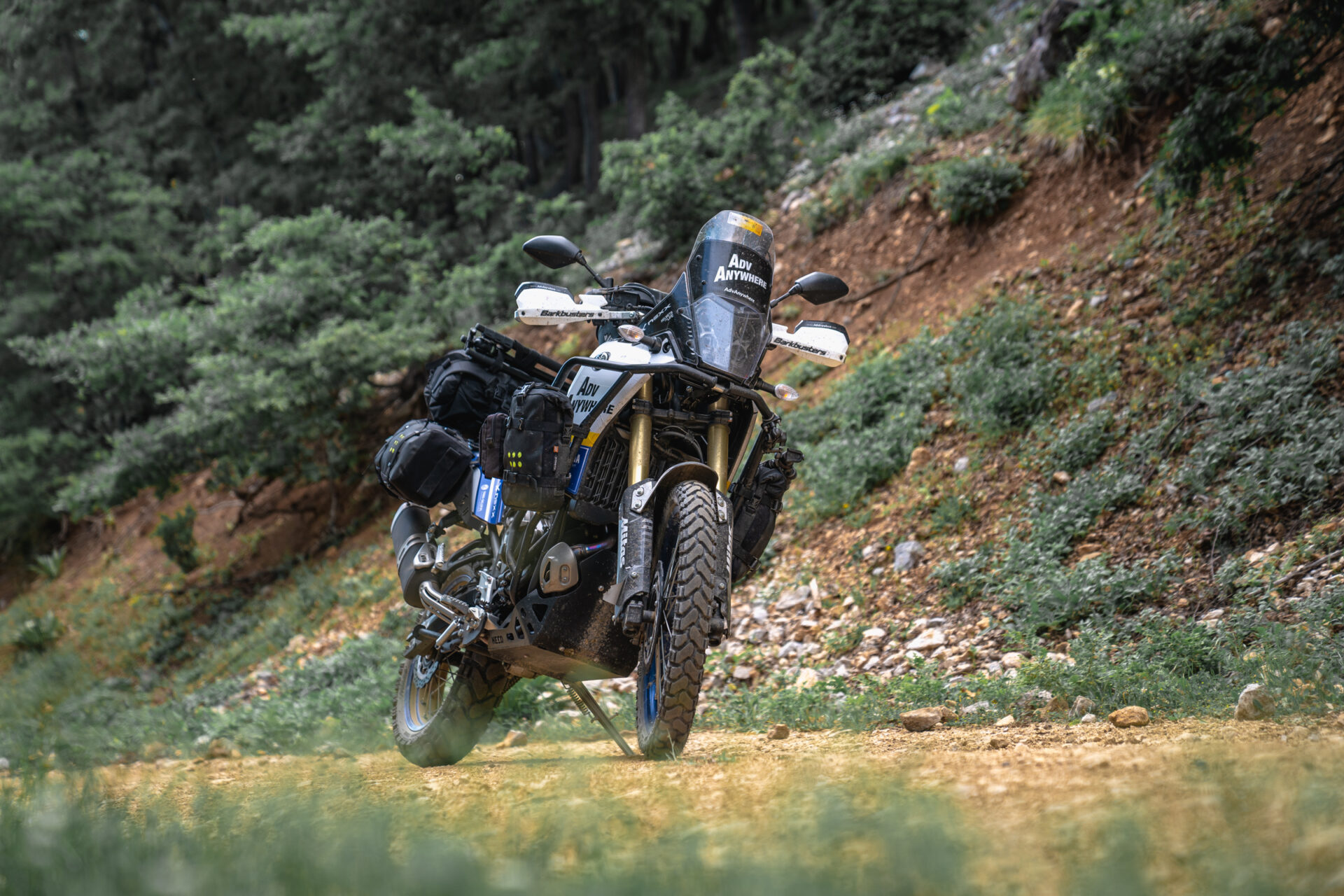 I chose the Mitas E-07+ Dakar tires for my new Tenere, for a trip through sunny, hot Turkey. There, in addition to asphalt sections, the tires performed well on the TET route and forest gravel paths leading straight to the tops of mountains.
You can also read stories from Turkey in the expeditions section.
Mitas E-07+, thanks to its long life and good performance on all types of terrain, makes me choose this tire for a trip around the world.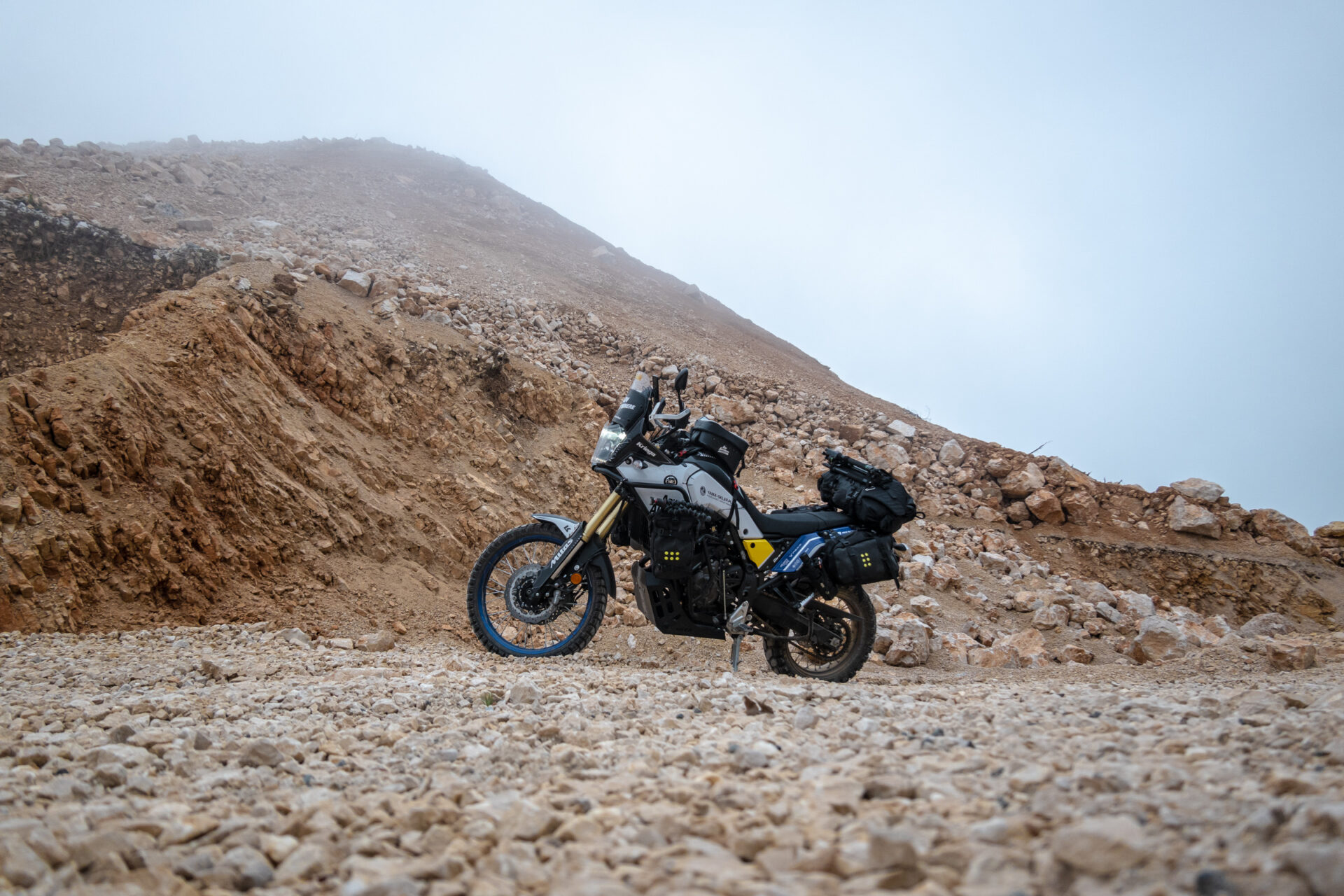 E-09 ENDURO
Somewhere between adventure and enduro – that's where the rubber heart of E-09 tires is. Knobbies still perform well on asphalt and are also ready for some off-road madness. This is an off-road tire with an extreme off-road grip.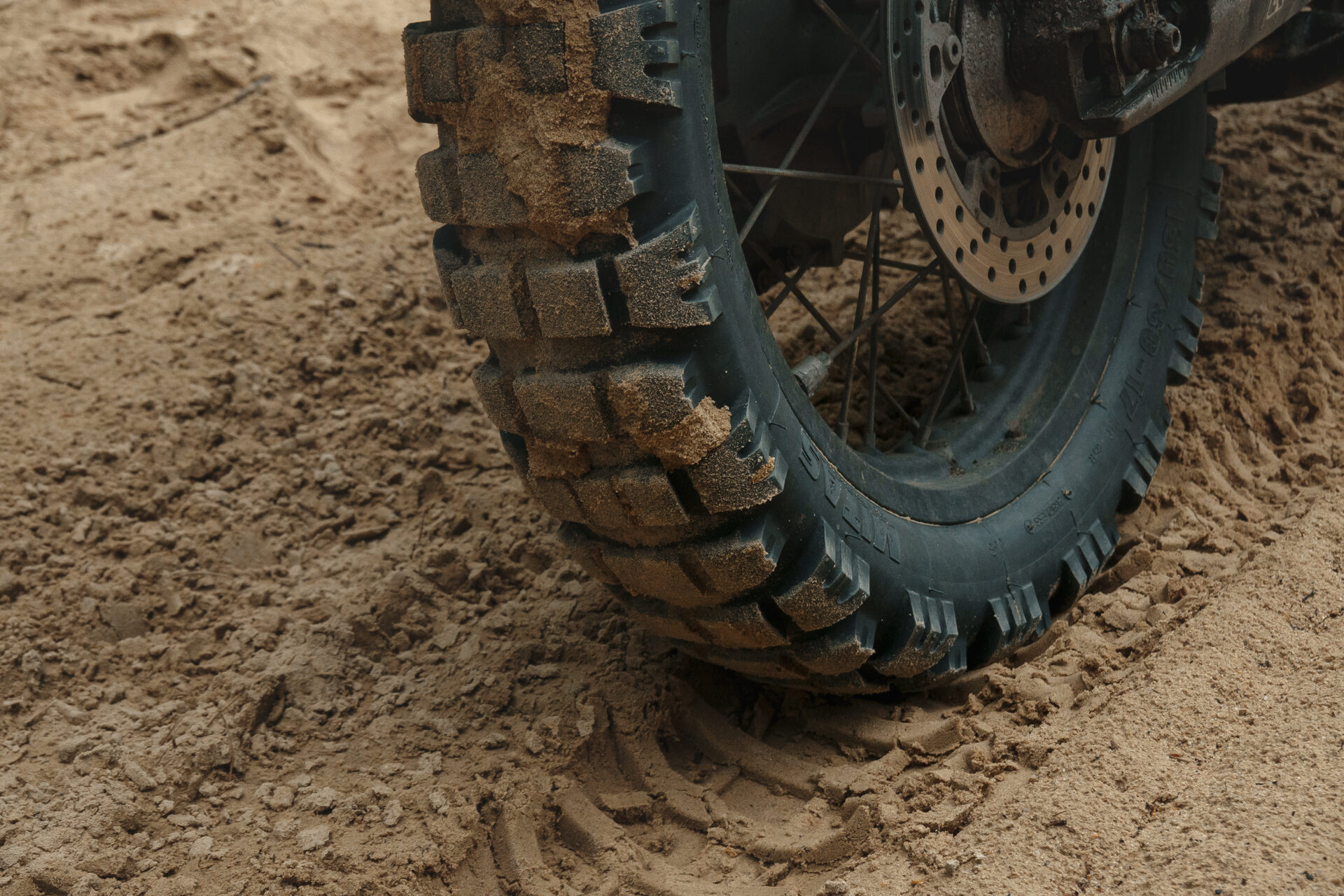 E-09 is my favorite rear tire, but as a front tire – while good off-road – it disappears at a dizzying pace on asphalt. I was able to achieve longer life by mounting the E-13 on the front, which additionally holds up even better on terrain.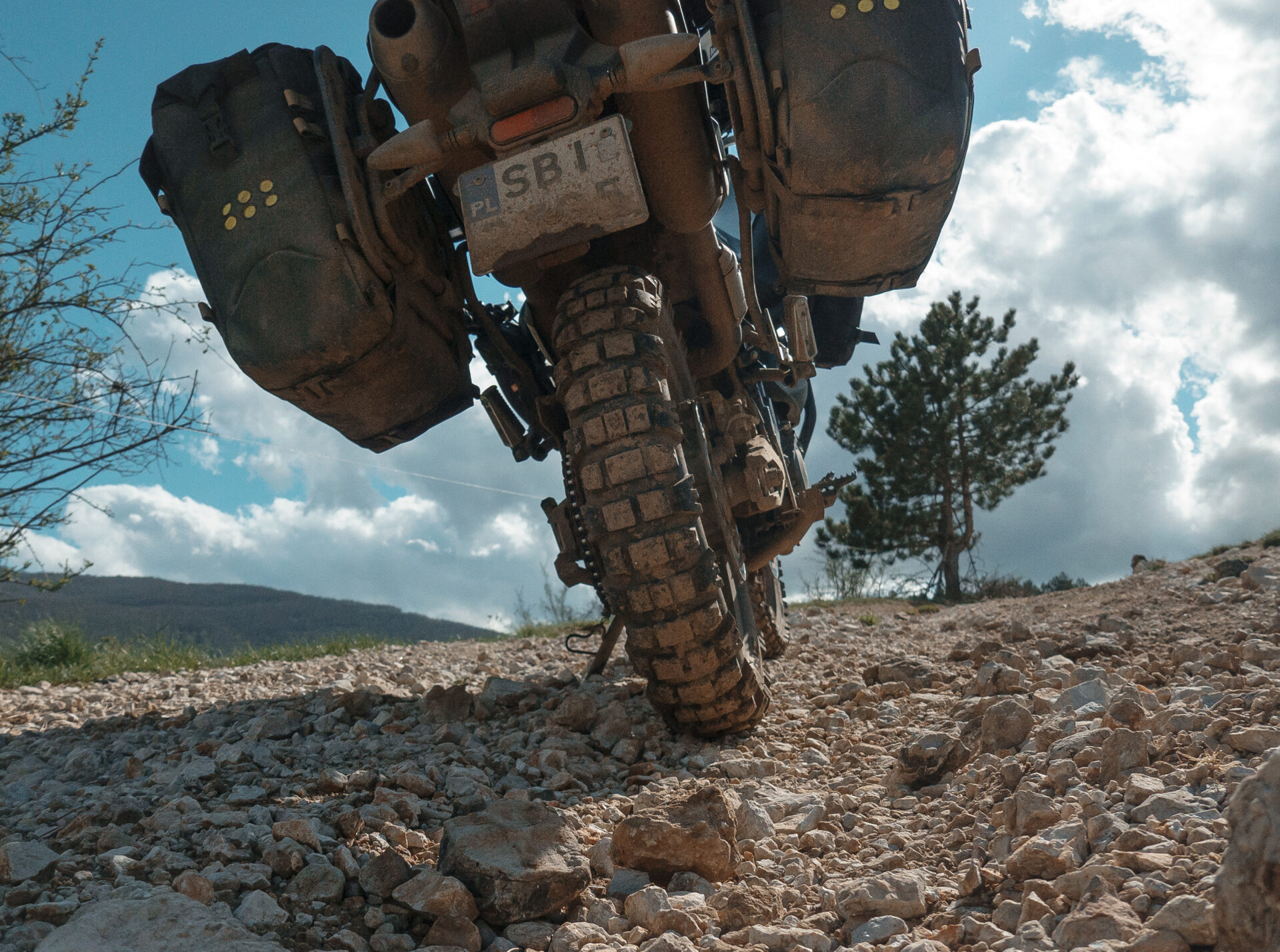 You can read a longer Mitas E-09 tires review in the gear section. There you can also find other reviews of my favorite products.
E-09 Rear and E-13 Front
Until recently, my favorite off-road set. Great for long trips, for example along TET trails. And while I'd like to ride most kilometers on roadless and gravel roads, when riding in Europe asphalt roads are inevitable.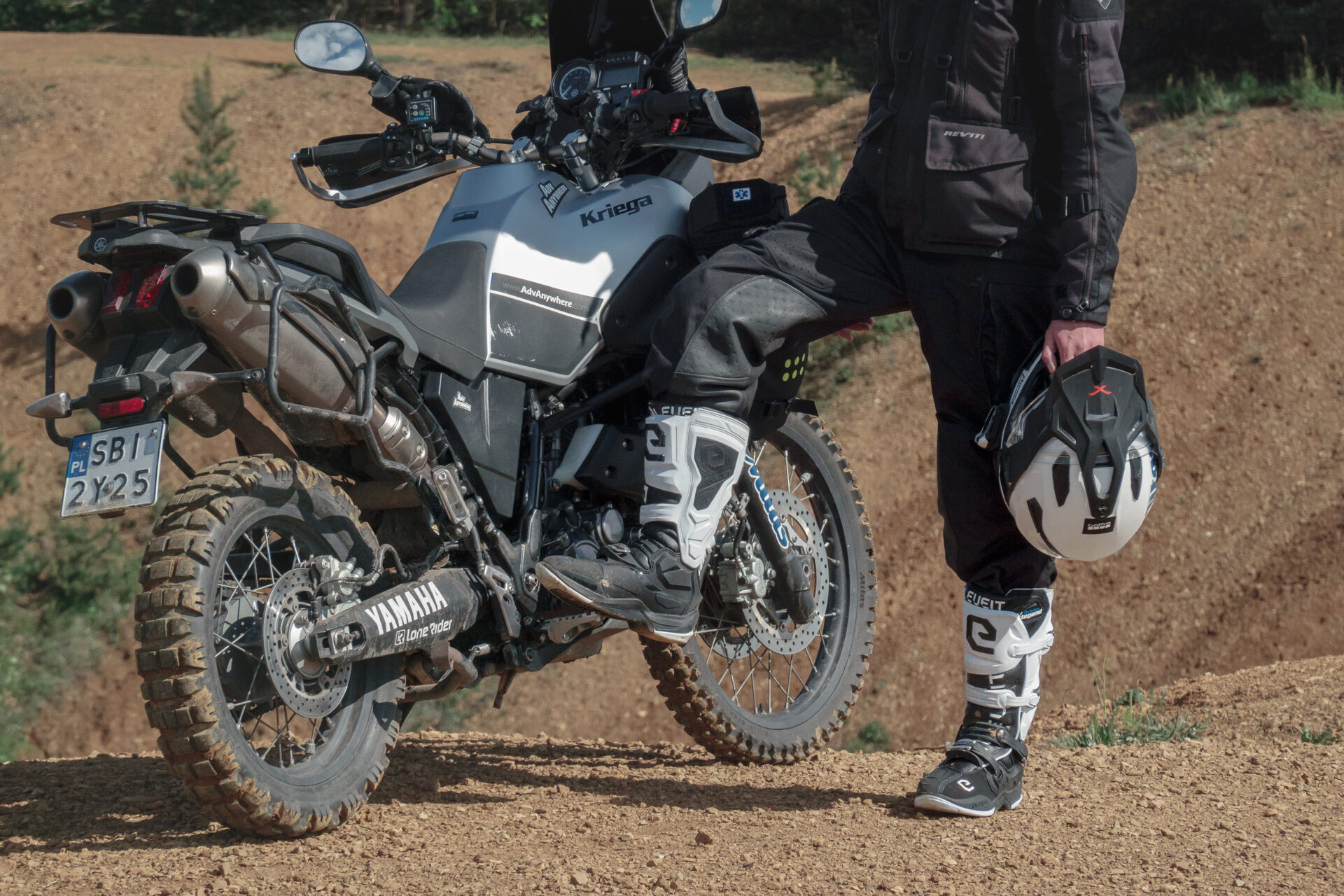 The E-09 in the Dakar version has a long life and is reliable off-road. Together with E-13 they give great grip and control of the motorcycle.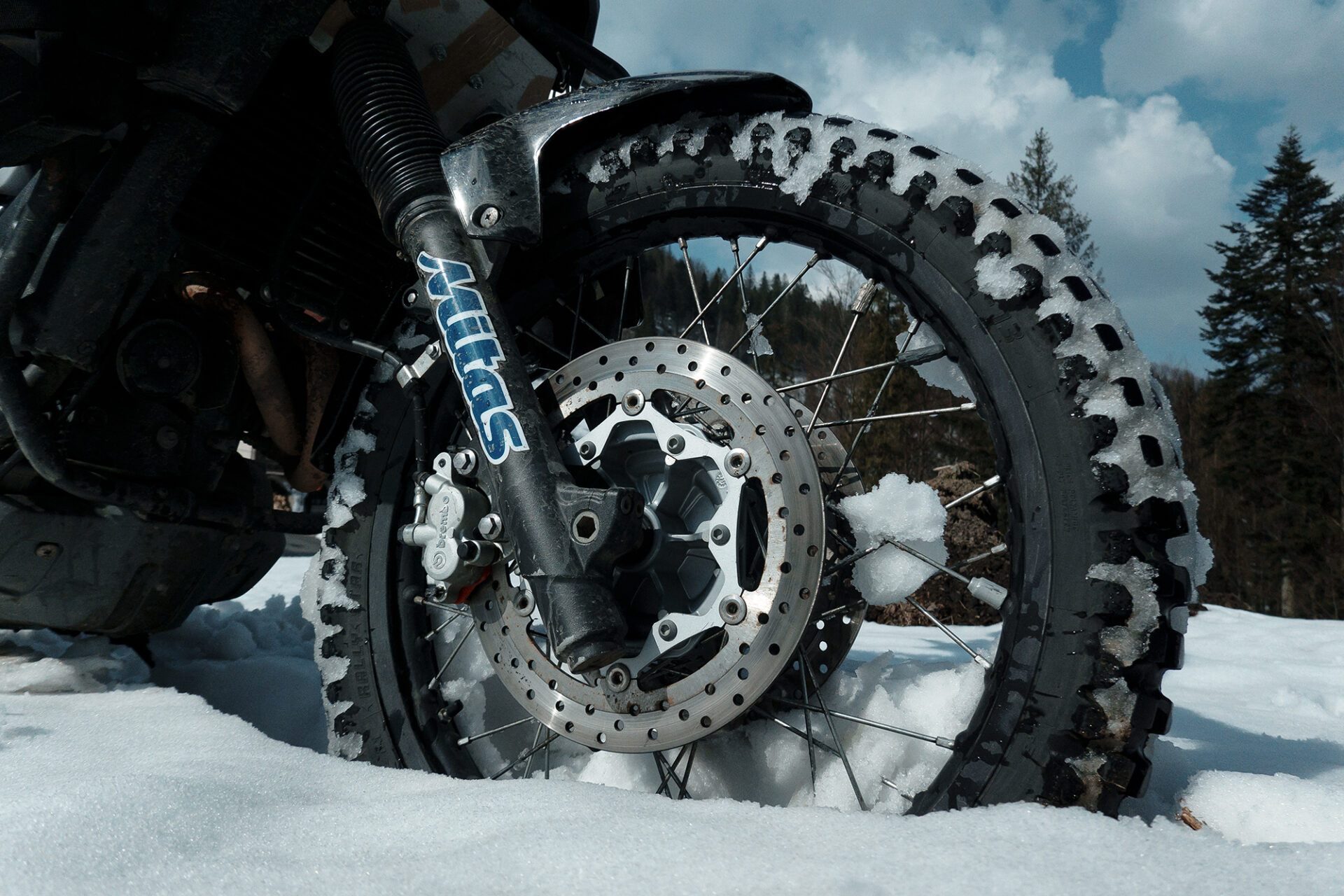 E-10 ENDURO
Brilliant off-road knobbies that also perform well on asphalt. I had the pleasure of testing these tires and rode the entire Italian TET along the Alps, Tuscany, and the entire ACT route with them.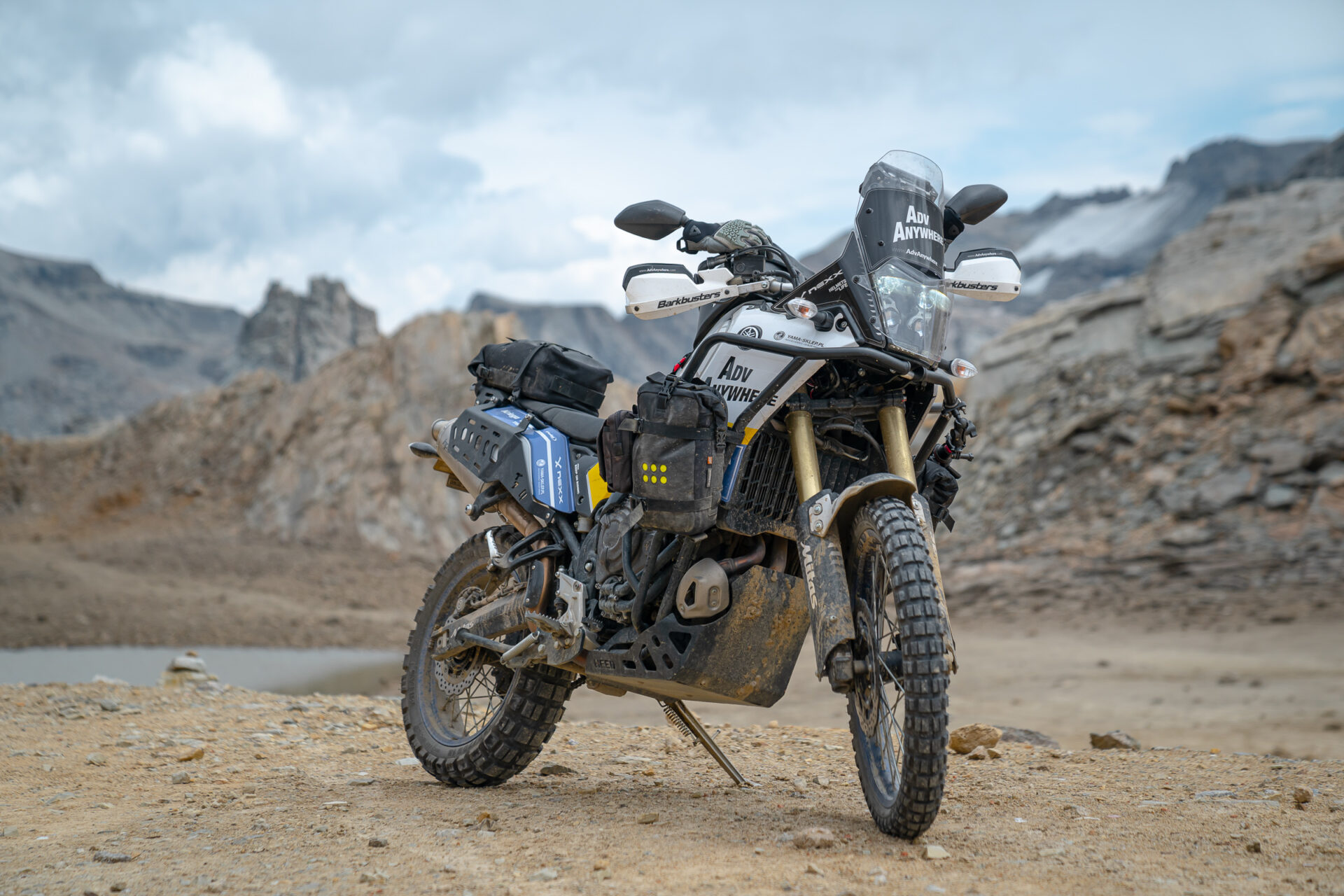 If I were to give these tires a codename it would be "chameleon." The profile of the E-10 tires is designed to handle as well as possible on asphalt. Low gradients, riding in the rain, handling – all the sensations of riding on asphalt with this tire would suggest that it's a sports tire. However, once you get off-road, you are reminded that these are the real knobbies – traction and control on gravel are excellent and you can ride through rocky climbs and descents without problems. Brilliant for TET and ACT trails. I think they are a tad more stable in the rain than the E-09 model, and I suspect the credit goes to the vertical indentations in the treads that drain water.
Comparing E-10 to E-09, it's worth noting that every other row of knobbies on E-09 is narrower, making the tire bite into the terrain better and deeper, while E-10 maintains a relatively larger contact area with the asphalt when turning, which means better stability on twisty roadways.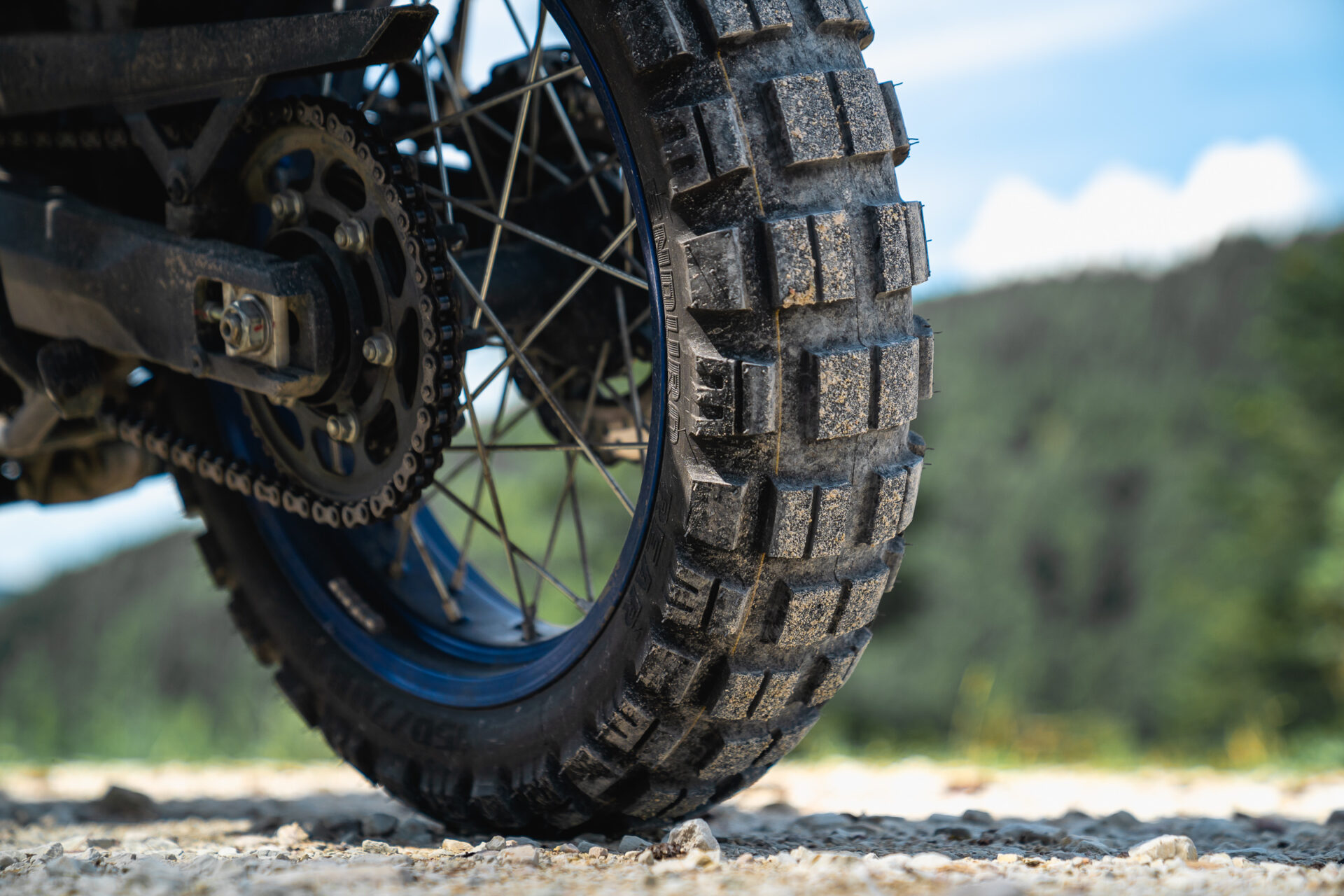 Rally-Type Enduro Tires
Engineered for the most demanding terrains. Motorcycle rally tires are used in the toughest rallies such as Dakar Rally. You can describe at length how well they perform off-road, but it's obvious, as their purpose is precisely off-road riding.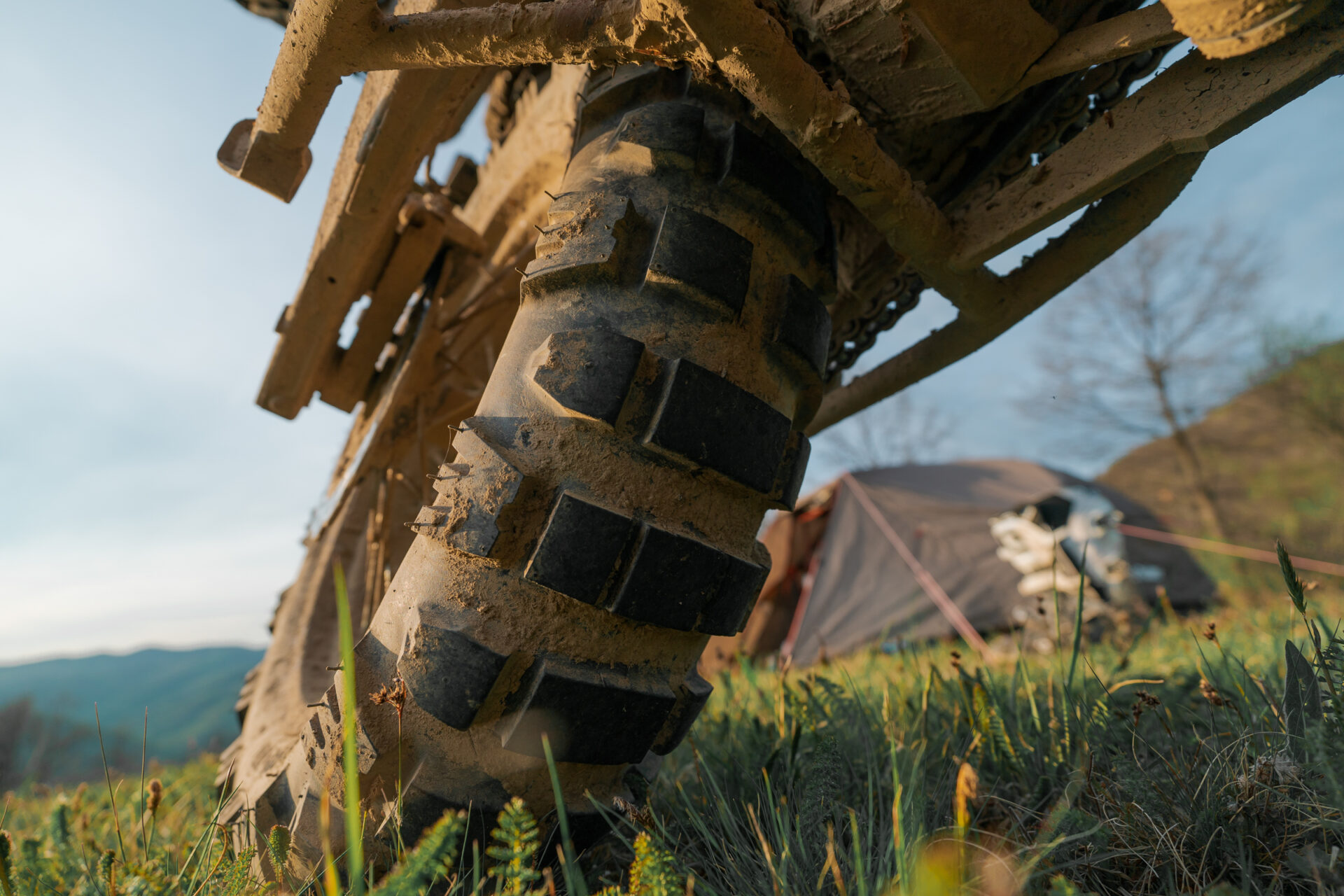 E-12 RALLY STAR
E-12 Rally Star is a rear tire produced only in 140/80-18 size.
The narrower tire size allows the tire to bite deeper into sand, mud, or loose stones for better traction. The tread itself is also deeper than, for example, in the E-09, which translates into even better grip. Every other narrower row of knobbies allows the tire to take even bigger bites of the terrain in corners. If you plan to see the asphalt infrequently, the E-12 Rally Star tire is the best choice.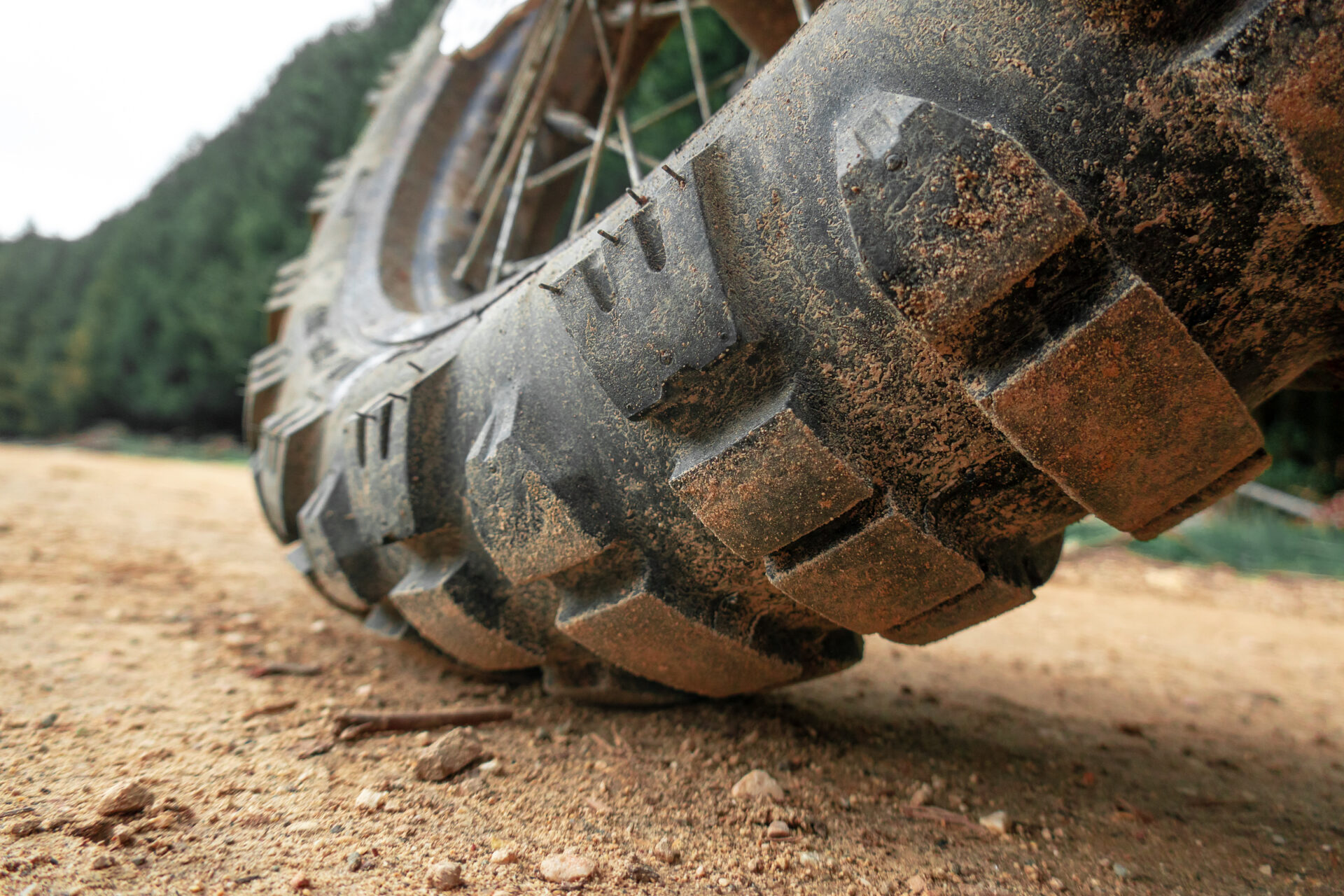 Be careful on asphalt corners, as the narrower tires can slide more when leaning. Also, the design of the knobbies means that on a steep incline, the number of contact points is reduced, which can lead to sliding. Personally, I didn't notice any difference on my Tenere 700, but still, it's worth mentioning.
Recommended tires for the set are E-13 Rally Star (more versatile) or C-12 Stone King (best for off-road).
E-13 RALLY STAR
E-13 Rally Star is the materialized definition of an adventure tire. A large number of small cubes bite into any type of ground, providing control and steering stability.
For me, it was a surprise how well this tire performs on asphalt. You can make really tight maneuvers on it on winding asphalt roads. A fair amount of camber on the motorcycle is achievable, and the knobbies don't disappear as quickly as you might think. You can really ride a lot on this tire, so it's a great choice for me when I go on multi-country trips on all sorts of side roads.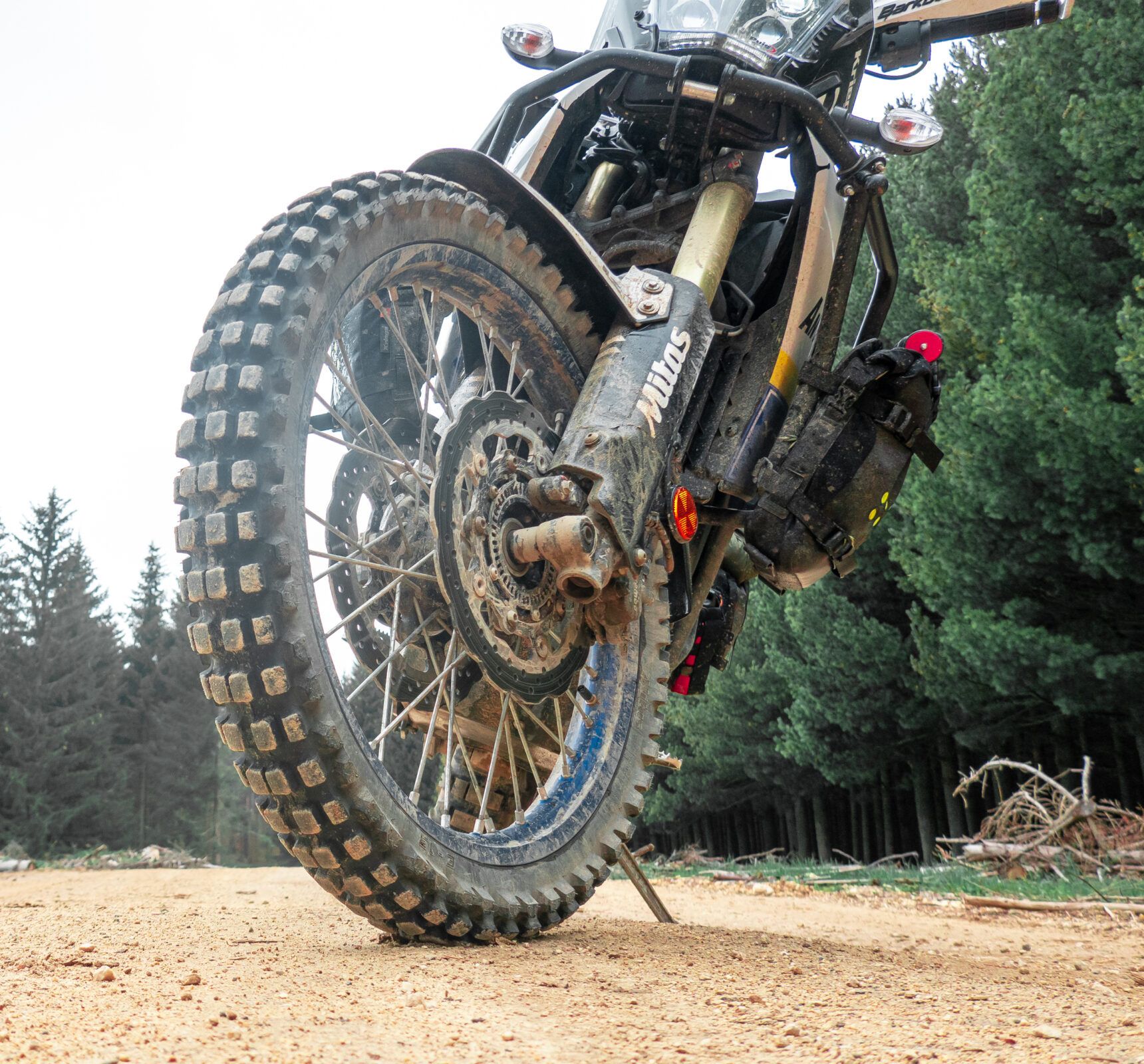 A longer stretch of asphalt is no challenge for E-13.
You may want to read a more extensive Mitas E-13 Rally Star tires review.
E-12 + E-13 Combo
The most aggressive combination for ADV motorcycles. This is the set recommended by Chris Birch.
Personally, it's now my favorite set for trips.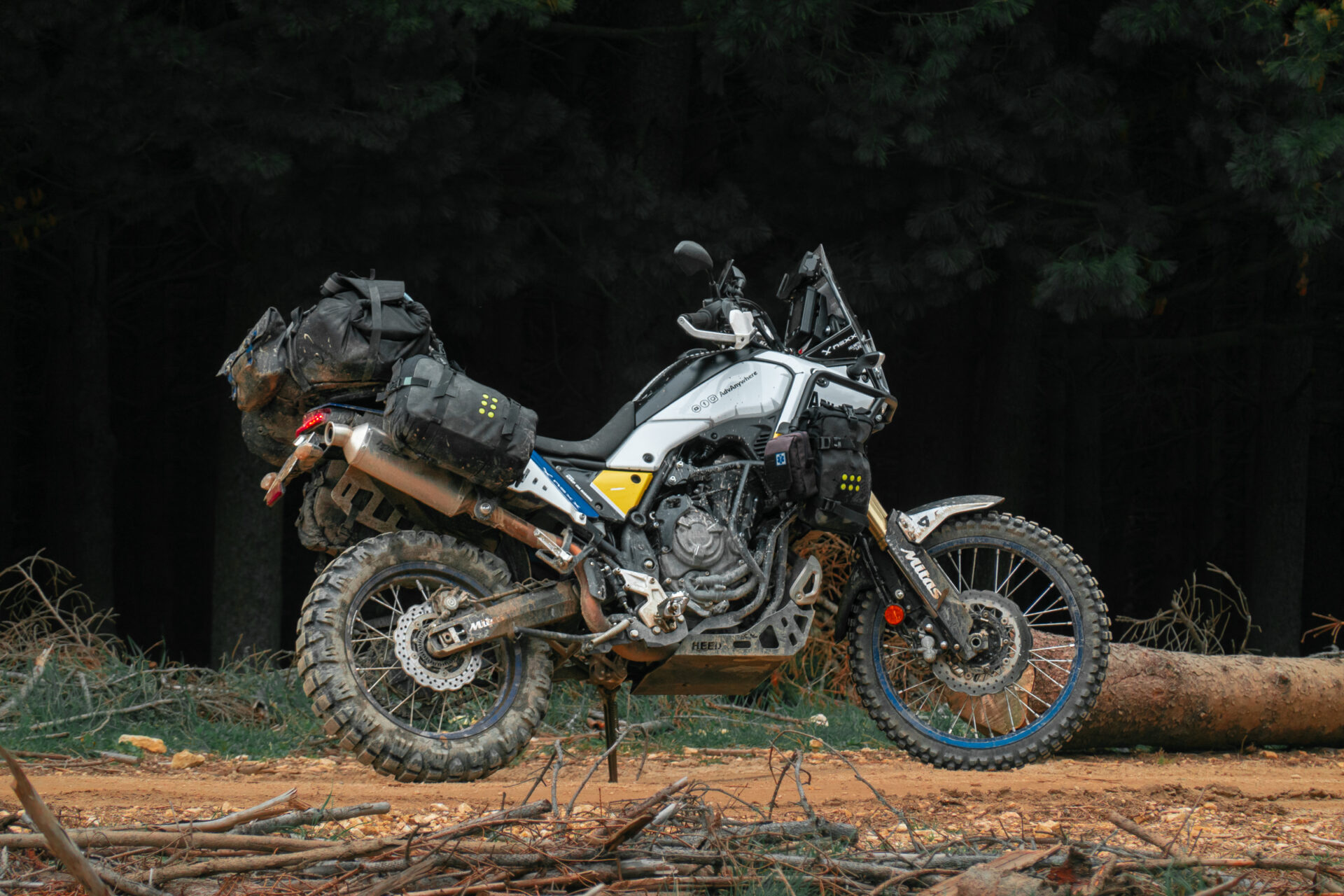 This duo reaches the ceiling of off-road tires acceptable for street use. In this E-12 E-13 configuration, I flew the Tenere 700 through the most demanding mountainous terrains of Serbia, where traction was the most important element for me, especially on the mud and stony steep, long, and winding climbs.
Also, on-road this pair provides a comfortable ride. There are no vibrations in the steering wheel that I experienced with other brands, the motorcycle is stable.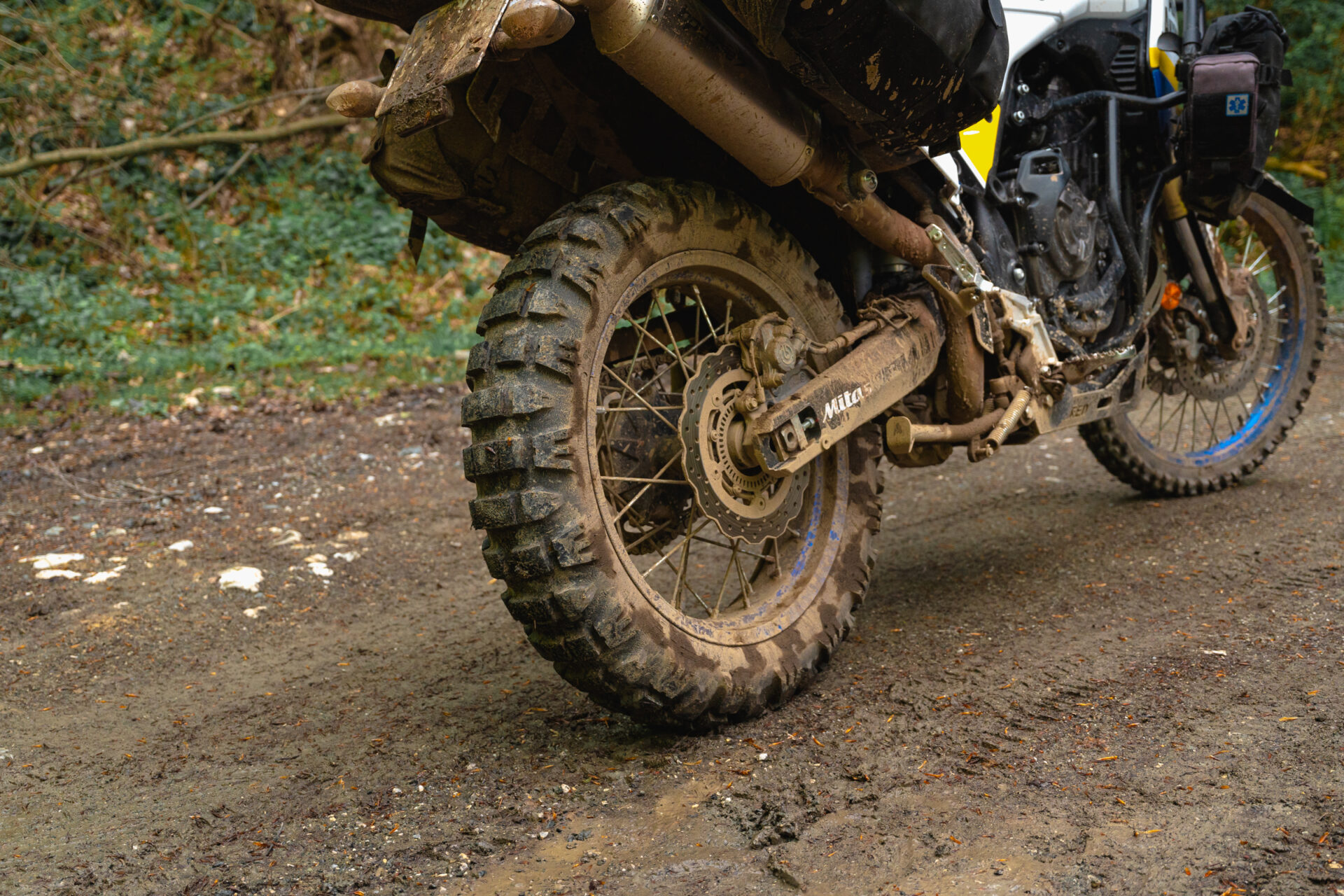 Summary
Comparing tires from the Mitas catalog, one can see a subtle gradation in their purpose. Seemingly small at first glance, the differences in treads, for example, between the E-09 and E-10, are significantly reflected in performance. If we know where we'll be riding, we can choose the perfect motorcycle tire for us.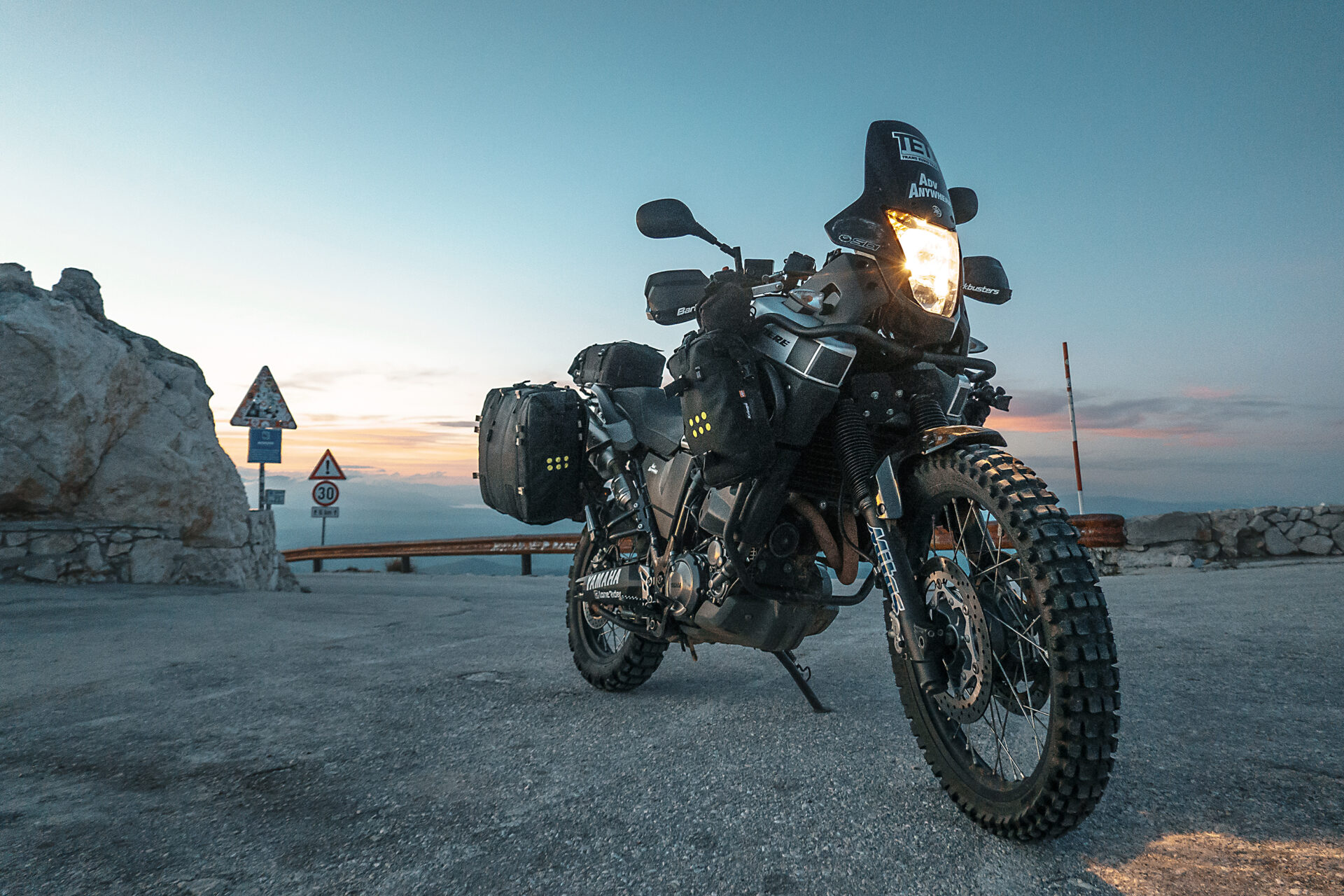 After reading this guide, you may conclude that I am a Mitas tires fanboy. I won't deny that. In my opinion, the price-quality-availability-range-performance ratio of Mitas is perfect. Other brands often disappointed me, but I'll be happy to talk more about it when we meet on the road.
Are there tires better than Mitas? I'm not saying there aren't. Probably if you compare some selected models of another brand, you can say that it'll be better in some specific conditions. But I've become familiar with the Mitas range that interests me, I know what to expect from which model, and thus I have one less element to analyze when planning a trip.
If I test more models I'll certainly update this post, so I encourage you to come back here in some time.
Mitas Motorcycle Tires Gallery