Posted on:
The way back, although still rich in natural surroundings, was also full of more urban sights. We had a chance not only to pass through a few larger cities, such as Trondheim, but also to stop for a while in Tromsø, Ålesund, and Oslo. We even prepared a special photo gallery from all these places: Life in Norway. It's a collection of photos from our city walks, as well as interesting houses in remote areas.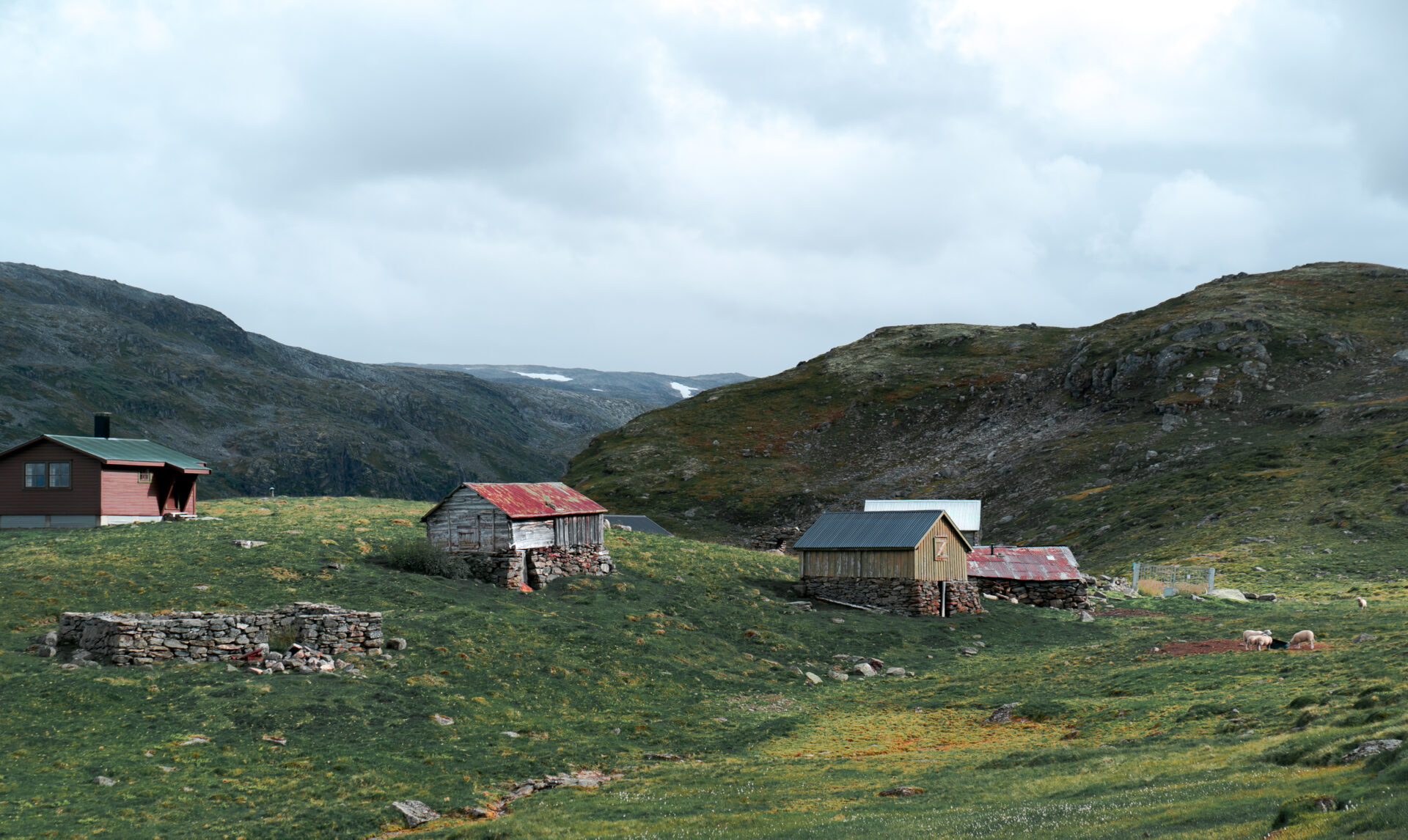 To the South
On the way back, we tried to take alternative detours on gravel and less subsidized roads much more often. This way we could discover the true, non-tourist atmosphere of Norway.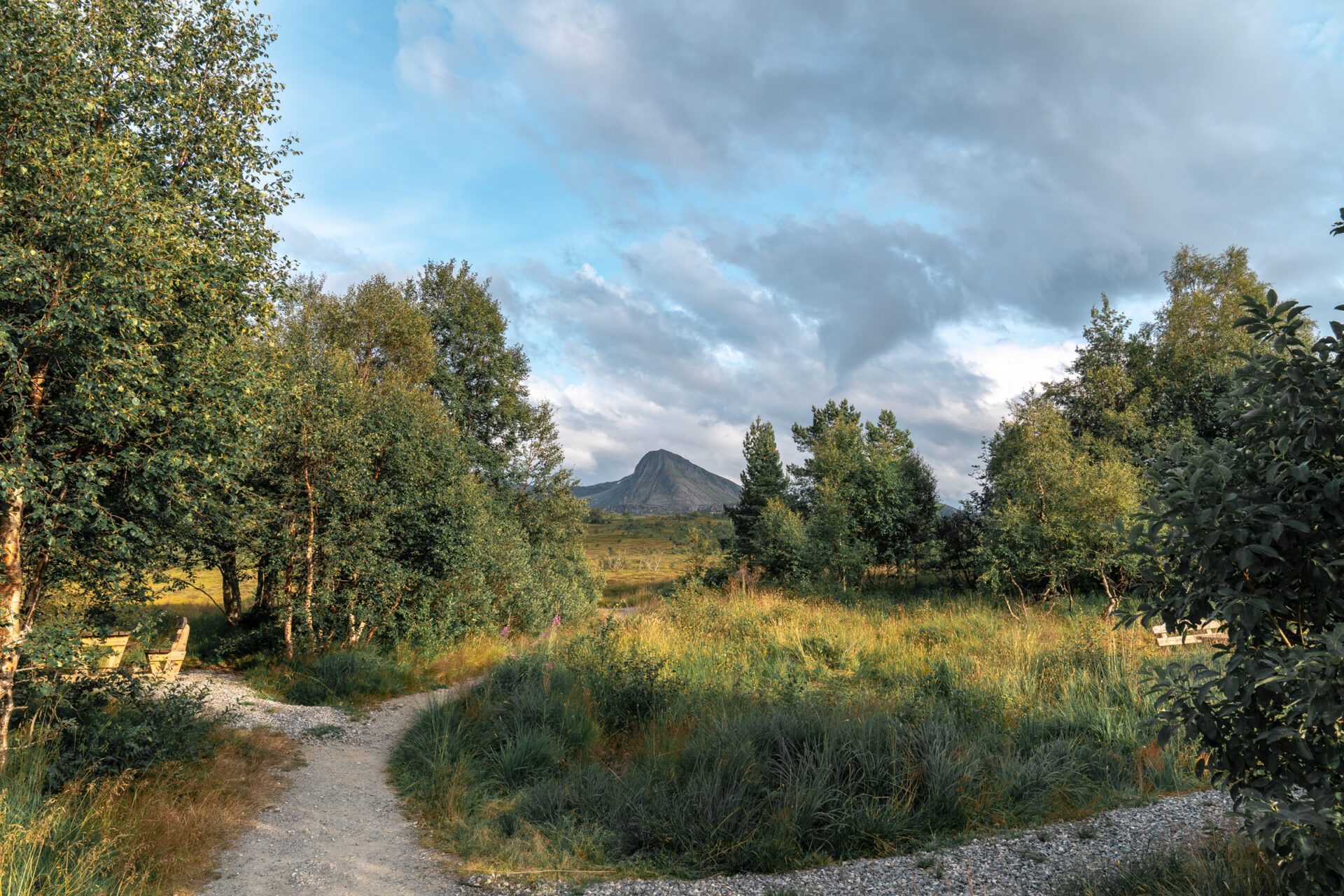 Nevertheless, we think we managed to find a happy medium between city asphalt and wild gravel.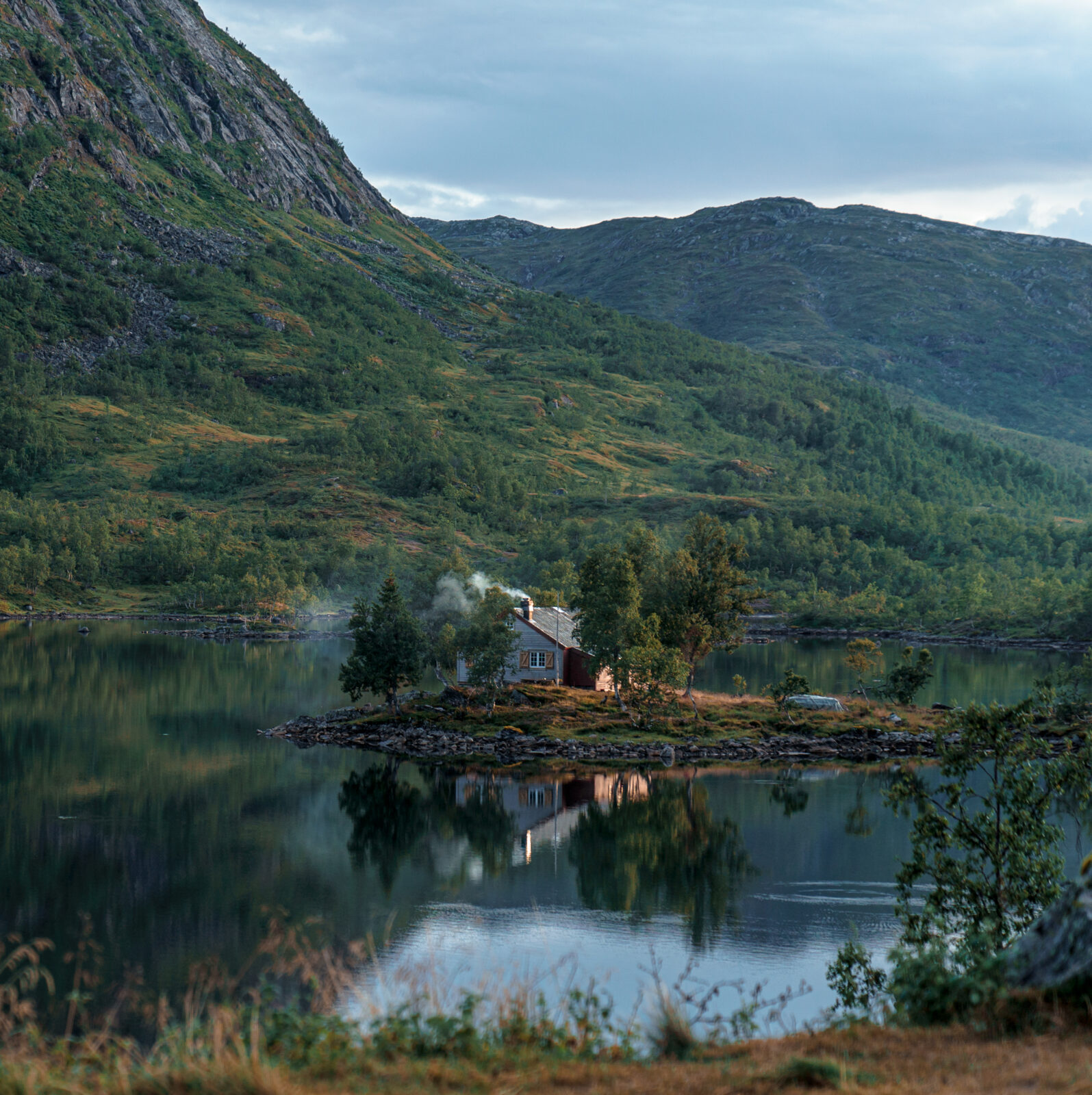 During our north-south "descent" we wanted to spend even more time closer to nature. Therefore, the priority was to find the most interesting places to camp. With a clear conscience, we can admit that this mission was successful.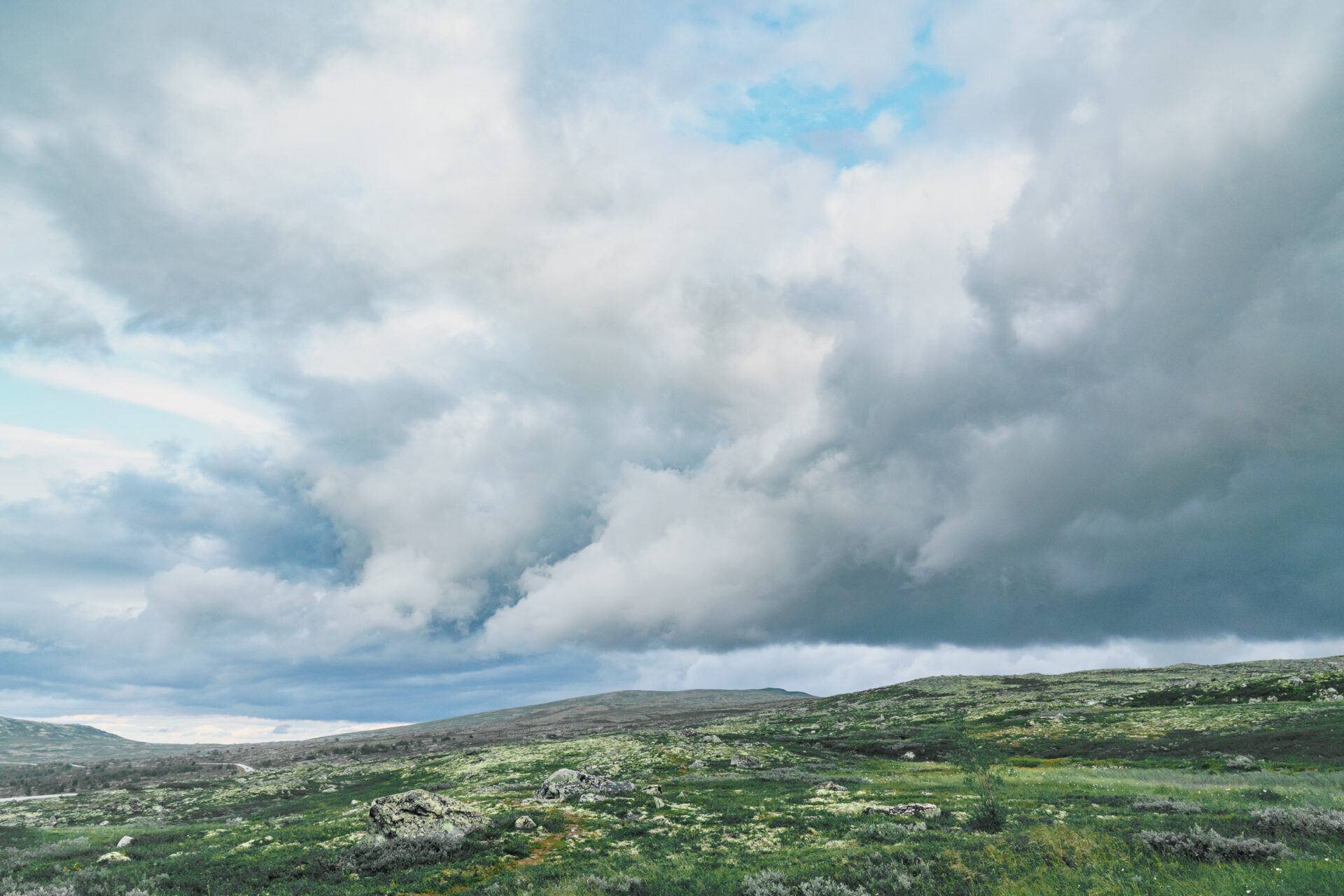 We slept on beaches, by rivers and waterfalls, in forests, and of course by the fjords. Such moments as Norwegian fiskekaker eaten at sunset over Rosskrepp lake will remain in our memories for a long time.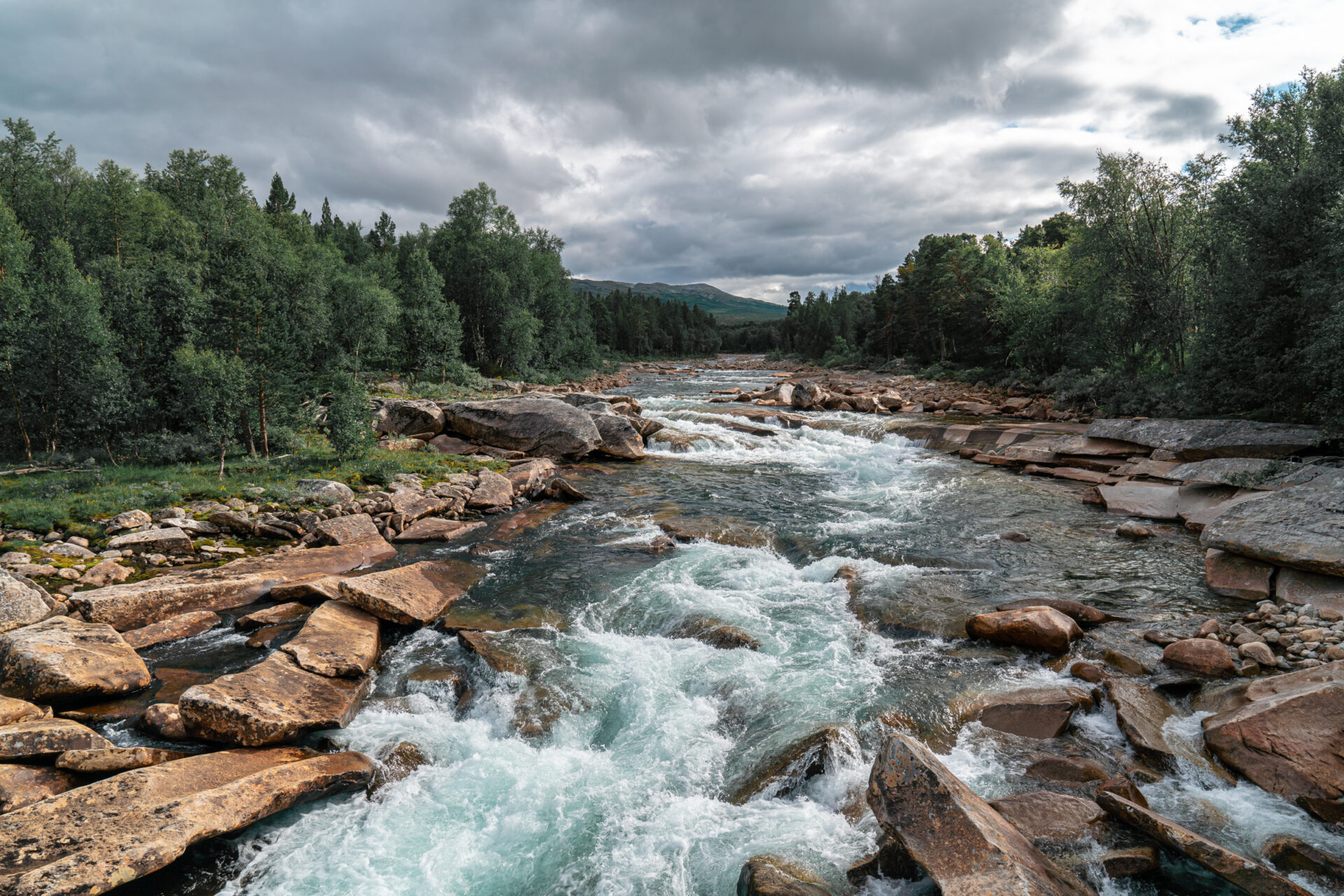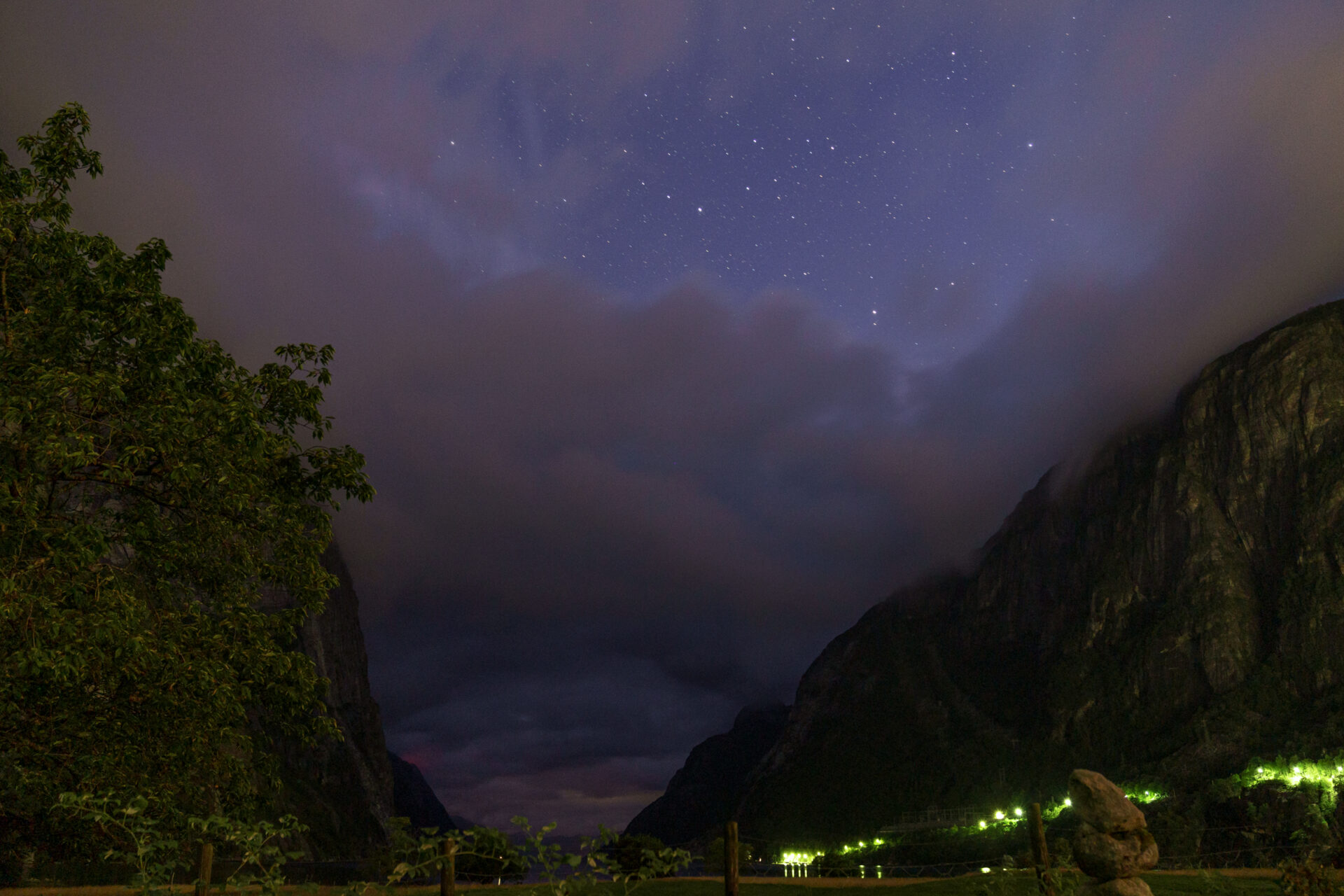 Arctic Circle Centre
Since it turned out that we still have some time before the return ferry and we don't have to rush too much, we stopped at the Arctic Circle Centre on E6. This is probably one of the most popular places, so it would be a shame not to see it. The building itself is quite interesting – it looks a bit like a flying saucer that landed somewhere in the middle of the tundra landscape. The 66' 33" parallel of latitude runs through the building. In front of the center, you will also find a globe sculpture and the original monument from 1937.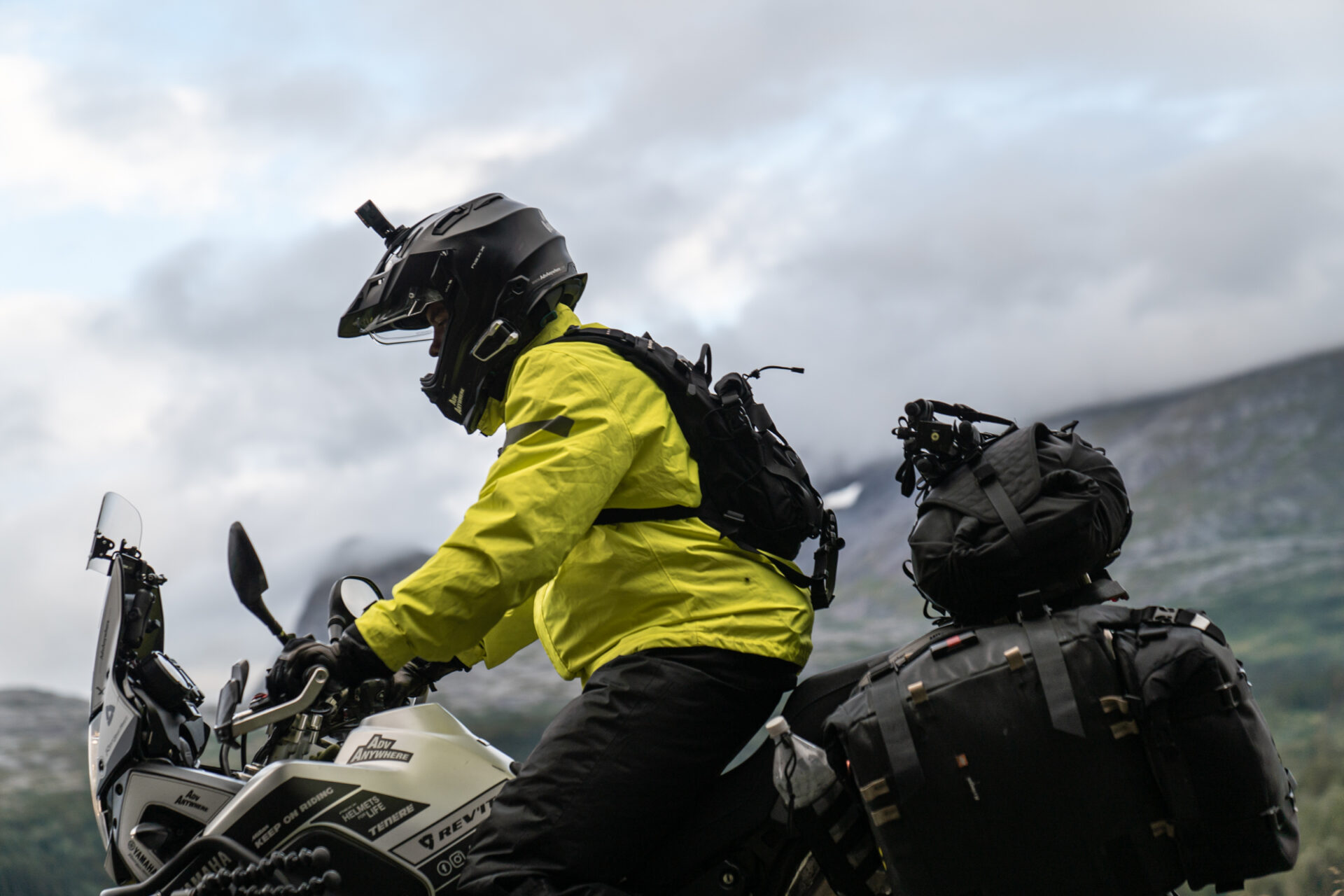 The most eye-catching, however, is the wooden monument said to be reminiscent of a giant troll. Inside the center we can enjoy coffee and flavors of Norway and visit a souvenir store, mini-cinema and an exhibition supplemented with information about the place.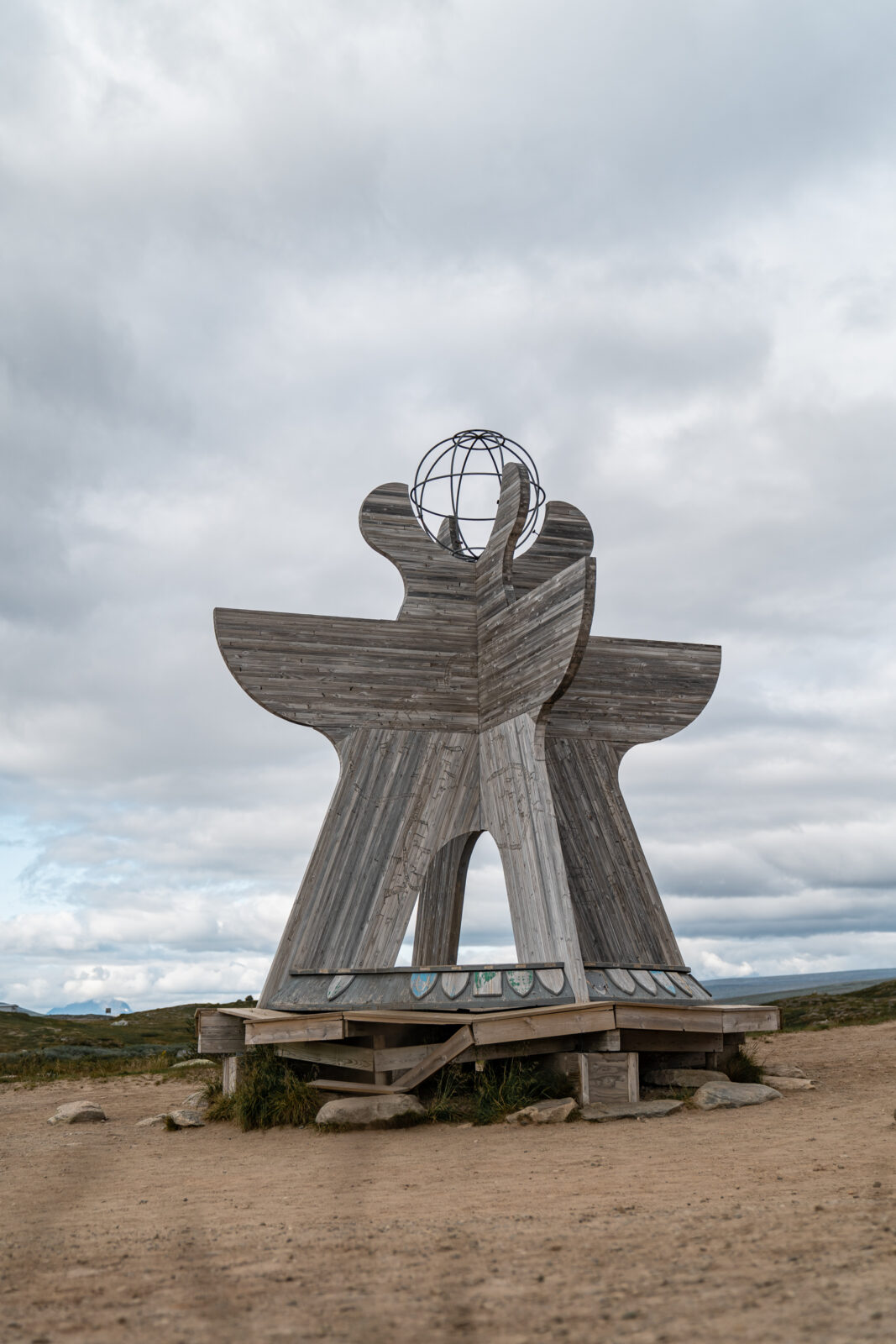 Acclimatization
After almost a full month on the road, we had definitely managed to get used to life as motorcycle nomads. Covering several hundred kilometers every day, cooking, and washing ourselves and the dishes in the river gave us more satisfaction than anything else in everyday life.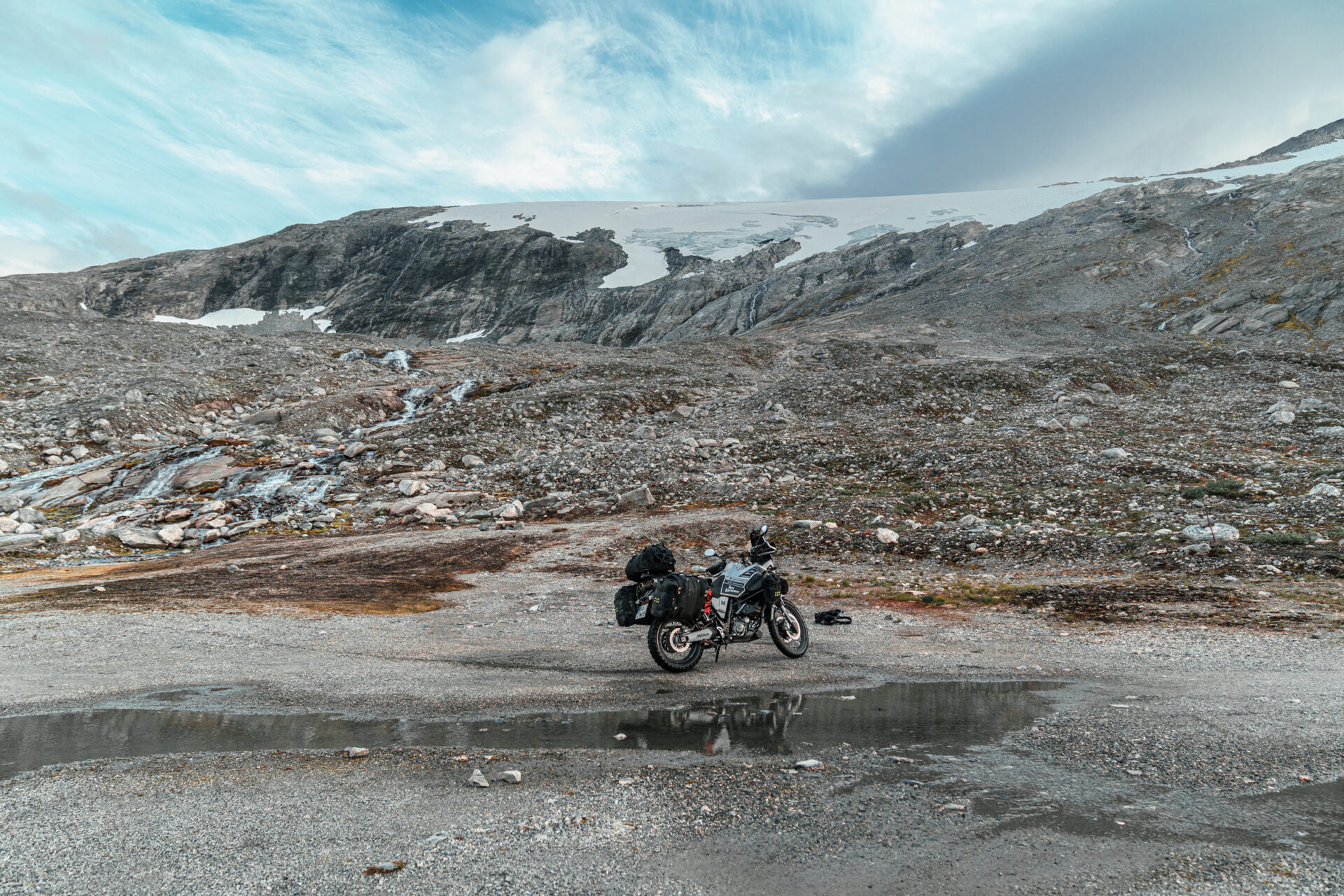 During such a trip, without all the conveniences usually available at hand, one feels alive. And that they fully manage their own time. The temperature doesn't play a role, you don't need a warm, comfortable bed to sleep, and the food doesn't have to be fancy.
A Bit of Fun in the Field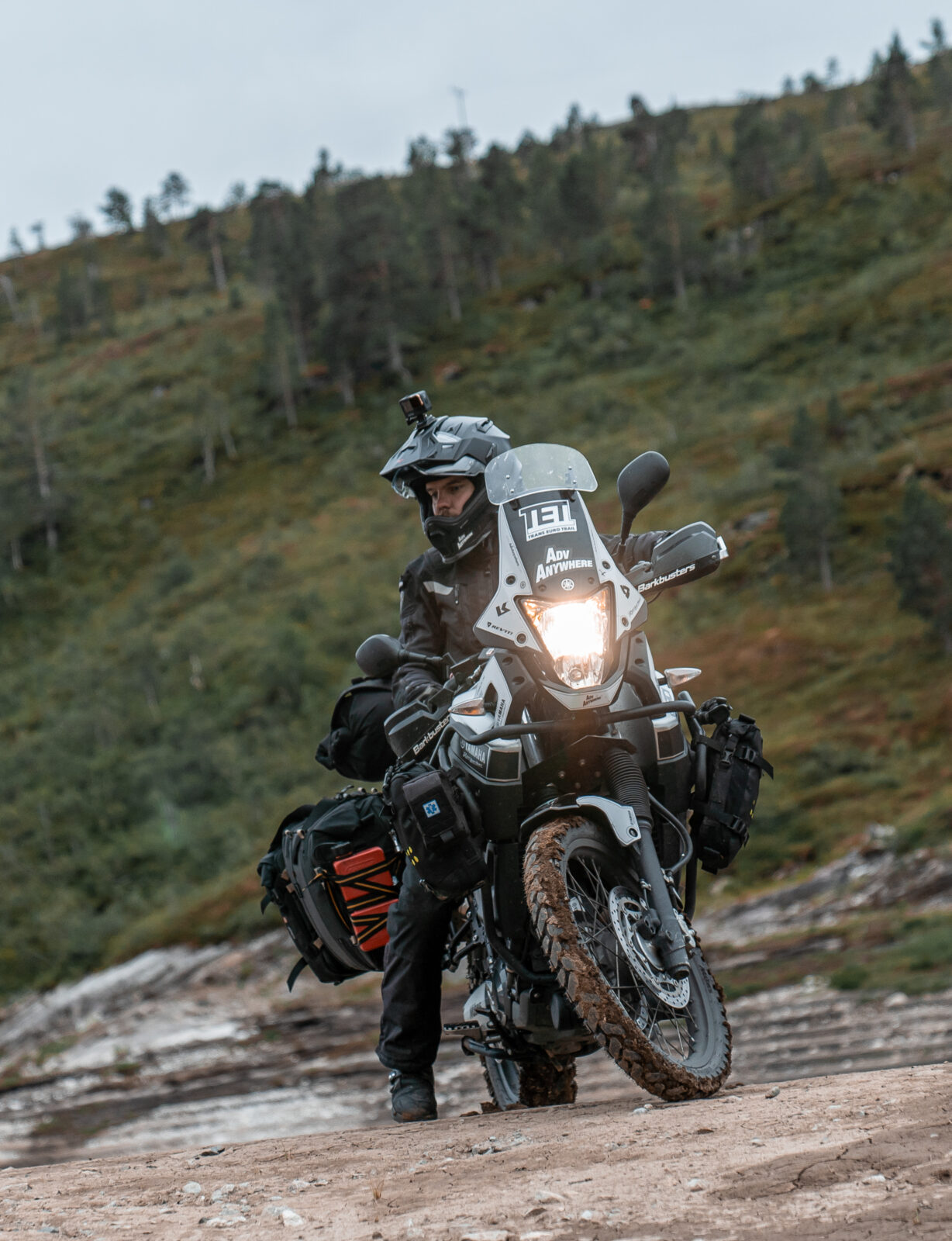 The aforementioned gravel roads were not only a great opportunity to explore the trails less frequented by tourists, but also… to let off steam. By the way, we had a chance to take additional, interesting photos, which still showed the raw beauty of Norway, but in a slightly more "crazy" version.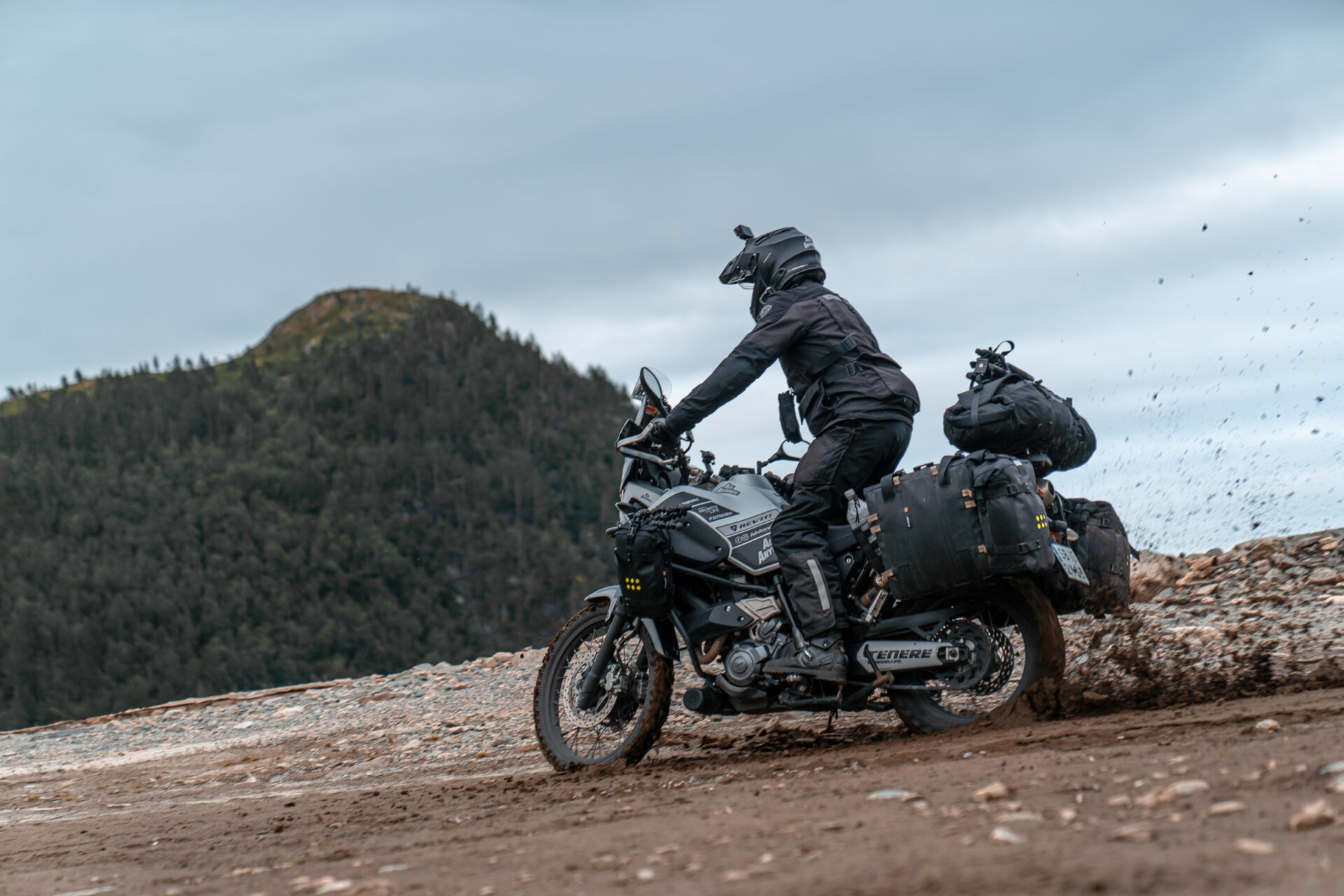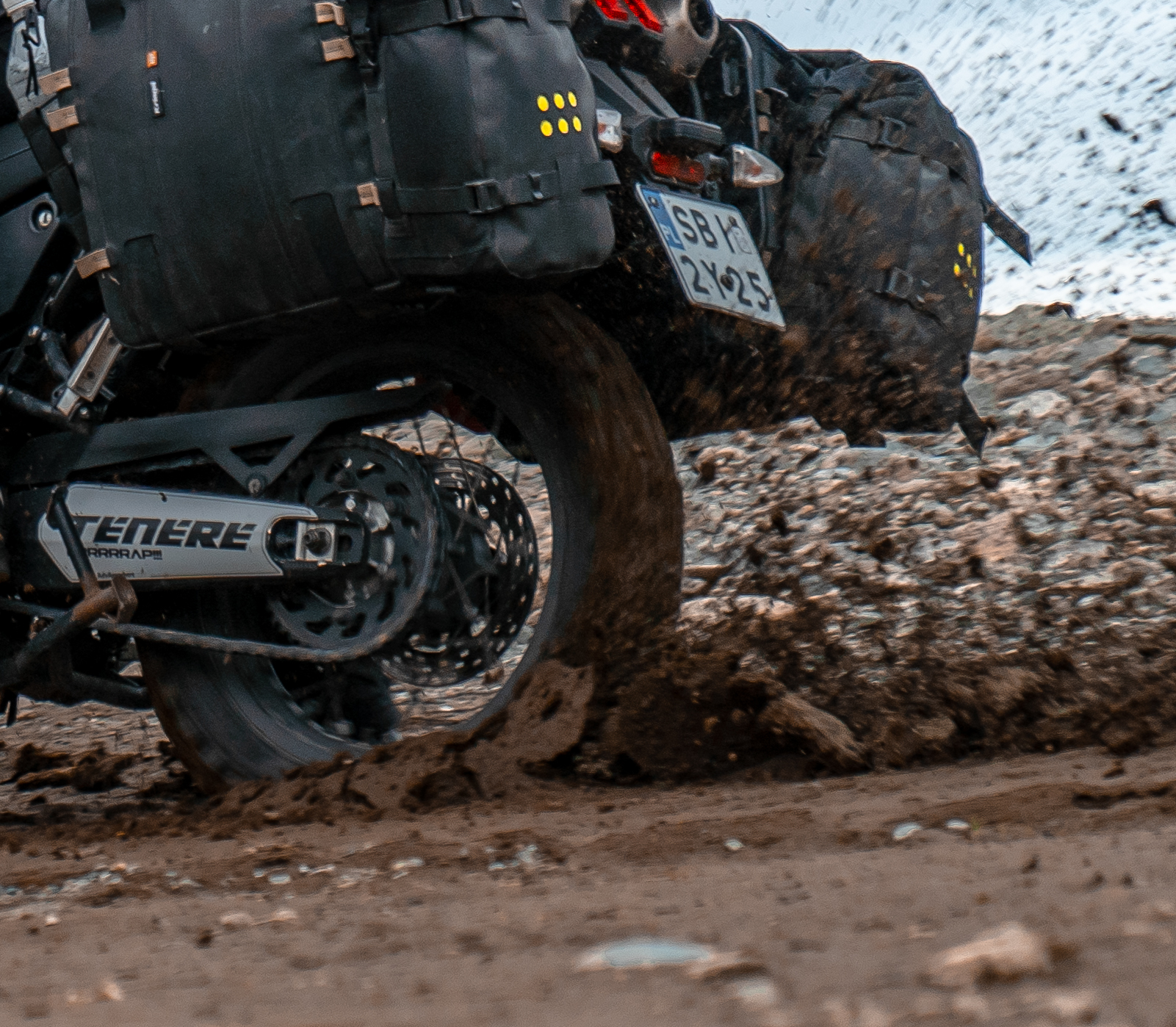 Ålesund
Ålesund was recommended to us at the beginning of our trip by a man we met on the road. He described it as "Norwegian Venice" and that was enough for us. On the spot, it turned out that this Art Nouveau gem impresses not only with water channels but also with unusually coherent architecture. Grey roofs seen from the Aksla Hill give a kind of sense of peace and harmony, so ubiquitous in Norway, and so difficult to find in Poland.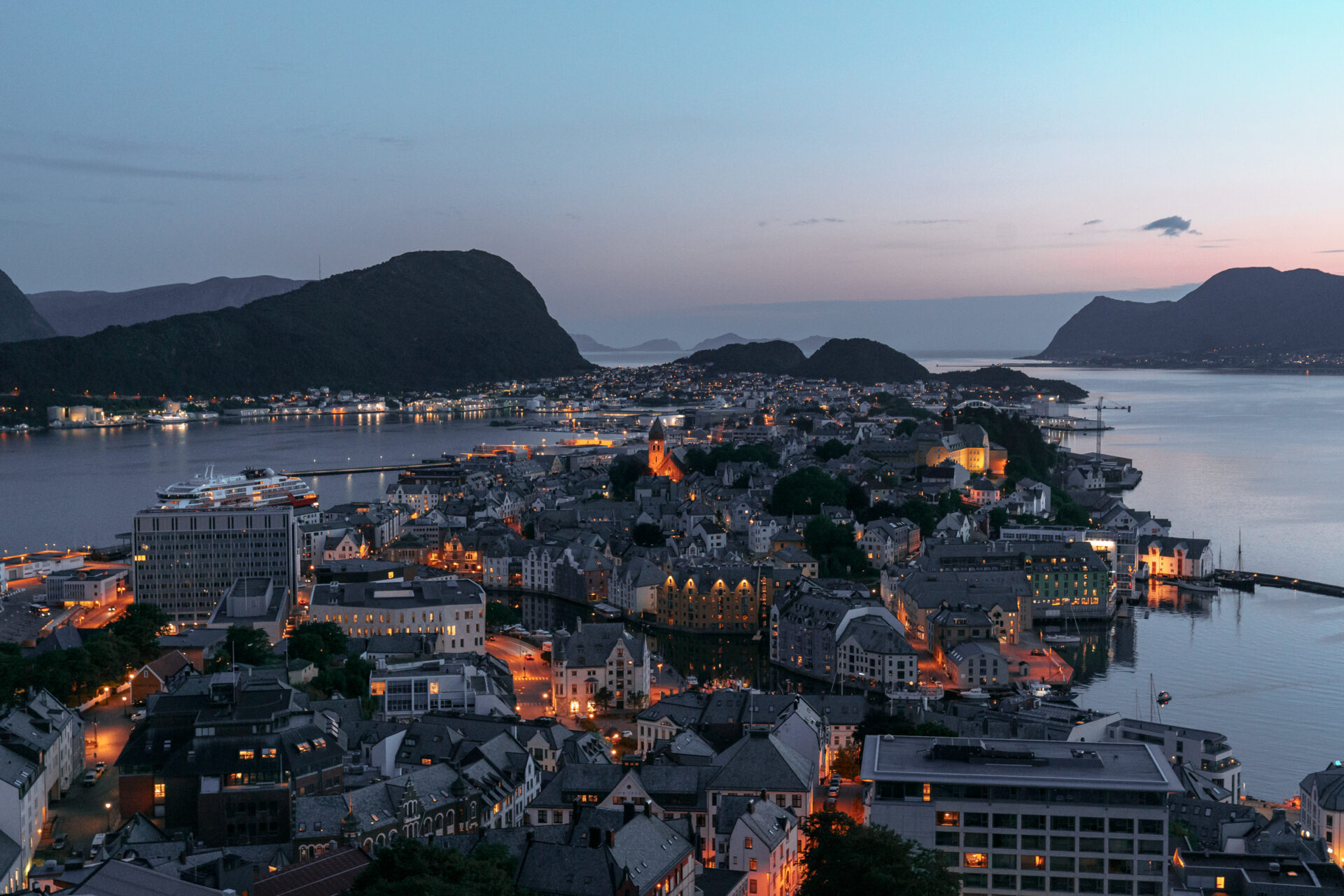 Where do such buildings come from? They were built after a fire in 1904 when a wooden trading settlement was completely consumed by fire and the inhabitants lost their homes. Fortunately, thanks to support from various sides, the town was rebuilt and we can now admire the brick buildings in the Art Nouveau style.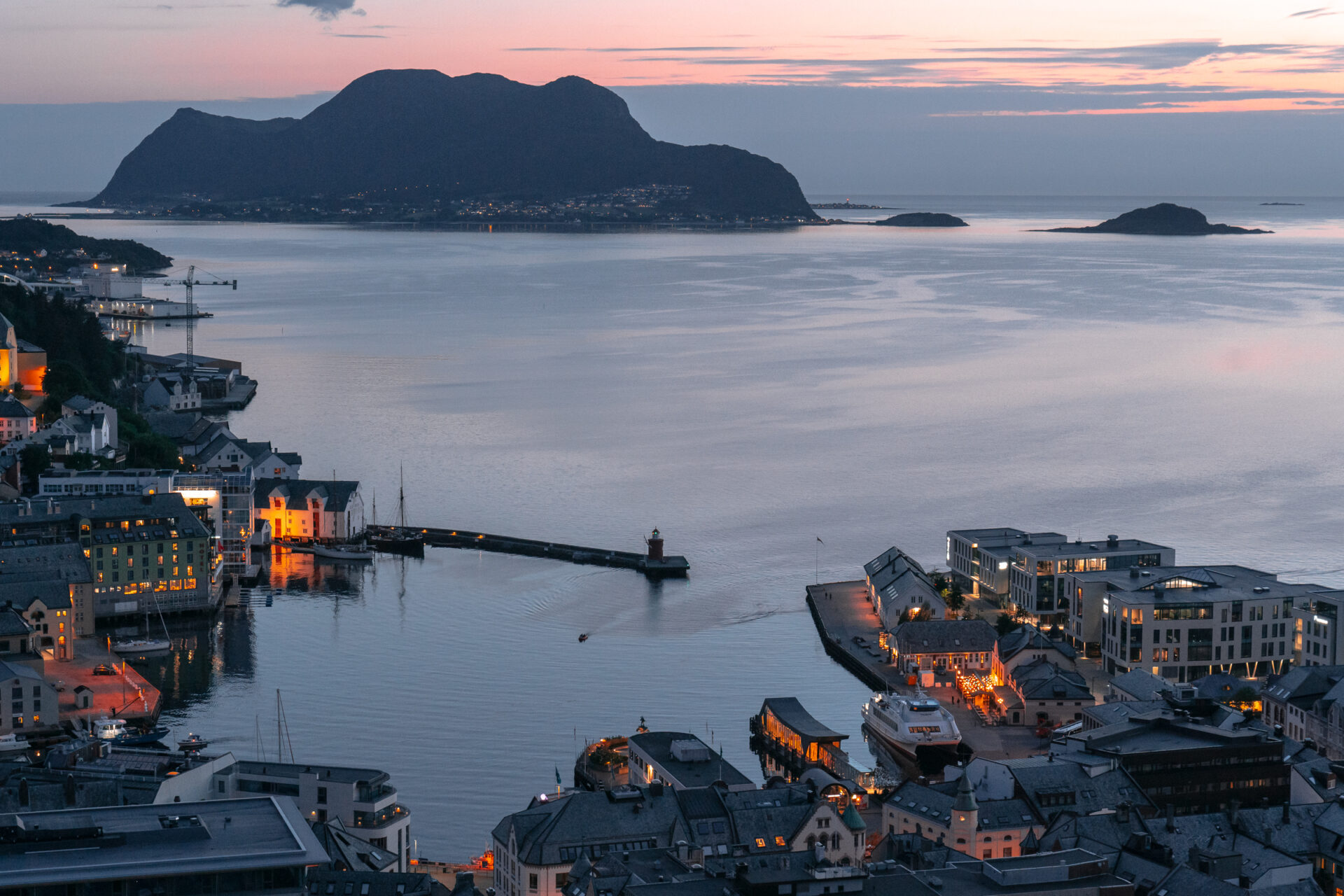 Coming back to Aksla Hill, it is only 189 meters high, so it is not very high and you can easily climb the stairs (there are 418 of them). Along the way, we have several viewing platforms, from which we can enjoy a panoramic view of the city. If you don't have time or are not willing to do some light climbing, you can get to the top by car/motorbike or the Bytoget train. The most spectacular view is of course from the top. We can see the Ålesund panorama, nearby islands, and the peaks of nearby mountains – the Sunnmøre Alps.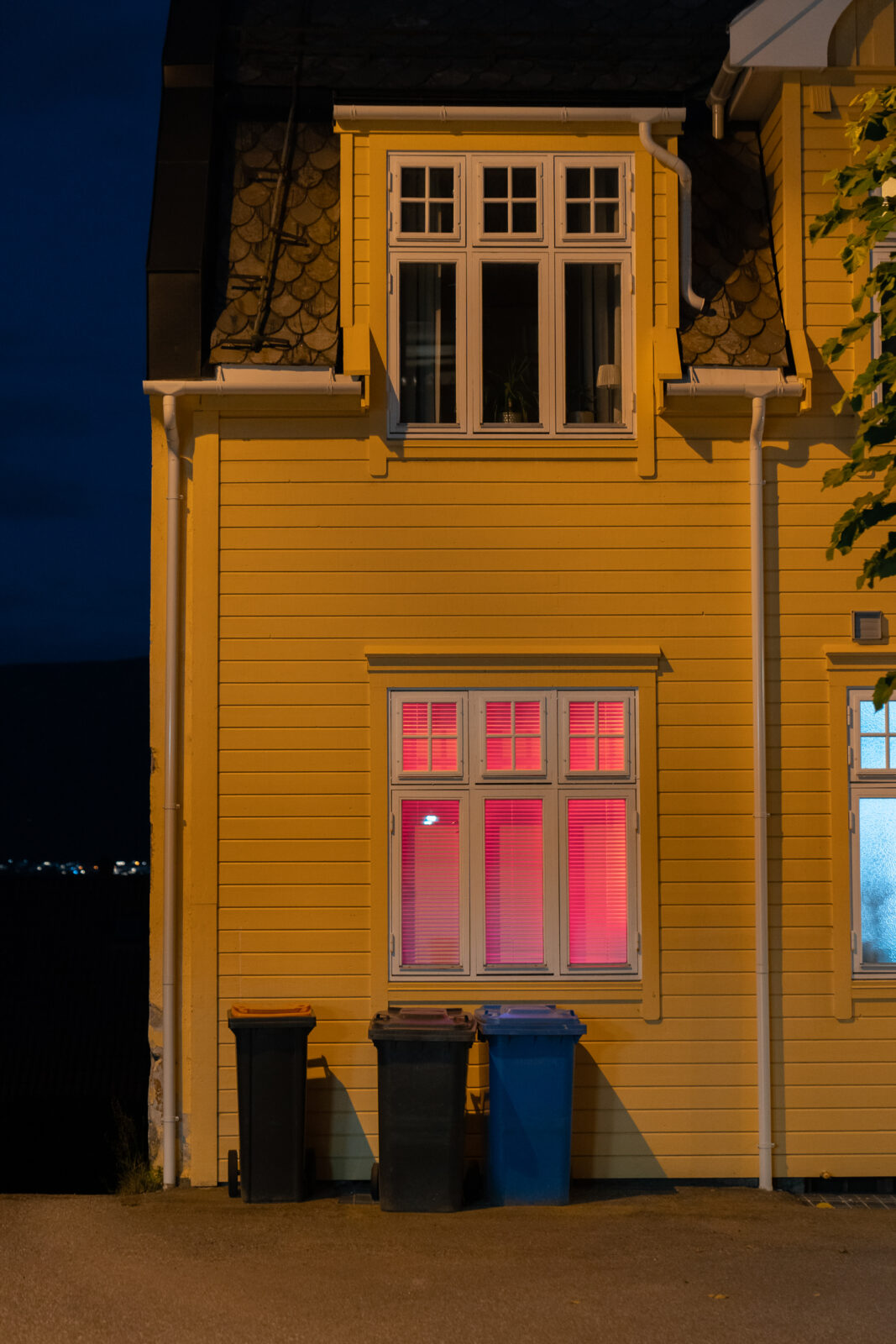 Trollstigen
A must-see place, especially during motorcycle trips, is Trollstigen. The road is one of eighteen National Scenic Routes of Norway (Nasjonaleturistveger in Norwegian).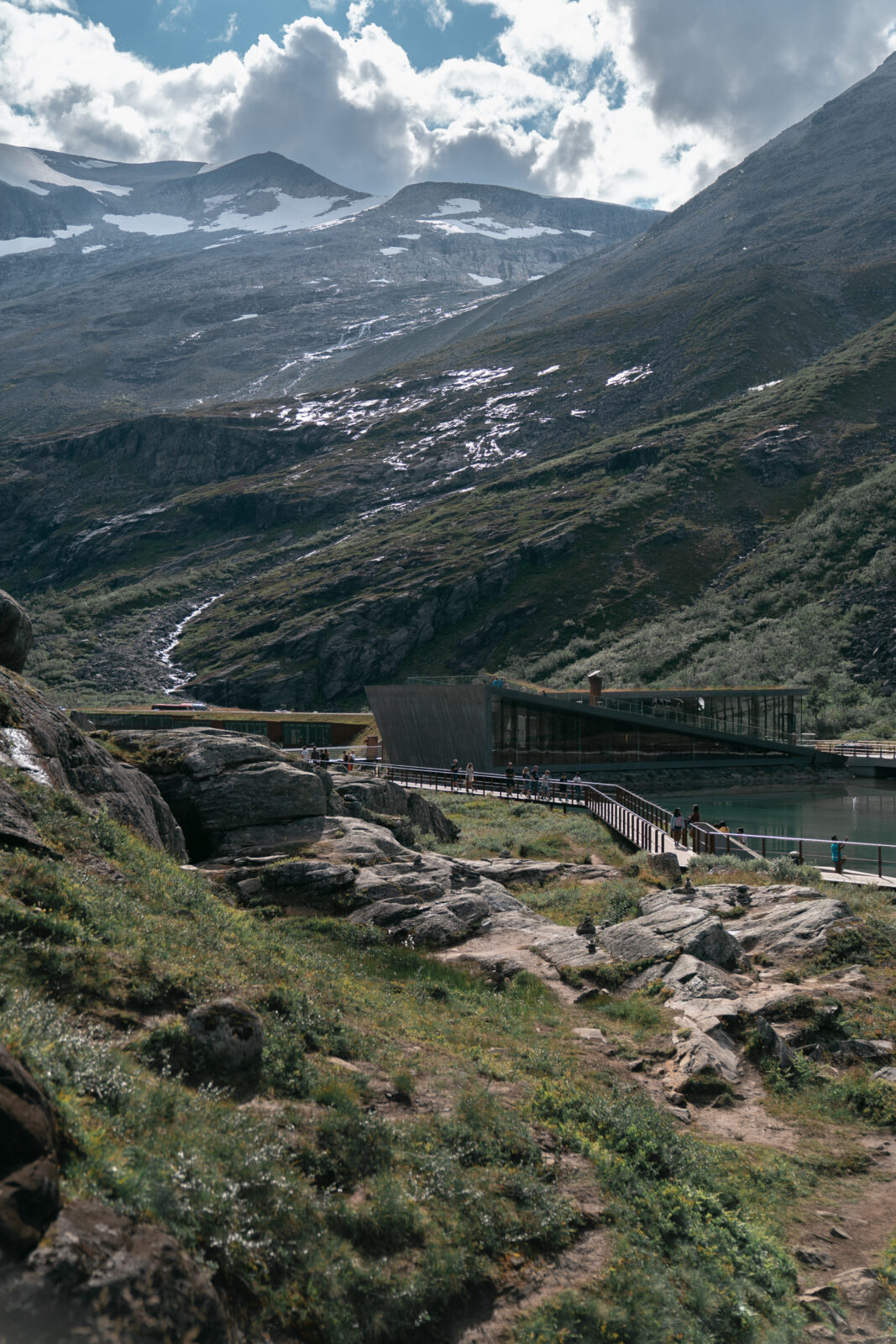 Literally translated as the Troll Ladder – "stigen" means "ladder" in Norwegian – has 11 sharp turns with gradients ranging from 9 to 12%. The vast majority of them require us to change direction by almost 180°. Its most popular section is the one from Åndalsnes to Valldal and it is 56 kilometers long. The entire road from Geiranger to the bottom of Romsdalen is 106 kilometers long.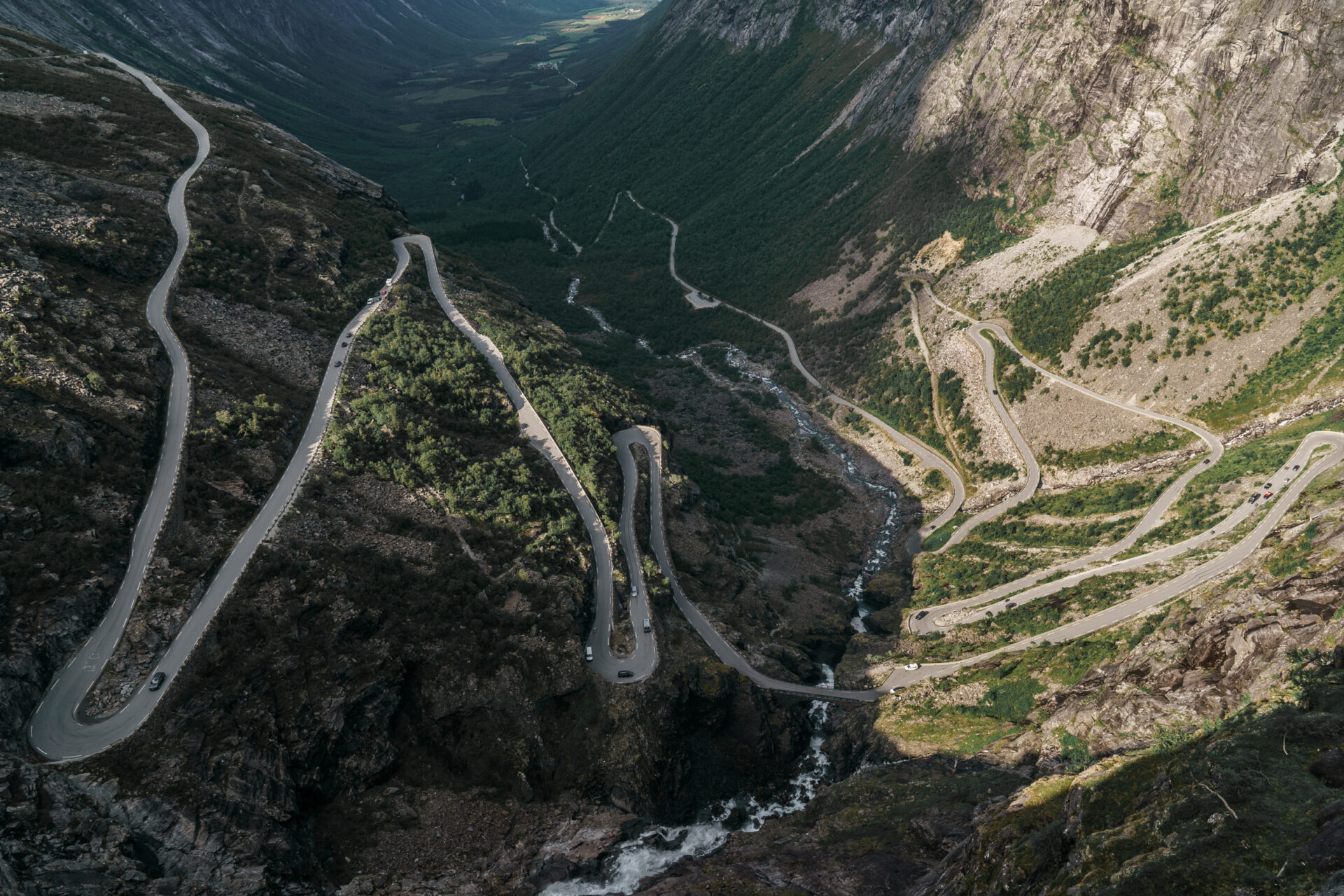 Trollstigen is called a masterpiece of engineering, and there are reasons for that. The very fact that it was built on a steep mountainside deserves recognition. The fact that construction began almost 100 years ago is even more impressive. Interestingly, each of the eleven curves has its own name, often derived from the name of the foreman responsible for the curve. The road was opened on July 31, 1936, by King Haakon VII, after eight years of construction.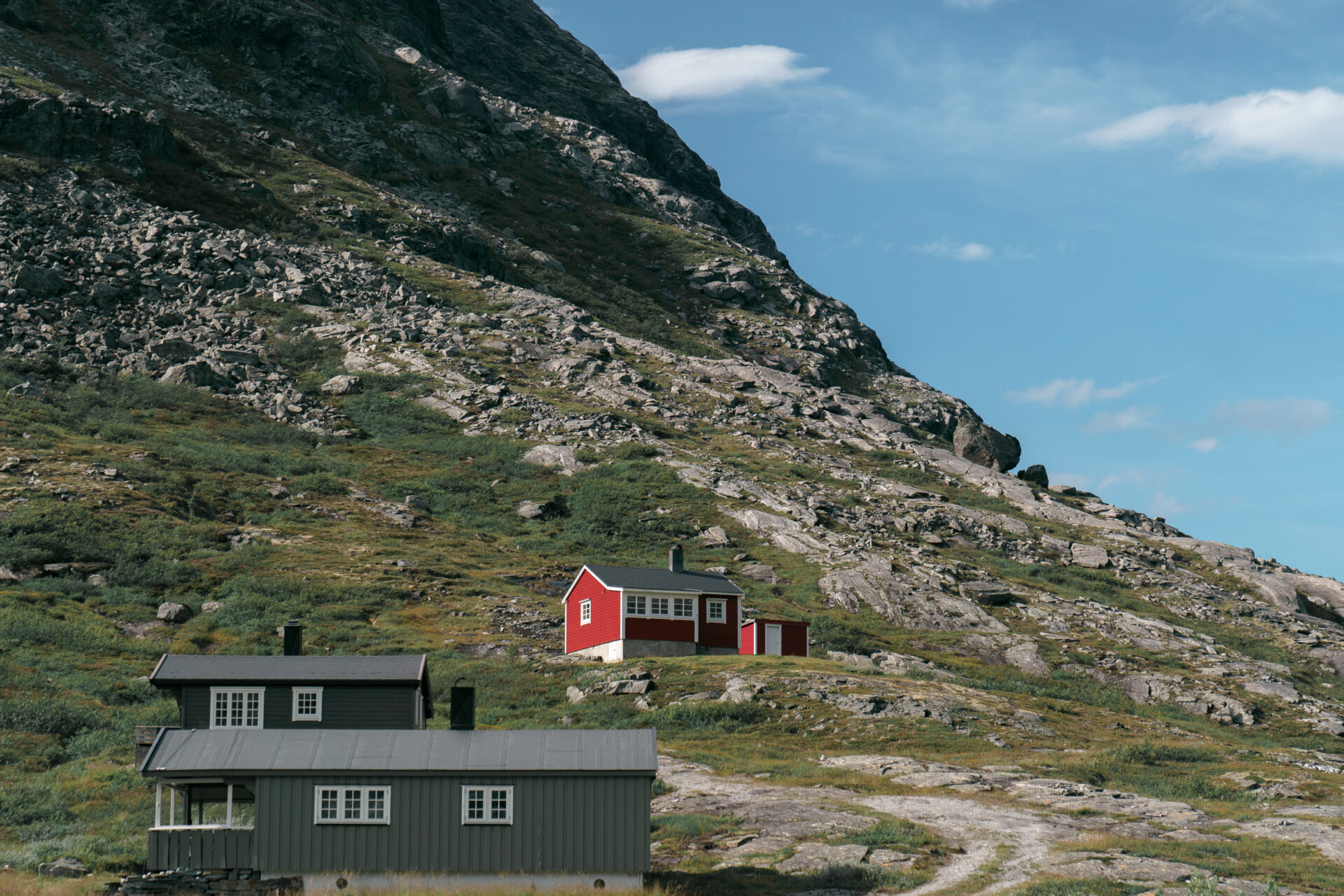 It is worth mentioning that the road goes over an amazing natural stone bridge, located at the 180-meter high Stigfossen waterfall. We certainly won't forget it for a long time, as this is where we almost lost our drone.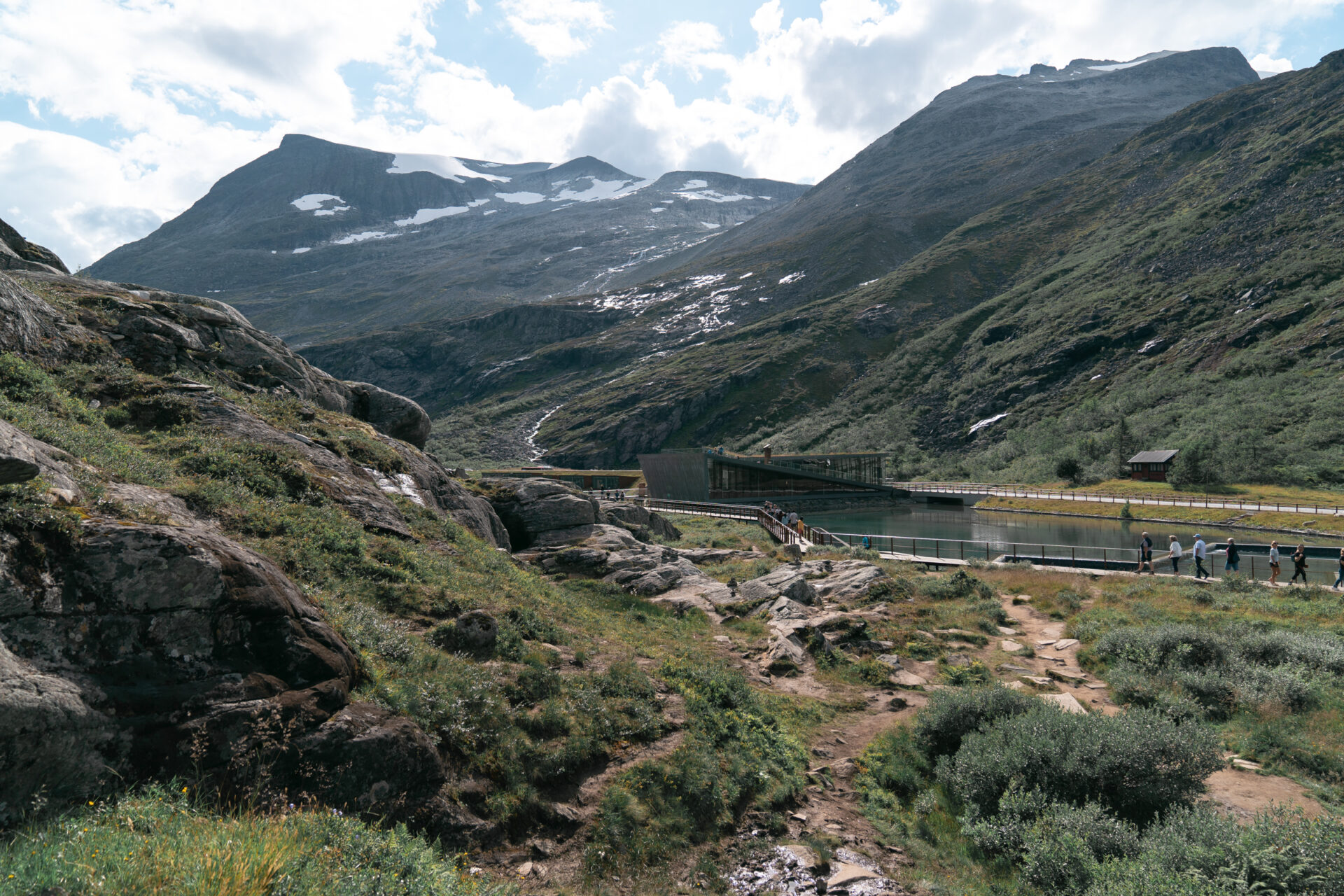 Driving the Troll Road is a thrilling experience. Some sections are cut into the mountains, some are built on stone walls, and the sharp edges of the road reveal the abyss and valley floor. But this is not the only road in this area that deserves our attention. Continuing south on Route 63 we found a beautiful place to stay for the night.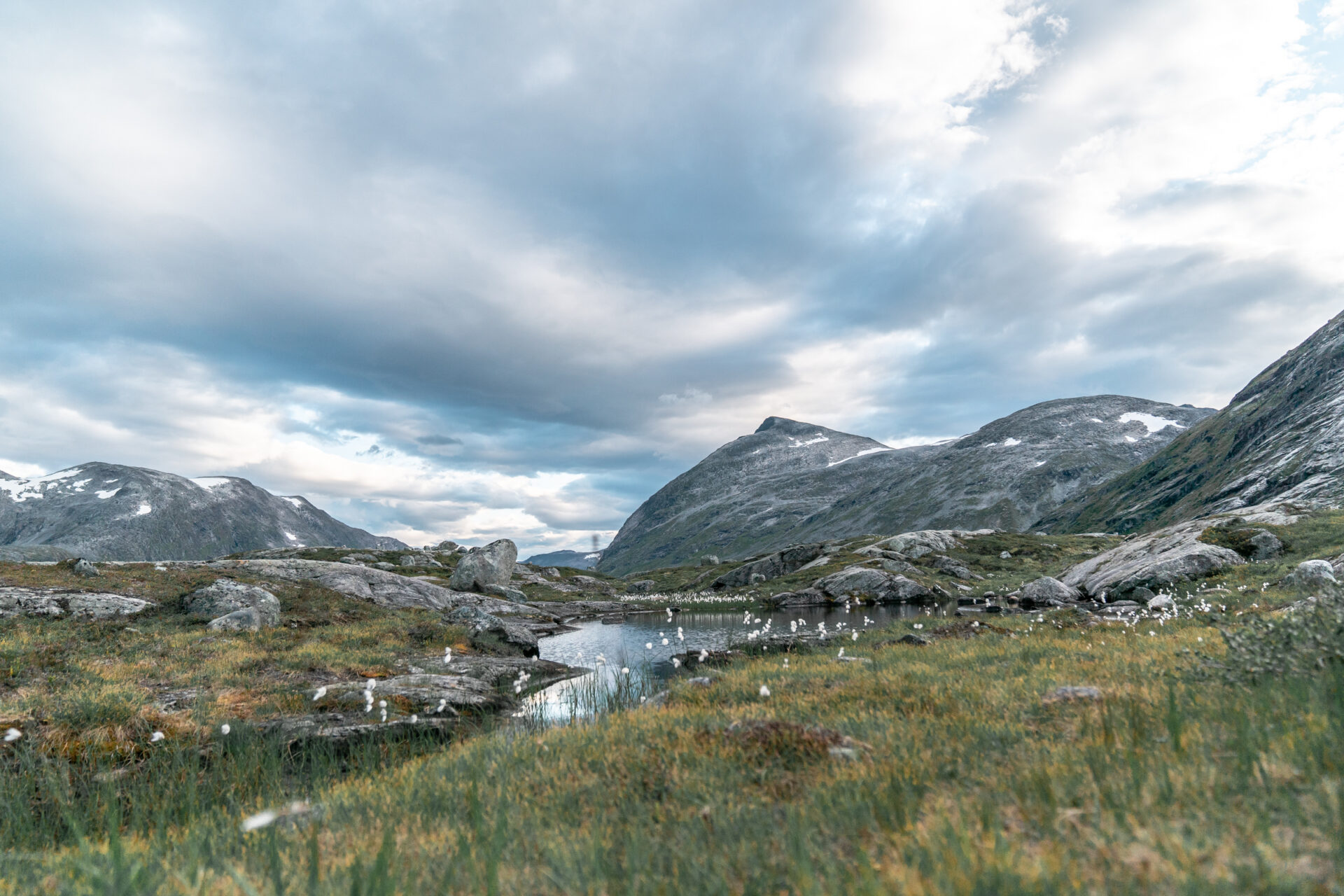 Since there was still a lot of time left before dark, we decided to put up the tent and go for a mountain climb in search of beautiful shots of mountain views. Unexpectedly, it turned out that this is probably our favorite region in Norway.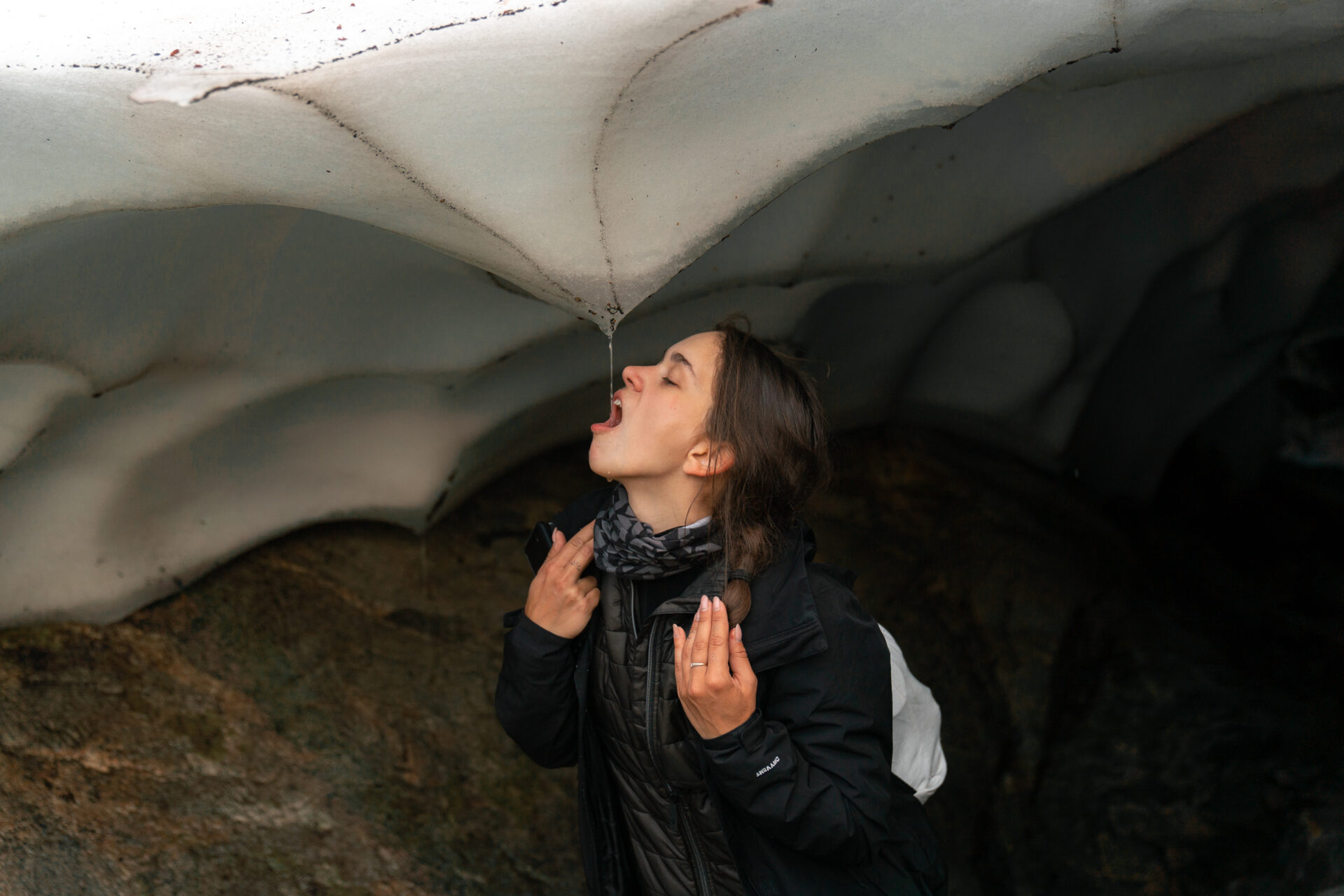 We slowly climbed to the top, stopping every now and then to admire the views before us.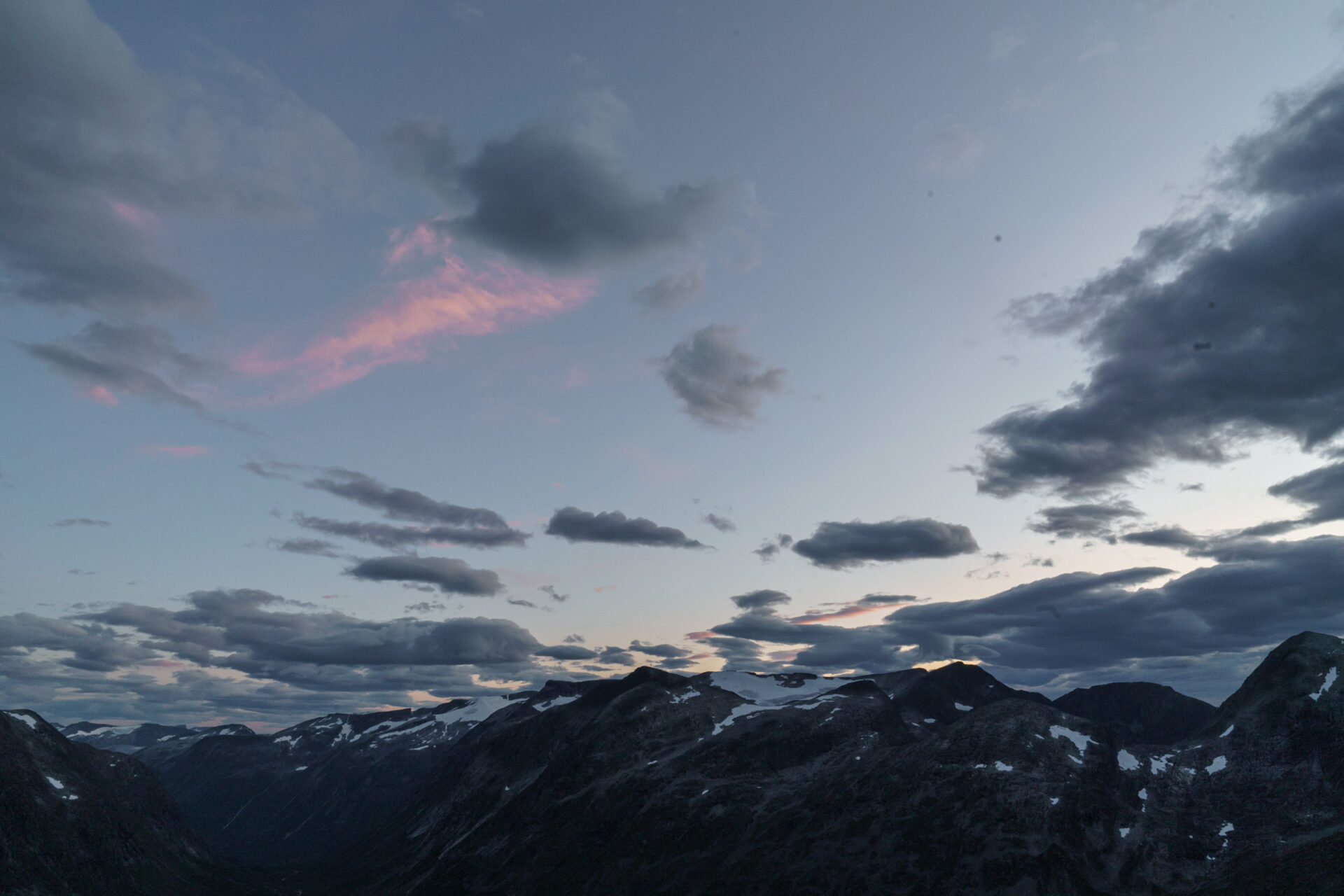 When the sun began to set we were already close to the summit, so we sped up a bit to take the best seat in this theater of fiery lights. The sunset itself lasted about an hour. Eventually, the sun hid behind the mountains for a while and practically ignored the night, the sunset morphed with the sunrise.
The journey through Norway was marked not only by long kilometers driven during the day but also by hundreds of photographs taken at night. After all, when to sleep when there are so many views around? It's best not to sleep at all.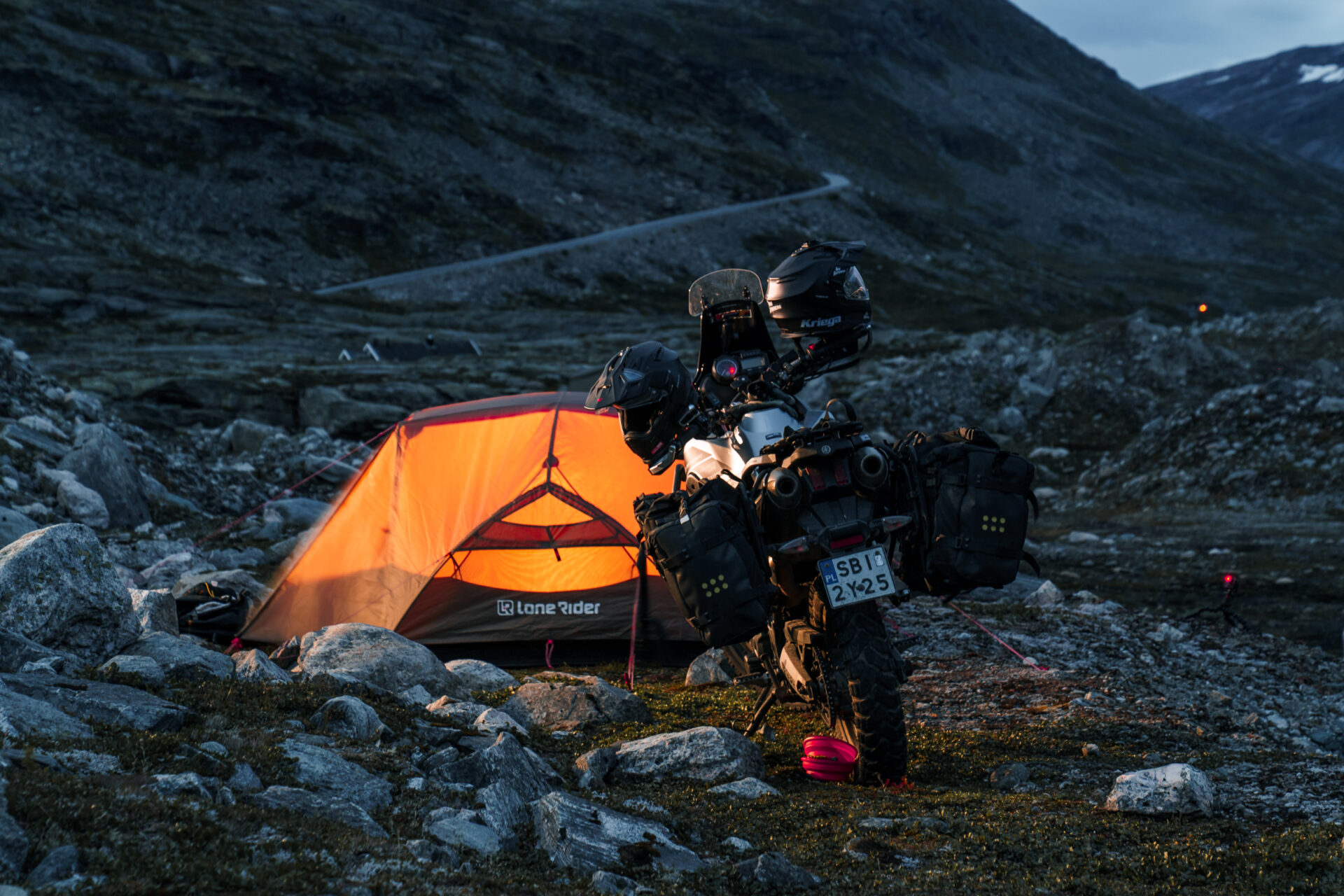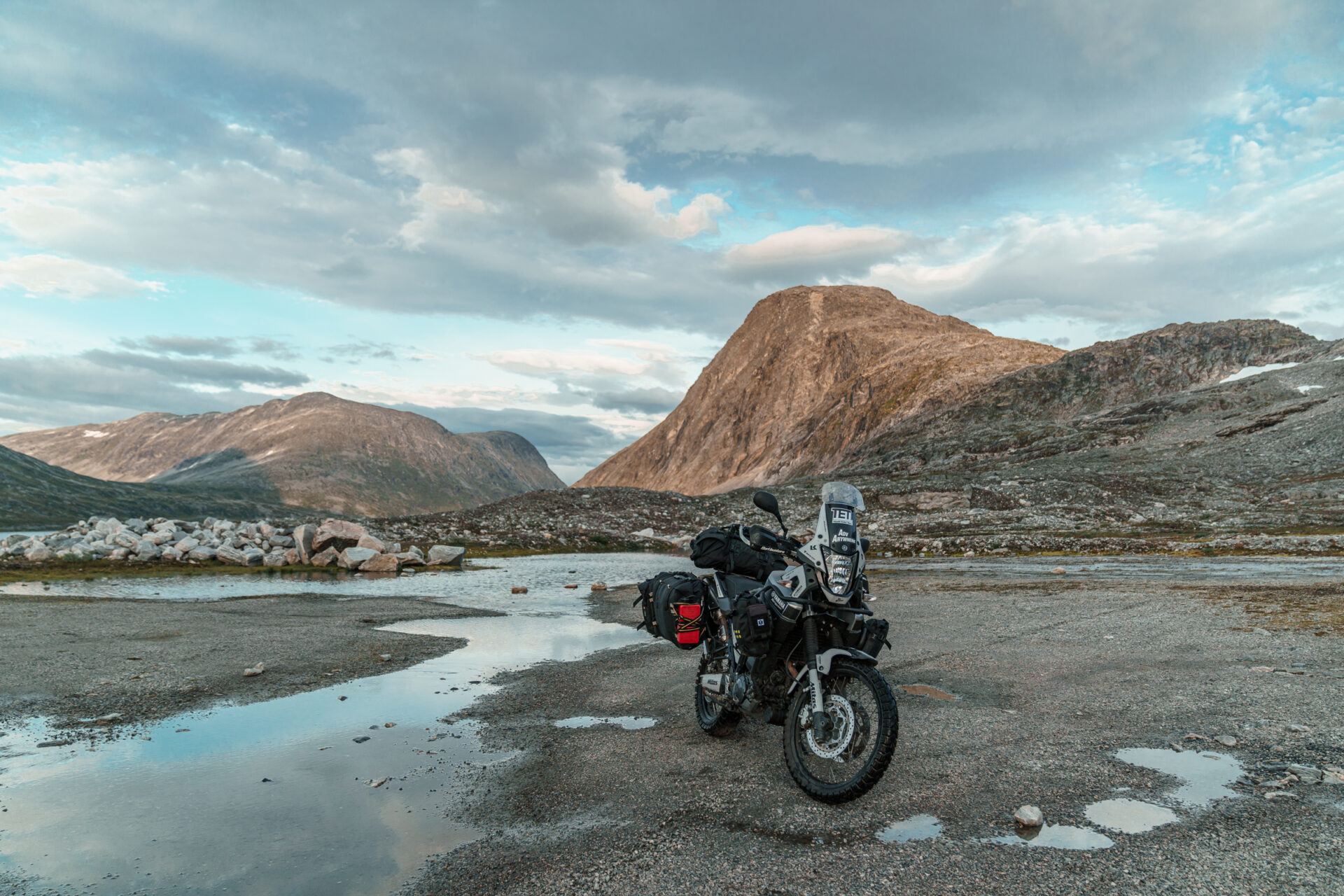 What Would the Adventure Be without a Breakdown?
Everything was going perfectly until suddenly, four days before the return ferry to Poland… we got a flat tire.
It was Saturday after 4 p.m. and no one was working in Norway at that time. We started looking for anyone who could help us, and finally, we called the insurance company. Unfortunately, they weren't very helpful. They did arrange for a tow truck, but it turned out that the nearest workshop it could take us to was 300 meters away, on the other side of the street. Unfortunately, it was already closed and they were supposed to open on Monday.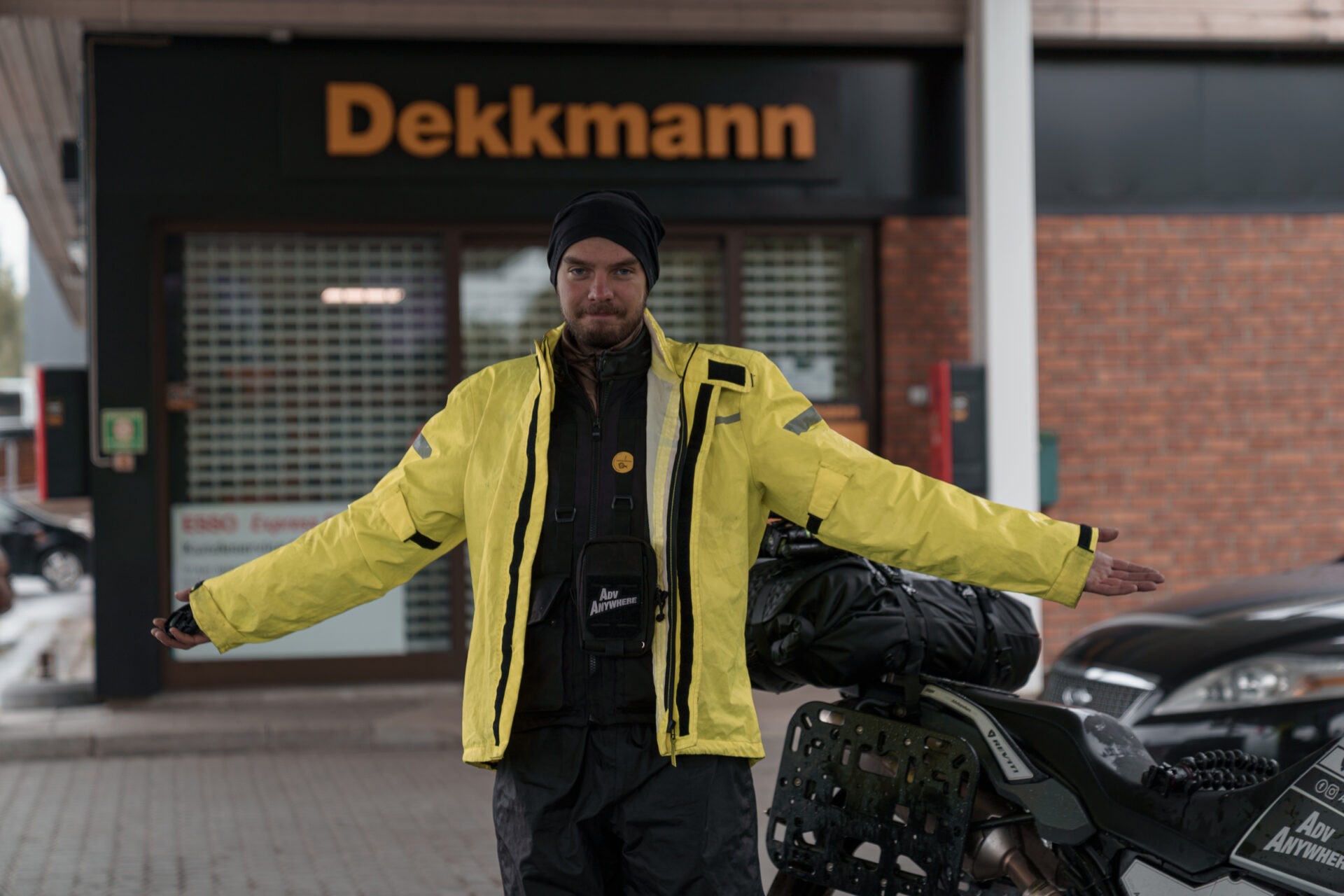 It was raining harder and harder and we still had 1000 kilometers to go. In four days it wasn't a problem, but if we didn't fix the fault right away, we would have to wait until Monday for someone to help with the repair. Then it would be a problem to catch the ferry to Poland.
Unfortunately, the owner of the repair shop, who showed up two hours later, was not eager to help. After all, he was off duty. We only managed to borrow from him a wrench to unscrew the wheel. Kewin set to work and with the help of basic tools started to remove the tire. However, it didn't look like the operation would be successful without the use of a tire machine.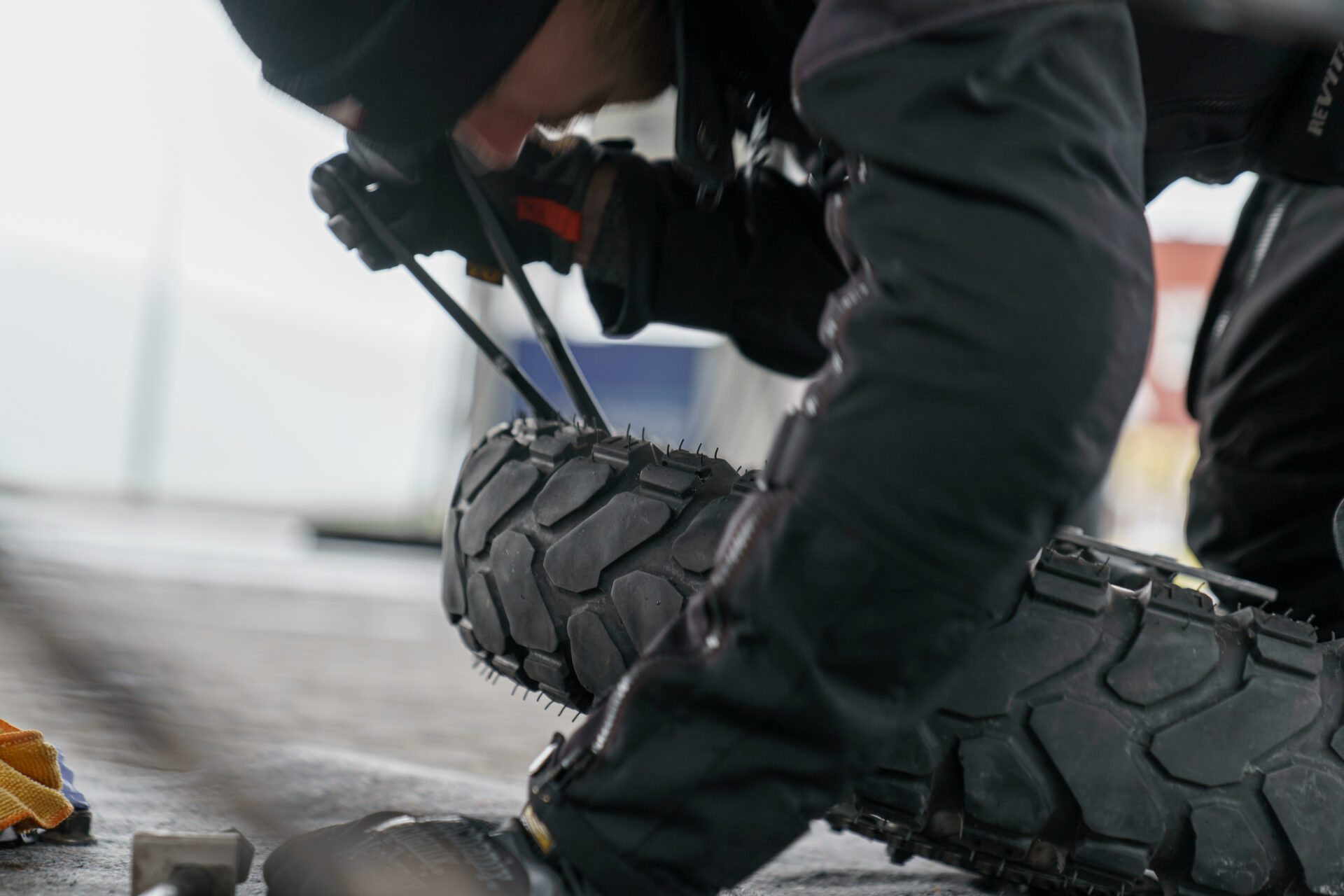 The weather was getting really bad. We were about to look for emergency accommodation in order not to stay on the street. And suddenly, an elderly man approached us and asked in Polish if we needed any help. We needed it very much! It turned out that the man was another employee of the workshop and seeing compatriots in need he did not hesitate for a moment to give a helping hand. With his assistance, the situation was quickly brought under control.
It turned out that the inner tube was jammed and broke. Fortunately, the tire was whole. A quick glue-up, reconstruction of the motorcycle, putting on the bags, and off we go! All thanks to our guardian angel. It is amazing how sometimes the world can help us by sending such a good soul.
Farewell to Norway in Oslo
We slowly started heading towards Sweden. Since we had some time, we visited Oslo, which was one of the three Norwegian cities where we stayed for longer. The previous ones were Ålesund and Tromsø. Each of them delighted with architecture, whether more traditional or modern.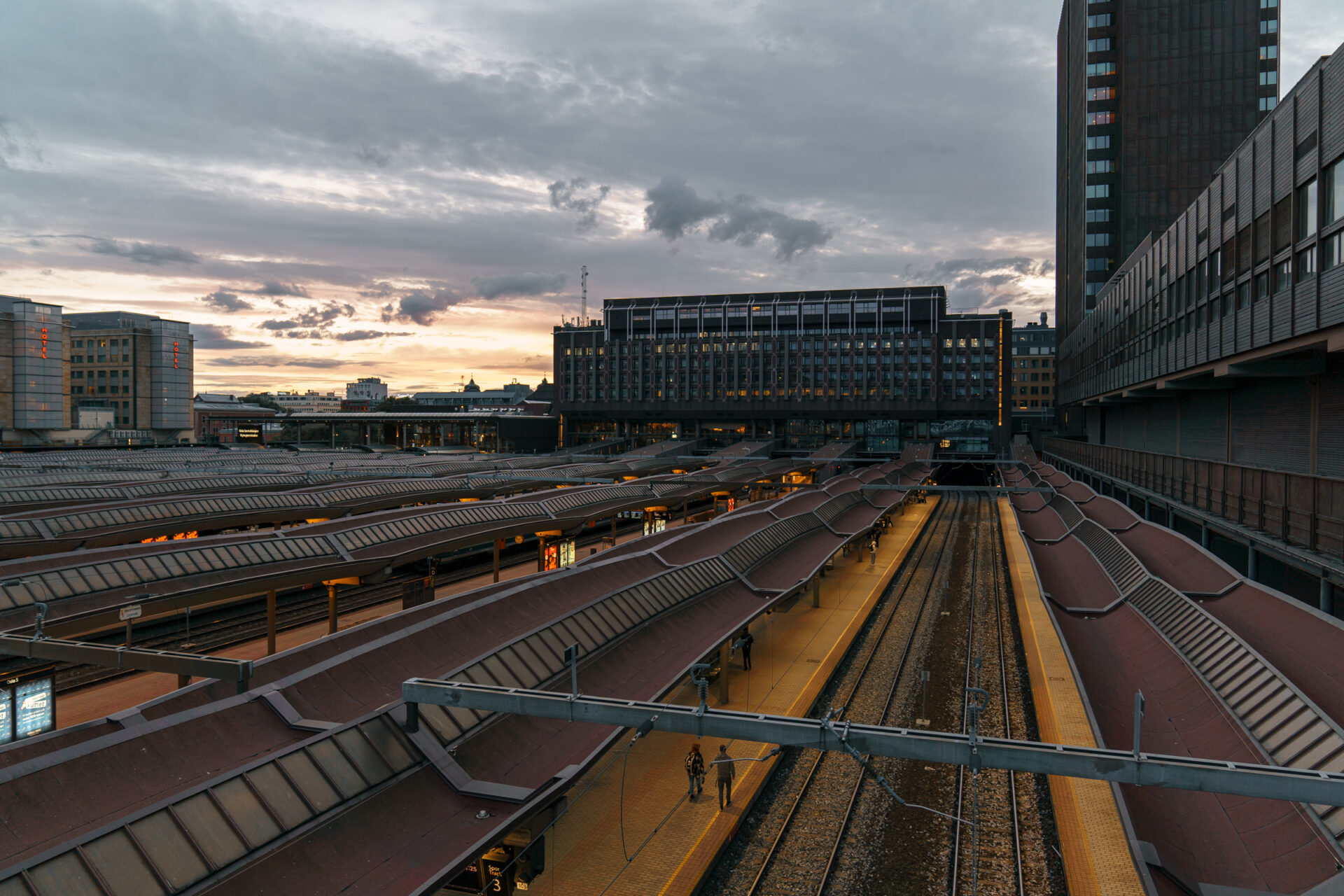 In Oslo we were definitely most enchanted by the opera house, followed by the food, as we were tempted to visit the Oslo Street Food hall and My Ugly Baby doughnut shop. After a month of cooking on the road, we deserved a decent meal!
The Last Stop – Husqvarna Museum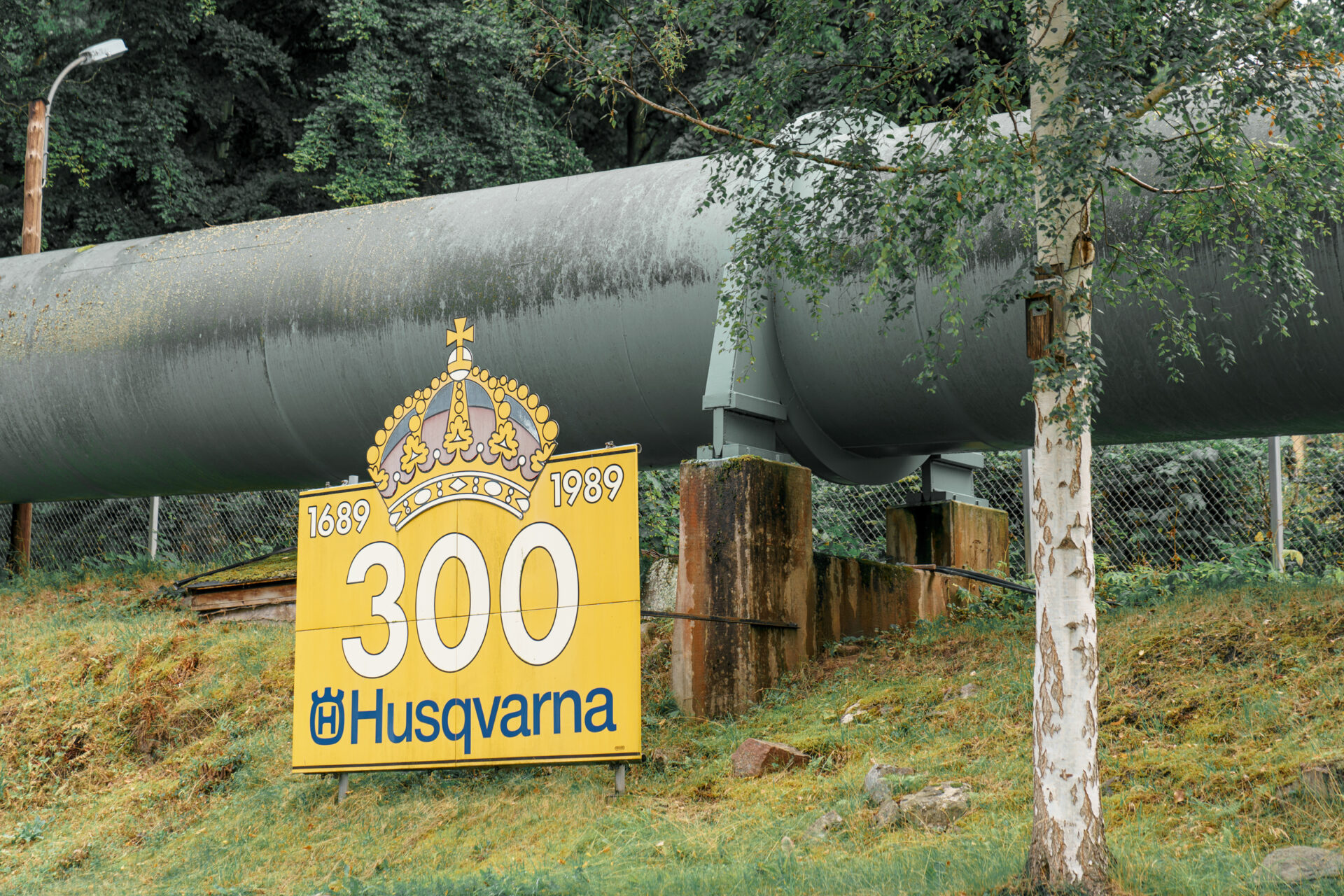 In the very end, we went to a place that we found by accident on Google maps. We don't really know how it didn't make it onto our list of places to visit from the beginning. Husqvarna Museum! We had a chance to admire all kinds of motorcycles that have been built over the years, as well as shotguns and household appliances. There were even sewing machines fished from the depths of the lake! A really interesting place, perfect for the end of a motorcycle adventure.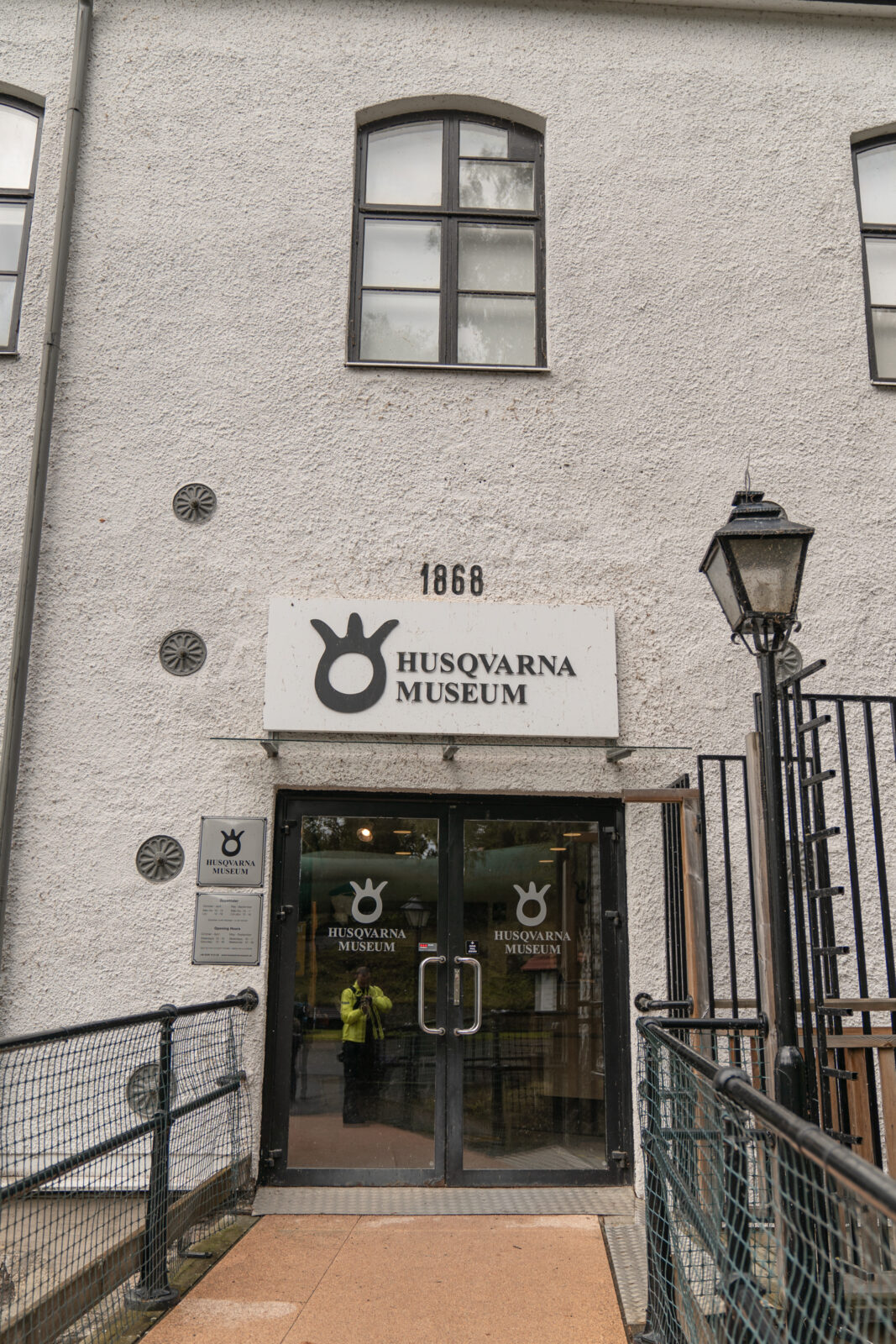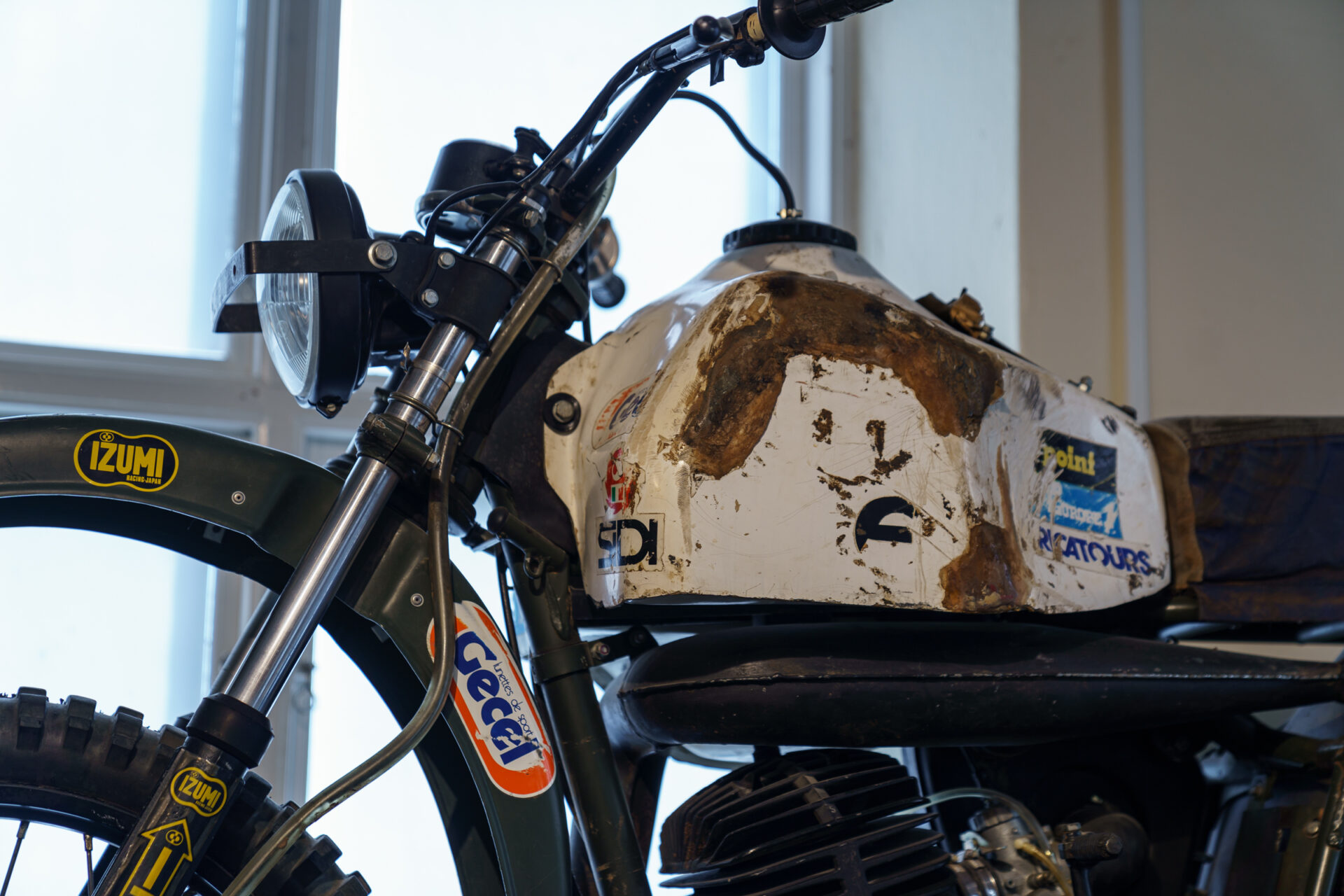 Finally, the time came for our last ferry crossing. Not in the Viking country anymore, but from Karlskrona to Poland. Now it is time to plan our next trips and discover new places.
We don't know yet where exactly will take us next time but we already have a lot of interesting destinations in mind!