Posted on:
Different people, different ways to camp. In this guide, I'd like to write a bit about my personal tenting experience. I travel with my tent mainly during the motorcycle season – so from early spring to late fall – and for this reason, I'm gonna take motorcycle luggage into account.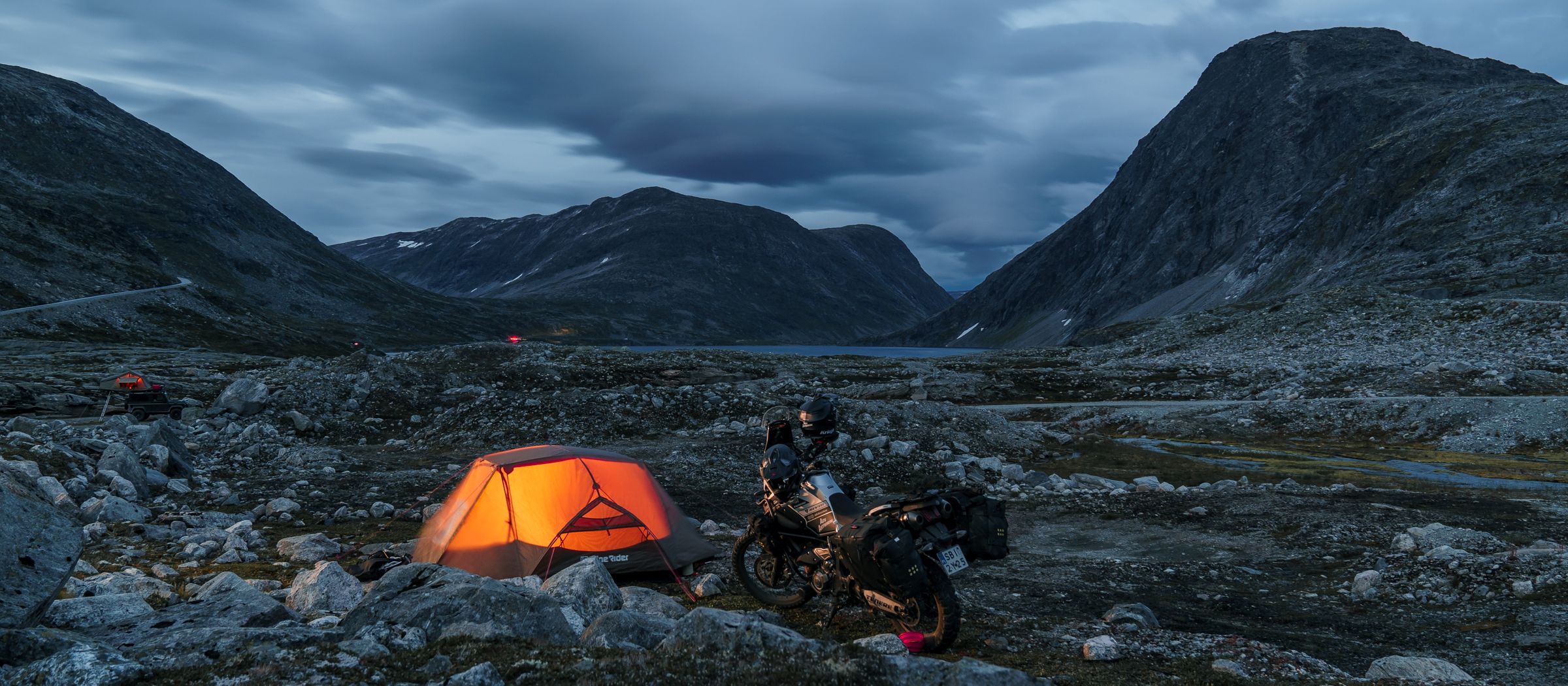 Choosing the Right Tent
Always a Little Bigger
When traveling by motorcycle, the tent you take with you should be half a person bigger than the standard one you'd choose.
If the tent offers enough space for two people, sooner or later we'll run out of room. If we want to store some motorcycle clothes, helmets, or other luggage, e.g. because of the weather, it'll turn out that the tent can be cramped.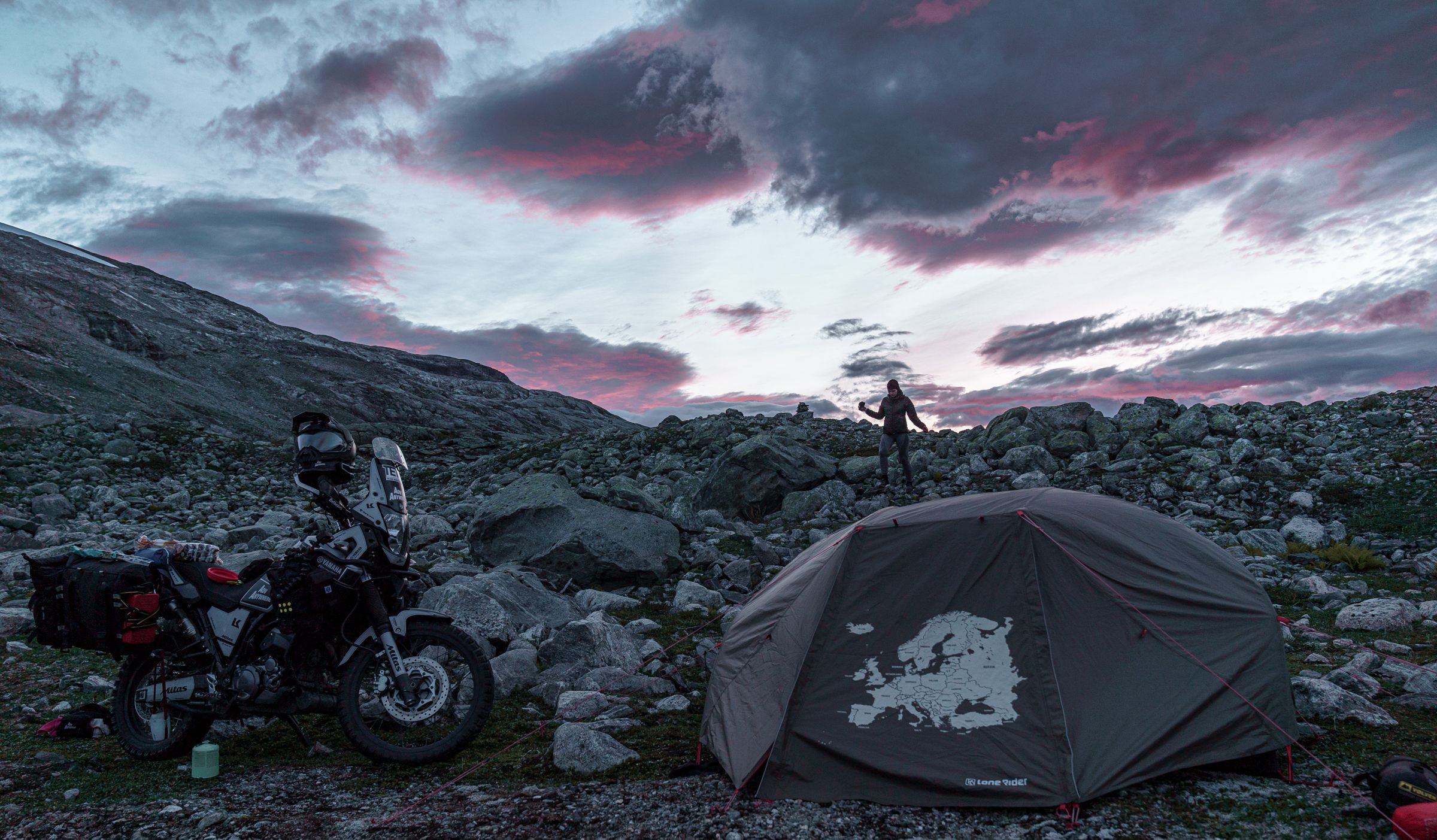 The rule is simple. If we're going solo, it's best to choose a tent that offers a little more space than just for us. We can even choose a two-person tent. If we're traveling two-up then a three-person tent should be ideal.
In my opinion, the Lone Rider ADV tent's designers were perfectly aware of that. They designed a two-person tent in such a way that apart from the main compartment, the luggage can be stored in the vestibules. This way, we don't have to put dirty panniers inside, they are not in (strangers') view, and are protected against rain.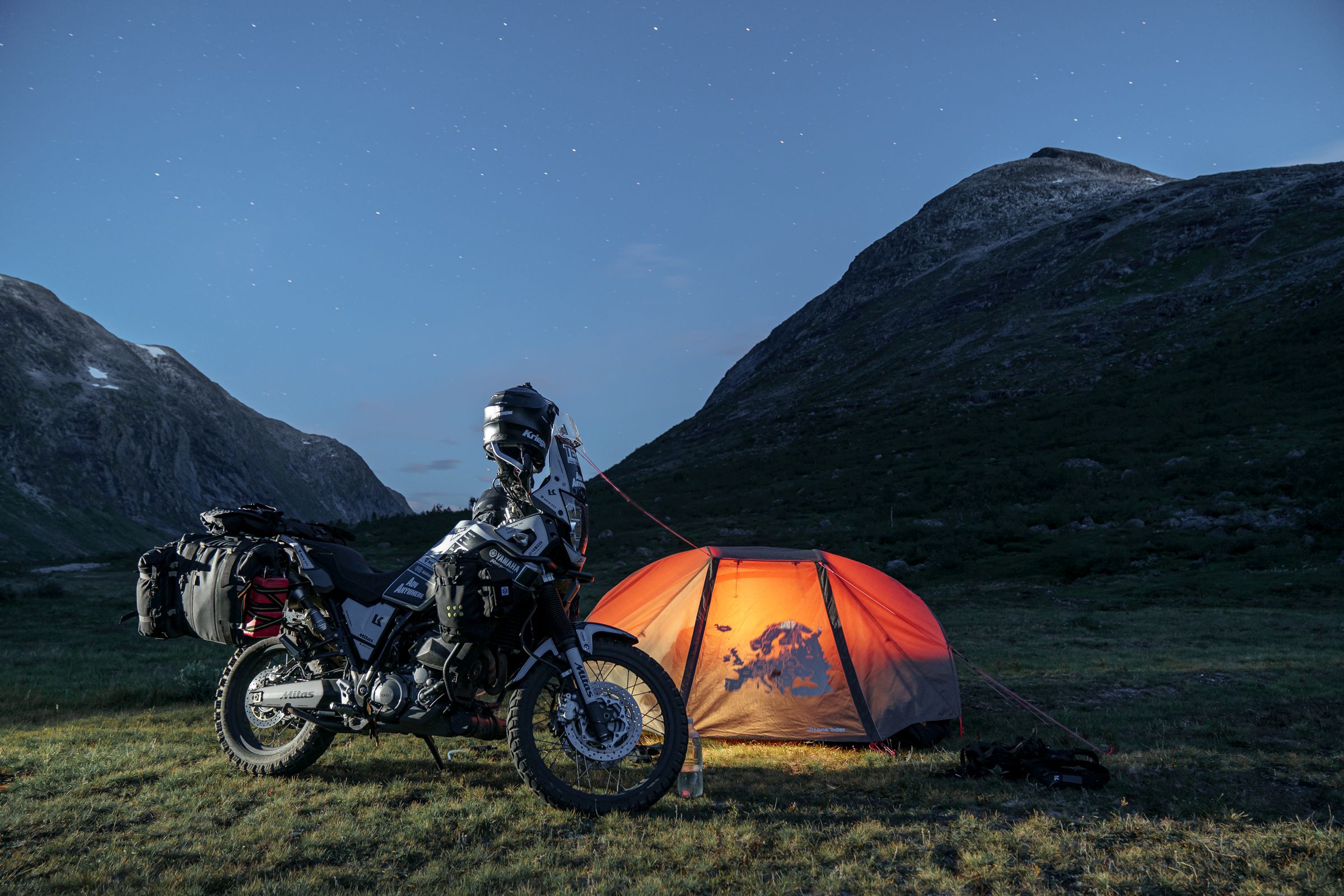 Storing the panniers in the vestibule has also this advantage that we have access to our equipment without leaving the tent. It's invaluable in difficult weather conditions.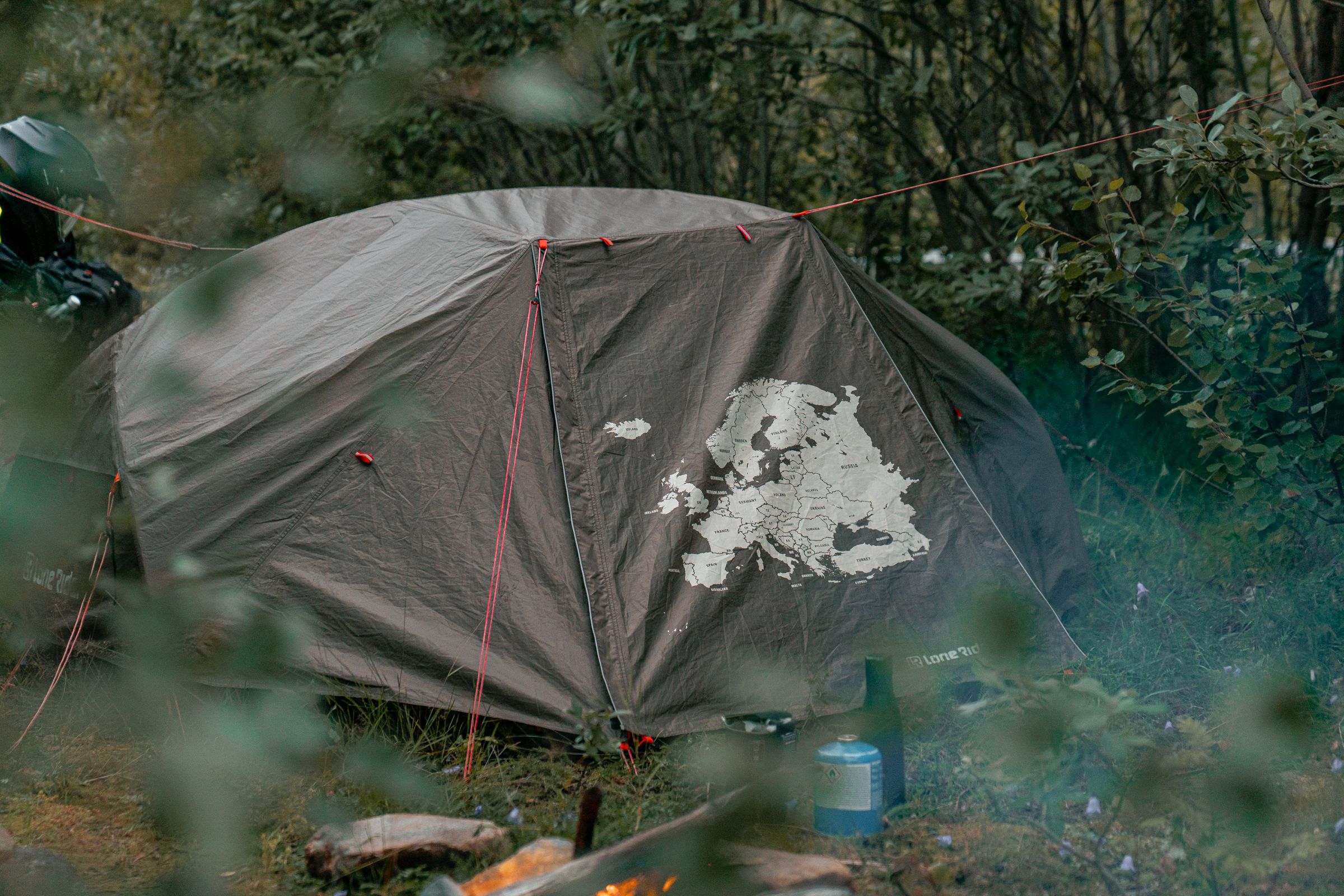 In my opinion, the tent weight is not that important if you travel by motorcycle. Whether it's 1kg heavier or lighter, it won't affect the ride in any way and the difference is too small to influence anything. More important is certainly the construction sturdiness and compactness after folding.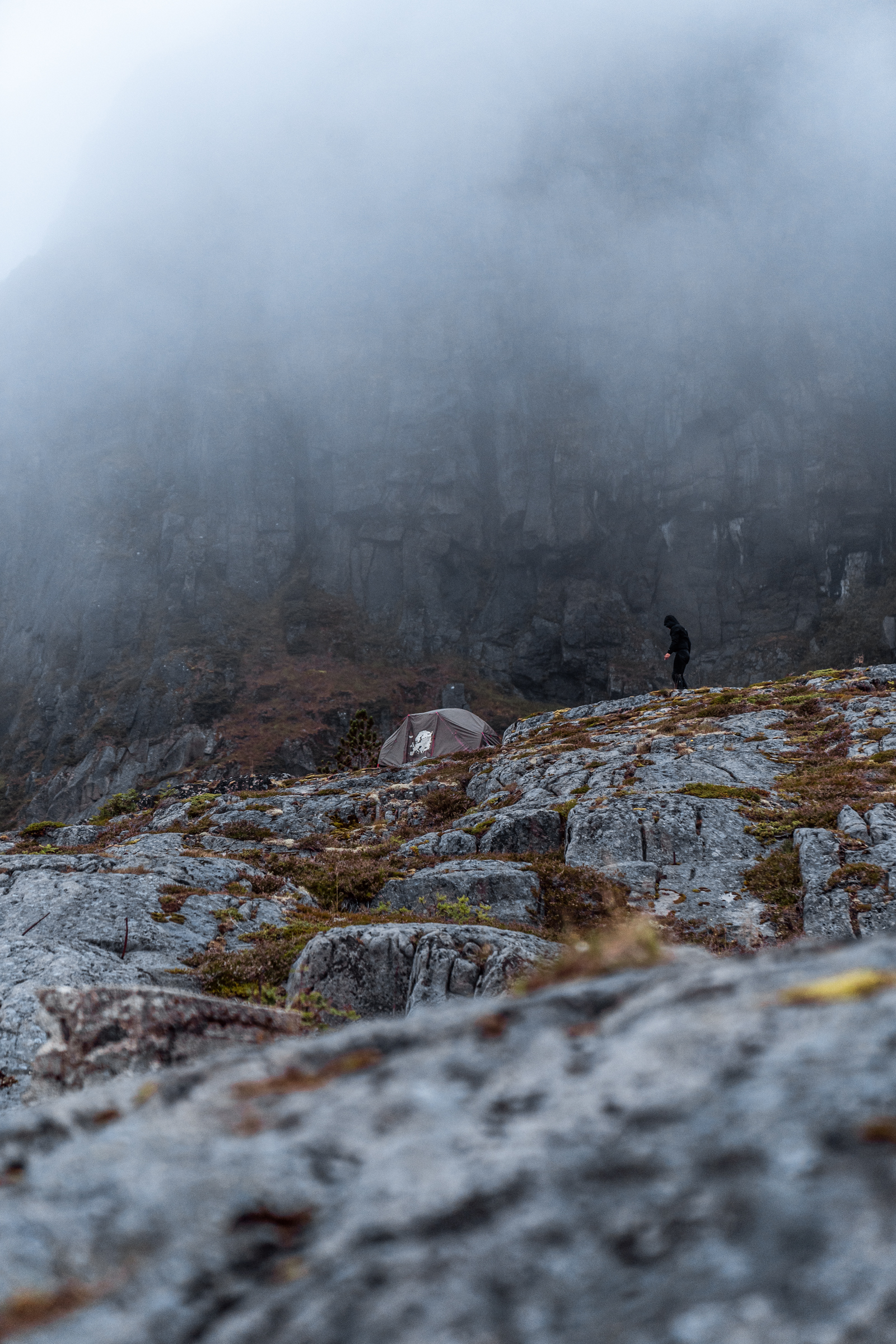 Where to Pitch a Tent?
Before pitching the tent it's good to look at the slope of the terrain. In case of a slant, we need to pitch the tent in such a way to sleep with our heads up. It seems to be obvious, but when you are tired after all day, such things can be overlooked.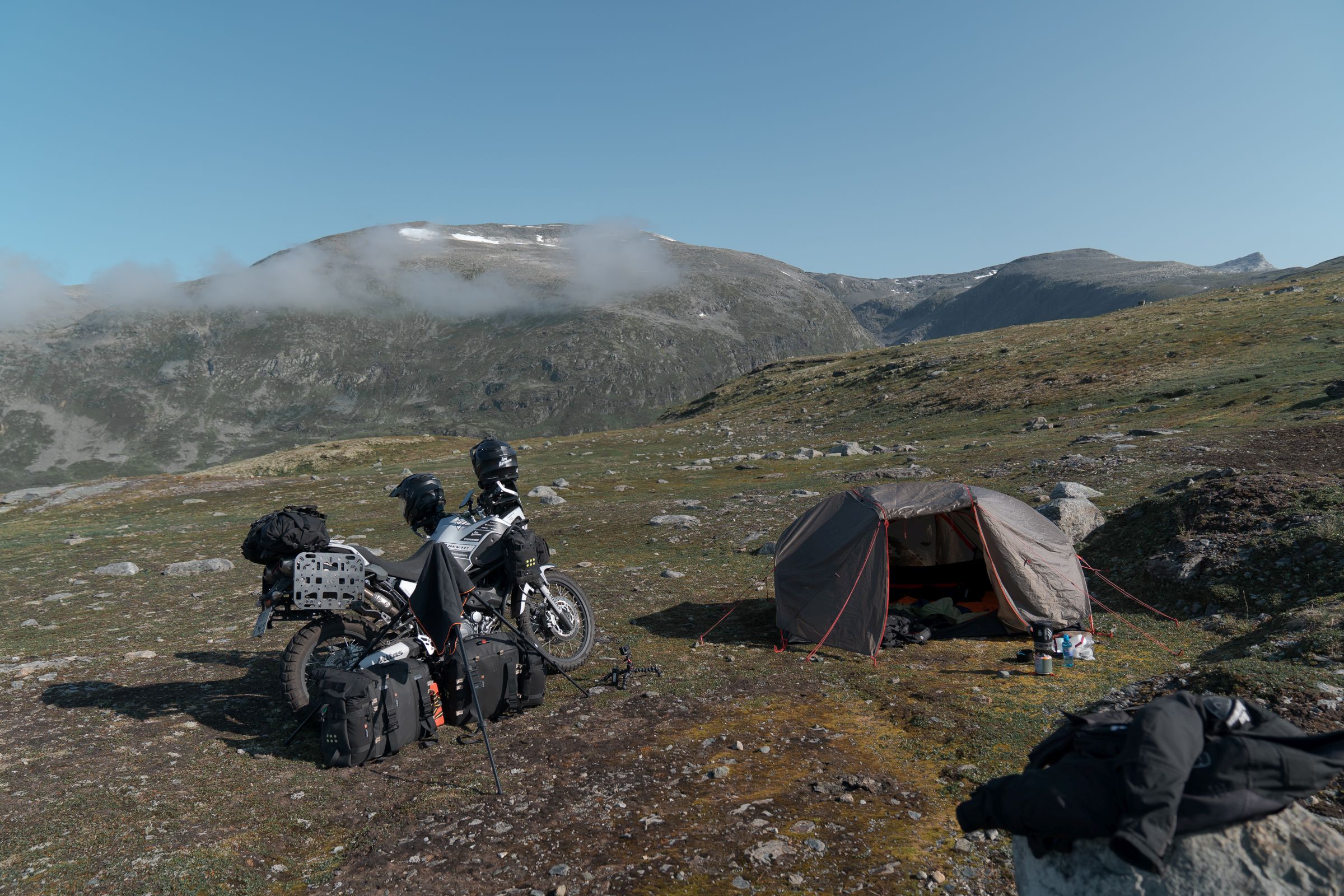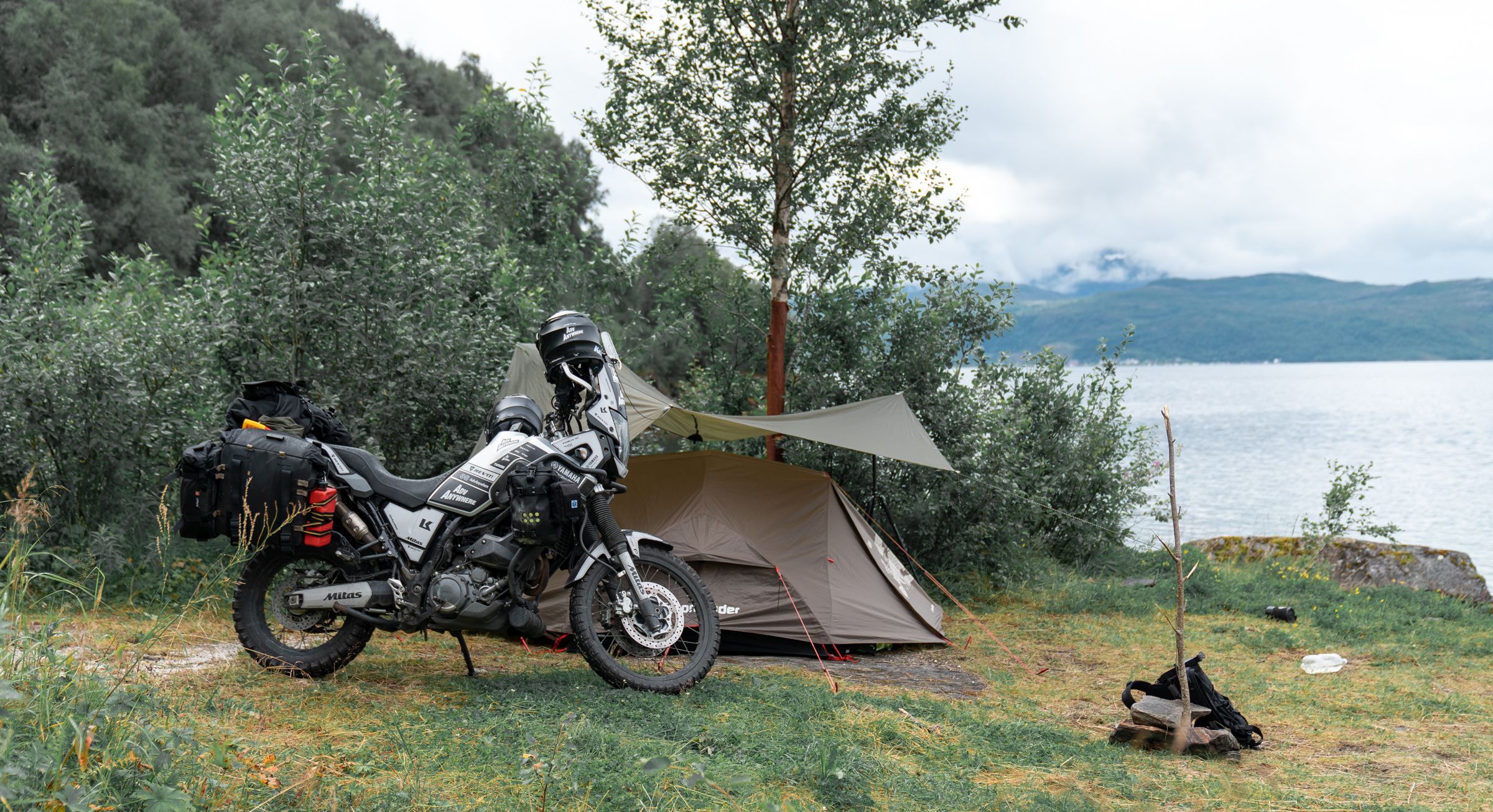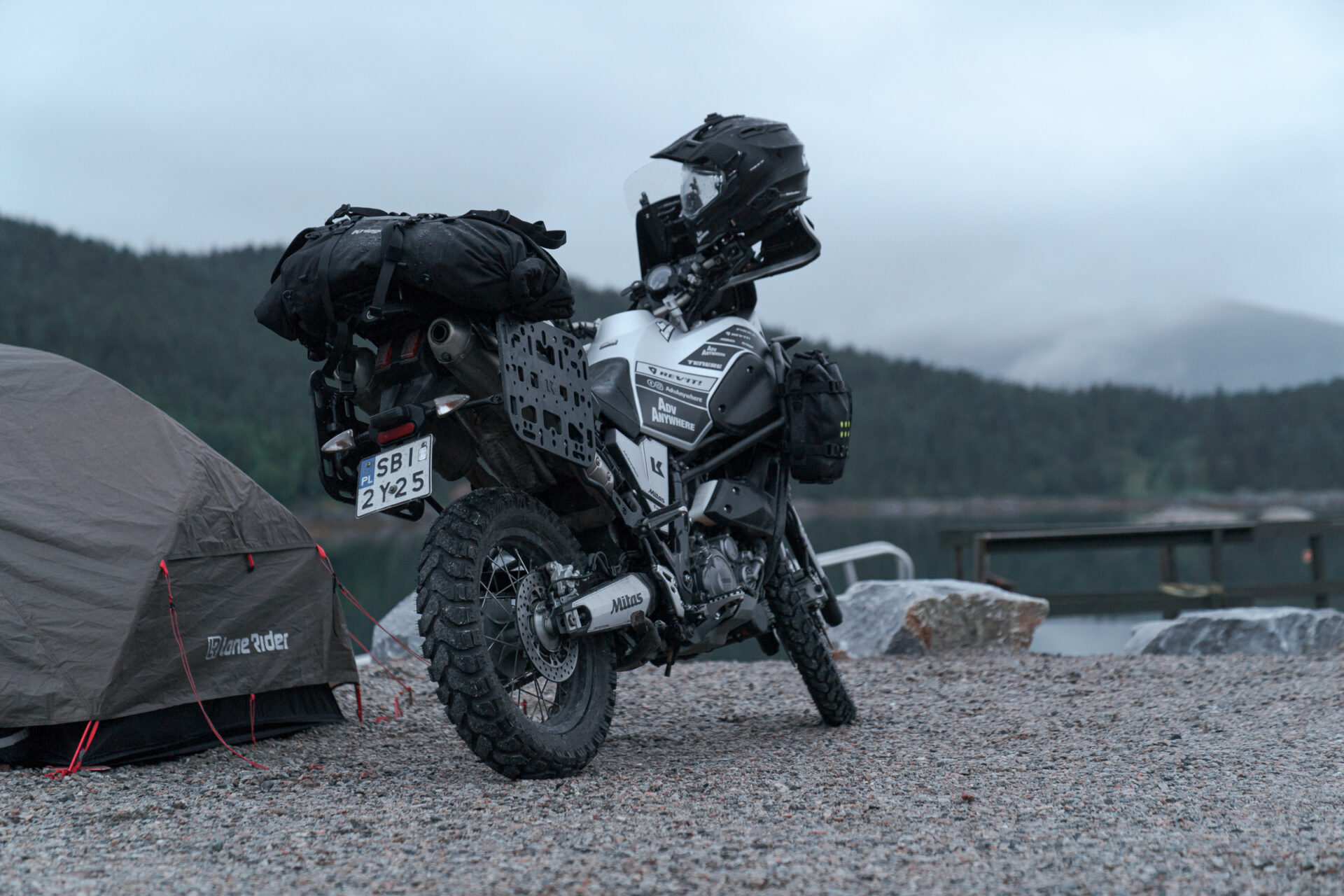 In the Wild or at the Camp?
When I go on a multi-day trip, I want it to be an adventure, so hotels and apartments are a definite last resort. Wild yet legal places are my priority. Two days in the wild, and the third one at a campground to take a hot shower and possibly charge electrical devices if needed is optimal.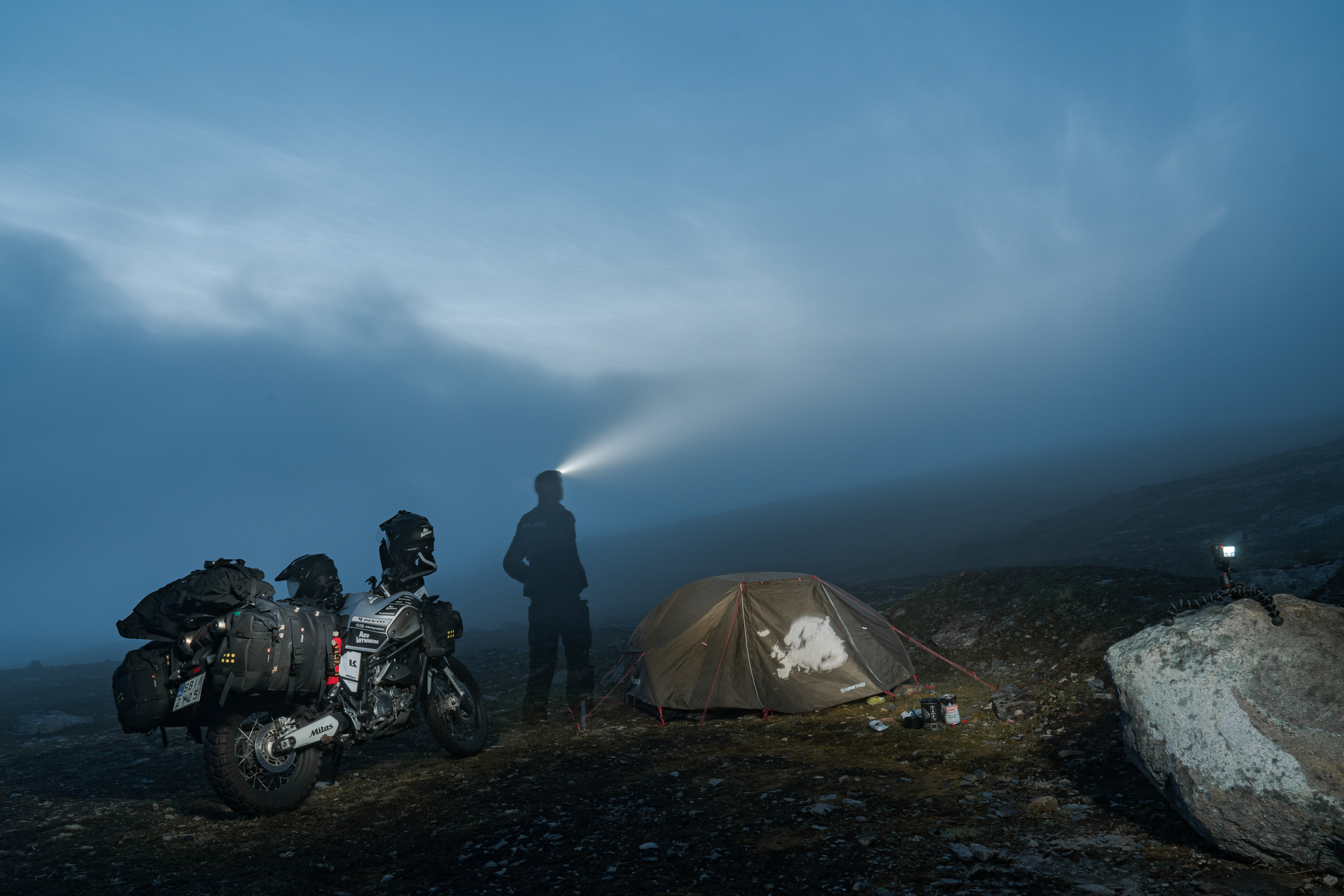 Campsites are great places to camp. We can safely leave some of our luggage and go climbing or sightseeing.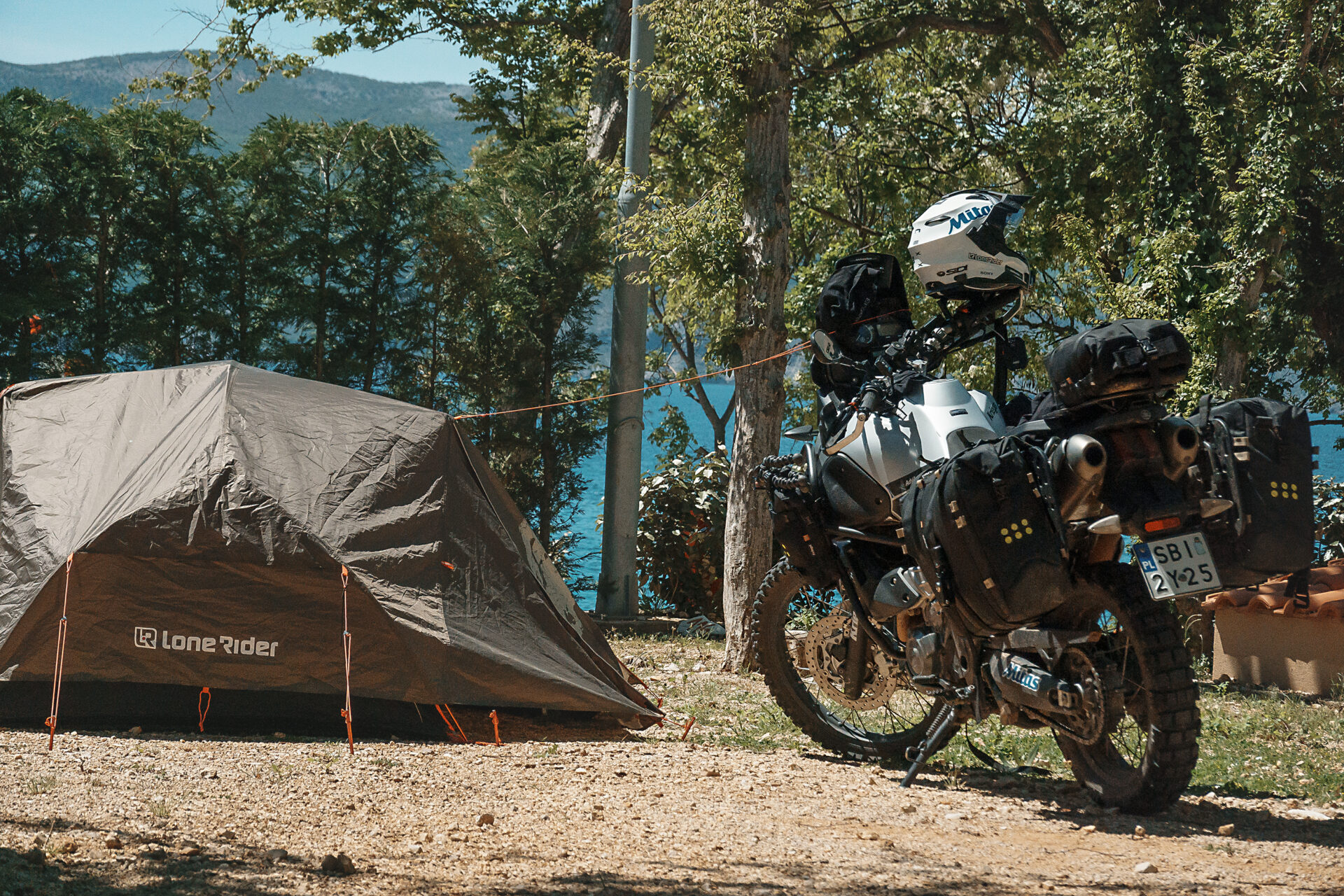 Weather
Tenting: the Art of Foreseeing
When traveling, it's always good to check the weather forecast for the next day in order to have a chance to prepare or even change the place of accommodation in case of bad conditions. There were many times when I had to change my course slightly and ride a few kilometers more to avoid the storm.
There are many applications that show storm forecasts on the map. It's worth using them.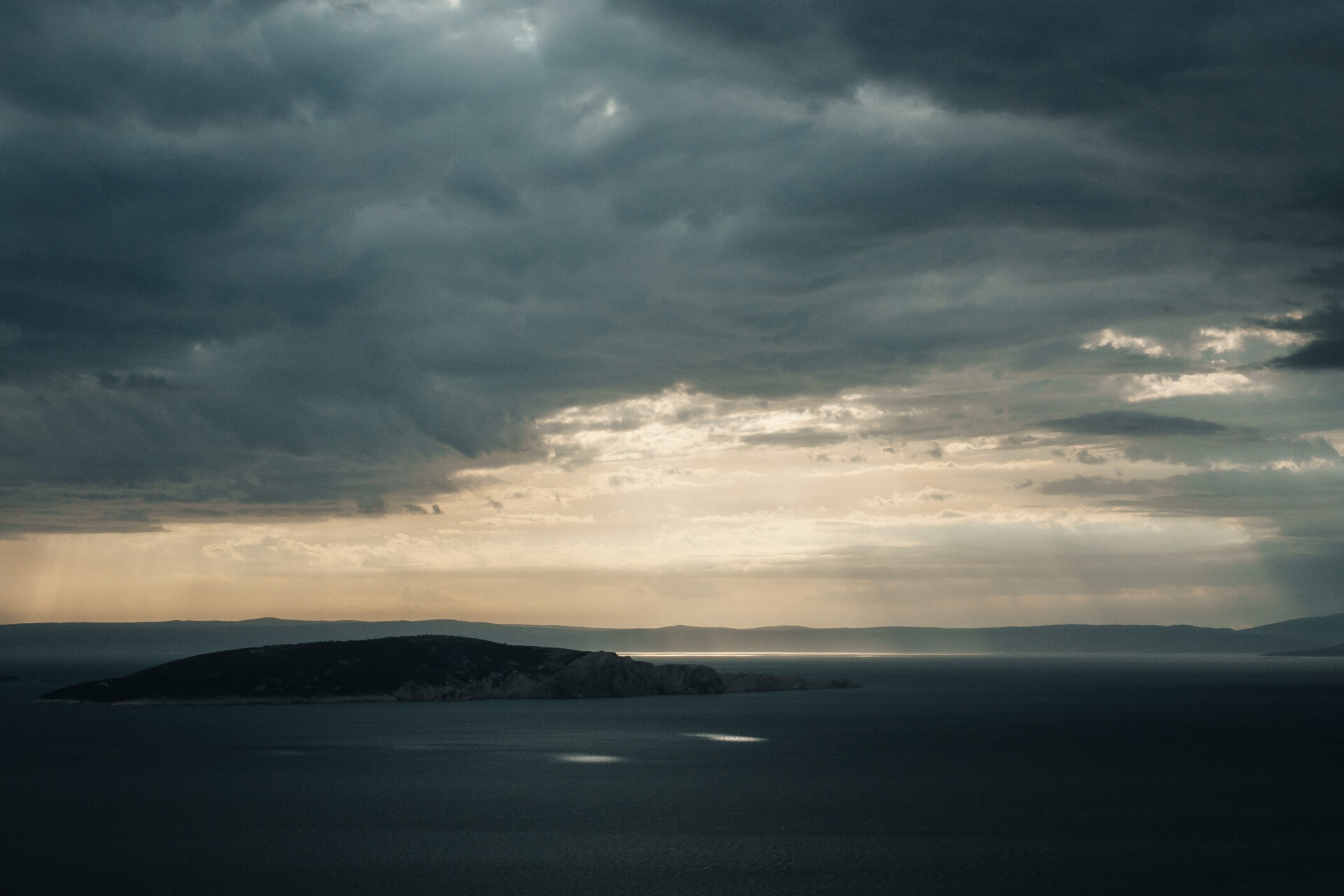 Sun Exposure
The sun can be our ally or enemy when tenting. It's worth checking where the sun will rise and using that to your advantage. If it's mid-summer, I set up my tent in such a way as to stay in the shade as long as possible in the morning.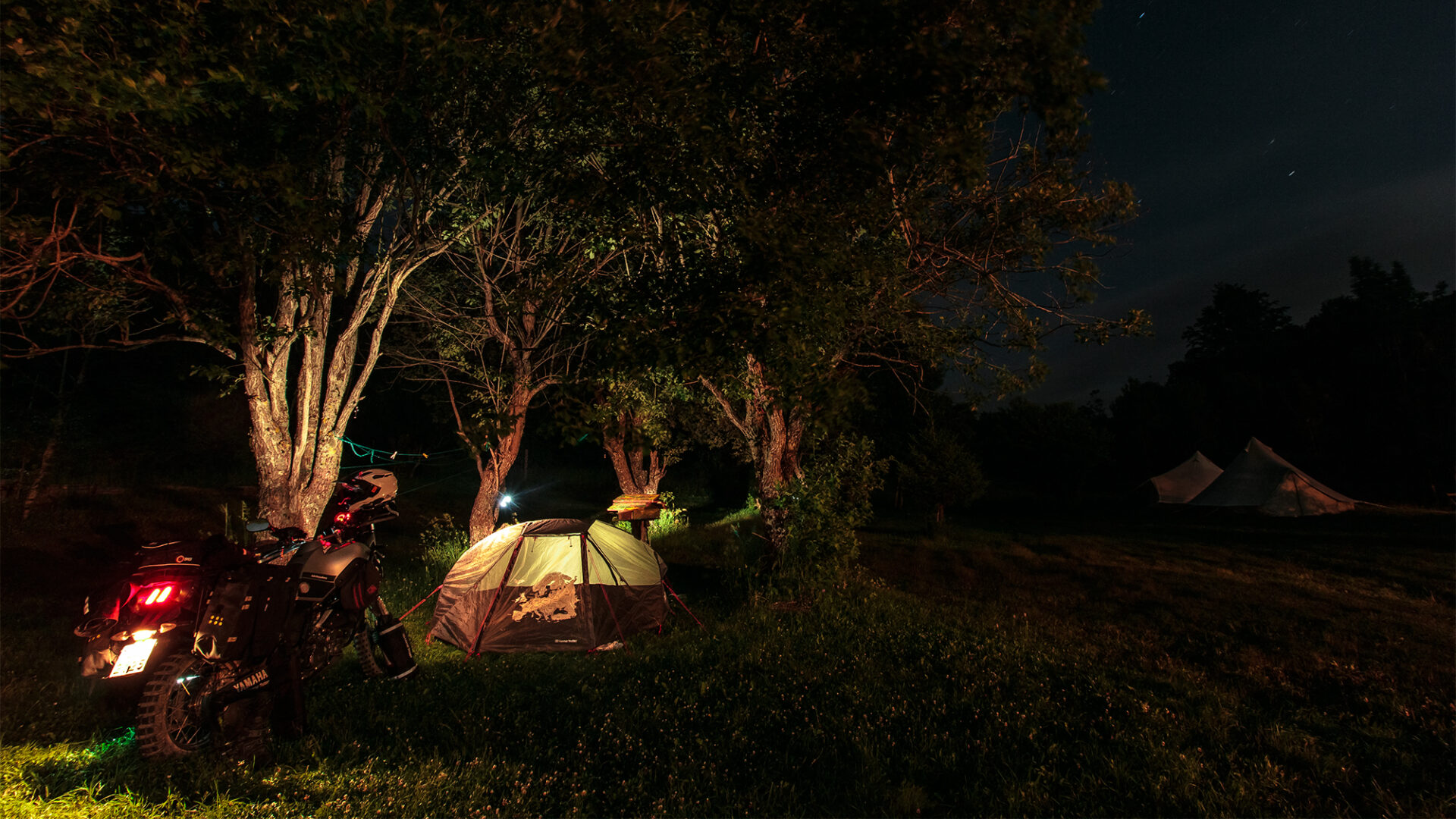 If it rained all night and the sun is going to come out in the morning, it's a good idea to set up the tent so that it starts drying with the first rays of the sun. Similarly, it's worth exposing the tent to the sun in the case of cold days and nights and making sure that the temperature is favorable in the morning.
Harsh Weather Conditions
If it's going to rain, an extra tarp will be helpful. It'll protect the tent from direct contact with water and also keep you dry when going out. However, be careful not to let the water flow down the tarp directly onto the tent.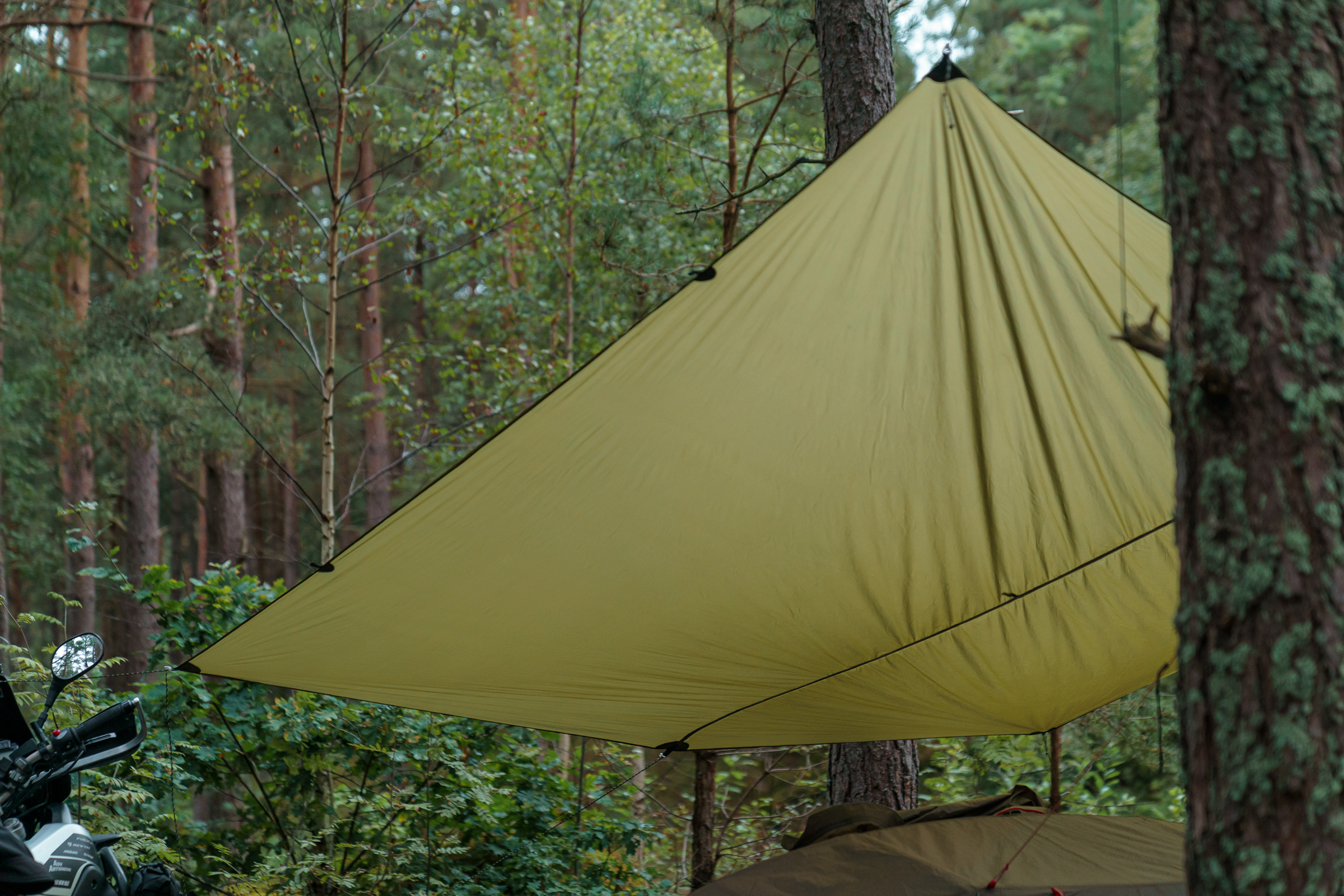 During strong winds, we should remember not to spend the night near trees or other elements that can fall on us.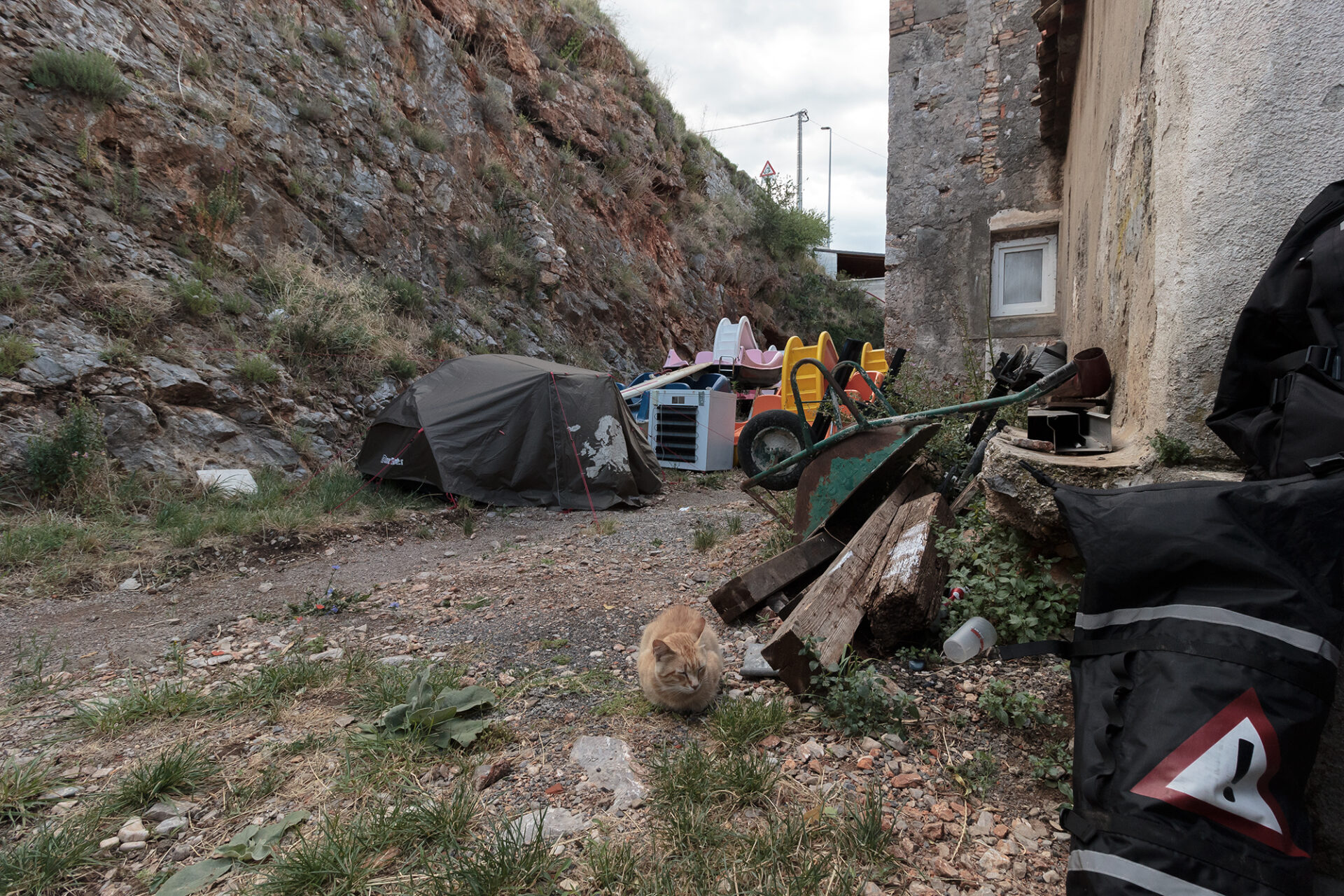 Clothing and Sleeping Bag
Warm days are not a challenge, but the problem arises in the case of cold nights. Here the matter is not as obvious as it may seem. To survive a cold night you should not wear everything you have.
It's best to wear clothing made of merino wool. It has very good thermoactive properties and keeps your body warm. Sleeping in a jacket and pants in a sleeping bag can have a negative effect on the temperature because the clothes will partially absorb the heat generated by the body.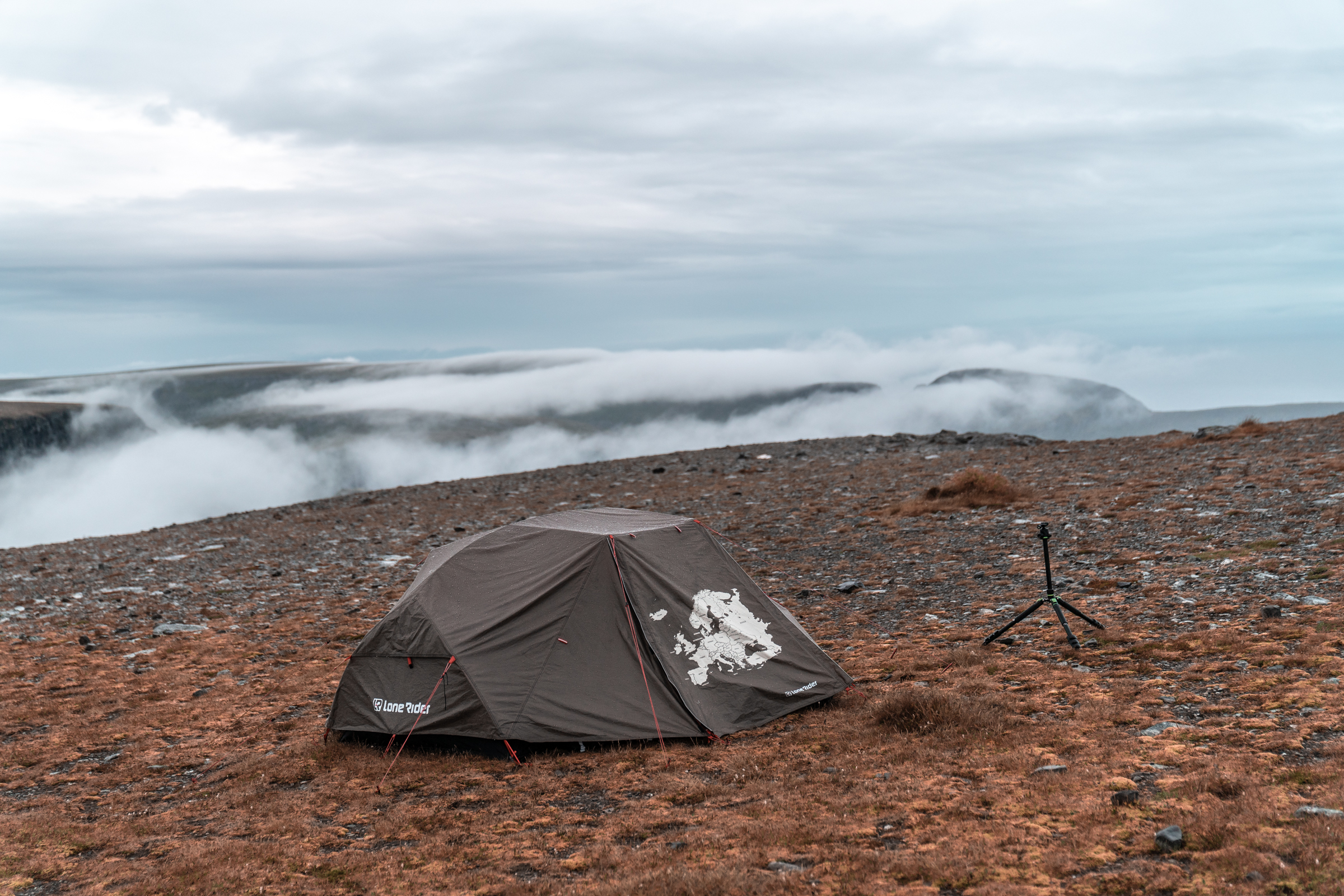 A down sleeping bag needs to be shaken out well before use, so the feathers can decompress.
Personally, I like to have wool socks with me because feet and hands are the first body parts to freeze. It's important that the socks are loose and don't pinch the feet, as this restricts circulation and works against you.
I always keep my jacket and pants close to my feet, creating an additional barrier against the tent wall. When it's very cold, I put my motorcycle jacket over my sleeping bag on my feet.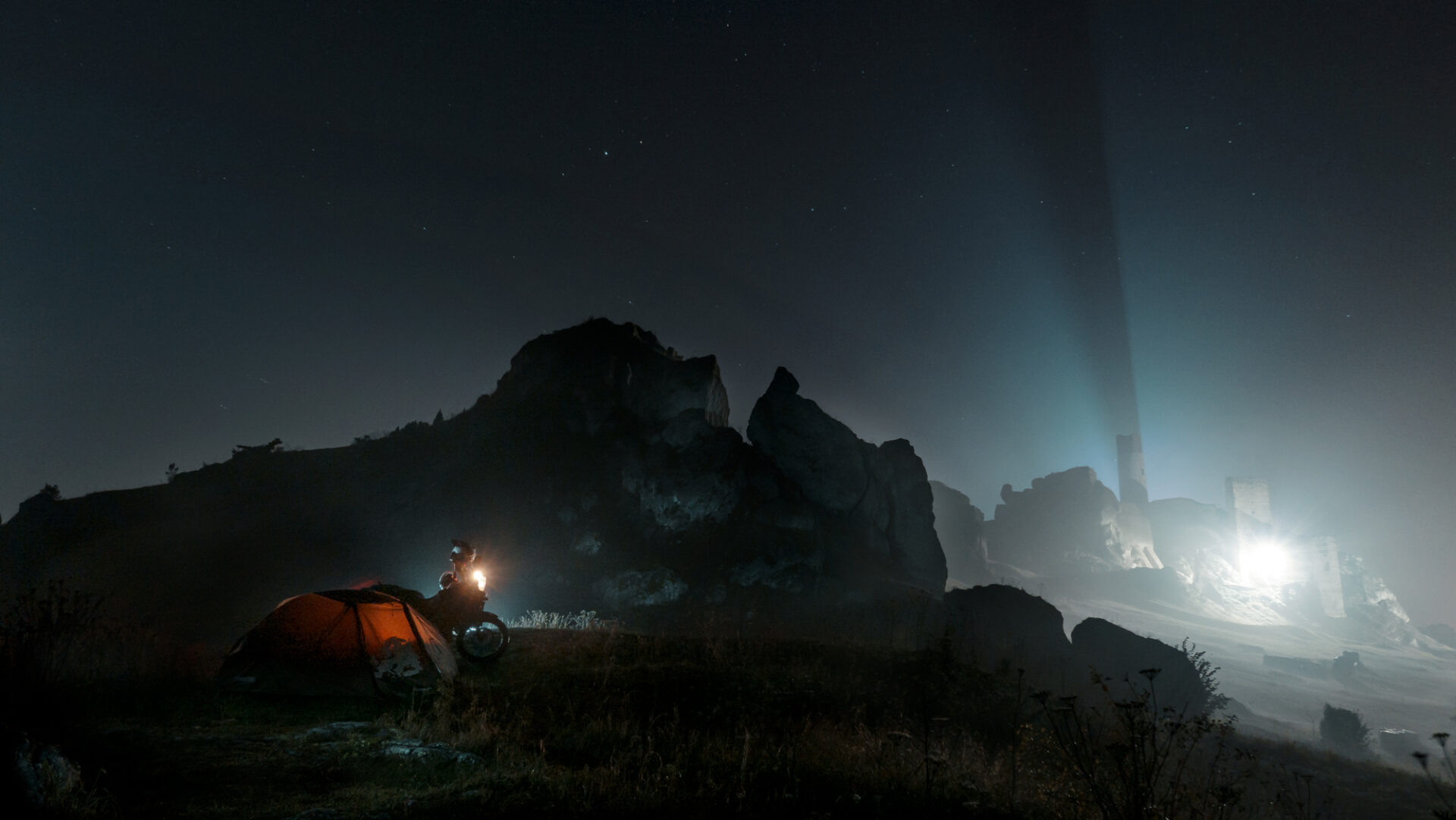 Food
Shortly before going to sleep it's good to eat something nutritious, to provide yourself with energy to maintain the optimal body temperature just before going to bed. Well, sleeping bag rather.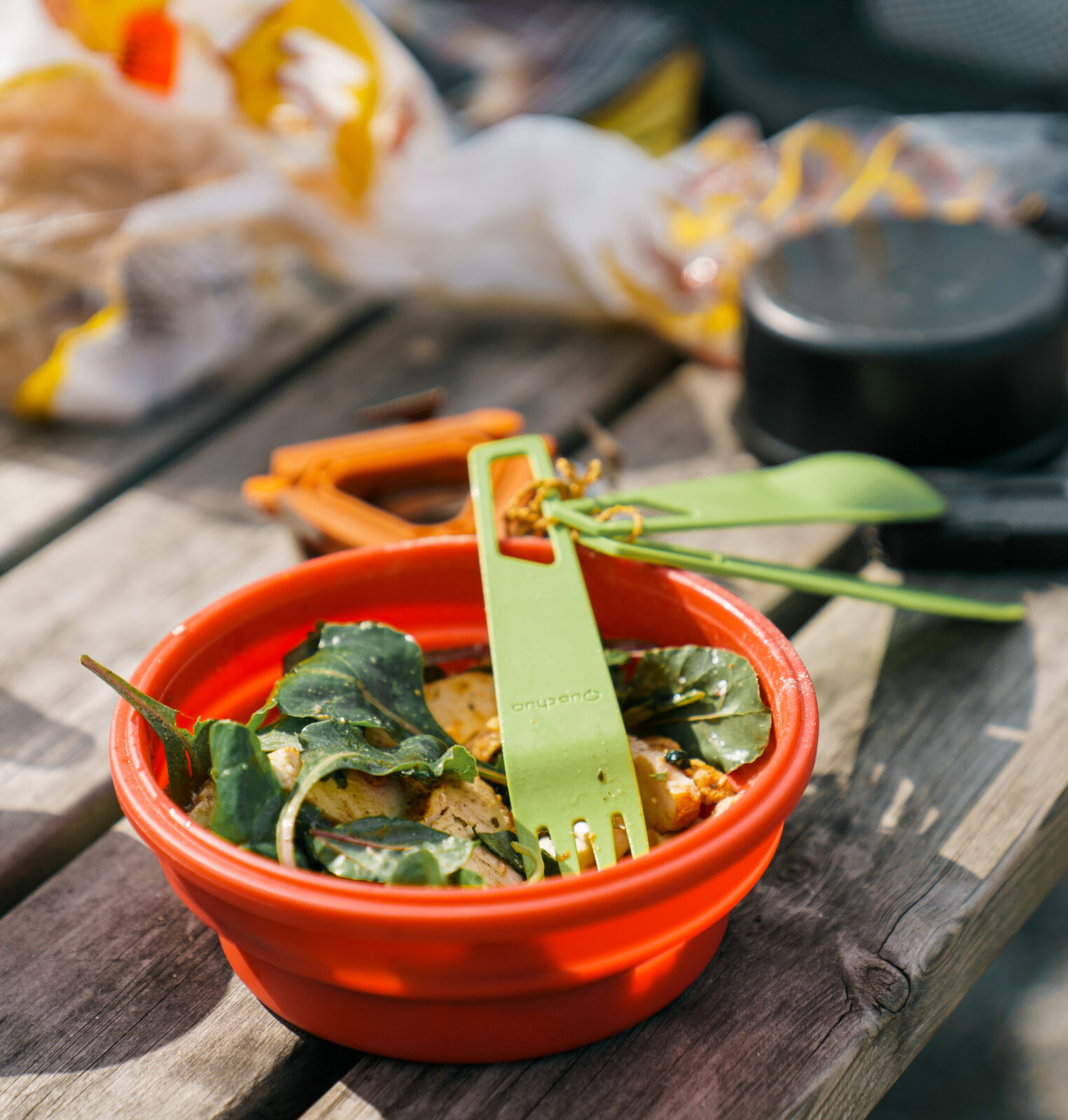 I always carry freeze-dried emergency food with me. I'm not fond of this type of diet, but it may come in handy sometimes.
To boil water for tea or coffee I use Jetboil, which with an adapter also serves as a burner under a pot or pan.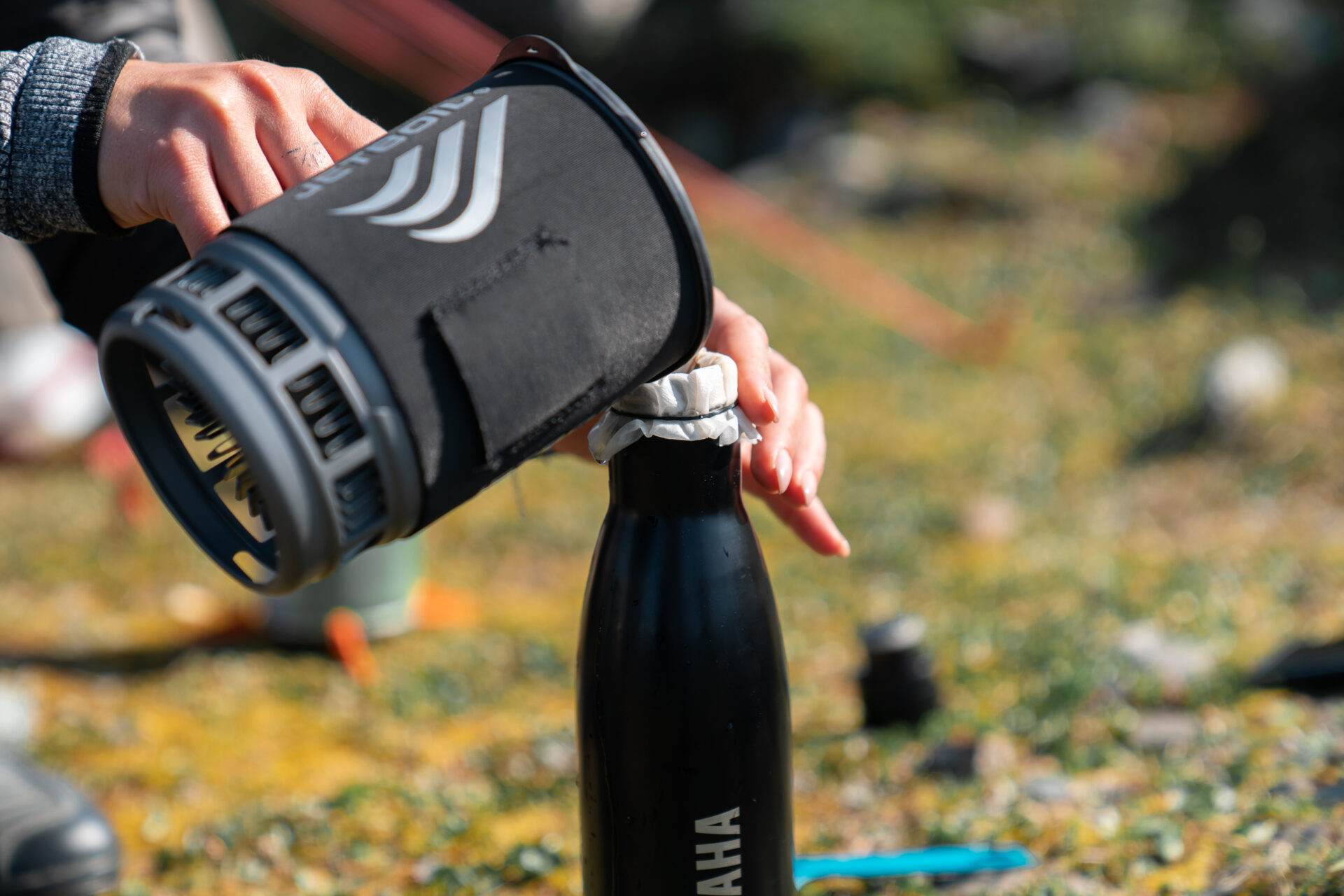 Campfire
When planning where to set up your camp, it's a good idea to pay attention to wind direction and make sure the smoke doesn't fly onto your tent. No one likes to sleep in a smoke pit.
If it's windless but still cold, after the campfire, warm stones can be moved closer to the tent, or even stacked in the vestibule. They will act as a natural air heater.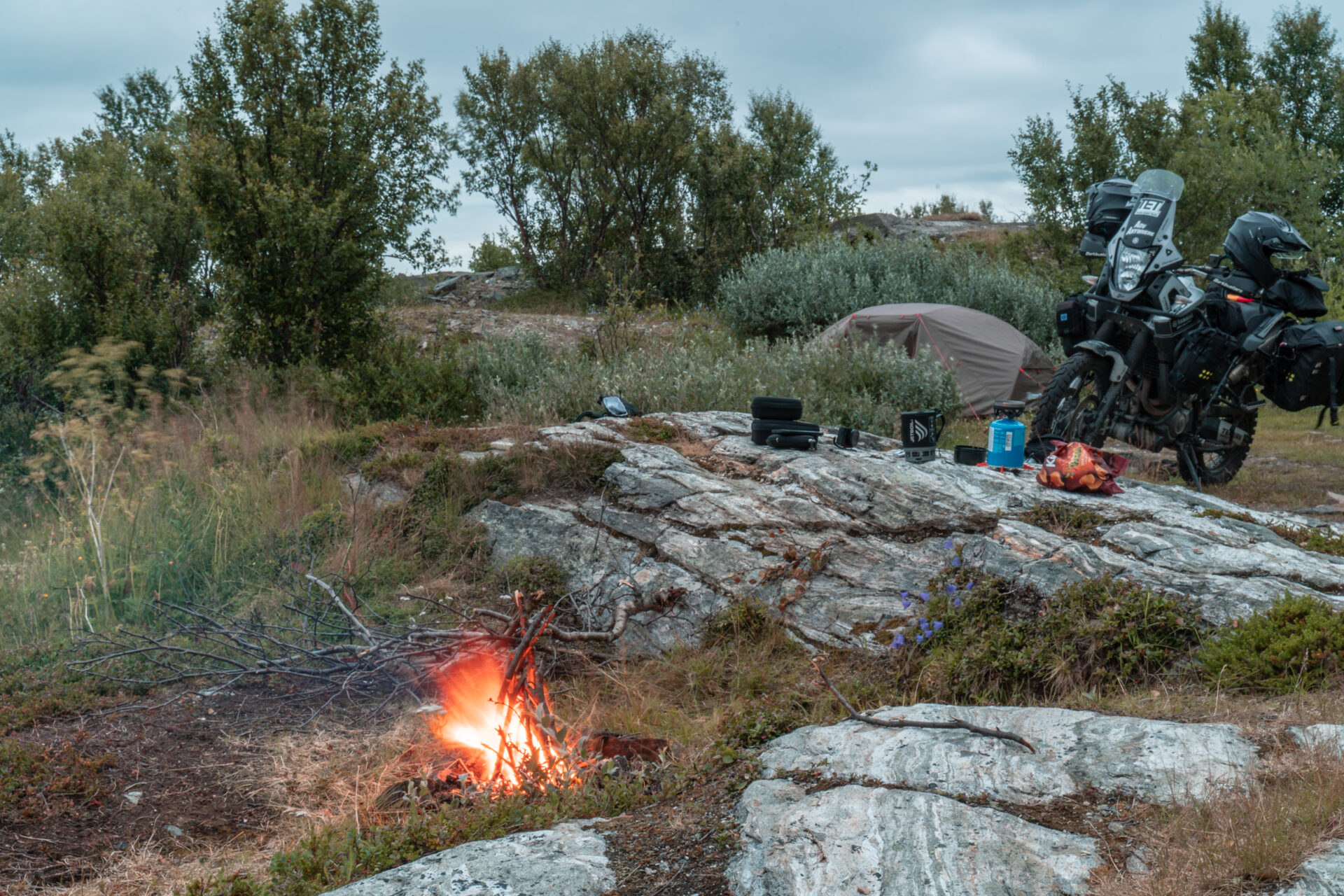 Summary
Everyone has to find their own way of tenting. The more nights spent in a tent the more we get to know our preferences. I hope that these few tips will help those who have not yet experienced this type of travel to prepare themselves.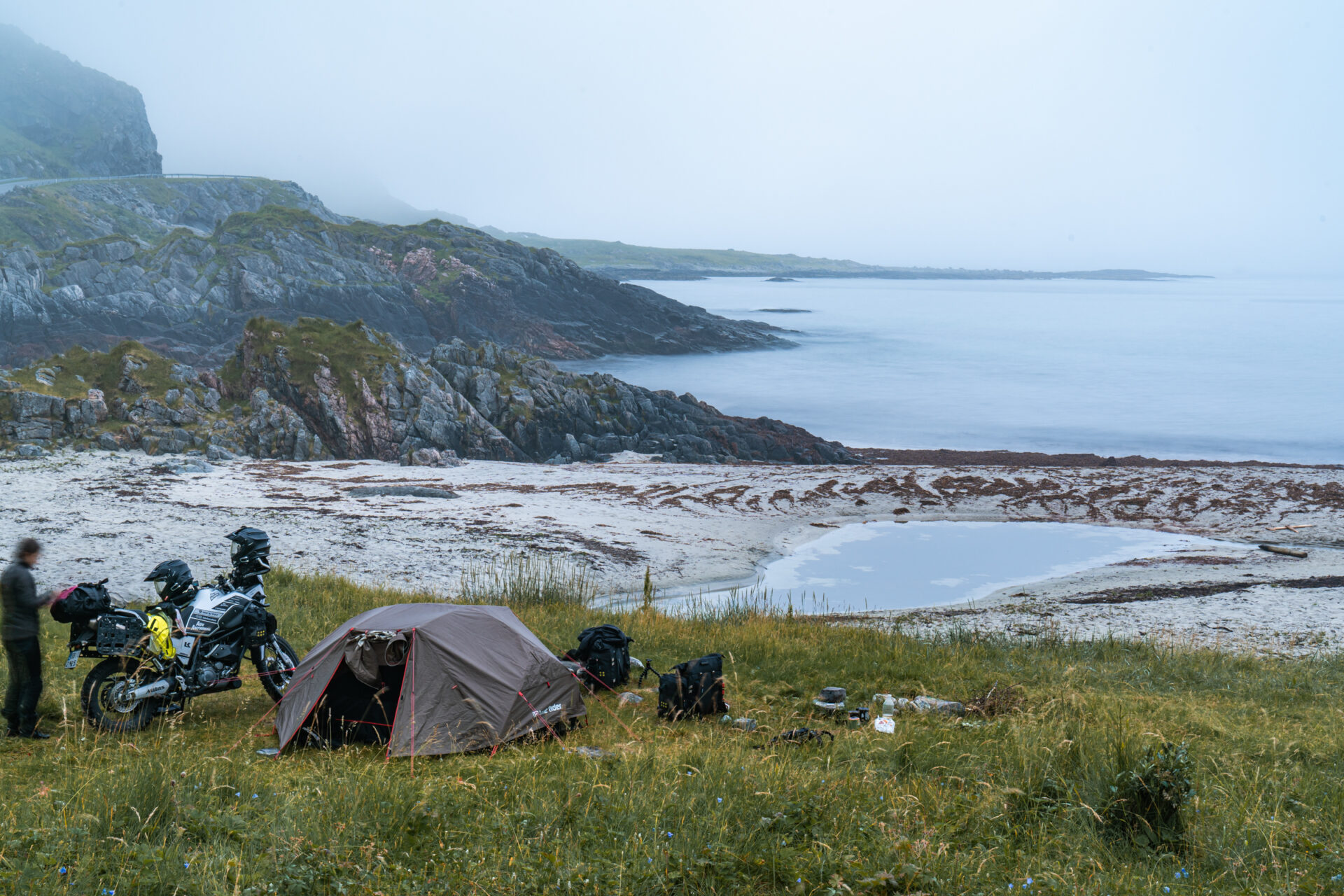 Hammock as an Alternative to a Tent
A hammock can be a good alternative to a tent, if conditions allow it.
Less weight and definitely less bulk are just some of the advantages. However, there are also cons to this solution. If you'd like to know more, let me know in the comments below.