Posted on:
TET, short for Trans Euro Trail, is an epic motorbike journey through some of the most remote, diverse, and inspiring landscapes in Europe, spanning over 51,000km of dirt road. For more information, visit the official website transeurotrail.org.
Travel plans of all Earthlings have been ruined by the pandemic. As one of the inhabitants of this most beautiful planet, I had to adapt to the prevailing restrictions too. I had no choice, even though 2020 was supposed to be the start of my long-haul travels as I got used to the new bike.
Unfortunately, closed borders around the world are an insurmountable barrier. "Happens", I thought. Apparently, it's time to make some travel plans for my native country. After all, the TET road also leads through Poland. I took a vacation and packed up for a two-week trip around the border. About a day or two before departure, it turned out that Slovakia opened its borders to Poles so that now I could travel through Hungary to Croatia – countries that had already allowed Polish tourists to visit them. It took me a sec – I unpacked my rain jacket from the pannier, replaced it with suntan oil, and remapped the route spontaneously in the evening. I'm going to Croatia.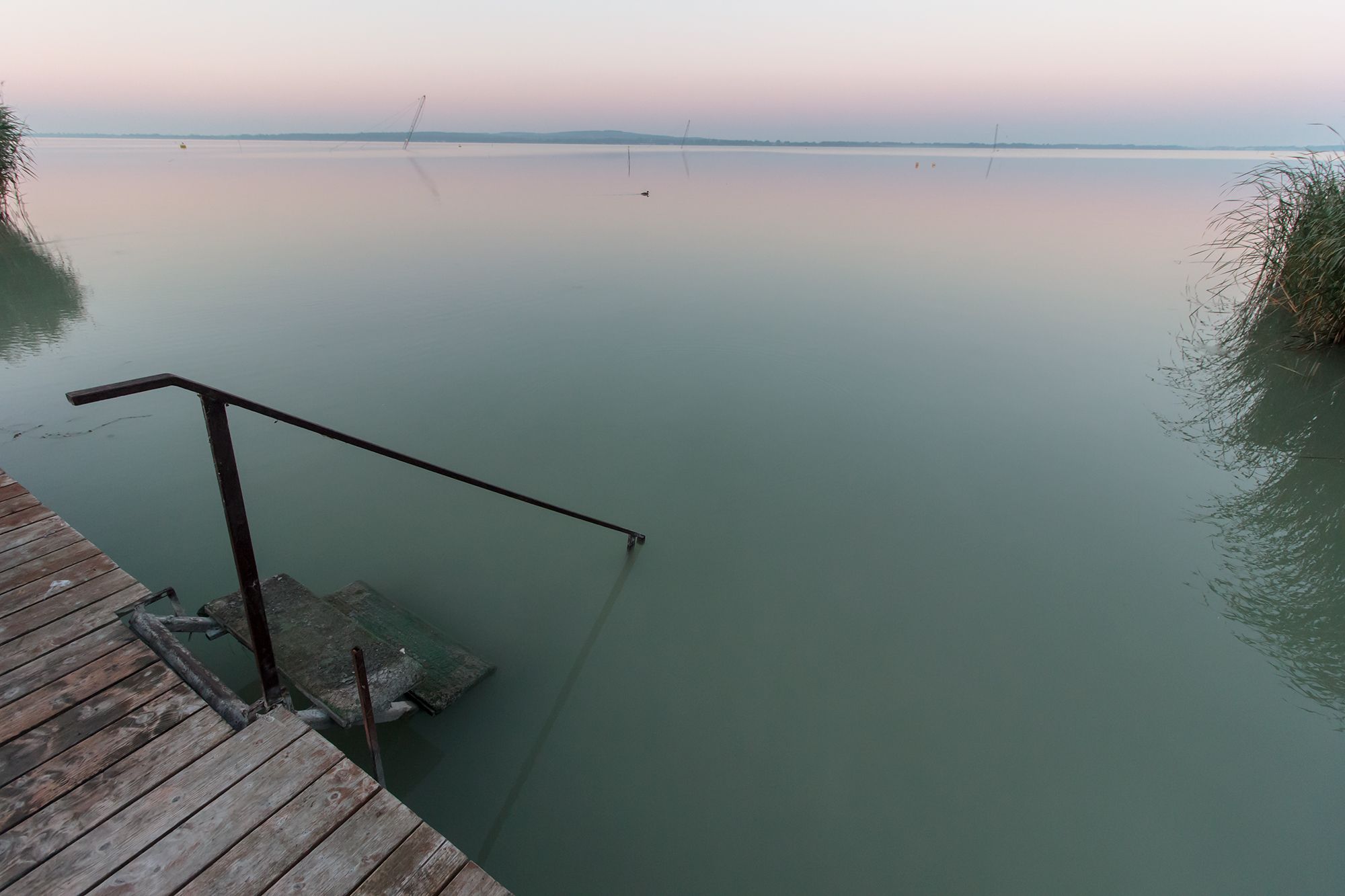 First day – Lake Balaton. Sleeping in a tent, because it was the only possible option for me during the pandemic times. Unfortunately, social distancing is what I do best, so two weeks of solitude in the tent is a perfect rest for me.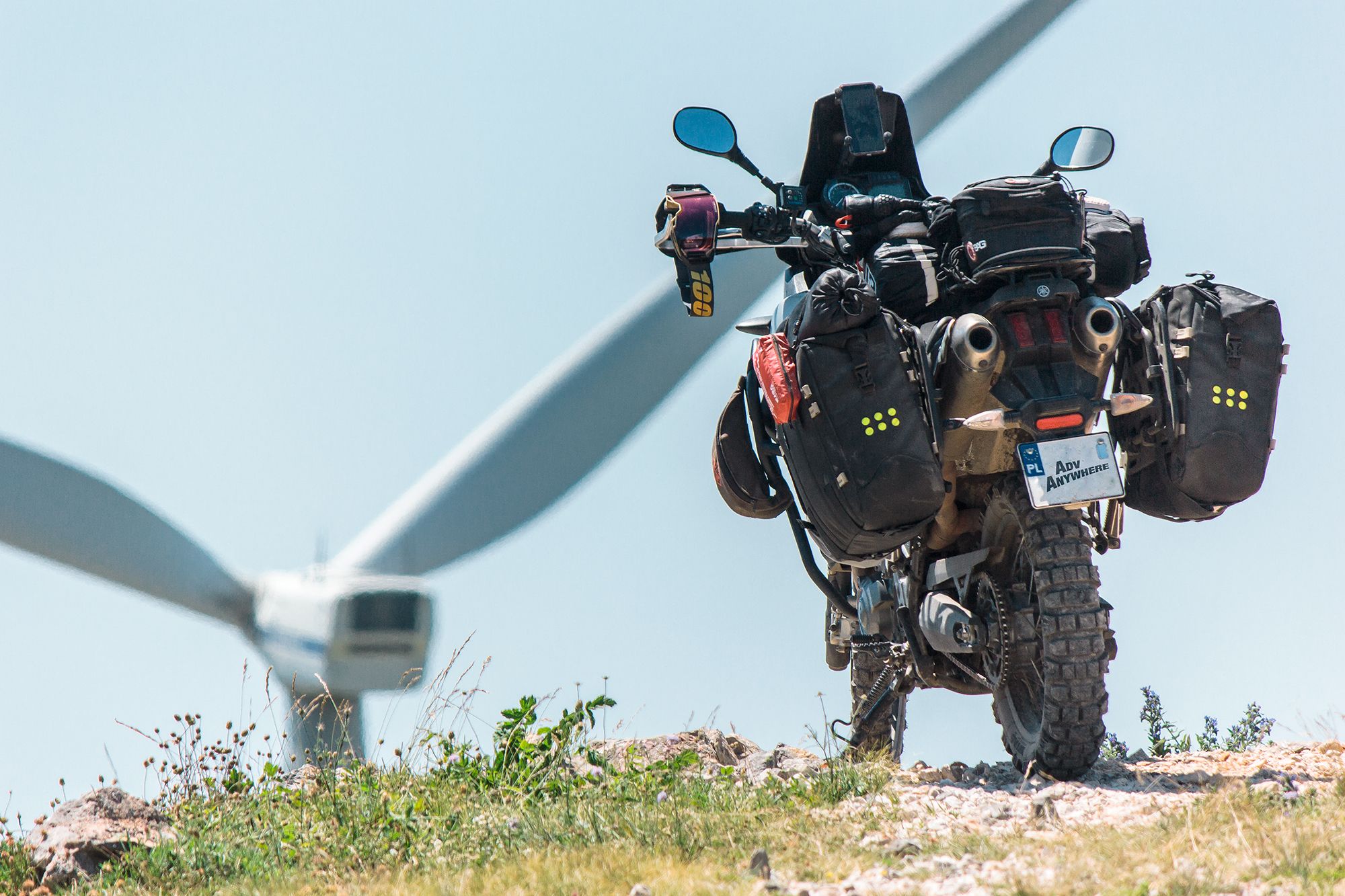 Stifling heat everywhere. I hear random people's voices echoing in my head: "Aren't you hot in these?". Guess…
For me, the concept of temperature doesn't exist. I don't mind either the heat on the top of the mountain while clothed in a full-black motorcycle suit, or the frost. Though I guess I prefer it when it is too cold than too warm. In any case, while on the road on a motorcycle, the temperature plays second, or even third, fiddle. You must wear a proper outfit. This is the cost of security. Period.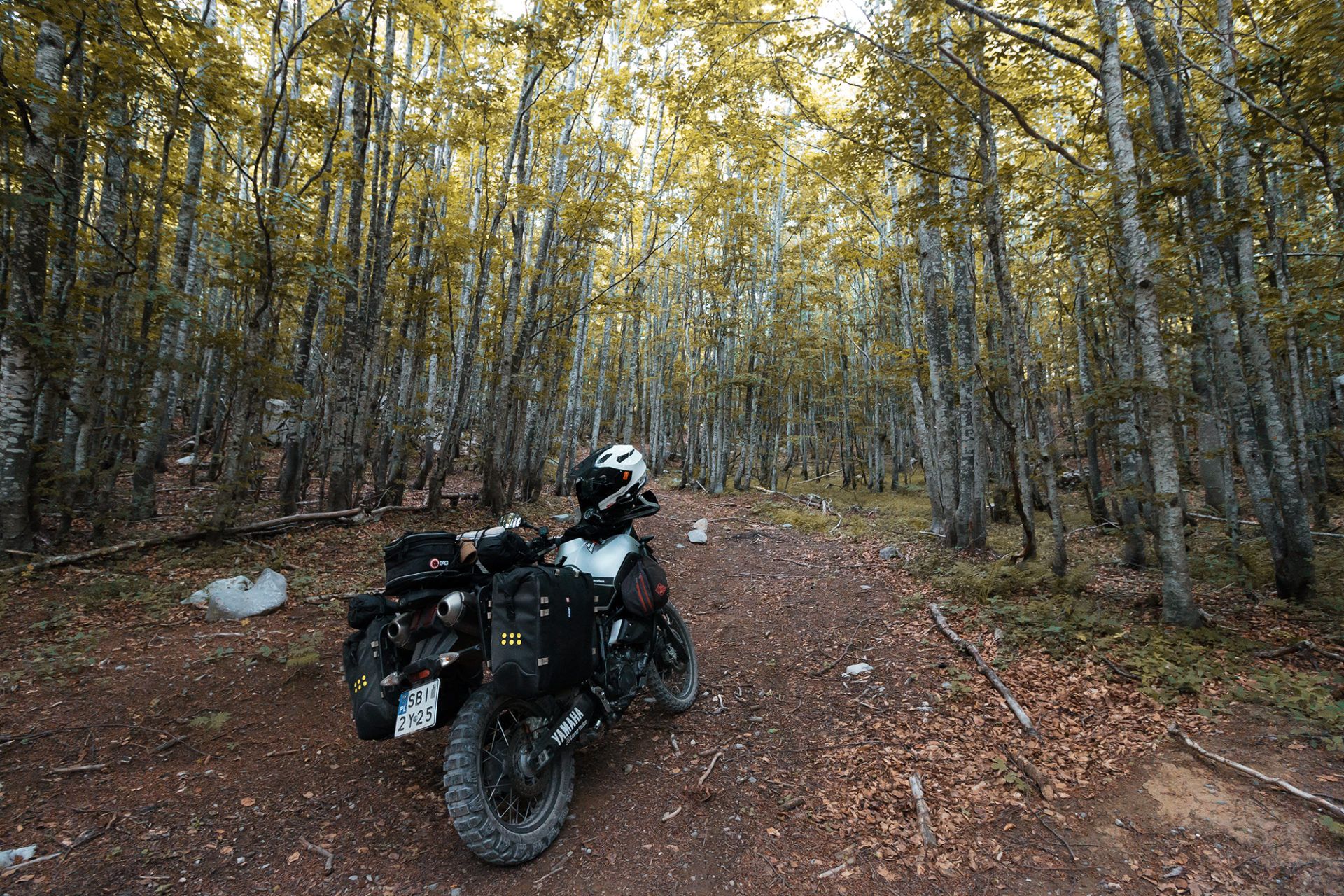 The route led through forests, mountains, and rocks. Each turn was twice as enchanting as the last. Every time I stopped for a moment to take a picture, I promised myself that if I got on the bike, I wouldn't stop for at least twenty minutes. I kept my promise, but it was quite heart-breaking – almost a minute after moving off, a better view than the one I photographed earlier appeared.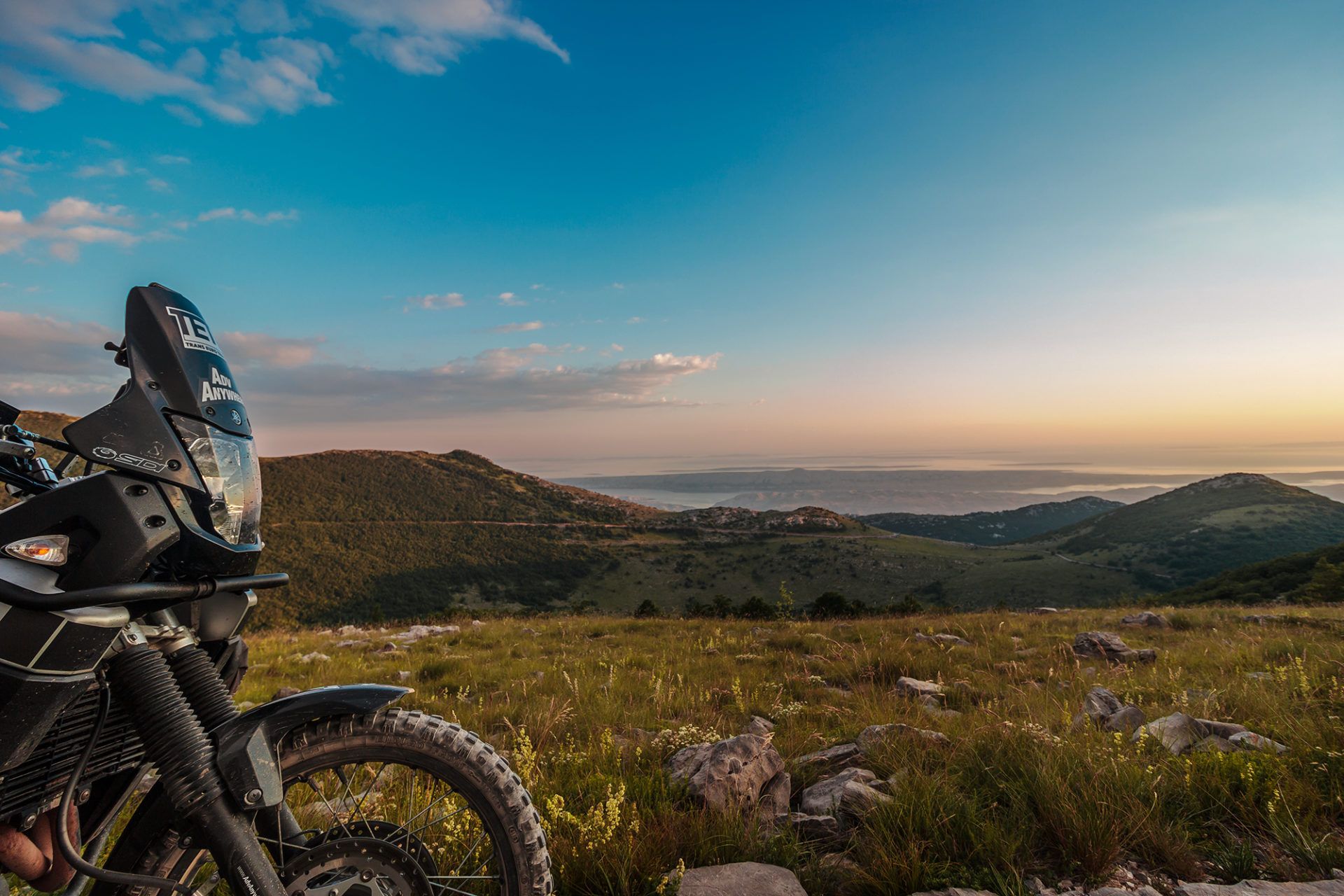 It's not that hard to find a camping in Croatia where, for a small fee, you can recharge both lithium-ion batteries and those abdomen-tendon ones.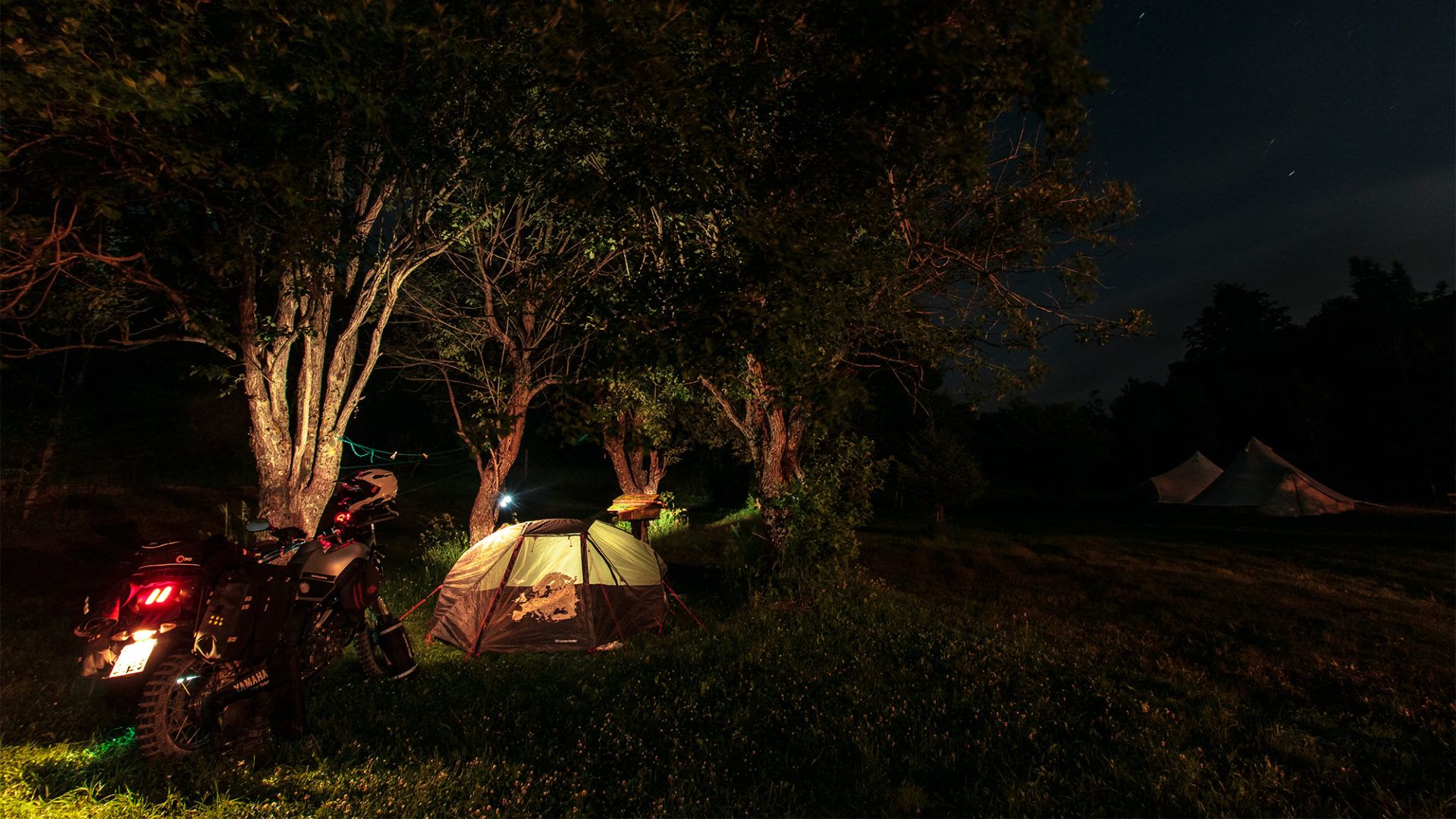 At Novigrad campsite, just a second after I got off the bike, my camping neighbor approached me with a cold can of beer. A wonderful gesture. He looked at me as if he had been in my place not so long ago. It turned out that he, indeed, was. He was a motorcyclist who now travels around the world with his family in an off-road jeep. As I was planning to first pitch a tent and then take a short trip around the nearest area, I rescheduled our beer imbibing for the evening.
I did some sightseeing in Zadar and while crossing the Maslenički bridge, I admired the Zrmanje Canyon. The cult 1963 West German-Yugoslav-French adventure film Winnetou: Apache's Gold was filmed here. The view during sunset is astounding.
After I returned from my short local trip, my new friend and I had an interesting conversation about the pros and cons of traveling alone and in a group. We agreed that humans prefer to socialize with others when they see a lone wolf. Groups of people tend to stick together and don't necessarily make new friends along the way. We talked for hours about roof tents and the experiences we've gained while traveling and motorcycle riding.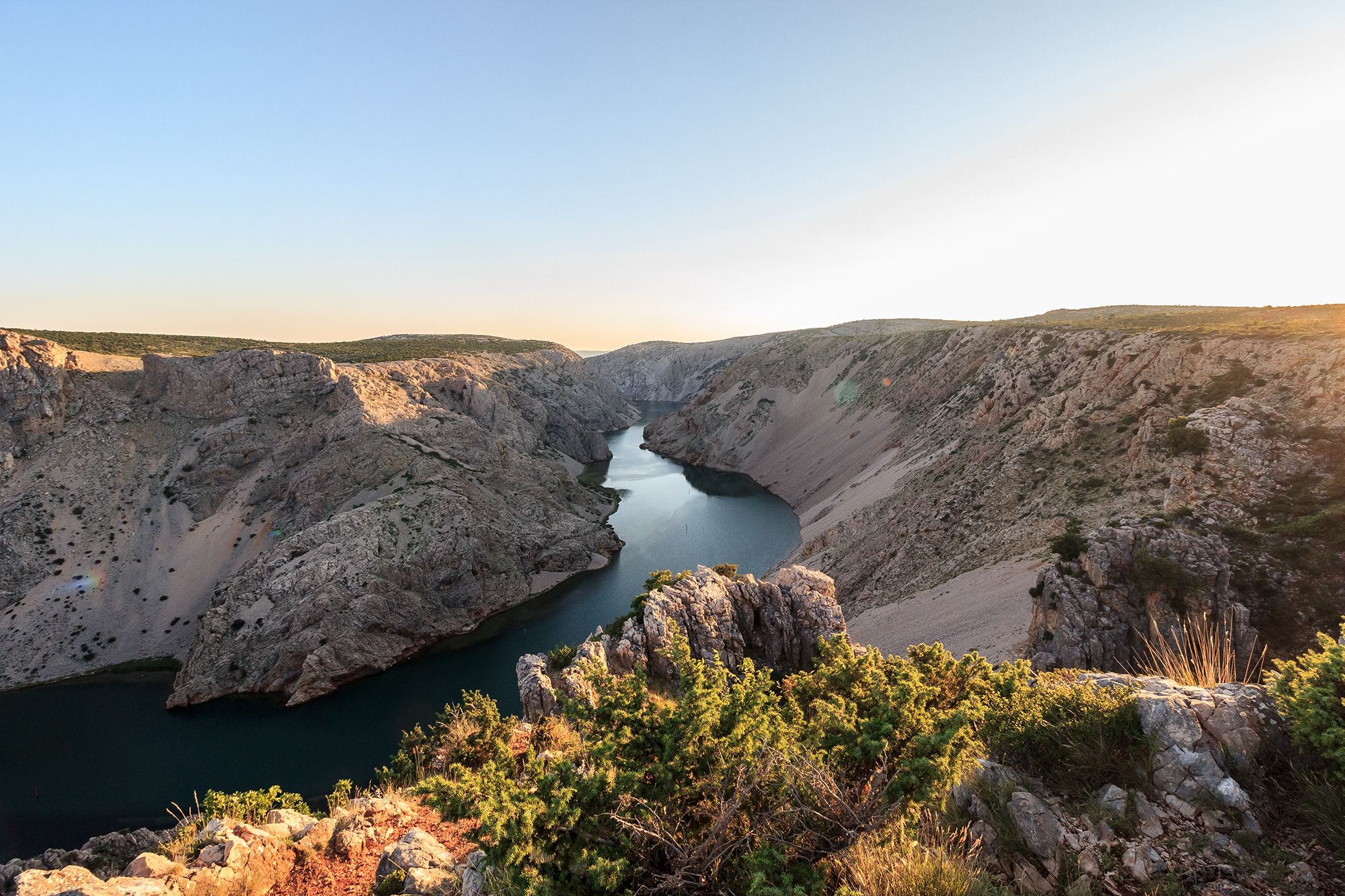 The TET route led through the Velebit mountain range. I got used to rock-riding quite quickly. The brilliant Mitas E-09 Dakar tires performed very well. The Dakar version allowed me not to think about the risk of breaking them in any way. When I had to go full throttle up the hills full of sharp stones the size of a child's head, it felt as if the Mitas tires were tearing the stones into a fine dust. And they probably were. The tires themselves didn't remain untouched. As proof of their hard work, two knobbies were torn from the tire. I do not consider it as a disadvantage of these rubbers, as I suspect that many other competing tires on these climbs would end up as scraps only, and I would end up with a spare inner tube and a scratched rim.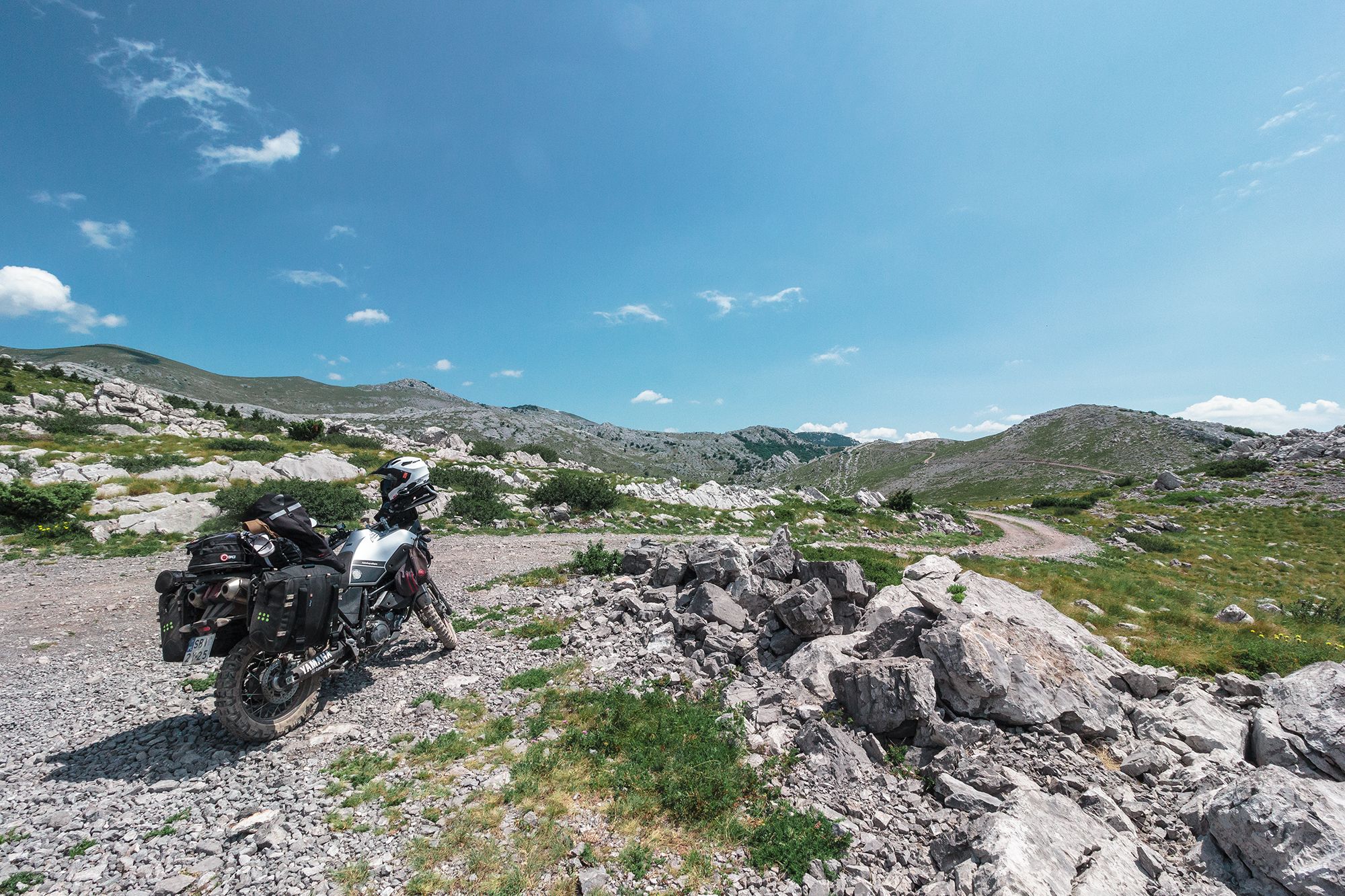 After a few days of riding, I decided to set up a camp in Makarska and recover a bit. The campsite was almost empty – a few German motor homes and me with a tent. Although, I slept in a hammock for three days. It is much more convenient than it looks, you just need to learn a few tricks.
From Makarska, I rode to Dubrovnik for one day. Basically, it was a matter of ticking off one of the years-long dreams. And I think it was just a perfect moment to explore this beautiful old city. Because of the pandemic, there were almost no people around, I could count the tourists on the fingers of both hands. A lonely walk through narrow sand-colored streets with numerous potted plants enchanted me so much that I didn't even want to take pictures. Never before has the atmosphere of the city absorbed me so much. In this case, the photos do not convey this feeling. This is probably the first impulse that pushes me toward abandoning photography in favor of movies.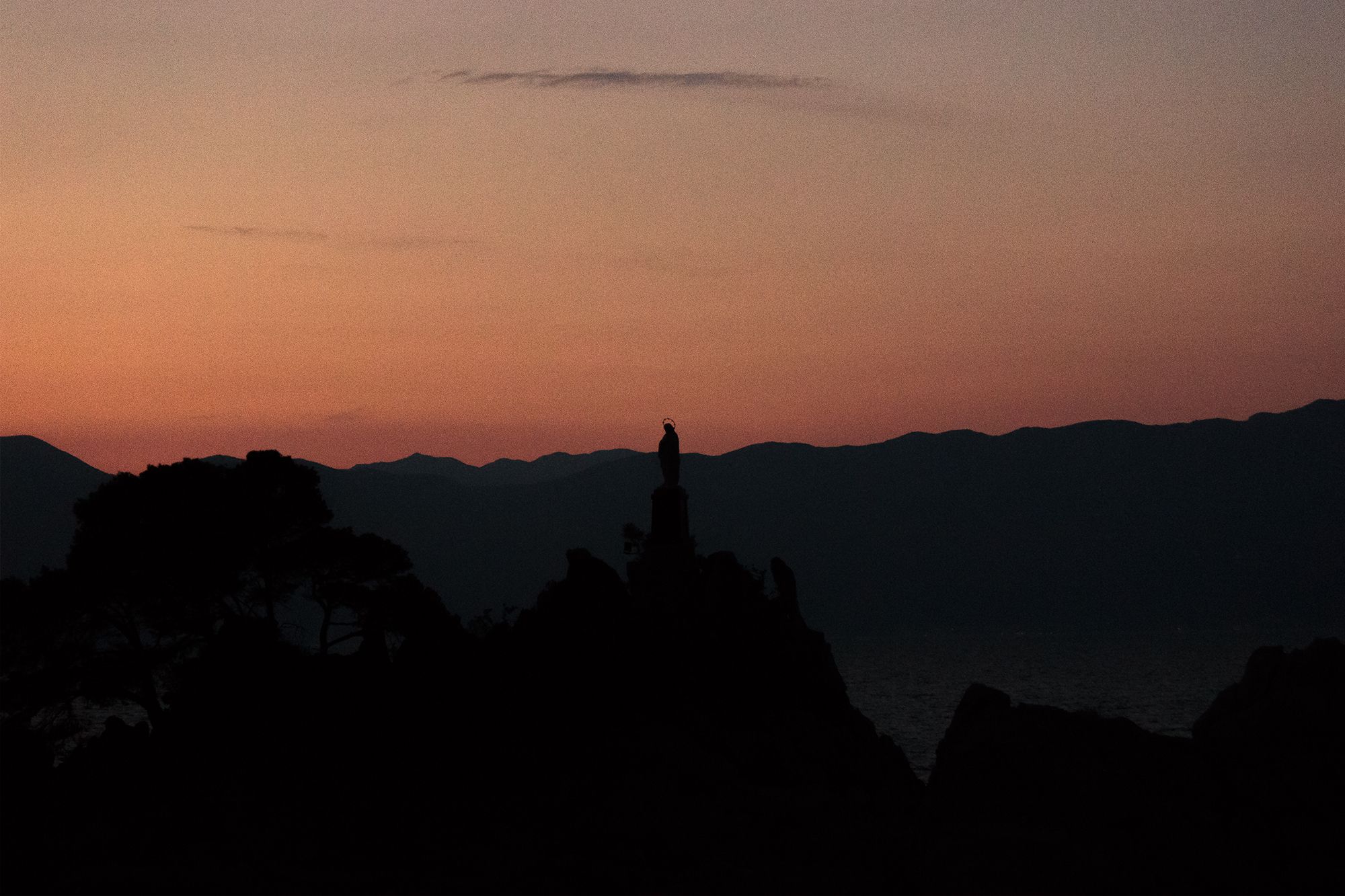 Empty restaurants, empty streets. Everything looked like long-exposure pictures in which people disappear and only the architecture remains.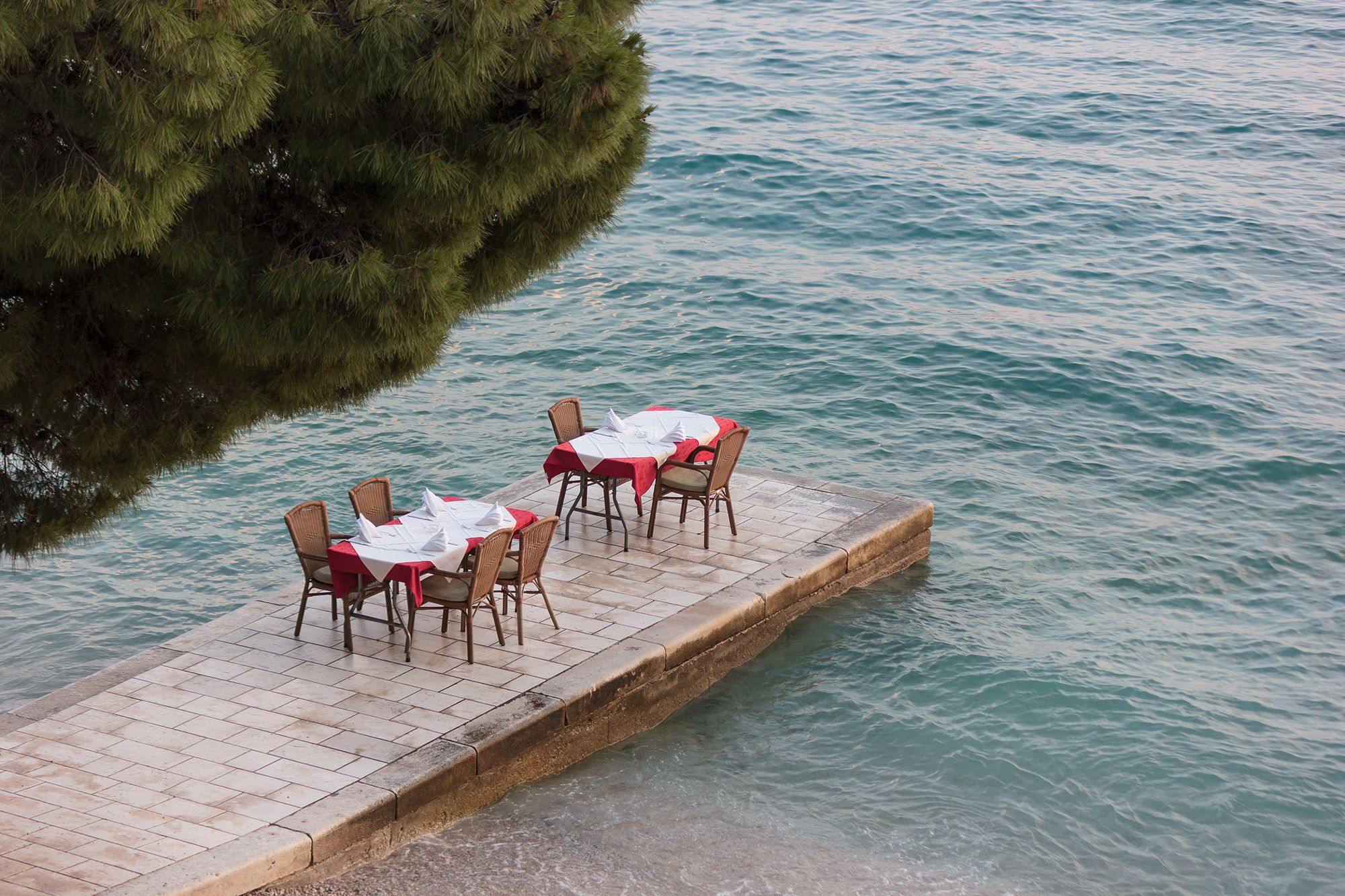 Time to go back home. The decision to return along the coast turned out to be on point. On the way, I pass one car every thirty minutes. The roads along the sea looked like closed race tracks.
While setting up a tent at Camping Skver in Senj, as an example of openness to single travelers, my neighbor (also a motorcyclist) approached me. It turned out that he is also a neighbor from abroad and we live only 70km from each other. He and his friend also came to Croatia for off-road purposes. During dinner (in this case it was a few beers, local rakija at the expense of a pub, and Czech vodka for departure), they persuaded me to go with them the next day. We got on well, probably because we speak similar languages… It didn't take long to persuade me to extend my off-road trip.
There was a huge gale and storm at night. It wouldn't be a problem if it wasn't for the fact that that unique campsite is in a kind of a port… And there was a probability that the wind and waves would take me with my tent on a sea adventure. All of the motorhomes mobilized within three minutes hid everything inside and formed a compact structure out of the motorhomes – even a basketball would not fit between them. At that moment, I realized that the situation was serious and the sea would start consuming even their vehicles. Before I finished pegging the tent, everyone ran up and grabbed the peg from me… Are they trying to drown me or what? Absolutely not. They helped me move the tent and the motorbike behind the reception, and with the last vehicle, they sealed the gap between the building and the campervan fortress. The morning view was awesome. Me and my tent were thrown away like some garbage along with some random items behind the building. And a ginger cat watched over all of this.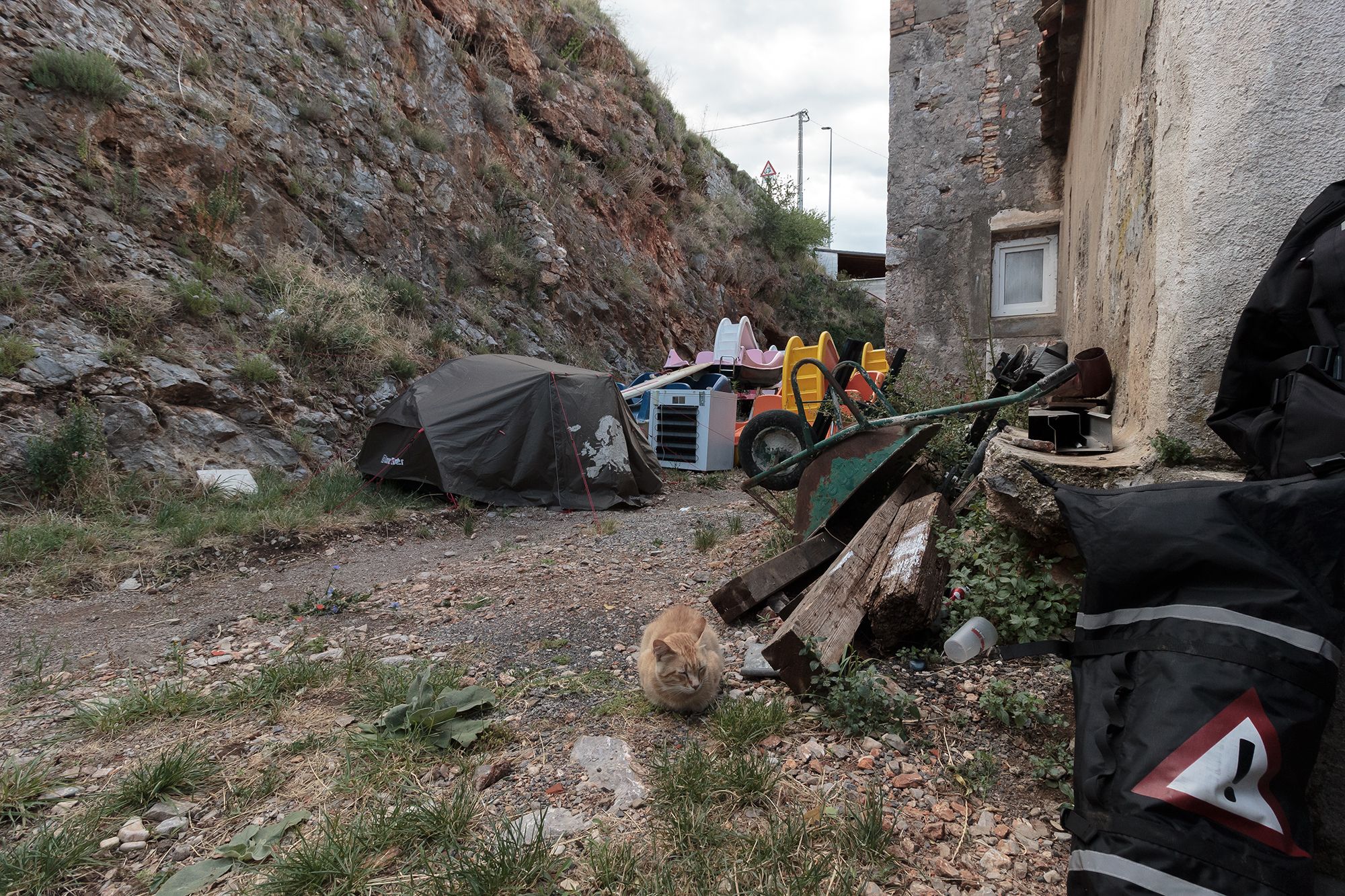 Our final goal was to visit the Željava Airbase on the Croatian border with Bosnia and Herzegovina, near the Plješevica Mountain. It was the largest underground airport and military airbase in Yugoslavia, one of the largest in Europe. Today it is deserted and surrounded by minefields. Currently, due to smuggling, it is supervised by police patrols.
Overview Map
Here is a map showing the TET route that I've ridden (Note: Always download the latest route from the official TET website!) and places worth seeing. I didn't visit all of them and the places where I slept changed during the trip, but it is a good start for someone who would like to go on a similar trip.
Video from best views on TET Croatia
Additional Photos from the Trip